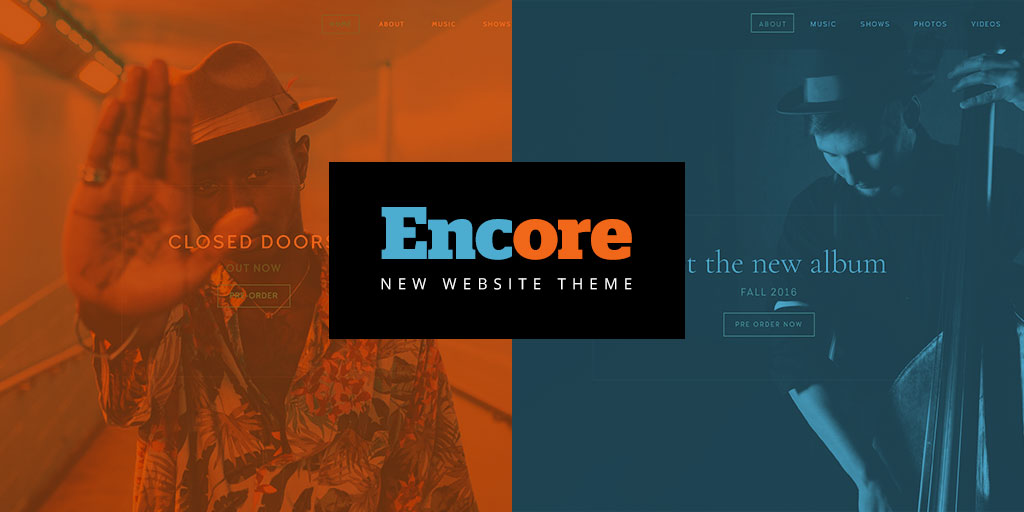 Have you been wanting to give your website's design a refreshing new look? Make it modern with our latest theme, Encore. This mobile-ready template includes a call-to-action header, stunning filters, as well as a sleek content area for your music. Let's take a look!
Call To Action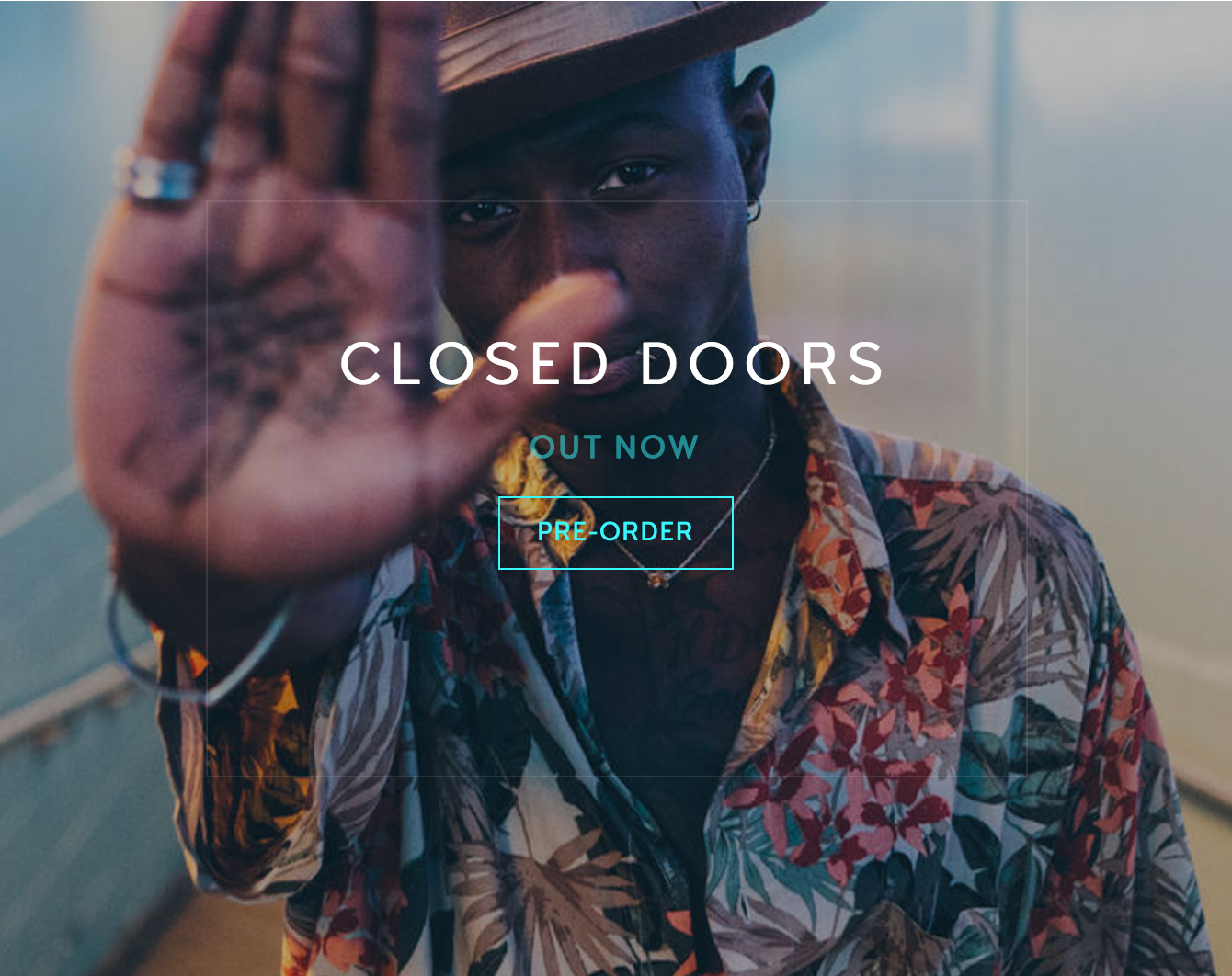 You can add a call to action button in the header image of your Homepage with Encore. This is ideal to encourage your fans to preorder that new album, attend your upcoming show, or watch your latest video.
The button is an attention-grabbing addition to the first page on your website. You can change your call-to-action at any time in the Edit Content area. Click on it to update the heading, subheading, link type, and button text.
To adjust the color of the text and button, head to the Theme Editor to customize it to match your design. If it doesn't look quite right in the center of the page, you can also move it left, right, up, or down.
Check out the new call-to-action header feature as well as the theme in action in this video:
Show off your Brand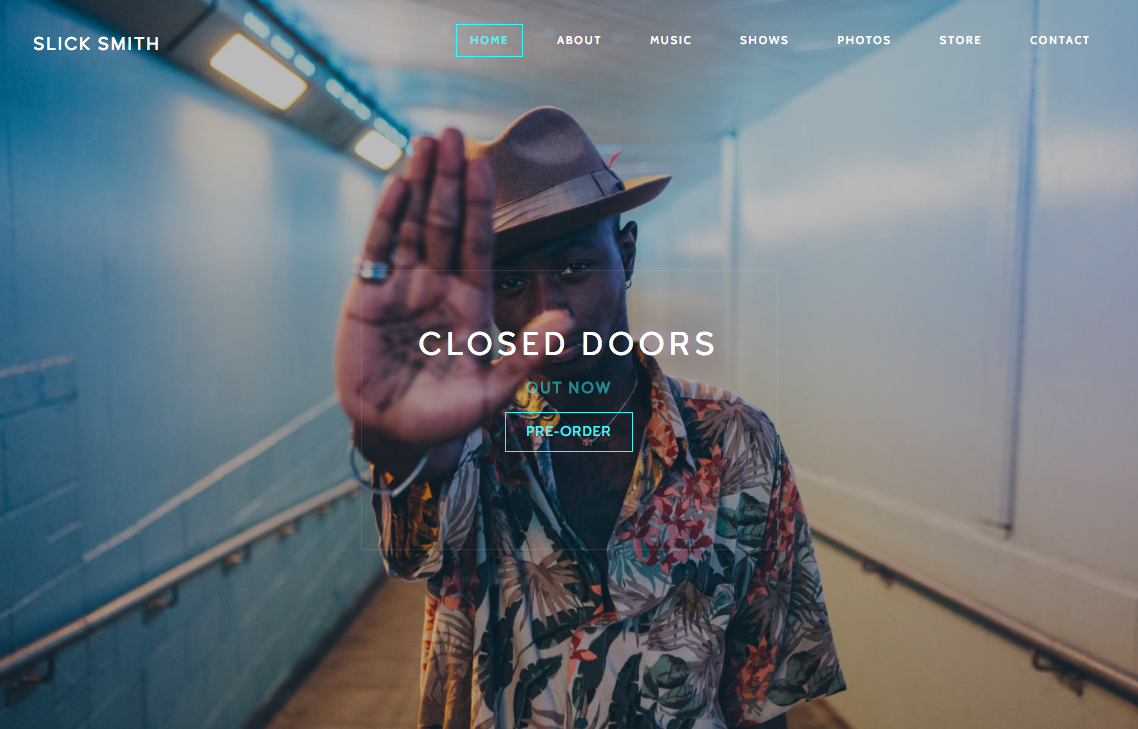 The Homepage for Encore features a large space for your image. Add a professional photo that speaks to your music and your brand. If you choose a full-size image, there is a down arrow to entice your visitors to click and view your content below with a smooth scrolling motion.
The inner pages have a smaller space for your header image by default. The height is easy to customize to display as much of your image as you'd like.
Get your website up and running in minutes using the new Encore theme. Try Bandzoogle free now!
Photo Filters
Give your website's image a unique look by adding a photo filter! Choose from different blending modes to give your photo a pop of color or a muted and modern feel.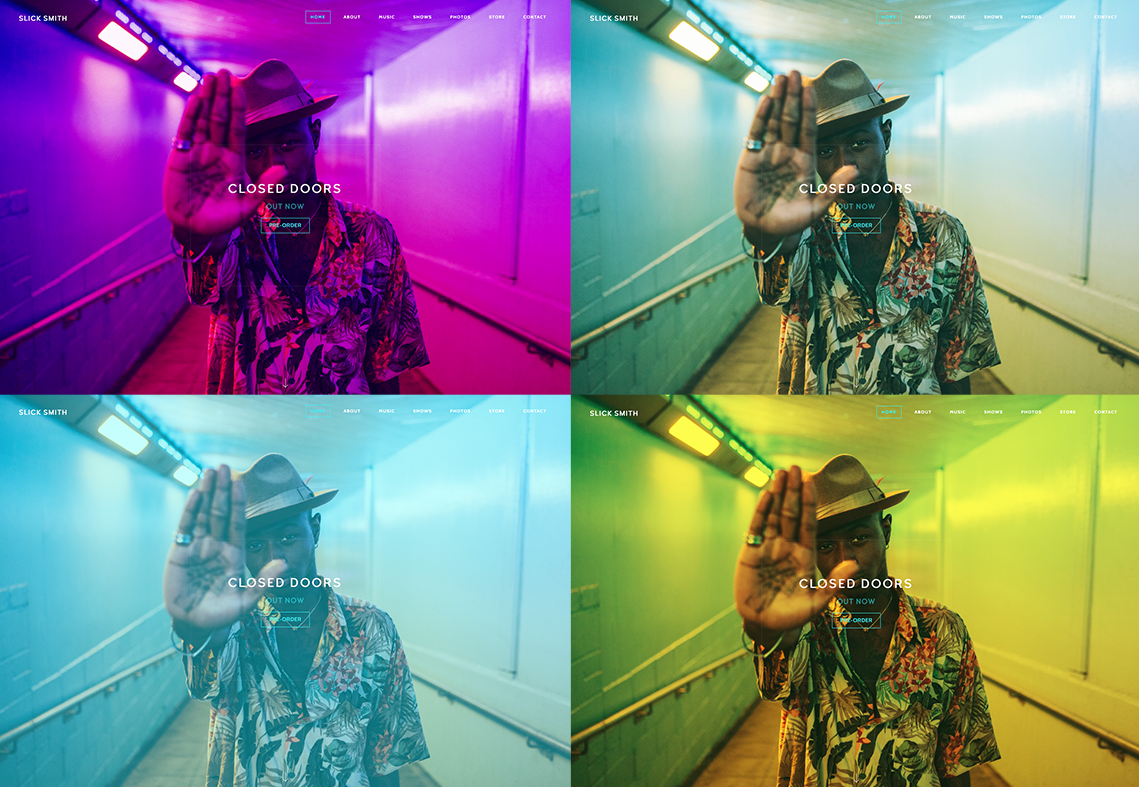 Navigation bar
With a semi-transparent navigation bar, you can easily show off your band's name or add a logo at the top left. The menu items automatically align right for an easy to click experience. You can also adjust the opacity and color of your menu bar.
Your fans will know exactly what page they are on with the crisp box outlining the selected page. The same box will appear with a hover over every menu item. Change up the color of those menu pages names in the Theme Editor to customize your navigation.
Content Area Styling
This website template features a content area with nicely arranged whitespace. This means your music, text, and images are organized with the optimal amount of spacing around them. We've also selected a few new fonts that work well with the clean layout!
You can customize the content area's background color to match your image. If you choose to add social media links, these are styled nicely to match your content. You can change the color and hover color of those buttons anytime.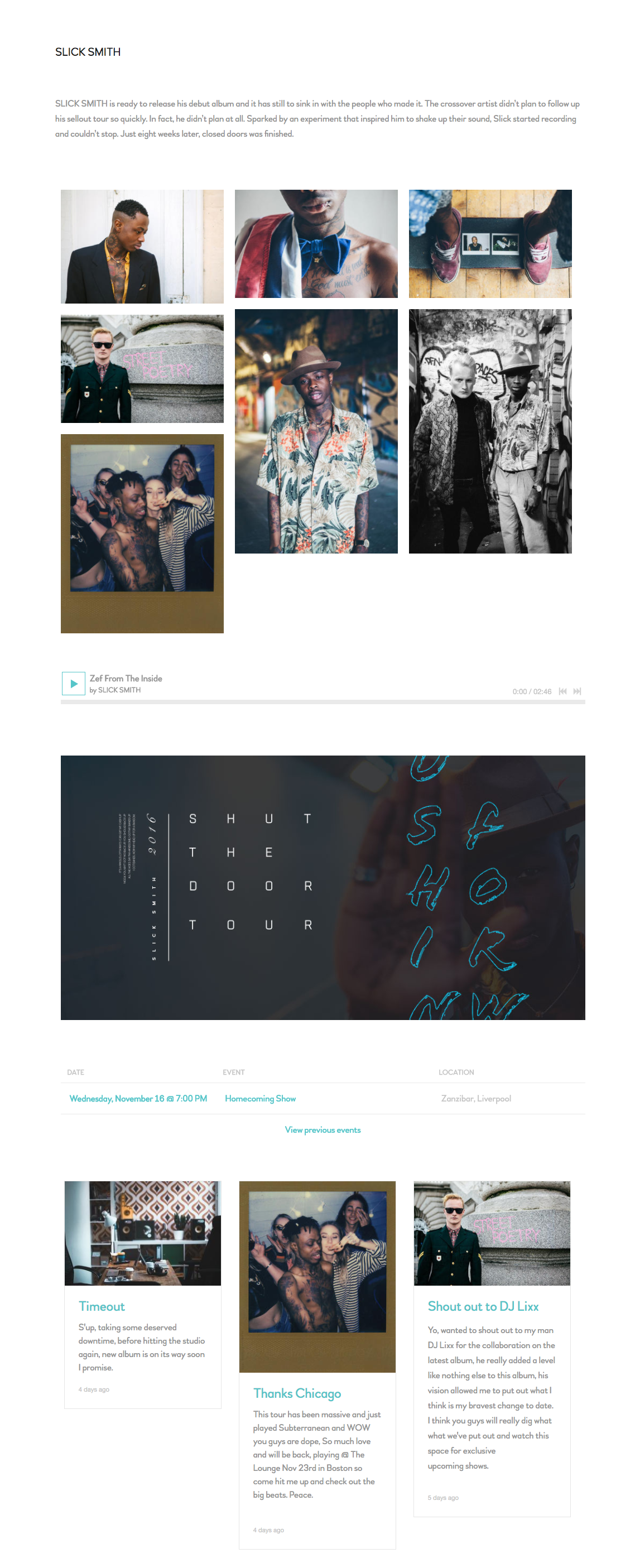 Modern and mobile-ready
This website template is mobile-responsive and adapts to any screen size. Switch up your mobile menu's colors to make it easy for your fans to click and navigate.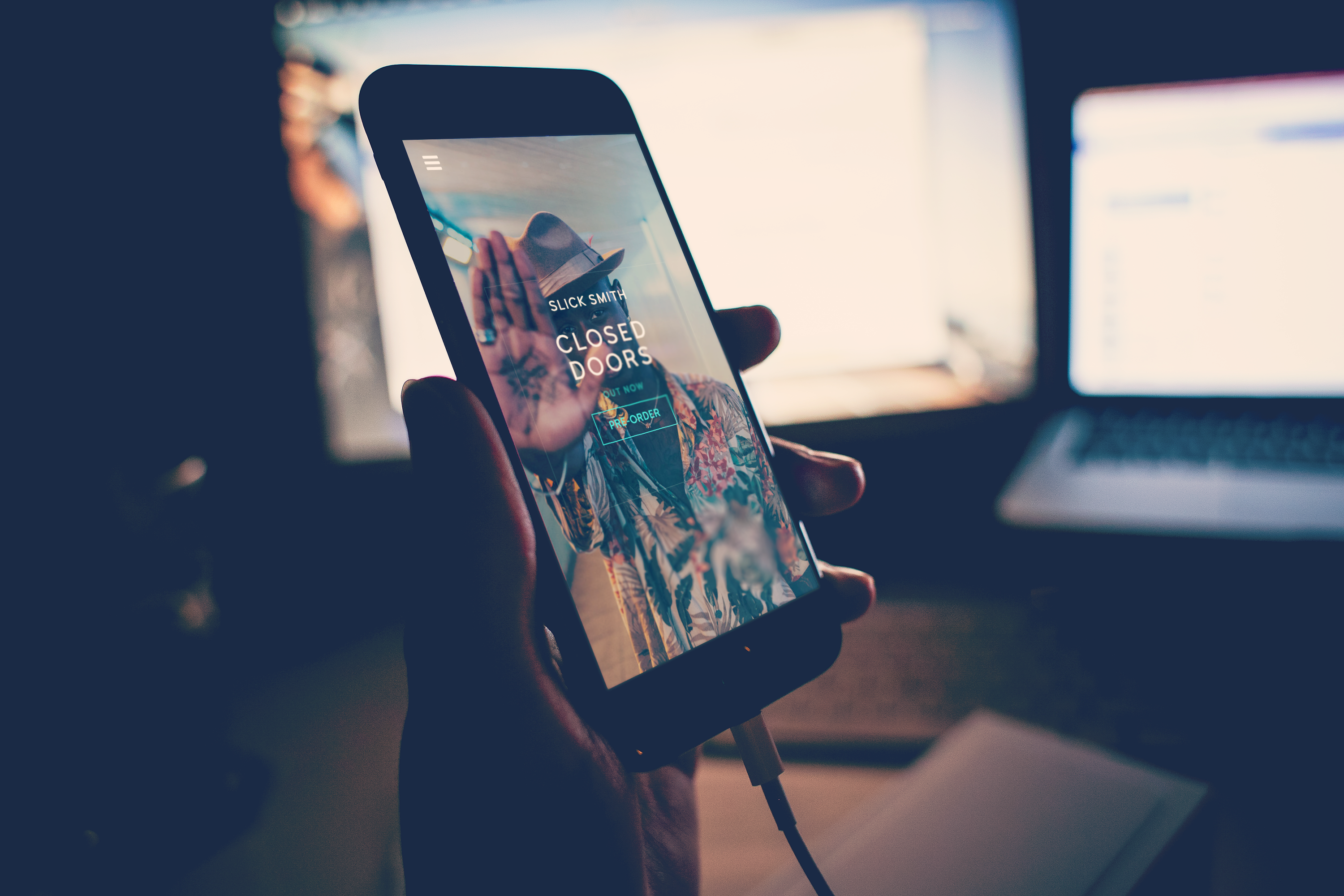 This fresh and modern template with a call-to-action is a surefire way to give your music a website that is polished and professional. With the simple and stylish content area that's customizable, musicians of any genre will be able to adapt the Encore theme to really show their stuff online.
Why not share this with your friends?
Build a stunning band website and store in minutes
Promote your music on your own unique website.
Sell music & merch directly to your fans. Keep 100%.
Grow your fan base with built-in marketing tools.