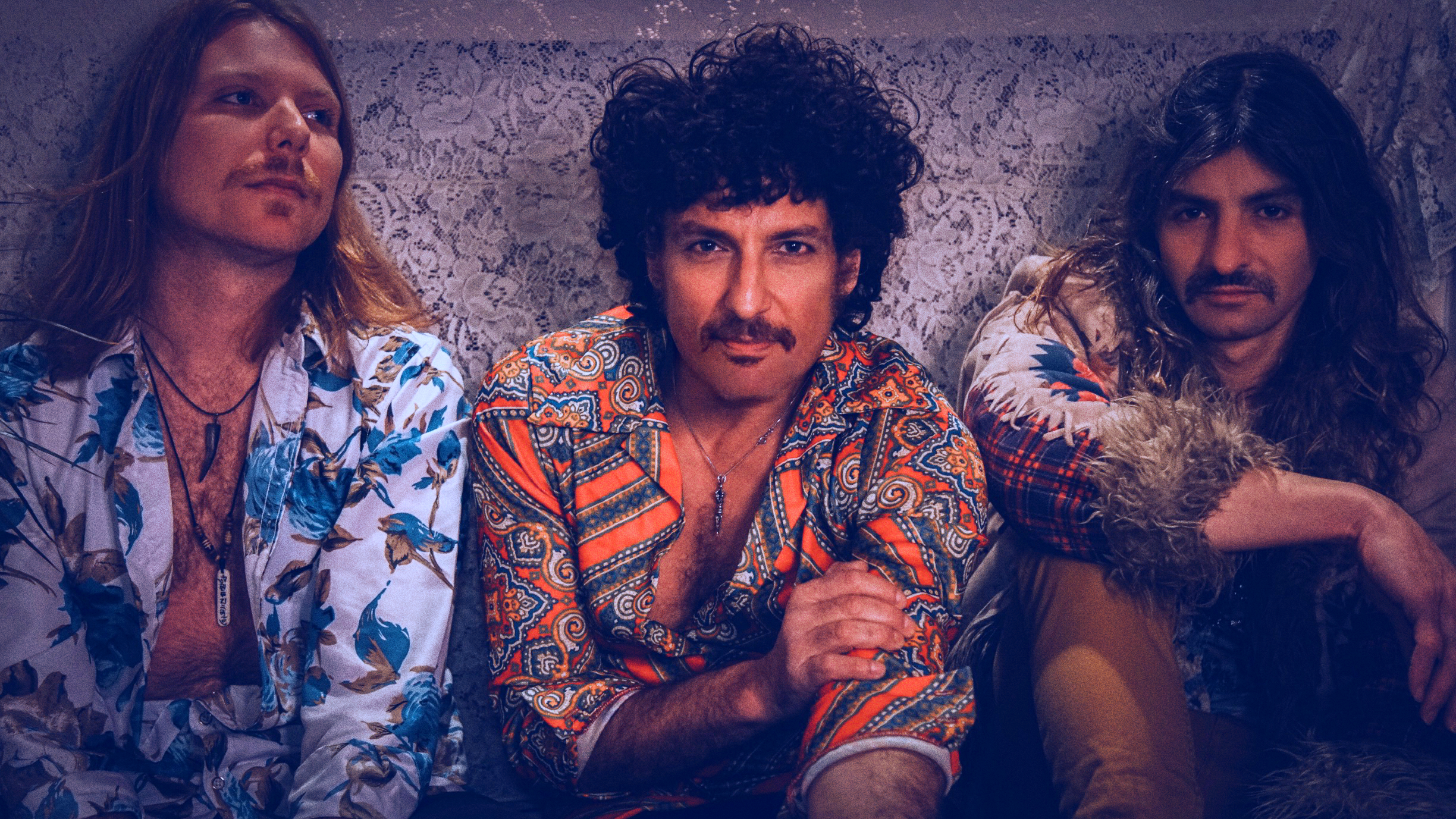 With a pandemic causing cancelled events and social distancing, independent rock band Them Vibes turned to online tools to generate revenue and keep fans engaged during lockdown. 
With Bandzoogle, Them Vibes were able to draw their fans to streaming performances, keep selling their music and merchandise, and get their fans in on special online events. 
Check out how they keep thriving despite the obstacles. 
The Artist 
Them Vibes is a vivacious down-home band that features anywhere from their formative 3, up to 20 members for their performances. Their live show is described as a "rock and roll rollercoaster everyone should buy a ticket to ride." 
After recently releasing an EP, gaining momentum with an eccentric music video, and readying themselves for a lengthy tour, the pandemic was a curve-ball in their tight-knit plans. 
Them Vibes is really a band to be seen, with a live show that'll get even the most shy spectator stepping. Translating that into a virtual environment was the perfect challenge for this band. 
Project Summary
Choose a live streaming format
Sell music and merch to livestream-goers
Keep the audience engaged digitally
Goals
Them Vibes wanted to deliver their fans the feeling of a live experience online that they'd miss out on from the canceled tour. They also wanted to recuperate some of their losses from the cancelations, and stay connected with their fans until they can return to touring.
Challenges 
Them Vibes realized despite the Pandemic, this was a great opportunity to be innovative. Finding the right formula for digital venue, devices, and visual interest was important in the equation. 
Because there was no roadmap or best practices for live streaming during a Pandemic, the band would have to get creative, find the right tools, and connect them together to create the best experience for their fans.
How it turned out 
Them Vibes were able to convert their live stream format into over $1000 in sales for the month of their campaign, with their highest sales days immediately following their streaming events. 
Using the right tools made their live streams accessible and interactive. They were able to provide their fans with the excitement of their live shows and add some fun insight into their lives with intimate and interactive digital content, including their back-yard jams and a kitchen bar sit-in. Whenever the band experienced technical issues, their fans were patient as they worked out the kinks. 
How Them Vibes chose a live stream format 
Although there are lots of options for musicians and artists to set up livestreaming, Them Vibes chose to try Facebook and Instagram live to get better visibility for their early live streams. For their dedicated fans, Them Vibes sent a newsletter to let them know about exclusive access to an event hosted on Stageit.com
"Never in history has every artist been on the exact same level playing field."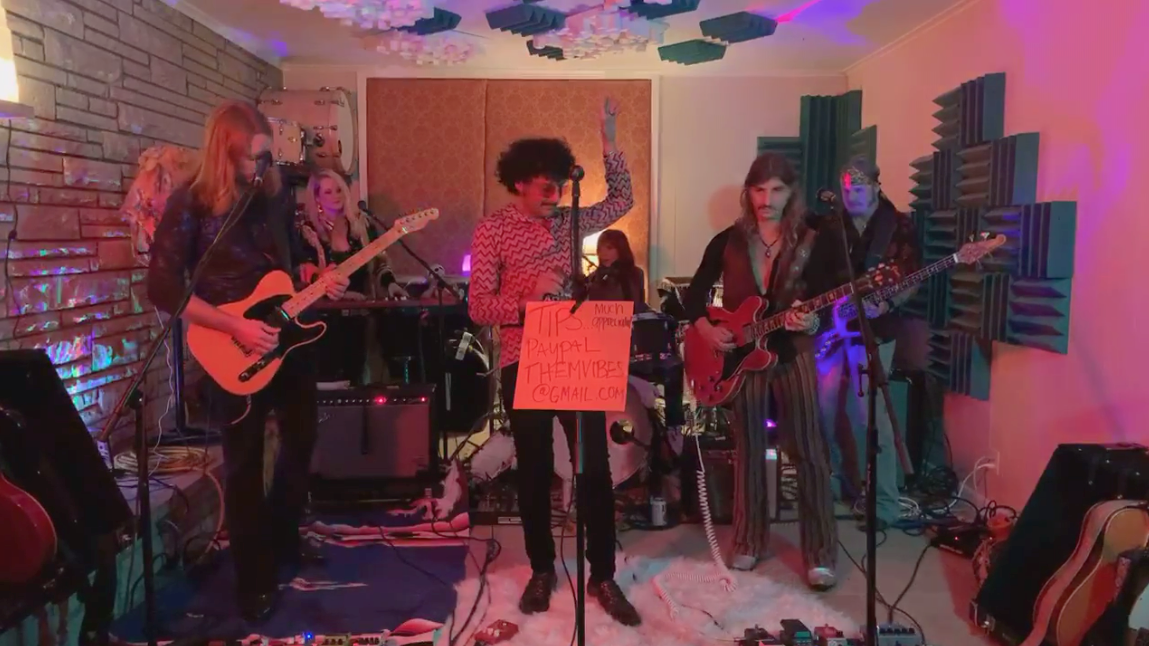 Them Vibes got creative with how they set up their live experiences. For one of their events, before the Stay-in-Place precautions were mandatory, the band got together with their friends and collaborators - a sound designer and a videographer - to livestream a performance from a theatre, with awesome camera angles and killer sound. They used Stage-It to accomplish this trail-blazing move.
Besides live performances, and with a little help from some sponsored beverages, Them Vibes hosted a kitchen-bar sit down to chat about whatever came to mind! This gave their fans more opportunity to interact with the band in a casual, virtual setting.  
Learn more: The complete guide to live streaming for musicians
How Them Vibes earned sales from live streams
During normal times, Them Vibes depends on merch sales during tours. "We were supposed to be on the road," says band guitarist Alex Haddad. So instead they set up a special merch discount code for their Bandzoogle Store, and posted a link to buy their merch in the description of their live streams that incentivized their fans to come on over!
"We've probably sold more merch in the last month than in the last year."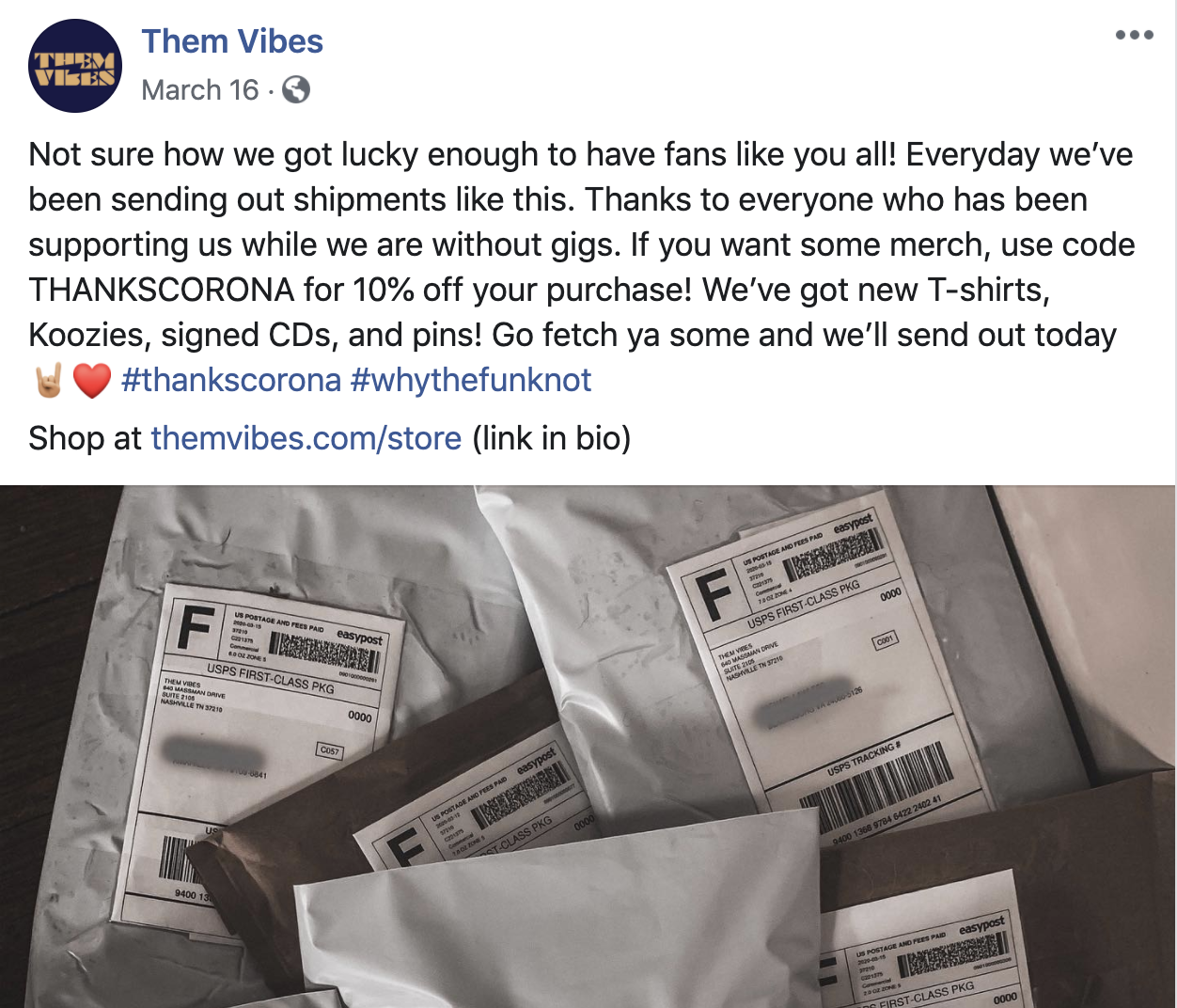 Having a good e-commerce setup was an important part of their success. They also added special items, like a signed CD, for a little extra. 
Once the band finished their live stream they were able to look at the data, see what worked and what didn't, and strategize for next time.
How Them Vibes kept their audience engaged online
An incredible outcome from their digital live-series was the outpouring of support from fans all over the globe. By live streaming online they were able to let anyone tune in -- from anywhere! 
"It's become a much more personal relationship."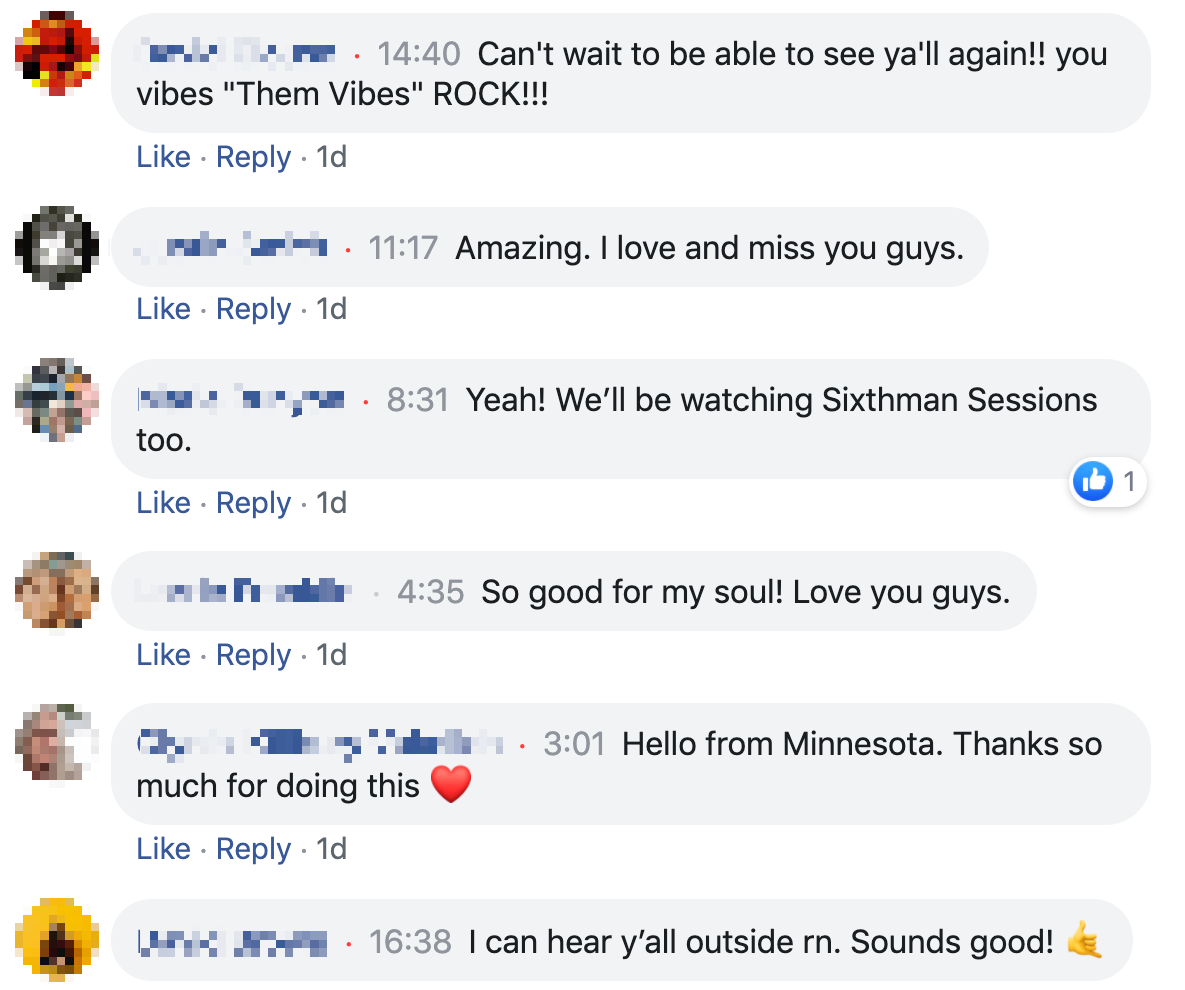 During live streams Them Vibes fans could join in on the conversation live, which made their bonds with the band even stronger. The band was able to interact directly with fans during the intimate hangout sessions, and deliver the same energy of their shows during the bigger live performance streams. 
"Our fans have been so generous!"
By tuning into the response from their fans, Them Vibes were able to create unique experiences that wouldn't be possible on a long touring leg. 
The Results 
By creating live stream experiences for fans during the pandemic, Them Vibes were able to recuperate some of their tour losses through music and merch sales with their commission-free sales tools on Bandzoogle, and stay engaged with fans until they can return to live touring. 
Goal #1: 
Translate their live performances into a digital atmosphere. 
The band were able to setup unique live streaming events with a little help from their friends. With cool camera angles, the right online tools, and the advantage of analytics, Them Vibes were able to cut, rinse, and repeat in style. 
Goal #2: 
Sell music and merch to live stream attendees. 
Them Vibes was able to drive their viewers towards their Store page by adding a direct link in their live stream descriptions. Having a special item, like a signed EP, and having a discount code helped them make up the costs of not being able to tour, with over $1000 in merch sales from just a few streams.
Goal #3: 
Stay connected with their audience. Digitally. 
Them Vibes has a dedicated fan-base and their bonds got even stronger with live streaming, keeping them engaged with fans while live shows are off the table. Plus, reaching audiences that are farther away from cities they tour offered an awesome added bonus for both the fans and for Them Vibes! 
Sell music, merch, and tickets, take direct donations, pledges for crowdfunding, and create monthly fan subscriptions from your website, all commission-free. Try Bandzoogle free for 30 days to build a website for your music and sell tickets for your live stream events.
Why not share this with your friends?
Build a stunning band website and store in minutes
Promote your music on your own unique website.
Sell music & merch directly to your fans. Keep 100%.
Grow your fan base with built-in marketing tools.