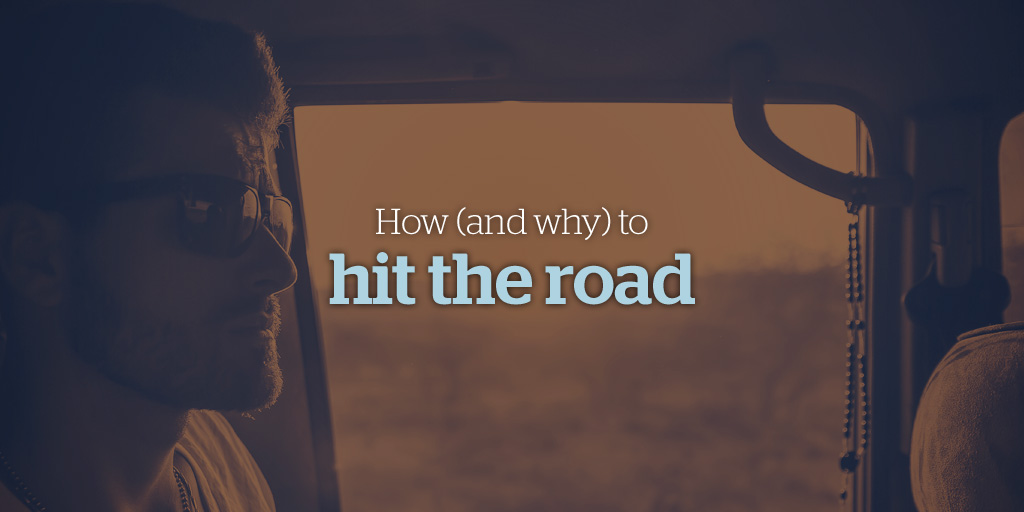 This was written by Ari Herstand and is an excerpt from his book, How To Make It in the New Music Business
Too many bands go on tour just to say they're going on tour. Yes, it seems cool to your friends, but do you know what's not so cool? Playing empty shows in every city, sleeping on beer-stained couches, getting your gear stolen from an unguarded green room and having your van break down 200 miles away from the nearest gas station. The road is an unforgiving beast.
Like moving in with a lover, hitting the road with other musicians will bring out the worst in them. But putting up with five other smelly musicians, clashing personalities, cramped living quarters, a fast-food diet and endless miles of nothing but cornfields instantly becomes worth it when you step onstage in front of a crowd of screaming fans (and, of course, see your bank account swell). But what if you step out onstage and instead of a crowd of screaming fans there's a crowd of 7 playing pool in the back. Less awesome.
Just being listed on a hot venue's website and being a touring band will not get people to show up to the show. Very few venues in the world have built-in audiences. So, step one is to build up a fanbase and tour where those fans are. If you start to gain traction online, make sure you grab email addresses (with zip codes) so you can promote directly to these fans when you visit their town.
Once you have built up a good following online, you need to find out where these fans exist. YouTube, Pandora, Spotify, Bandcamp, Facebook, along with the analytics platform Next Big Sound, provide excellent metrics of where your fans are located (and how engaged they are). You should also check the geographic breakdown of your fans on Bandsintown and Songkick. Make sure to register yourself as an artist (via Bandsintown. com or tourbox.songkick.com).
You can also set up a button on your website and send out a WeDemand! link to your email list that will track where your biggest fans are "demanding" shows. And Rabbl takes this one step further by making fans put their money where their demand is. You can create a Rabbl event and have fans vote on bringing you to town by purchasing tickets for their city. Once a city reaches the threshold (set by you), the show is a go. You can also give fans incentives to purchase these tickets by offering cheaper advance tickets, VIP access or exclusive merch items.
Timeline
You need plenty of time from beginning the booking process until the first show. For a tour containing mostly cities you've never been to before, I recommend starting this process at least five months out. You should have nearly all of the shows booked two months in advance of the first show so you have plenty of time to promote the tour. Most likely you're going to spend the first month routing the cities, researching venues and gaining contact info.
[How to Book a Tour without a Booking Agent]
Your routing will never be perfect. Meaning, you have to expect you'll do a little bit of backtracking and have a few off days because it's impossible to get every venue's schedule to line up with yours. You want to keep the backtracking and off days to a minimum though, obviously.
First, on a map (Google maps works) plot out the cities you want to visit. Try to keep drives shorter than 6 hours on a show day and shorter than 10 hours on a non show day. You're going to spend most of your time on the road, but spreading out the long drives will save you from burnout (and murdering your band members). You also want to plan for about an hour of stops for every 4 hours of driving. The more members you have on tour, the less each member's driving burden, but the greater your tour expenses.
Open a shared calendar in Google Calendar or iCal and share it with everyone on the tour. Put in "held dates" with city names. When you get a "hold" at a venue, change the color of the "held date" and title it the city along with the venue name. When you get a "confirmation" change that color again and title it the city with the venue, and in the notes of that event, list all details: talent buyer name, email, number, day-of con- tact, venue address, time of show, set length, load in time, door time, set times (for all acts), compensation, hospitality.  This will all get confirmed in your confirmation email. These held cities will undoubtedly shift, so make sure you keep an updated calendar—especially if you have multiple members booking.
Finding the Venues
Once you have the cities you want to visit, you have to find the venues that are appropriate for your sound and your draw. If you've never been to this city before, it's going to be much more difficult for you to convince the talent buyer (booker) at the venue to give you a night, but it's possible.
First, you have to decide what kind of rooms you want to play. Are you a mellow singer/songwriter? Seek out art galleries, listening rooms, museums, cultural centers, black box theaters and living rooms. Are you a rock band? Seek out rock clubs, basement venues, festivals and block parties.
Indie on the Move (IOTM) and Yelp are some of the best resources to use for venue research. Yelp is great for audience reviews of the venue and to get the vibe of the club. Spend time reading these reviews and get a feel for how your project could (or could not) fit in the venue. Indie on the Move is specifically for bands booking their own tours.  They have a great list of venues, contact info and band reviews of the venues. To save time, you can hire IOTM to customize and send out initial emails to venues meeting a specific criterion that you set in each city (like, clubs under 300 cap that are 18+ and host rock music in a 10 mile radius of Atlanta). Currently, IOTM charges 25 cents per venue for this. As someone who has booked 60-date national tours on my own, any way to expedite this process is worth the financial investment. Believe me.
The Pitch
Most talent buyers at venues work over email, but some still work exclusively over the phone. Remember this and don't be afraid of the phone. Similarly to how you pitch local clubs, your initial email pitch should be short and to the point. Well, all your emails should be short, but especially the initial one. Make sure you check the venue's calendar first and make sure that date is open.

Keep the email under eight sentences. Write it in all-lowercase letters (if you can stomach it—I know you grammar nerds out there will fight me on this; that's cool—do what feels right for you). Talk about your history in the area (if any) and explain briefly how you're going to promote the show. Most important, say how many people you expect to get out for it.  This is what 98% of talent buyers care about.
Sample Email
Subject: oct 23—pink shoes and thom johnson
Body:
hi tony, minneapolis-based pink shoes is passing through on oct 23 with thom johnson. pink shoes recently had a song featured on FOX's So You Think You Can Dance and our new music video (link it) has 254,000 views. our last time through we played the rhythm room and drew 75. we have an active street team on the ground in phoenix, contacting all local media and will be running facebook ads for this show. thom johnson is a Philly-based singer/songwriter and was a top 10 finalist on The Voice in 2014. we expect 150 for this show. thinking $12/15 cover. can we grab a hold?
pink shoes:
http://youtube.com/pinkshoesawesomevideo
http://pinkshoesmusic.com thom johnson:
http://youtube.com/thomjohnsonawesomevideo
http://thomjohnsonmusic.com
thanks!
~Ari
**
Ari Herstand
Manager / Guitarist—Pink Shoes
http://pinkshoes.com
http://facebook.com/pinkshoesmusic NEWS:
pink shoes named Best Rock Band by City Pages
songs featured on Grey's Anatomy, New Girl, So You Think You Can
Dance, Mindy Project
performed on the Late Show with Craig Ferguson
new album Blue Socks 8.7 by Pitchfork
Remember to put a few accolades (not too many) in your signature. It comes off less braggy—especially if you're doing your own booking/ outreach.
Local Openers
Most venues will want you to put the bill together, but sometimes they will happily place a proven local act similar to your style on the bill. It's best, though, if you can take a complete bill to the venue. When Myspace was around, it was very easy to find bands similar to your style in any city and quickly listen to them and see what kind of buzz they had. Now that Myspace is virtually extinct, the closest services that can be used for this purpose are Bandcamp, Indie on the Move and ReverbNation.
Always cross-check these bands on Facebook, Instagram, Spotify and YouTube to check out their numbers and engagement. Once you've narrowed down the list by location and genre, check out their tour calendar. See what kinds of venues they play. Take a look at their past shows by viewing their Bandsintown or Songkick data. See if they tour or exclusively play local. Are they playing local every week or every couple months?
If they're playing local all the time, they won't be able to bring many people out to your show. Find bands that have a decent social presence and seem to pull well locally. Shoot them an email and ask them to open your show. Explain all the details up front: time slot, payment and draw request (we need the opener to help get the word out and draw at least 30).
Remember to start off with a compliment about their music and how you found them. Give them $50 or 10% of your cut, whichever is greater, so it will encourage them to promote. If it's getting closer to your tour start and you don't have a show booked, it may be worth searching for concerts in the city and hitting up the bands or the venue listed on the date you need, to see if you can hop on the bill. Pay won't be great, but you will hopefully make up for it in merch sales.
Show Trades
Once you've established yourself in your hometown and can draw decent numbers, you have something to offer. You can team up with other bands from other cities and offer them an opening slot at one of your big head-lining shows in exchange for an opening slot at one of their big headlining shows. Ideally, you find similar bands with similar hometown draws.
You have to be careful, though, that you don't promise this to too many bands, as it may take you an awfully long time to fulfill the home-town promise if you play a big local show only every six to twelve weeks.
Payment
Reference the worst-through-the-best deals before getting into negotiations over payment. Most original music clubs will not offer guarantees if you aren't proven in their club (or with the promoter). You don't have much negotiating power if it's your first time through and aren't proven, so you're going to basically take what you can get. But these are good guidelines to stick to so that you know when you should be moving on to another venue in that town. Expect to set (or pitch) your ticket price around the same as most shows on their calendar. Meaning, if you contact a club and every show's cover is $15–$25, don't expect to charge $6 for your show. Most clubs will allow you to set your cover (within reason). I always recommend up and coming touring acts to set their covers around $10–$14. Fans understand that you're on the road and they will pay a little more for touring acts.
[14 Ways Musicians Can Make Money from Live Shows]
Lodging
Once the tour is completely routed and confirmed, you'll want to start figuring out sleeping arrangements. For your first few tours this will mean finding friends in each city with couches or floor space (invest in air mattresses and sleeping bags). Try to figure this out before the day of the show, but as a last resort you can announce onstage that you're looking for a place to crash that night. More times than not this works. Not very rock-star—but neither is sleeping in your van.
The road isn't for everyone. But if you want to be a live artist, taking your show on the road will be a must if you want to grow past your local scene.  
The most important thing to remember: If you don't promote your show, no one will show up.

Ari Herstand is the author of How To Make It in the New Music Business, a Los Angeles based singer/songwriter and the creator of the music biz advice blog Ari's Take. Follow him on Twitter: @aristake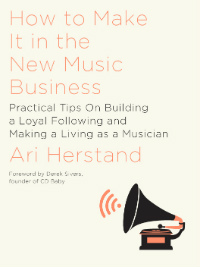 Your band works hard to put on a great show. We work hard so you can make a great band website, easily and affordably. Build your own Bandzoogle website in minutes. Sign up free now!
Why not share this with your friends?
Build a stunning band website and store in minutes
Promote your music on your own unique website.
Sell music & merch directly to your fans. Keep 100%.
Grow your fan base with built-in marketing tools.