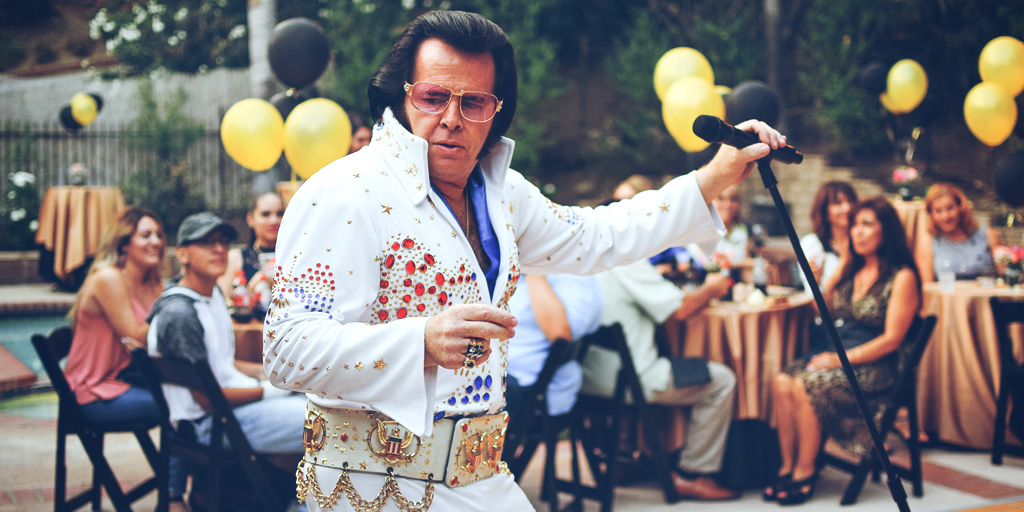 Tribute bands are amazing entertainers who give their fans the experience of seeing their favourite bands in an intimate setting, like a local club or a birthday party. 
Putting together a professional website to market your tribute band is an essential way to market that experience. You'll want to create a lasting impression for your site visitors, media, or bookers who are interested in hiring your act.
Since you specifically play the music of a well-known band, make a music website that showcases how you represent and embody the songs and energy of your band. 
Here's how to build a website for your tribute band:
Tribute band website templates
Your objectives with a tribute band website might be a bit different than your creative projects, so choose a band website template that is easy to navigate and offers a clear, concise representation of your band. 
If the band you're paying homage to has a certain style, whether it be raw and gritty or dazzlingly disco, you can incorporate their color scheme throughout your site. Try using fonts that really speak to the artist to further brand the experience.
Your site can be shared with booking agents, party planners, or venue managers - so take the time to make your template the perfect fusion of your own personal style and the band you're portraying. 
Homepage
Tribute bands are known for their uncanny resemblance to the artist they're portraying. Often, tribute bands will modify their appearance with hair styles, makeup, or costume to deliver an accurate representation not only through song, but also through image. 
The best way to show your incredible likeness to the artist and grab the attention of venues and booking agents is to add a main header image at the top of your website, close to your navigation menu. 
Placing this close to your website's menu will draw attention to the rest of the pages on your website, so your visitors can dive deeper into the experience. 
Create your own tribute band website in minutes with all of these features and more. Build a website with Bandzoogle now!
Don't forget to add some text to this page, with a brief introduction to who you are and how you pay tribute to the artist. This can help boost SEO and get you listed in search engines so you can get noticed by booking agents in your area and beyond. 
Tribute Band website: The Rocket Man Show
Events Page
Dedicate a page to your performances from the past as well as upcoming shows, as an indication that you're in demand and ready to play. Be sure to add detailed information about where you're playing and what the experience will be like. 
You can even sell tickets to the event directly from your site or link to the promoter's ticketing site so you can go above and beyond the guarantee. 
Adding photos of your live performances, whether it's of you performing or a happy crowd, next to your event listings will make a good impression on potential clients and attendees. 
Tribute band website: Simply Tina 
Reviews page
Client and fan testimonials are essential for marketing your tribute band. In the biz, we call this 'social proof' as it's real reviews from real people. 
Especially because you're primarily focussed on performances, adding reviews to your website of how you personify the artist you're paying tribute to is an important tool to get booked. 
Not only can you include quotes from the audience, you can also include testimonials from past venues and bookers that let potential clients know you're professional musicians who are talented, skilled, and reliable. 
Tribute band website: NIGHTFLYER
Media page
Add a media page to your website for press and bookers to see images, video, and preview live recordings of your tribute act. 
A great way to show off all of this content on one page is to create stylized sections with side-by-side columns. Try placing photo galleries on the left and stack video on the right for a visually engaging and information rich page. 
In your photo galleries, add images of you performing live, close-up images of you in costume, and photos with fans! If you have a promotional video, add that to this page, or any video that shows how you come across live. 
Tribute band website: Skynyrd Reloaded
Song list
Let venues and fans know which songs are in your repertoire with a song list. This can be a dedicated page on your website or you can add a text feature to your EPK listing out the tracks you'll be rocking on stage. 
A song list is especially great if you have some B-Sides to sing and if you're playing a more intimate event, fans can check out your song list before-hand so they know what they can request.
Press kit
A digital press kit is essential for tribute bands who are booking shows. Add an EPK to your website to organize all of the details for press, bloggers, and talent buyers. 
To start, write a brief introduction describing your band members and what the tribute experience is like. This short bio will be like an elevator pitch, so be sure to highlight any particular skills you bring to the table or anecdotes about your relationship to the band you're paying homage to. 
Next, add a professional image of your band in full costume or performance mode. Even presenting a side-by-side comparison can be a cool way to show the resemblance.
Because your tribute band is dedicated to performing, you'll want to add a stage plot to your EPK so venues know what the tech specs are for your live show. You can include it on the press kit page as a downloadable image or a file list if you have different configurations for smaller to larger venues. 
Tribute band website: Van Halen Invasion
Contact
Whether your tribute band website visitors have browsed all of the pages on your site, or have immediately clicked on your 'Contact' page, you'll want to take this opportunity to quickly summarize what you offer beside your contact form. 
You can also add extra fields to your submission form for booking details, like the type of event, budget, the date of the proposed event, and anything else that helps you assess the opportunity and make the right connections. 
Tribute band website: Infinite Journey Band
Making a website for your tribute band is similar to making a website for your own music. With great music web design and these key elements, you'll be able to share your website with booking agents, venue managers, and party planners so you can do what you love - play music. 
Why not share this with your friends?
Build a stunning band website and store in minutes
Promote your music on your own unique website.
Sell music & merch directly to your fans. Keep 100%.
Grow your fan base with built-in marketing tools.