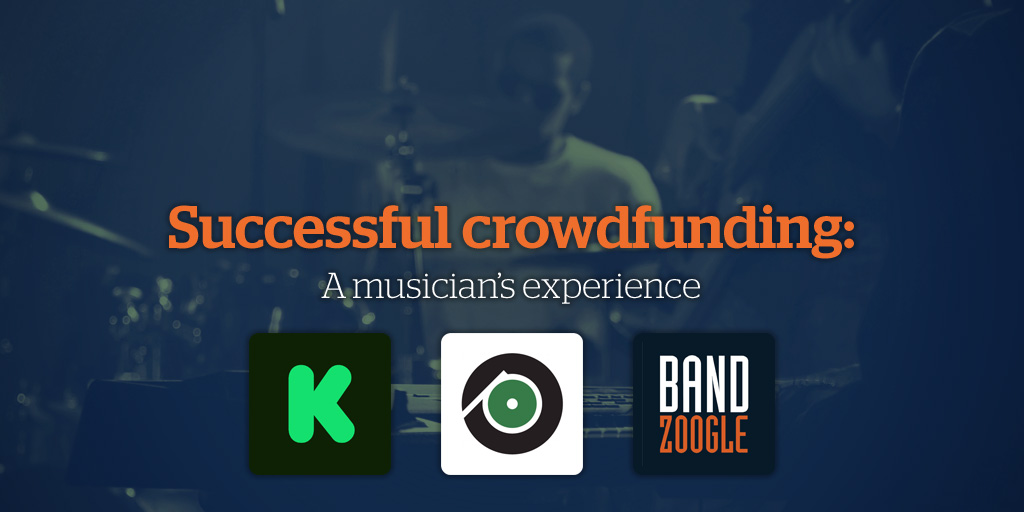 This is a guest post by Brian Buchanan from the band Enter the Haggis. They've used crowdfunding successfully 3 times, in the process raising tens of thousands of dollars, and forming really strong connections with their fans.
In this post, Brian explains first hand his experience using platforms like Kickstarter, PledgeMusic, and even Bandzoogle, and how they stack up when you're looking to launch a crowdfunding campaign.
---
By now, we as independent musicians are well aware that our industry is changing. In a lot of ways, the changes are positive: more bands are touring, which means more venues are booking music. Music consumption is at a high thanks to portable players, smartphones and online streaming services like Pandora, Grooveshark and Spotify. Finding an audience for your art is easier than ever, and reaching that audience is a thousand times simpler using social media tools, email lists and tools like ReverbNation, ArtistData and (best of all) Bandzoogle!
Many of us have found creative new revenue streams that weren't available 10 years ago: streaming concerts, video lessons, YouTube covers and new forms of publishing and sync licensing.
The costs of making music have come down drastically as well, and independent albums today sound better than many major label efforts of the 80's and 90's. Quality still isn't cheap though, and the costs of manufacturing and publicizing a release still put a truly professional campaign out of the reach of many indie artists. We do have access to one incredible resource however: our fans!
Crowdfunding has become an important tool in the arsenal of many indie artists, and it's a strategy that has helped level the playing field for artists who don't have label money propping them up. I've had a lot of success on a variety of platforms, and I wanted to pass along some of what I've learned. Buckle up!
KICKSTARTER, PLEDGEMUSIC, DIY - WHAT'S THE DIFFERENCE?
This is a big question and one that I'm asked all the time. I've run campaigns on both Kickstarter and PledgeMusic, and my band even successfully funded an album using nothing more extravagant than Bandzoogle's store system (more on that later). I'm not going to dig into ALL the differences between the major platforms, but I can tell you a few pros and cons of the three I've used:




KICKSTARTER
The grand-daddy of crowdfunding platforms, Kickstarter has become the brand-name of fan-funding the way Kleenex did for tissues. The name recognition is a big deal, since it establishes credibility and can be a shortcut when helping your fans understand your project - I found that even when we ran a campaign through PledgeMusic I would sometimes still refer to our "Kickstarter" when talking to fans, since they would usually have at least a basic understanding of what Kickstarter was all about.
When you're setting up a Kickstarter campaign, you choose a "goal" (the amount of money you need to raise) which is displayed on your project page. As the campaign rolls along, fans can follow your progress and see exactly how much money has come in. This can have the effect of generating excitement as you pass certain benchmarks, and can really help motivate your fans to help spread the word about the project. Every time our funding came close to a nice round number (like $5,000, $10,000 etc) we'd get a huge spike as our fans encouraged one another to help us get over the hump. We even had one fan who was obsessed with making our total a palindrome, and she donated bizarre amounts just to see $1221, $10,401, $14,541 etc. We love our nerdy fans. :)
You don't get any money until your campaign wraps up. If you reach the end of your campaign (a finite period, usually between 30 and 60 days) without hitting your funding goal, Kickstarter refunds all the money to your backers and you limp home with your tail between your legs. The reasoning behind this is that by setting up a campaign and choosing a goal, you're telling your fans that you have a budget for a project and that you can't complete the project without raising your goal. Rather than put you in the awkward position of trying to cobble together some version of your project with only half the money you need, Kickstarter just cancels unsuccessful projects altogether.
This makes a lot of sense when you're talking about a tech project (like a video game) or a manufacturing project (like a smart-watch): there's a minimum amount of money you need to fulfil your project and you can't reasonably complete it without raising at least that amount. Musical projects are a little more scalable, and the result is that the majority of artists pick a goal amount that is the VERY LEAST they can imagine raising while still making their project a reality. When we set our goal at $20,000 we knew we'd likely need twice that (to produce, record, mix, master, manufacture, ship and promote the album). Due to the unbelievable generosity of our fans we ultimately raised over 300% of our goal - and we spent every penny making the best album we possibly could, while also doing things like recording a new live album and giving free physical copies to all our backers, sending out free bumper stickers and filming an in-studio concert movie.
My caution here is this: while you'll be tempted to set a really low goal (so that Kickstarter doesn't take all the money back) make sure that you can actually provide a product you'll be proud of with whatever amount you raise. Don't set a goal of $2000 if you know you can't record an album; your fans are putting a lot of trust in you when they pay for a product that doesn't exist yet, and you owe it to them to exceed their expectations.
WHAT DOES IT COST?
Kickstarter takes 5% of your total money raised. On top of that, you pay a percentage to Amazon Payments (which can be anywhere between 3% and 5% depending on how much money you raise) so you'll be paying out a maximum of 10% when using Kickstarter's platform.
What does this 10% get you?
Well, you get a slick (and familiar) landing page, with a great big video player that fans can easily share on their favourite social networks. You get access to a very comprehensive back-end site from which you can manage your project and track your sales. You can quickly and easily publish updates which you can either make public or send to backers only, and your updates will be sent to all your backers via email (which is a great way to reach out to the most hardcore of your fans, even after the project is long finished!)
Here's what it doesn't get you: ANY HELP tracking or communicating with your fans, any form of fulfilment support, or any actual flesh-and-blood contact with Kickstarter staff. They're the biggest platform out there, and they expect you to have a team that will take care of all the minutiae of a successful project. This can be very frustrating, as their system is built as a one-size-fits-all solution - as a musician, you're using exactly the same tools that are offered to a video-game developer or a smart-watch manufacturer.
Most of the problems we ran into stemmed from this shoe-horn mentality, and it's one of the ways in which Kickstarter differs from other crowdfunding platforms philosophically: it's not a store, it's a place where people who believe in your project can choose whatever arbitrary amount they feel like pledging, after which they can pick from a list of rewards. While this seems simple, in practice it was a nightmare. Here's an example: part-way through our campaign, we decided to add some slick custom-printed posters as an option. They were a hit and attracted a bunch of new pledges, but what about fans who had ALREADY pledged and now wanted to add a poster to their list of rewards?
In short, they couldn't - or at least not without a serious amount of hassle. Because Kickstarter isn't set up like a shopping cart, our fans had to log in to their account, add the requisite amount of money to their pledge, then EMAIL US through Kickstarter to explain what the additional money was for. If they made the mistake of actually switching their chosen pledge reward to the new poster and didn't tell us they were ADDING it to their pledge, we'd only see that they wanted a poster and we'd send out the wrong package. This same problem arose whenever a fan decided they wanted to add to their pledge and upgrade their reward, which happened literally hundreds of times (we had almost 900 backers). It was a massive headache and I can't even imagine how larger projects handle this kind of thing (Amanda Palmer had almost 25,000 backers!!) Thankfully, my friend (and our producer) Zach McNees had some experience with Kickstarter and spent way too many hours setting up spreadsheets and keeping the whole thing organized.
Another potential issue arose from the fact that your backers choose their reward and pledge their support, but their credit cards aren't actually charged until your campaign comes to an end. This means that a fan who has a sudden outburst of generosity and drops $3000 on a private house concert can forget about it until their card is charged (and declined) two months later.
Our final hassle: fulfilment. Again, Kickstarter takes no part in actually fulfilling your orders, and you have to make sure you budget for manufacturing and shipping! If you raise enough to record your album and forget that you still need to print and ship it, you're in trouble. There's a serious time commitment as well: in our case, we had over a hundred handwritten lyric sheets to scrawl out, almost 900 CDs to sign and a ton of other custom packages to take care of, all of which then had to be addressed, stamped and taken to the post office. Don't underestimate how much work this is, even with your whole band and all their significant others helping you out. Remember: no matter which platform you decide to go with, it's still very much do-it-yourself.
On the whole, Kickstarter looks great, has a lot of credibility with users and makes it very easy to get your fans excited and spreading the word. The update system is a great tool, it's easy to create packages and fans love the excitement of watching the money roll in. Kickstarter also takes a lower commission than some other platforms, but with that lower commission you also get less support and a system that isn't really tailored to musical projects.

PLEDGEMUSIC
Note: PledgeMusic has since gone bankrupt. 
My most recent crowdfunded project was done through PledgeMusic. There are a lot of similarities between PledgeMusic and Kickstarter, but there are also a few big fundamental differences.
Like Kickstarter, PledgeMusic makes you pick a goal amount, and expects you to reach that goal or refund the money. PledgeMusic is WAY more hands-on right from the start, though: they assign you a project manager, take stock of your band as a business (by looking at your social media stats and your level of fan engagement, as well as other metrics they don't publish) and they try to help you set a realistic goal that they're confident you can attain. Goals on PledgeMusic tend to be much more honest than on Kickstarter. This hurts their reputation a little bit when artists are comparing the two platforms, because Kickstarter artists SEEM to make a lot more money (since they regularly hit 200% or 300% of their artificially modest "goal").
PledgeMusic doesn't publish the dollar amount of a project's goal, opting instead to show the current PERCENTAGE raised, and since your chosen goal on PledgeMusic is probably higher than it would have been on Kickstarter, your final percentage can give the impression of a less-successful campaign. On Kickstarter we raised 300% of our goal; on PledgeMusic we're currently at 153% - but our numbers on both projects (money raised and number of backers) are almost IDENTICAL.
PledgeMusic is exclusively built around musical projects. Everything about their system is designed to make it as easy as possible for artists to run successful campaigns, and all their tools are specific to the kinds of projects artists will create. This meant that their back-end was way more intuitive and a lot of the problems I had with Kickstarter were non-issues. Campaigns on PledgeMusic are much more tailored to a "pre-sale" experience, and instead of forcing users to choose from a list of overly-complicated packages, fans can pick and choose individual items and check out using the kind of shopping cart that we're all familiar with after a decade of shopping online. PledgeMusic also offers fans the option of paying with PayPal, which is charged immediately (eliminating some of the potential hassles I mentioned above in the Kickstarter section).
PledgeMusic takes 15% of your total. This is the highest commission of any platform I've seen or read about. Keep in mind that their commission comes off BEFORE you manufacture or fulfil your packages, so they're in effect taking a cut of your production costs as well. On top of this, they hold back an additional 10% of your funds until you've fulfilled all your packages. Their reasoning behind this is that up until the day you ship, fans may still decide to cancel their pledge and get a refund, and they need a reserve of funds to cover these cancelations. Personally I think 10% is a little high, but all it takes are a couple $1000 packages getting canceled and it can eat up that 10% pretty fast.
When we were looking at the pros and cons of switching to PledgeMusic from Kickstarter, the commission was far and away the toughest sell for us. How do they justify it?
Well, first of all - PledgeMusic is your partner, right from the start. This is no faceless corporate behemoth - I sat down face-to-face with CEO Benji Rogers on more than one occasion and exchanged countless emails and phone calls with him and other PledgeMusic staffers, and this was BEFORE they assigned us our very own project manager. They're smart, they're all current or ex music-industry people and they take a lot of personal pride in helping musicians make projects they're proud of. If there was something about their system I didn't like, they'd either take the time to explain their reasoning to me or they'd have one of their tech people change it, usually within hours. I sent many emails to Kickstarter during our campaign and never received anything other than form responses; with PledgeMusic I could personally contact a dozen people all the way up to the top of the company and expect prompt and respectful communication. You'd be amazed how much less stressful the experience has been based on that alone.
PledgeMusic is also constantly looking for ways to help artists succeed beyond the end of their campaign. They have partnerships with manufacturers (and their buying power means you can get great deals you wouldn't get on your own). They know publicists, fulfilment houses and specialty merch manufacturers, and they're always available to help you find the best deal on vinyl, the best way to ship a fragile item or the best place to find drumsticks and disposable cameras in bulk.
Unless you decide to partner with one of the fulfilment houses PledgeMusic deals with, you'll still be responsible for packaging and shipping everything yourself, but their back-end makes it much easier to print shipping labels and keep track of everything. Even if you only ship part of someone's package it's easy to make a note so you won't accidentally re-ship it later.
A final big bonus of using PledgeMusic over Kickstarter is that they report all sales to SoundScan. Since every single backer gets a digital download of your album and most other backers will choose to get a copy of your CD as well, it can add up to a pretty big chunk of first-week sales. In niche genres (like jazz or world music) reporting all those pre-sale numbers in your first week of release can actually snag you a spot on Billboard's charts. This doesn't mean as much as it used to, but a top-ten album sure looks nice on a bio or poster. :)
Overall, my experience with PledgeMusic has been very positive thus far, and although the 15% commission still stings a little the blow is softened by their attention to detail and their willingness to get their hands dirty and help you every step of the way. Add to that the personal and business relationships they have industry-wide and it's a pretty tough platform to beat.

BANDZOOGLE (THE DO-IT-YOURSELF APPROACH)
Note: Bandzoogle has since launched a built-in crowdfunding feature: New: Preset page template for crowdfunding music
I'm putting this last because I wanted to leave you with one important piece of advice: you don't really HAVE to use any of the crowdfunding platforms out there. Sure, they have the credibility of an established company; they have a lot of built-in tools that you can use and they can be great for promoting your project to a new audience. If you're expecting a thousand backers and all the logistical headaches that come with them, a more fully-fledged platform is probably the way to go (unless you have a staff of really patient people to help you keep track of everything). Many artists aren't looking at projects on that scale, and for them it's perfectly possible to fund a project without giving up a big commission to a 3rd party platform.
The first time I set up and ran a crowdfunded project, I did so through Bandzoogle's Store feature. Every package was set up as a merch item and I treated the whole campaign the same way I did my usual Bandzoogle store. Every time a package sold, the money was in our PayPal account immediately. Best of all, Bandzoogle doesn't take ANY COMMISSION on your sales, so besides the PayPal processing fee the money is all yours to spend on your project as you see fit. If your goal is reasonably modest and you don't expect hundreds and hundreds of orders to track and take care of, Bandzoogle is a more than adequate solution for a crowdfunded project, and their support staff is always available to help you out. It does take a little bit more work to set up your store page, make it easy to share on social networks and make it all look as slick and confident as the big boys, but it's well worth the effort if it means not giving up 10-15%! When you're looking at your options, take a good hard look at whether you think you can handle the straight-up indie approach before signing up on one of the other platforms.
CLOSING THOUGHTS:
Crowdfunding is a heck of a way to get a project off the ground, but it's not for everyone. You really need to have a personal and interactive relationship with your fans and supporters - you're asking them to trust you, so if you're not the kind of person who is willing to answer emails personally and shake hands after every show, you probably aren't a good candidate for a crowdfunded project.
It's also important to be realistic: if you're looking to fund your debut EP, don't shoot for the moon. It's a lot harder to convince people that your project is worth funding if they aren't already fans (and if you don't have a track record to back you up). Pick a reasonable goal, create rewards that are really creative and worthwhile and remember that the people who are going to help you consider themselves patrons of your art, not faceless fans. Give them something to get excited about! On our Bandzoogle campaign I offered (and sold) a matching tattoo with one of our fans, and we made personal birthday phone calls to backers. Your fans don't owe you anything - make it obvious that you appreciate their trust every chance you get.
It's amazing that it's even possible to fund, create and distribute amazing music without the support of labels that exploit you and contracts that can cripple you. It's doubly amazing that music fans are so excited to be a part of these crowdfunded projects. If you're organized and passionate and you're willing to roll up your sleeves and put the work in, it's more possible today than ever before to control your own destiny and build a career on your own terms. Good luck!
Build a professional website in just a few clicks where you can crowdfund your next project commission-free! Try Bandzoogle for crowdfunding now.
Why not share this with your friends?
Build a stunning band website and store in minutes
Promote your music on your own unique website.
Sell music & merch directly to your fans. Keep 100%.
Grow your fan base with built-in marketing tools.