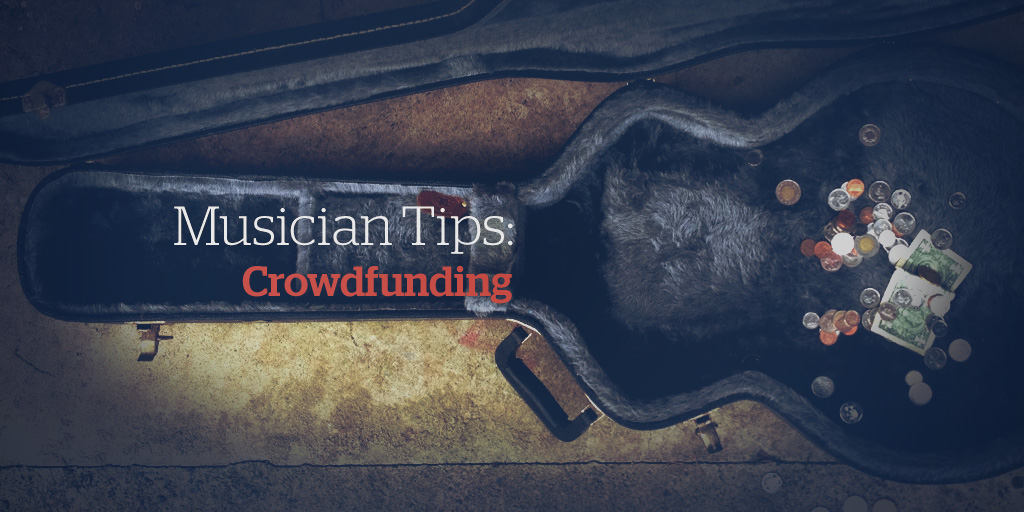 By Dave Kusek of New Artist Model. In this guest post, Dave offers some great tips for musicians looking to use crowdfunding for their next project. 
---
In the past, money was a huge barrier for musicians, and one of the main reasons many were forced to tie themselves to a record label. Today, many musicians are finding their own ways to creatively fund their albums and tours, with the most popular option being crowdfunding. Crowdfunding is a huge undertaking, but, if done correctly, you can come out of it with a whole lot more than just money. It also presents dedicated and creative artists a chance to connect with their fans in a whole new way.
Learn how to run a successful crowdfunding campaign with these 5 tips:
1. It takes a crowd.  
I think a lot of people mistake crowdfunding for an endless well of money, but the sky is not the limit. The amount of money you can raise is entirely dependent on the size of your fan base – your crowd. Generally, the more fans you have the more money you will be able to raise, although there are other variables like fan dedication and income level. Amanda Palmer was able to raise upwards of a million because she has a huge, dedicated fanbase with spare cash to throw around. Pretty much the perfect scenario.
There's no way to tell exactly how dedicated your fans are and how much money they would be willing to donate, but you can look at some figures to get a better idea. Look at how many people you have on your email list, how many people come to your shows, and how many people you have following you on social media. Don't assume that every one of your fans will donate – even the most amazing musician in the world couldn't accomplish that.
Think about how much your average fan would be willing to spend to help your cause. If your fanbase is generally high schoolers or college kids, they may not have as much spare cash as working adults in their 30's. Think about what your super fans may be willing to spend. If you offer any higher-end products on your website – like VIP passes – look at how many of those typically sell to gage the amount of dedicated fans you have. Use all of this to set a reasonable goal. Setting a goal too high and not meeting it is a depressing thing no one wants to face. Not to mention it definitely has a negative effect on your brand.
2. Choose the right platform.
There are tons of crowdfunding platforms out there, each with it's own unique features and benefits. Don't just use Kickstarter because it worked for Amanda Palmer. Have a reason for your platform choice.
Kickstarter has a huge profile, with hundreds of thousands visiting the site each day. On the downside, you only get the money if you meet your goal and you could get lost in the crowd. Depending on what kind of campaign you set up, Indiegogo can allow you to keep the money you raise even if your goal isn't met. However, Indiegogo takes a higher fee from these kinds of projects.
Note: Bandzoogle has since launched a built-in crowdfunding feature: New: Preset page template for crowdfunding music
3. Make a budget.
Your budget isn't just what you want to fund. If you ask for exactly what you need to fund your recording or tour, you'll find yourself in debt. Each platform takes a percentage fee from successful projects.
Taxes are another issue. Technically, the money you raise from crowdfunding is income and needs to be reported. This probably won't be hugely significant for smaller projects, but all these costs can add up and you should take it into account.
On top of that, rewards cost money as well. People are paying for that t-shirt or vinyl, but you still need to make it (and ship it to them). Figure out exactly what each reward will cost you and how much they will cost to ship. If you have international fans, look into international shipping costs. The worst situation you could be in is not being able to get the rewards to your fans that took the time and money to help you out.
4. Think about your rewards.
On top of just budgeting, you need to think about your rewards creatively. Make your rewards relevant to your project and your fans. Teenage girls may love magnets made from secret, Instagram photos of the recording process. A slightly older fan base may really appreciate vinyl and even some higher-end custom vinyl with artwork. Think about the project itself. Having a signed electric guitar as a reward for an acoustic album doesn't make much sense. Get creative with it.
Make sure you have rewards that take different levels of fans into account so as not to alienate anyone. Digital downloads, physical CDs, posters, magnets, and other little things like that are great lower end options. These are great for your more casual fans that may not be willing to or have the means to donate very much. Mid-priced rewards like vinyl, a t-shirt, or personal things like signed copies or special notes are great for your more serious fans and those that crave personal interaction. Have a few higher-end options. A private house concert or VIP pass is a great way to get your super fans involved.
Keeping all that in mind, make sure you don't over-invest yourself in the reward process. You need to make sure you have the time to create the rewards. Handwritten lyrics may seem like a good idea, but keep in mind that you could be writing hundreds.
5. Continuous content.
Crowdfunding isn't just a beginning and an end. Mass pushes at the beginning and end of the campaign won't get you very far. You'll be left with an unmet goal and a bunch of annoyed fans who had to block your hourly updates from their social media news feeds.
Statistically, most pledges to crowdfunding campaigns come in at the beginning and end. People are motivated by new content and a deadline. You can use this to your advantage to drive more pledges in the middle of your campaign. Release a new, special reward halfway through your campaign. Keep in mind that the entire process is an opportunity to engage your fans in a new way. Release update videos showing your fans the progress of the album they are helping you make. Release short teasers or rough drafts of songs. Ask your fans' opinions on your lyrical work-in-progress. Try to make the content exciting and engaging. You want to keep awareness for your campaign up but you don't want it to feel pitchy.
Crowdfunding is a huge undertaking. If you're looking to start your first crowdfunding campaign or want your second one to be more successful, check out the New Artist Model online music business school. In the New Artist Model online music business courses you'll learn how to turn your music into a successful business - a business where you're the CEO! You'll create an actionable and personalized plan that will help you achieve a career in music, and you'll be able to do it all with the resources you have available right now.
If you'd like to learn even more great strategies from the New Artist Model online music business courses, download the free ebook. You'll learn how to think of your music career like a business and get some great marketing, publishing, and recording strategies!
Build a professional website in just a few clicks where you can crowdfund your next project commission-free! Try Bandzoogle for crowdfunding now.
Why not share this with your friends?
Build a stunning band website and store in minutes
Promote your music on your own unique website.
Sell music & merch directly to your fans. Keep 100%.
Grow your fan base with built-in marketing tools.