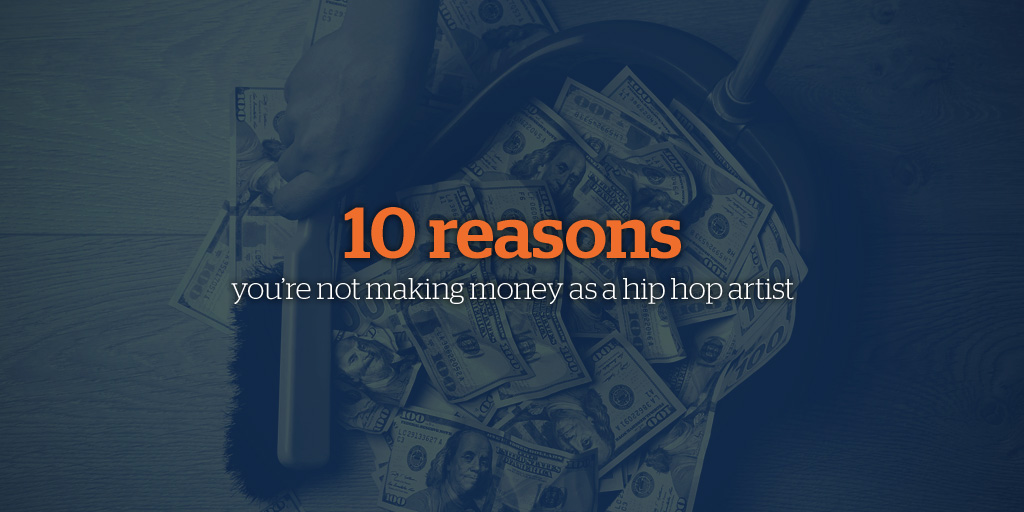 The music industry is tough. The odds of you selling millions of beats and making it big are slim, but you, you're different. You're the one that's gonna make it because you never give up. Your will to succeed is extraordinary but there's a few obstacles in the way you may not even be aware of.
To get on a money making path, you need to stay focused on making solid connections with industry professionals and fans. Make sure you're not guilty of sabotaging your own career with any of these ten music career killers.
1. You STAY high
We get it, you like to smoke. You like to drink. You like to party. That's fine and dandy, but keep it at the party. Nobody likes to conduct business with someone who can't see straight. In an inebriated state you may think you're holding an intelligent conversation but you're not.
The other person is just shaking their head trying to figure out how to get away from you (or secretly taking a video of your drunkenness for a Vine clip). Keeping your mind clear and focused allows people to trust you'll be able to deliver the best on any project you work on.
2. You don't network with professionals
You're the one with the fly style standing in the corner with shades on waiting for someone to approach you. Guess what? They won't. They're looking at you thinking either a) you're conceited or b) lazy.
When you get in a space of industry professionals, this is your time to shine. Take off the glasses and interact with as many people as you can. Sometimes the most low-key person is the one who has the most solid connections. This is why talking to everyone is beneficial.
[Music Biz Networking: Four Easy Ways to Strengthen Your People Connections]
3. You don't follow up
So you left that music conference or networking event with 23 business cards, 19 new Instagram/Twitter followers and 5 phone numbers. A month later, you realize you haven't contacted even one of the people you connected with! This is where new opportunities die.
When you meet a new person make it your goal to reach out to them within 24 hours. See how the initial interaction goes and if there's potential to work together, set a reminder in your calendar to follow-up on a consistent basis.
[Attending Music Conferences 101: It's ALL About the Follow-up]
4. You try to force a fake style
You've heard before that artists with unique styles tend to stand out from the crowd, but copying won't get you there. Your best bet is to do a little research. Look at styles from all eras in hip hop. Incorporate those that speak to you and your personality. Then get creative with accessories, clothes and hairstyles that fit your vibe.
5. You hide behind your squad
Your homies are your heart and they've been with you from the beginning. You want to include them in your music career journey, but you have to know when they are standing in the way of your progress.
Making new contacts requires one-on one-conversations. If you're rolling ten deep everywhere you go, your crew is acting like a shield keeping you from meeting important people. Also, because your crew loves you they may not tell you when you need to improve. You need people around that will tell you the truth about your music, career choices, and when you're making bad decisions.
6. You're all talk
How many times have you heard a fellow rapper say, "Aw man, I got a meeting with [insert name of impressive person or company] and I'm about to sign a deal."
It seems like everyone has all these meetings but nobody's getting anywhere. Don't be that guy or gal. Don't get stuck on the illusion that getting signed is your golden ticket. You have to make your own way by putting out quality music, working consistently with other industry professionals, and building up your fanbase. Remember that your actions always speak louder than your words.
[Major vs. Indie: What really happens when you sign a record deal]
7. You sound like everyone else
You may not be able to change your voice or tone, but you can definitely create a unique sound or thoughtful lyrics. You wouldn't think whispering a song would work, but people lost their freakin minds when Ying Yang twins released "Wait" (The Whisper Song.)
And some might find it irritating, but Fetty Wap has used his wobbly squeaky voice to make a name for himself. Similarly, artists who take the time for thoughtful lyrics are the ones who have staying power in the hip hop arena. This just goes to show that you don't have to try and change who you are to fit in. Just do you because fans gravitate towards artists that have a passion for being real and using their natural talents.   
8. You only think of yourself
The thought of you on stage with thousands of fans cheering for you is thrilling, but you can't get there all on your own. Building relationships and strategic partnerships is an important part of the process.
Everyone you come in contact with is working on their own dream. You have to figure out what they want and how you can help them achieve it as well. When you're reaching out your hand for help, you can use the other hand to offer to help someone else. You may not think you have anything to offer, but get creative.
9. You're not putting in the work
The music scene is ever changing and evolving so it's important to stay on top of it. Gone are the days where you can put out a 10-track CD, then wait a year or so to release the next one. In today's music business you need to consistently produce new music to keep your fans engaged.
Keeping new music in your fan's ears will keep them coming back again and again. If you put out a new track per week for example, it gives your fans something to look forward to. This consistency creates Superfans and those are the ones who share your music, buy new EP's, concert tickets and merch.  
10. You're not connecting with your fans
It's not enough to create a few new tracks then go on social media shouting 'Check out my new Mixtape!!' In fact, it's a sure fire way to get blocked. Constantly repeating 'check me out!' over and over is not only annoying, but it doesn't do anything to connect with your fans.
You need to get the mindset that you're building your team, one person at a time. Your team being your fans. To do that you have to not only talk, but listen to them as well. Send newsletters, interact on social media, post messages and pictures about things other than your music so they get to know you. Then when it's time to share your new tracks, they'll be more interested since they've been relating to you on a more personal level.
[Why Email Newsletters Are Still a Vital Marketing Tool for Musicians]
It's easy to fall into these bad behaviours but to stand out you need to do things differently than the rest. The key to a successful career as a hip hop artist or producer is making meaningful, lasting connections. If you take it one day, one fan and one contact at a time before you know it you'll be making a living doing what you love in music!
---
Catch the attention of your fans and industry leaders the right way by building a professional website to sell your beats. Create your own in just minutes. Try Bandzoogle free now!
Why not share this with your friends?
Build a stunning band website and store in minutes
Promote your music on your own unique website.
Sell music & merch directly to your fans. Keep 100%.
Grow your fan base with built-in marketing tools.