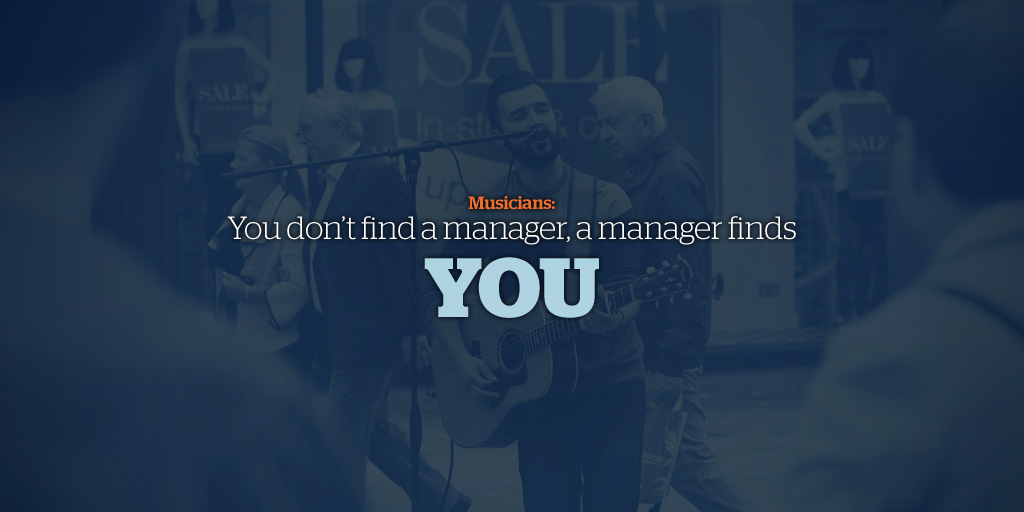 This is a guest post by Ari Herstand and originally appeared on Ari's Take. Ari has played over 550 clubs, colleges and festivals around the country and has been a full time DIY musician for over 5 years. He has played with Ben Folds, Cake, Matt Nathanson, Ron Pope, Eric Hutchinson and Joshua Radin and has had songs featured on TV shows like One Tree Hill and various Showtime, MTV and VH1 shows. He writes a DIY music business advice blog, Ari's Take, based on his experiences as a DIY musician. You can follow Ari through his website, on Twitter, Facebook, or sign up to the Ari's Take email list.
---
I've never had a manager. Don't take this as I never wanted one. I made it the goal of 2008 to find a manager. I didn't find one that year (but I did open for Ben Folds). I didn't find one in 2009, 2010, 2011, 2012 and I'm still self managing my career myself (and have managed other bands as well).

I'm not saying I'm better off. Or worse off. There's no way I can know that. I have friends who have succeeded far beyond my level of success with a manager and friends whose bands have broken up with a manager. Having a manager is not a mark of success (neither is a record deal). These can be little victories, sure, but the moment you turn little victories into marks of success is the moment you become complacent and hand over your career to people who don't (can't) care about your career as much as you do.

A manager's biggest asset is not being you. A manager talking his band up will get a much better response than the singer talking his band up. Even if the manager is the lead singer's brother (Imagine Dragons).

Back in the day, I created an alias who reached out (via email) a few times on behalf of me when I needed to be taken seriously. However, I don't use the alias any more. I got into a sticky situation with him (er...me...Bill...whatever) once. Another story. I don't think having this fake manager alias worked or was worth it. Any club booker will take you, the band member, just as seriously if you communicate in a professional manner and if sound like you know what you're talking about.

You need to be kicking ass on your own BEFORE any manager will want to represent you. A manager takes a cut of your career (typically 10%). So you'll have to be pulling in enough to make it worth it for this potential manager to take you on. If you're pulling in $1000 a month, you aren't ready for a manager. No manager will (be able to) put in the time for $100 a month. And you don't want a manager who will work for $100 a month because they won't do anything. No matter how much she loves your band, unless she is already a millionaire and just needs a passion project, she will not be able to devote the time necessary it takes to manage a baby band for $100 a month.
Start building your fanbase so you can catch the attention of managers. Bandzoogle websites have a built-in mailing list and all the tools you need to step up. Sign up free now!

There's no one way to find a manager. Andy Grammer's manager "discovered" him while busking on the Santa Monica promenade (so the story goes) - actually Andy's good friend who was kind of managing/helping him, told this manager who happened to be looking for a new client (his first) to check him out on the promenade. But the "discovered while busking on the streets of LA" is a much better story.

Finding a manager is about timing, being in the right place at the right time and, really, making it seem like you don't need a manager. No one wants to work with a band who seems to be struggling, but EVERYONE wants to hop on a speeding train.

If you don't have your shit together online and off, then no manager will want to work with you. If your Facebook Page is out dated with tabs that aren't functional and music you released 3 years ago of shitty demos and you only have 400 Twitter followers with all your tweets auto sent from Facebook, Instagram or Vine, they aren't going to look twice at you.

You need all of your social media sites up to industry standards. You need your live show better than bands who are selling out arenas. You need to look like a band ready to take over the world.

Approaching management companies (or managers directly) rarely works. They want to DISCOVER their talent. If you go cold call/email them it already reinforces everything they think about themselves: they are great and everyone, of course, wants to work with them. If they discover you then you will be their passion project (for the time being) and they will brag to everyone they know that they discovered you and will work much harder for you.

There are rare cases, sure, where managers will take on baby bands. These are typically big time managers who have a bunch of money making clients already. They have the clout to get you places quickly and one of their phone calls can be more effective than 100 of your phone calls/emails. These "clout" managers may spend 10 minutes of their day on you, but those 10 minutes can be extremely effective. "Hey Johnny, I hear the first opening spot on Mumford's tour is available. I got this hot new band out of Milwaukee. They're Mumford meets Adele. You'll love them. I already sent you a link to a video that's got over a million views. Hit me back in 5 when you watch this. Let's get them on the tour." Bam. Shit can happen like this.

There are two types of managers:
1) The "clout" manager (as described above)
2) The young manager who has no experience but will KILL for the band and will scream at the top of every building (and to everyone he meets) how earth shattering his band is.

Ideally, your manager is BOTH of these. This rarely happens. It's best to get a manager who is somewhere in the middle.

Whatever you do, don't sign with a manager who is neither of these JUST to have a manager. I meet too many artists who love talking about their "manager." "Oh yeah MY MANAGER is handling this. MY MANAGER is handling that." Blah Blah. Unimpressive. I don't care! If your manager really was handling this and that you wouldn't need to tell me about it and I'd see it. And your manager should never be handling stuff you don't know about. The moment your manager makes deals that you have no idea about is the moment your career becomes their career and you lose all control.

Don't fret over not having a manager. A manager will approach you when you least expect it (and when you aren't looking for one).

If you want some one on one time with me to chat specifics about your project read about my Get Specific programs and we can set something up.
Enjoyed this post? Check out: How to Get a Booking Agent to Book Your Band
Why not share this with your friends?
Build a stunning band website and store in minutes
Promote your music on your own unique website.
Sell music & merch directly to your fans. Keep 100%.
Grow your fan base with built-in marketing tools.