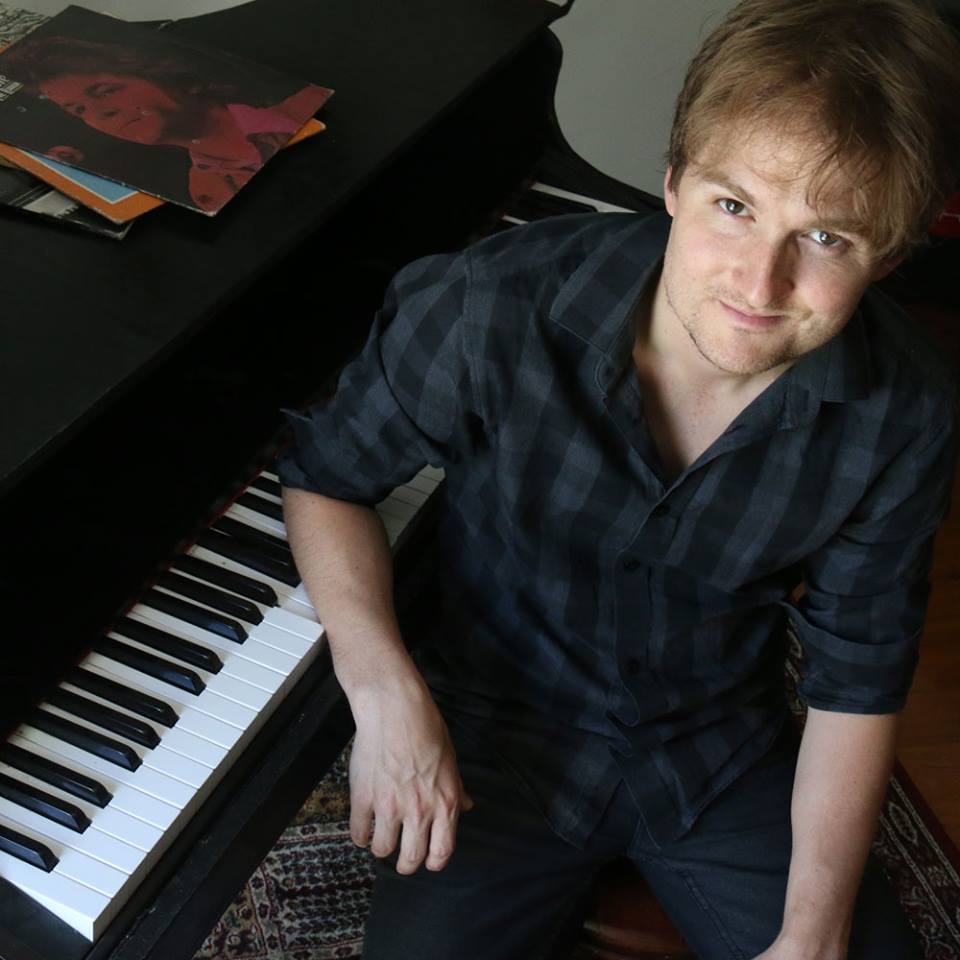 Singer-songwriter, piano man, and Bandzoogle member Tyler Kealey embarked on an ambitious project this year: he set out to record a song on video every day for an entire year. And after over 250 days, he's still going strong.  
Tyler has diligently posted each new video to a blog on his website. With each post he adds context to the video, explaining why he chose the song, as well details about the recording. The videos include originals, a wide range of cover songs, as well as collaborations with other musicians.
Bandzoogle's Unofficial Theme Song
Tyler also recorded what has become our unofficial theme song. Bandzoogle is a remote company, so all of the staff work from home. Every year, the staff and their families get together for an annual meetup. Tyler is married to one of our support technicians Melanie, so he was there at the meetup once again this year and still managed to record a video every day.
One of the videos he recorded during the meetup was a spinoff of the Kids in the Hall sketch/song "Daves I Know". Out of a staff of 20, there are 4 Daves here at Bandzoogle (well, 2 Davids and 2 Daves, but close enough).
So Tyler tweaked the lyrics for "Daves I Know" and made a video talking about the Daves he knows at Bandzoogle: CEO David Dufresne, Developer Dave Spurr, Support technician David English, and Director of Artist Relations Dave Cool.
Here's the video, with the whole extended Bandzoogle team helping out:
Interview with Tyler Kealey
We spoke to Tyler about his video a day project to find out why he's doing it, what he's learning, and what the challenges have been. Plus, he tells us what some of his favorite videos have been so far. Enjoy!
Q: Why did you decide to do a video every day?
I've always felt caught between two worlds in my musical life.  I play live cover shows 3-4 times a week and I also write original music and perform it when I can, but the audience just isn't there in the same way.  
There's no shame in making a living making people happy with songs they enjoy hearing and I enjoy playing, but I had been feeling a bit jaded about playing covers for people in bars and clubs, with no one wanting to hear my original songs.  
I realized that I didn't want music to become a daunting part of my life.  I have been playing music my whole life and the reason I decided to make it my career, was because I have always had an undying passion for performing, songwriting and singing so I wanted to do something that reminded me of that love.  
I thought by doing a video every day, I could kind of reflect on all the songs I love, to motivate and inspire myself to celebrate music again, in a challenging way. I was hoping to reach a wider audience through social media with the videos - appealing to those who love a good Elton John song and also those who like my style of piano pop music.  
Q: How has the reaction been?
It's been positive overall. When I go out, people always come up to me and tell me how much they enjoyed a recent video, and that's nice.
Q: What have you learned in the process?
I've learned a lot about the process of filming and editing the videos - it takes longer than I thought it would.  I've learned to let go a bit as well. If you're going to really record a song every day, you have to push yourself to get it done and not every day's song is going to be as perfect as you would have liked it to be.
I'm also learning about what people like to watch. I can spend hours at home perfecting an original song, and some people will watch it, and then I can spend 4 minutes doing a quick Monty Python cover outside next to a new Silly Walks songs, and thousands of people will watch and share that one.  
So I'm learning to balance songs I really feel strongly about, that are meaningful to me or have a story behind them, but nobody knows well, with songs that everyone knows and likes and will share, to increase the project's visibility.
Q: Have you had any interesting collaborations?
I got together with some musician friends at a cottage and we stayed up all night to write a new song which we recorded for that day's video which was fun. I did a live song with a female bluegrass band that was really fun. I've had some great collaborations with family, too, and with my ten year old cousin (she just started writing music so we filmed one of her songs).  
I'm also planning to get together this month with a couple of musicians I've never worked with before, so that should be good.
Q: What's been your favourite part of doing a video every day?
It's made me push myself.  I've been trying to come up with a creative take on songs that I've always liked but never really learned to play. I did a cover of Black Hole Sun recently and came up with a piano arrangement for it. It's also forced me to work on a few songs that I'd written but not quite finished, to film a version.
Q: What's been the biggest challenge?
Trying to work with so little time.  Especially with a one year old at home with me during the day, and shows a lot of nights, time is a precious commodity. Sometimes it gets to 11pm and I just need to get something done quick. Then I can't worry about great lighting or doing a few takes - I just have to get one done.
Q: What are some of your favorite videos? Besides the Bandzoogle theme song of course.
Vienna Waits - one of first I did with an editing program; Baseball Diamond - an original song that means a lot to me; Hey Daddy - filmed on an iPhone, and I'm playing my keyboard in the bathtub;  Have you ever seen the Rain - the arrangement is interesting; The Canal medley - I was pulled around, with my piano, on the world's longest skating rink by a 'horse'; Rock around the Clock - I played this one because my son likes to jam out to it on his own baby piano.
Q: What are you going to do the first day *after* finishing the year of videos?
It's a bit of a pipe dream right now but I was thinking about doing a show that includes the whole year of music all in one performance. So it'd probably go well into January 1. But after that I'd like to disconnect for a bit and just write, offline! I imagine the days proceeding this project will feel like I have all the free time in the world by comparison.
Why not share this with your friends?
Build a stunning band website and store in minutes
Promote your music on your own unique website.
Sell music & merch directly to your fans. Keep 100%.
Grow your fan base with built-in marketing tools.