A few weeks ago Daniel Bennett Group sent out the following tweet: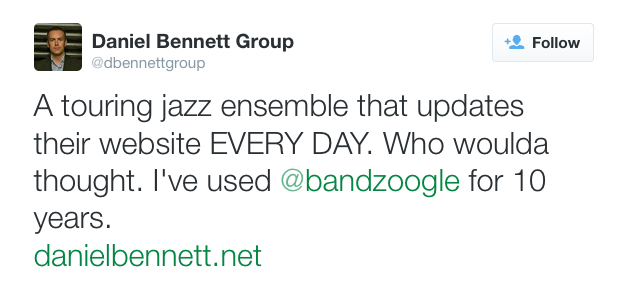 Needless to say, we were impressed! So we talked to Daniel Bennett about his experience marketing his music on the web the past 10 years, how he uses his website as his main hub on the internet, and why he's stuck with Bandzoogle for so long. Enjoy!
---
Q: You've been a Bandzoogle member for almost 10 years now, that's amazing. Thanks for being with us for all these years! How has your website helped your career?
I was finishing up my masters degree in saxophone performance at the New England Conservatory in 2004. I had just formed the Daniel Bennett Group and was beginning to perform quite frequently around the northeast.  My bassist at the time was a very good marketing guy named John Servo. John recommended that I try using Bandzoogle to build my website. He was currently using Bandzoogle for his personal page and for a progressive video game rock band called the Konami Kode.
Prior to this, I had been using an outdated website that could only be updated by someone who lived on the other side of the country.  That's actually how many bands operated back in those days. Bandzoogle was one of the first companies to give the artist total control of every inch of their website. And it didn't require any knowledge of html codes at all!  I built my Bandzoogle website within a few short hours. I uploaded thousands of tour pics on the site and started a very active site blog where I could interact more freely with people.
Q: What are some of your favorite things about Bandzoogle?
Bandzoogle gives me the power of a full-fledged web design company in the palm of my hands.  I absolutely love the preset templates that I can use. I am not a technologically-minded person. Bandzoogle does everything for me.
Bandzoogle is a smart company that has adapted with the times. Over the years they have updated their features to sync better with smart phones and other devices.  It's no surprise they are one of the top web design companies for musicians. I have personally converted dozens of musicians to Bandzoogle. I'm patting myself on the back. But it's true. I am very vocal about things that WORK! Bandzoogle works wonders. Everyone should check it out.
Q: It's obvious immediately when landing on your site that you've received many great reviews in the press. Do you work with a publicist when reaching out to the media?
I have used publicists in the past. I currently handle publicity on my own. Our Bandzoogle mailing list has over 5,000 people.  I constantly send email blasts about our travels, concert dates, and new album releases. I have great relationships with writers from the Boston Globe, Time Out New York, Village Voice, All About Jazz, Something Else Reviews, Jazz Police, and other media outlets.  
Our recent album, Clockhead Goes to Camp, was voted a top 2013 pick by many writers last year. A lot of this had to do with our strong website and social media interactions.  We're very grateful to have thousands of followers on Facebook, Twitter, and Instagram. It's been a huge blessing.
Q: You mentioned on Twitter that you update your website everyday. Why do you think it's important to update your site on a regular basis?
Social media will come and go. I believe that a vibrant website and mailing list will always be a crucial part of the game. The key to marketing is to constantly remind folks that you are active!  I add photos, videos, and reviews to our website every day. I update our concert calendar on our website, too.  
With Bandzoogle, I can constantly add information to our site. Many people thought we were unusual when we first launched the Daniel Bennett Group in 2004. I think we were able to look into the future and jump on some important marketing trends. We figured out the technology fast and have adapted with the times.
Q: You've toured extensively throughout your career, has touring become more important for you in recent years because of the downward trend of music sales?
I often tell people that my online marketing is simply a snapshot of all of the things I am doing in the real world. The Daniel Bennett Group performs constantly. It's meaningless to have a web presence if you are not performing in public every night.  For many years I would travel from New York City to Boston every week to play at the Liberty Hotel. I am always collaborating and doing my best to share the spotlight with other artists.  The Daniel Bennett Group often features guest artists from all genres to share the concert billing with us.  
We have recently shared concert billings with an eclectic mix of artists like Bill Frisell, Charlie Hunter Trio, Steve Kuhn, Greg Osby Duo, James Carter Organ Trio, Joy Electric, and Billy Martin.  We have played with singers, comedians, and literary people like recent Fulbright scholar and poet, Rimas Uzgiris.  We are constantly breaking into new markets. In addition to leading the band, I also perform frequently as a sideman.  
I recently toured Italy and Switzerland with world music ensemble called Musaner.  I am also very active as a pit orchestra musician in Manhattan.  I recently composed and performed the original score for a stage adaptation of Frankenstein at the Hudson Guild Theatre in Manhattan.
Q: How does your website help with your live gigs?
We constantly post concert videos on our website.  A while ago, we played a double bill with guitarist Charlie Hunter at the Triad Theatre in Manhattan. We were able to post concert footage to our website immediately after the show. The video got thousands of hits within a few weeks. This was before Facebook got huge.
Bandzoogle was really ahead of it's time in providing a the option for artists to post videos. I can easily promote concerts using the Bandzoogle mailing list program. It is super easy to use. I have all of our mailing list members grouped by location. So if we are playing a concert in Philadelphia, I simply send the blast to my Philly list.
Q: How has the way you use the web changed in the last 10 years?
It used to be a big deal to post a photo or video on the web. Now musicians can literally post music and videos in their sleep. Artists can now sell music, post concerts, and interact with people anywhere in the world.  
Daniel Bennett Group was recently featured on the nationally syndicated "Here and Now" radio show on NPR.  One of our songs was linked on the NPR website. Within hours the song had been downloaded thousands of times. The song ranked #22 on the iTunes Jazz charts for that day.  There is no way this would ever happen in the old days. Our music sells quite well on iTunes and Amazon.
In addition, Bandzoogle let's me sell my music through the site store. I produce two different concert series at the Triad Theatre in Manhattan and the Cambridge YMCA Theatre in Boston. I sell all my tickets through Bandzoogle and get paid with Paypal. It's genius and quite easy to use!
Q: What can jazz musicians in general do better when it comes to their web presence?
That's a great question. I really care about people. My online marketing has as much to do with building relationships as it has to do with marketing the Daniel Bennett Group.  I try to give money to artists with Kickstarter campaigns and other needs. My web marketing is just an extension of who I am. A wise man once told me to worship God and serve the people.
The Internet can be a very dangerous and negative place. I try my hardest to use my marketing as a way to help further my career and be a blessing to others at the same time. And most importantly, remember that an artist has to live in the real world!  We cannot live like social media robots.  
I practice my saxophone and other assorted woodwind instruments every day. I'm currently writing a book of Paul Desmond transcriptions.  The Daniel Bennett Group has released 6 albums in the last 10 years. We are currently working on material for our next CD.  I'm always working on new things! In general, my entire focus is on growing as an artist. The Internet gives people a window into my world. Bandzoogle is an integral part of my world!
Thanks for your time Daniel, we look forward to having you with us for another 10 years!
Check out the Daniel Bennett Group website: www.danielbennett.net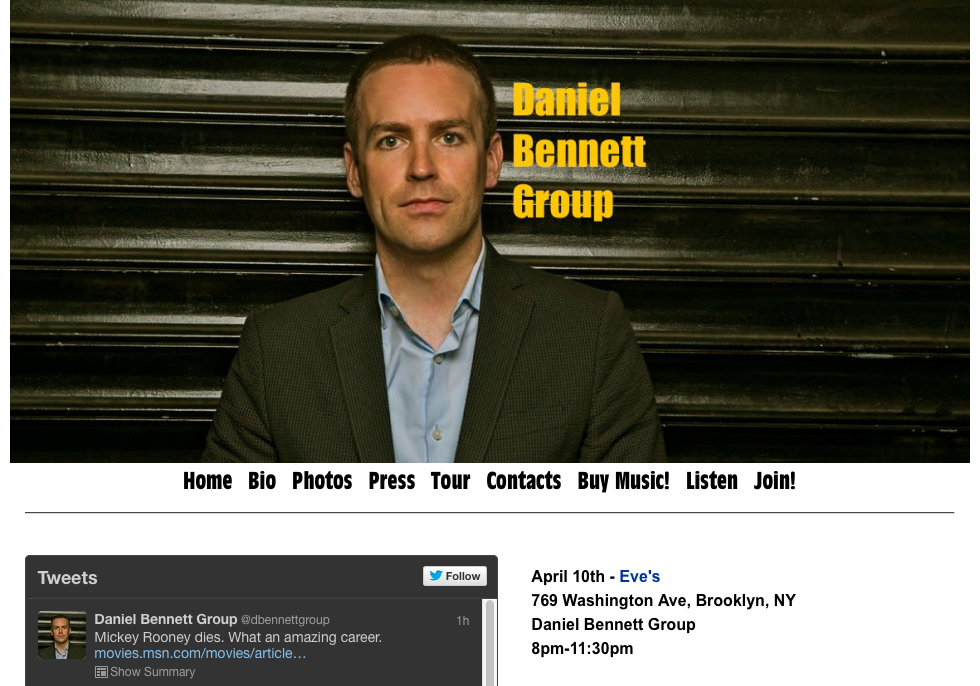 Why not share this with your friends?
Build a stunning band website and store in minutes
Promote your music on your own unique website.
Sell music & merch directly to your fans. Keep 100%.
Grow your fan base with built-in marketing tools.