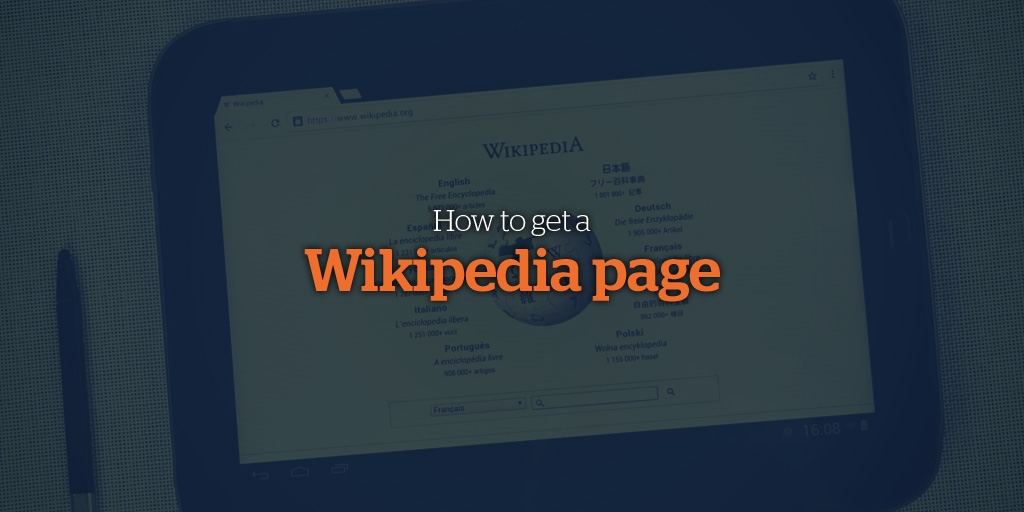 Bandzoogle just implemented Google's new Knowledge Graph format that allows our members to get their upcoming shows listed on the main search page when a fan does a Google search for them.
Though we provide the information to Google, we're not in control of who they add to the listing. In their documentation, Google suggests that having a Wikipedia page will increase the chances of being listed.
Now, getting a page on Wikipedia isn't a straightforward process, and there's no guarantee of being able to get one. But if you follow their guidelines, you'll give yourself a very good chance.
Here are the most important things to keep in mind when trying to setup a page for your band or music on Wikipedia:
The page must be neutral
Wikipedia stresses that the article or page must be from a neutral point of view. So although writing the page entry yourself might be the quickest way to get onto Wikipedia, chances are that it will get deleted very quickly for not being neutral.  
A Wikipedia article is not meant to be a promotional page for your band, but an unbiased documentation of your band's music and career. So it would be best to find someone who already contributes to Wikipedia to write the entry instead. This could very well be a fan or friend of the band, but make sure it's not an obvious conflict of interest, which Wikipedia also frowns upon.
Information must be verifiable
Information about your band or music must come from a verifiable source. So even if the information is factually true, Wikipedia insists that it must be verifiable before you can add it to the page.
If a friend is writing the entry for you, be sure to collect all links to reviews, articles, mentions and information online about your band. That way the person writing the entry can cite outside sources for information about your band so that it can be considered verifiable.
Information must come from reliable sources
The next thing to keep in mind is that for any articles or sources that are cited on your Wikipedia page, they must come from reliable, independent, 3rd party sources. So it's better if the author cites an article in the media, rather than the band's website, or something the singer's mom said on her personal blog. 
Your band/music must be "notable"
This might be the most important point: your band or music must be notable in some way. Meeting Wikipedia's notability requirements might be the difference in your page getting deleted or not.
Being "notable" is subjective, but here are some criteria that Wikipedia specifically mentions would help a band to be considered notable:
Having multiple newspaper/magazine articles (or online equivalents) covering your band that are not simply reports about upcoming performances, track listings, etc.

Newspaper/magazine article covering an international tour, or national tour in a sovereign country

Having a single or album in a national music chart

Being a prominent representative of a particular style/sub-genre of music

Winning or getting nominated for a prominent music award

Winning or placing in a major music competition

Your music was featured in a notable television show or movie

Your music was placed on rotation nationally by a major radio or TV network

You've been a featured subject for a segment broadcast nationally on radio or TV
 
Other things that may help you to be considered notable:
Your band was involved in a controversy or political movement

You've worked with notable musicians and bands

Performed at major festivals/venues, etc.
The more information with reliable sources that you can provide, the better.

So as you can see, getting an entry in Wikipedia takes some effort and preparation, but it can be done. Big thanks to Bandzoogle members Enter the Haggis (Wikipedia page) and Delaney Gibson (Wikipedia page) for their insight. We hope this article will help you get a page on Wikipedia as well.
Bandzoogle lets you create a professional website in minutes with all the music promotional features you need including a blog, mailing list, and social media integrations. Try Bandzoogle free now!
Why not share this with your friends?
Build a stunning band website and store in minutes
Promote your music on your own unique website.
Sell music & merch directly to your fans. Keep 100%.
Grow your fan base with built-in marketing tools.