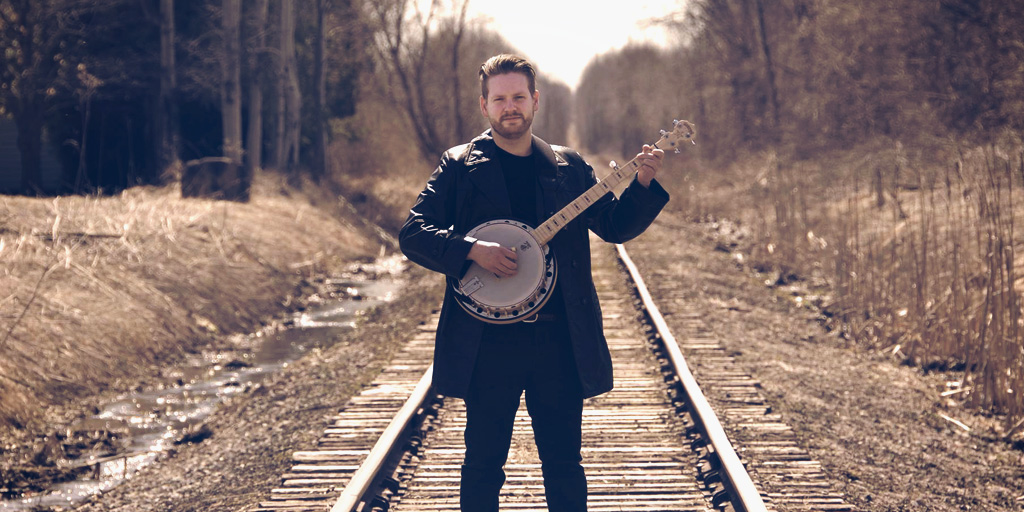 I'm standing in the studio, sweat leaving streaks across the white head of my banjo. A pair of headphones wrapped snugly around my ears relentlessly beat a click track into my brain. I take a deep breath, counting in my head, waiting to come in, knowing the timing has to be perfect. I take a brief moment to wonder - how did this former opera singing, traditional country music fanatic come to be here, in this moment, recording an album in the studio?
Well, there's quite a bit to unpack there, but first, a bit of history about myself. I pursued a career as an operatic tenor for about the past 10 years, and had a fair amount of success with it. On the side, I had always secretly listened to and loved traditional folk and country music.
One day, after a particularly difficult and trying run of an opera, I woke up and realized I just didn't like it anymore. Folk and country music had always been a passion of mine, and I decided I should pursue that instead. I picked up a banjo, and spent the next couple years learning as many traditional songs as I could, and continued to work on my songwriting craft.
Fast forward to 2017. I had some original songs I was happy with, a few traditional songs I felt I had perfected, and a fan base I thought would be willing to both contribute to and buy my music. I felt it was time to record an album.
Over this blog series, I want to take you step by step through the process of recording an album - from the decision of being ready to make one, to the distribution of the final product. But perhaps the most important question comes first - how do you know if you're ready to record an album?
Do you have a list of great songs that are ready to be recorded?
This may seem obvious, but the bones of your album are your songs. Before you decide to record, you should have a solid list of songs that you feel are good enough to be put on an album.
These could be entirely original songs, covers, traditional songs, or whatever path you've decided to go down with your music. For me, I had three solid original songs I was confident about, and three traditional folk tunes I really wanted to do my own versions of. I felt that was a good mix of material I was happy with that I could bring into the studio.
Do you have the time to invest into recording an album?
Recording an album isn't just the time you spend tracking in the studio. You're going to commit many hours to pursuing financing, recruiting musicians, scheduling studio time, and finding a producer.
Once the album is finished, you will need to dedicate time to setting it up for sale digitally and physically, distributing it to platforms like iTunes and Spotify, promoting it via blogs, radio, and more. The time commitment is definitely not something to be taken for granted. I think it's worth all the time in the world to make an album, but you do have to make sure you actually have that time available before jumping into the studio.
Do you have the ability to finance your album?
This is probably the biggest (and least fun) question. Recording an album costs money, and usually it costs a lot of money. Keep in mind you will be paying for studio time, your engineer, your session musicians, your producer, your mixing and mastering...I could go on here for awhile (and will in a later post about budgeting).
[Free eBook] 23 Ways Musicians Can Make Money
A very rough estimate is to think about each track on the album costing around $1000.00. Consider how much of your own money you can put up for recording, and if you have other means of getting funds, like grants, loans, and crowdfunding.
Recording an album versus recording an EP
I considered all of the points above when I was planning my recording, and decided in the end to record a six track album, which is technically an EP.
For me, it mostly came down to how much I felt I could crowdfund to get the album recorded. An EP is a great solution if you don't have the budget to record a full length album, or if you don't quite have the number of songs ready to fill that entire song list. It's also a great way to learn the ropes of planning and executing a recording, on a slightly smaller scale.
Over the next few months, I'll dive into deeper detail on each hurdle you'll jump as you record your album. Tune in next time for an in depth talk on songwriting, and choosing the right songs for your album.
Build a professional website in just a few clicks where you can sell music and merch commission-free! Sign up free with Bandzoogle now.
Why not share this with your friends?
Build a stunning band website and store in minutes
Promote your music on your own unique website.
Sell music & merch directly to your fans. Keep 100%.
Grow your fan base with built-in marketing tools.