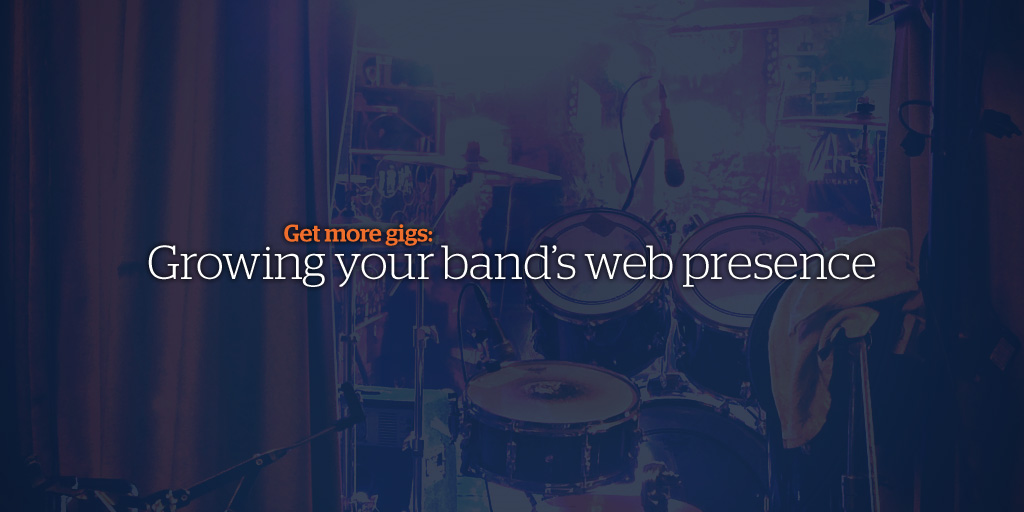 This is a guest post from GigSalad. GigSalad offers promotional tools and exposure to help performers get gigs. All kinds of event planners and talent buyers use GigSalad to book talent for corporate, private, and public gigs. Their members get booked for venues, weddings, corporate events, birthday parties, festivals, TV shows, commercials, movies, and more.
---
As a seasoned musician, you've probably noticed a shift in the way people are discovering bands and new music. With so many sharing platforms out there, the web is crammed with musicians trying to make their way to the top. More than ever, the difference between getting a gig or not very often depends on how easy it is to find your music on the internet. Simply having a website isn't enough to make your band stand out. The hard truth is, if you can't catch a user's attention during their clicking frenzy, you'll get lost in the noise. Here are a few things you can do to help grow your band's web presence, attract new listeners, and get more gigs.
Create a straightforward website
When someone visits your website, your services should be obvious to them. Answer the questions your clients would want to know.
What are you offering me? Why do I need you? What makes you different from your competitors?
But, don't just tell them; show them. Use photos, videos, and audio clips to engage your site visitors. With each element, however, you must follow a few guidelines:
Display your latest high-quality photos. Great imagery can grab the user's attention, but make sure that the images you're using are as relevant and recent as possible. If your band has a logo, make it visible, but it shouldn't be the main focal point. Event hosts looking to book a band for personal events are typically more attracted to photos of actual people rather than graphics. And try not to go too avant-garde here. Just a clean, simple photo showing all of your band members will be enough.  
Share a video performance. For musicians, videos are key for showing both your sound and stage presence. But much like your photos, make sure you're providing high-quality footage. Don't worry, there's no need to buy a professional production camera. Here are a few affordable apps and tools for your iPhone that can help boost the value of your videos:
Keep your videos as up-to-date as possible. By always having fresh content, you can avoid confusion as to how many pieces are in the band, what music you typically play, and if your style is suited to the client's event.
Keep your writing concise. Once you've piqued interest with great visuals, be sure to follow through with your writing. Ideally, you'll want to keep the text short, but include the essentials: the services you offer and how they can book you for their gig.
Find a great website builder. Fortunately, you don't have to be tech-savvy to have an impressive website for your act. Website builders are typically mobile-friendly, offer stylistic flexibility, and make it easy to plug your media and information into a beautifully designed template. Most of these services are highly cost-effective and will even provide hands-on support services. We recommend Bandzoogle because it's built specifically for musicians, making it easy to add downloadable music files, manage gig calendars, and sell band merch.
Research online platforms with great SEO
Search Engine Optimization refers to the practices that improve your site's ranking in top search engines. SEO can be a beast to understand and conquer, but the benefits of this process are incredibly important to your web presence. Because these practices (and even the definition of SEO) are ever-evolving, it is continuously being researched and analyzed. This doesn't necessarily mean that you have to dive into SEO analysis. However, you may want to consider linking up with sites that already have the expertise. There are platforms specifically for entertainers that have already built up high credibility in search engines and allow you to showcase yourself as a professional working musician.
For example, GigSalad.com is a prime spot for musicians to promote their talents and facilitate bookings. Not only can it help land you in a top position on Google, but it also brings in thousands of event planners every day who are searching for local bands to book for their events. So you will also find an influx in gigs just by being a part of the community.
Maintain Online Professionalism
Sometimes, when a performer receives a quote request through their website or booking marketplace, the inquiry is viewed as more of a "lead" than an actual person requesting information. Dehumanizing these requests can influence the way you interact with potential clients as well as the etiquette you've developed in your face-to-face encounters. It's important to remember that our actions affect our reputation and potential for referrals. Word travels fast – especially on the internet, which allows for uncensored and instant communication. Here are a few ways to maintain optimal online professionalism:
Respond to online inquiries quickly. Performers who deliver quick responses are typically the ones to land the gig. Set up your website or booking platform to allow quote requests to be sent to you via email. This way, you can access them from your phone and respond from anywhere.

Use correct grammar and punctuation. This goes for all outgoing emails, your social media posts, your blog, and any direct correspondence with clients. Your language is directly linked to your level of professionalism.

Be courteous. Some musicians have an ego about the types of gigs they'll perform, and that's fine – but your communication with event hosts should never indicate this in a negative way. Regardless of whether or not a potential gig is your ideal situation, remember that this may just be a milestone event for the person contacting you. Don't belittle that. Also be aware that the performer working without rigid gig requirements has the fullest gigging calendar, the most networking opportunities, and typically, the best reviews.

Respond even if you're unable to make the gig. It's frustrating for anyone to ask a question and wait a while before realizing they're not getting a response. The majority of the quote requests you get will be associated with a specific event date, so the event host can't afford to waste time.
The more professional and courteous you are with your online and offline communication, the more positive reviews you'll receive. Great reviews can do wonders to make you stand out among your competition, and event hosts are more likely to book you after hearing from previous satisfied clients.
Making a living as a musician isn't an easy task, but with the right combination of professionalism, talent, and web visibility, you'll position yourself to land gigs with ease.
Find out how GigSalad can help you book more gigs by visiting their website at www.GigSalad.com
Why not share this with your friends?
Build a stunning band website and store in minutes
Promote your music on your own unique website.
Sell music & merch directly to your fans. Keep 100%.
Grow your fan base with built-in marketing tools.