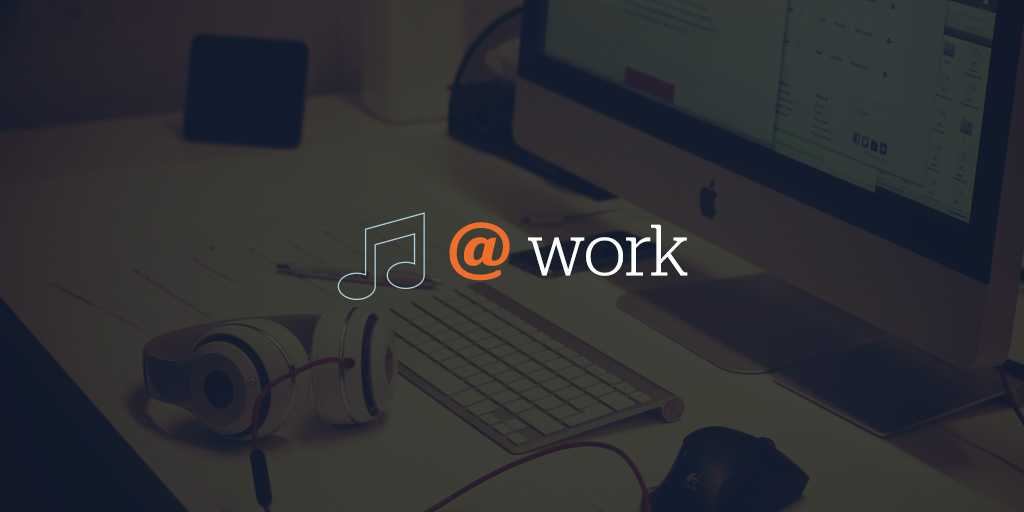 Music makes the world go round, but does it make you more productive at work? While researching for this blog post I found some really great in depth articles on the topic of music and work productivity. One of the best articles I found on this topic was The Complete Guide to Listening to Music at Work by Adam Pasick.
Instead of rehashing all the great information and tips about listening to music at work, the effects of music on the brain and productivity levels, I thought it'd be fun to get a bit more personal.
I sent an email to the Bandzoogle team asking some questions about their music habits at work. I really enjoyed the responses and hope you will too!
---
1) Do you listen to music while working? Why or why not?
Chris - Yup.  I work best in the evenings, and always have music on.  Anything without lyrics, or with non-english lyrics so I can concentrate.
Stacey - Half of the time, yes. i concentrate best when there is background noise and it helps keep my energy/motivation up during the day while i work from home
Allison - I'd love to but I get too caught up in the lyrics, riffs, background vocals, etc. so it's too difficult to focus. Because of that I usually work in complete silence. Sometimes I go stir crazy so I do put on an ambient noise app like Coffitivity or listen to music without lyrics.
Melanie - I prefer total quiet and don't tend to turn music on while I work.  Which is funny because my husband is a musician so his practicing on the grand piano downstairs tends to bleed through, and I love listening to that!
Justin - It depends on what I'm doing. If I'm doing a task that has a lot of repetition in it, I'll listen to music to keep my mind active. If I'm doing something that requires a lot of focus, I turn the speakers off. I find I get too into the music to split my focus.
Joseph - I love to but there are some exceptions there. Depends on the complexity of whatever I'm doing at that moment, if in chat and have multiple conversations going I'll keep it paused to focus.
Adam - Often, but not always.  If I'm having a conversation in chat the tunes are off, or if I'm working on some tricky troubleshooting I'll pause the tunes to maintain better focus on the task at hand.
David E - No. Answering chat and e-mail demand a lot of focus and in rotating through the various member sites, where many have autoplay enabled, it just isn't feasible for me.
Desi - I typically do, because I need background noise. If I don't have music on, I have the TV on.
Dave Cool - Most days yes. I use it to either help relax if it's a hectic day/I've had too much coffee, or to get me hyped up if I'm feeling sluggish/haven't had enough coffee. Basically it depends on my coffee intake.
Colin - Almost always. I enjoy it and it usually helps me to focus.
Dave S - Yes, I listen to music most of the time no matter what I'm doing. But quite often when getting into something complicated I have to pause to concentrate.
Daniel - Usually, yes. It sets a tempo and mood for my day, and is also just enjoyable.
Eli - I don't usually listen to music while working, mostly because I forget to turn it on! Sometimes CBC radio mumbles away in the background.
Josh - I pretty much listen to music all day as I find it helps me keep focused.
Jorge - No, I don't. I prefer silence to focus. I have tried in the past, when I worked in a place that wasn't as quiet at my current home office, but I learned that background music affected my concentration.
Serge - Depends on my mood and depth of work at hand :-) Music does go well with support work or working with familiar code. But it is too distracting when trying to hunt down a particularly pesky bug or learn a new API.
2) Why type of music do you listen to?
Chris - I'm on a world-music kick recently, which is also great for working.  Sierra Leone's Refugee All-Stars (who are Bandzoogle members) and Tinariwen are recent favorites.  Both have inspirational stories behind their music.
Stacey - Classic rock. Bob Seger, Journey, Lou Reed, Queen, Fleetwood Mac, ELO, CCR. If it sounds like an anthem I probably have it on repeat.
Allison - My favorite music is Gospel (Smokie Norful, J. Moss, Kirk Franklin, Coko, Stacie Orrico) followed strongly by R&B, Hip-Hop and Rap (Mint Condition, Jhene Aiko, Chris Brown, Drake, Nicki Minaj, Ciara, Ne-yo), then other genres like rock (I love Paramore) and a bit of country (Dolly Parton, Carrie Underwood, Kenny Rogers, Jamie O'Neal). I also really enjoy Air Supply, Jimmy Buffet, The Carpenters, Crystal Gayle and Beach Boys because it reminds me of my parents.
Melanie - I love singer/ songwriter folky pop music.  Meaningful lyrics and a great melody.  Right now some of my favorites are Kathleen Edwards, The Civil Wars, Gabe Dixon and Amos the Transparent.  I was also raised on classic rock like The Beatles, The Rolling Stones, The Beach Boys and we put on those same old records all the time.
Justin - I have a pretty wide range of artists that I like to listen to - classics like Johnny Cash, Roy Orbison, Elvis, and The Beatles, Canadian folk artists like Bruce Cockburn, The Claytones, Red Moon Road, and James Hill (who has a website with BZ!), and, like Eli, I also love German lieder, and listen to (and learn it!) pretty frequently.
Joseph - Depends on the day and the weather! My music library is a compilation of everything I listened to in early high school up to now, so you'll find a range of bands like Pantera, Megadeth and Nine Inch Nails to Wilson Pickett and The Gipsy Kings.
Adam - Electronic, Motown, classic Hip Hop, Punk Rock, New Wave… almost everything.
David E - Mostly classical although I do dabble in other genres.
Desi - Cliche as it is, I listen to everything! My favorite band is a rock band, but I also really love folk-y Americana, jazz, top 40, "classic" rock, indie pop, and living in Nashville has even gotten me into a little bit of country!
Dave Cool - Usually instrumental music, which isn't too distracting for writing. I love listening to Bandzoogle member Sam Rae for that reason, or Jon Hopkins. I often put on the "Afternoon Acoustic" playlist on Spotify as well, and have discovered a lot of great artists that way.
Colin - I grew up in the 80s listening to punk, alternative, and industrial music. I still listen to that sort of music pretty much, along with plenty of other types. I wouldn't say there's any particular kind of music I prefer. One thing that has changed for me is I like to be challenged by the music I listen to, whether that's via the politics of the music, the sound/style, or something else.
Dave S - I'm a rock and metal guy at heart but listen to a wide variety of music, anything that catches my ear really. For example recently I got Tove Lo's Habits (Stay High) stuck in my head for weeks and that could be heard throughout the house multiple times a day. Mostly my entire music collection is on shuffle but I step into entire albums a couple of times a day when a favourite track comes along. I have to be careful during work hours as I'm surrounded by guitars and have to resist the urge to pick one up and figure out something that catches my ear or play along to a song I love to play.
Daniel - I'm all over the map. Everything from electro to jazz to metal to folk to hip-hop.
Eli - My favourites to concentrate by are Indonesian Gamelan music (such as Ottawa's Evergreen Contemporary Club Gamelan), Sufi Qawwali (can't beat Nusrat Fateh Ali Khan), and German Lieder.
Josh - I'll listen to any genre but mostly Jazz, funk or rock. In general I like intense music that has a technical element to it. For example, I love early Metallica as much as I love John Coltrane, and I love the Minutemen as much as I love The Tower of Power. The genre really makes no difference to me.
Jorge - All kinds (a cliche, I know). My playlist includes some fixed picks like Queen, Red Hot Chili Peppers, Joaquin Sabina, Mecano, Fito y Fitipaldis, some U2 (don't tell Colin)… Periodically I like to add songs I grab from top lists in bulk (both international and Spanish), so you won't hear me complain about mainstream music.
Serge - Anything goes. But I keep coming back to mostly electronic stuff.
3) Do you listen to different music at certain times of day or while working on different tasks?
Chris - Definitely.  My most recent playlist is "Baby tunes" to entertain my 10 month old daughter Molly, with Raffi, the Beatles, and BZ members Caspar Babypants.
Stacey - There is pretty much always music playing in my office/house. It goes on with the coffee pot and out with the lights.
Allison - I mainly listen to music when I'm getting ready to go out, in the grocery store, cooking, in the car, when I workout or when I'm hanging out with friends/family. It pretty much always turns into a mini-concert when music goes on because I really get into it. If I'm working and I want to listen to music I usually go for a 90's mix (like Rob Base & DJ EZ Rock radio) or something super chill like piano or violin music.
Melanie - I always put music on when I'm not working.  My 2 year old loves Johnny Cash and Raffi, so that's on a lot in the morning and evening.
Justin - Just depends on my mood! Sometimes, I like to listen to something chill and soft, and sometimes I need something to amp me up, like Meatloaf's Bat out of Hell.
Joseph - I generally keep my entire library on random but definitely prefer the more mellow grooves in the morning and then ramp it up slowly as the day progresses.
Adam - I'll listen to music based on the mood I'm in - if I'm in a good rhythm, I'll put on something that's all beat and bass.  Usually something with a reasonable tempo for work, like LCD Soundsystem, Ark Analog or Silkken Laumann.  I tend to lean towards more downtempo music when designing, like Massive Attack, Elsiane, Becks new album, or some good soul like Sharon Jones and the Dap Kings or Charles Bradley.
David E - The selection is dependent on mood. Recently, I have been listening to a lot of string music ranging from Bach's works for solo violin, through Shostakovich's string quartets and Takemitsu's Requiem for Strings.
Desi - I listen to music basically 24/7. From the time I get up in the morning until my record player ends after I fall asleep.
Dave Cool - Yeah, so for when I'm writing, I stick to instrumental & mellow electronic music. If I'm responding to a bunch of emails, I'll put something on that will help get me a bit hyped up, like Rival Schools or Cold War Kids.
Colin - I have a long drive to get my child to and from school, and he's been obsessed with the soundtrack to the Matilda musical, so we listen to that a lot in the mornings and afternoons. Otherwise, I'm pretty flexible.
Dave S - No whether it's 9 am or midnight my music of choice is whatever I want to listen to right then and there, the neighbours haven't said anything about the death metal at 2am - yet. Listening to instrumental music is best for not getting (too) distracted, such as acoustic guitar virtuosos like Michael Hedges, Andy McKee and Tommy Emmanuel but I can only listen to something without a beat in short bursts.
Daniel - Absolutely. When I'm really needing to focus I usually put on deep house/trance/Berlin techno or an instrumental jam of some kind. When I'm doing repetitive work, it's often a more upbeat jangle pop, Caribbean soul, reggae, or even classic rock. And when I'm in a creative design flow, I usually go for art indie.
Eli - Not sure if my tastes change based on context. If I have a craving, I'll listen to it.
Josh - I find that Electronic music like Deadmaus or Darkside can be the perfect work music. It's not something I would listen to all the time but it keeps me in a good rhythm and focused. It's the modern equivalent of the drums on the slave ships in Ben Hur.  A good part of my day is doing design and I can listen to just about anything while doing that. If I have to write or communicate with folks I have to avoid music with vocals.
Jorge - I love and need music when running. I have empirically learned that without music my already pretty limited endurance gets seriously affected. I also love my music when cooking.
Serge - I just fire up my Rdio, try on a few things to see what fits and then adjust accordingly throughout the day :-)
---
As you can see the BZ crew has very diverse music preferences. It's great because we all share and learn about new artists/music from each other.
Now it's your turn…. In the comments, we'd love to hear your answers to these three questions as well.
1) Do you listen to music while working? Why or why not?
2) What type of music do you listen to?
3) Do you listen to different music at certain times of day or while working on different tasks?
Why not share this with your friends?
Build a stunning band website and store in minutes
Promote your music on your own unique website.
Sell music & merch directly to your fans. Keep 100%.
Grow your fan base with built-in marketing tools.