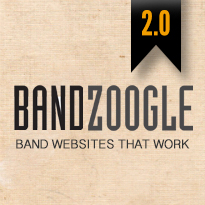 After over two years of hard work, the Bandzoogle team is proud to announce that we recently completed the migration of tens of thousands of musician websites to our 2.0 Beta platform, and have now opened it up to new sign-ups (click here to try it free).
In this post, we'd like to explain why we made this upgrade, what's new, and what to expect from us in the future.
Why we upgraded
Believe it or not, our founder Chris launched Bandzoogle 10 years ago. Since then, web technology has changed a lot. Unfortunately, the programming language we had originally chosen to build Bandzoogle back then didn't keep up with the times., And so, after years of adding new features and tweaking our (now legacy) platform, we decided that we needed to first rebuild everything from scratch, in order to keep innovating and building new features.

We also decided to change our server infrastructure, for your sites, media, and emails, in order to use the most reliable and high performance technology available.
What's new
The biggest improvement is something that you can't see right away -- a new code base that makes our developers much more productive. To give you a sense of the difference, a new feature that might have taken one of our developers more than 3 weeks to build on the old platform, can now be built in a couple of days. This means that we'll be able to release new features quickly, while maintaining a very stable platform.
Aside from the internal changes, there are many new improvements:
Music features have been restyled

, and every format including Albums has a full "player", rather than just preview buttons. So now your music looks better than ever on your website!

Page features have been restyled

to look more modern, and most now have "Like" and "Tweet" buttons so that visitors can easily share to their social networks.

The design section has a "

Live preview

". No more waiting while changing the site style or fonts.

New themes!

We have a few new ones in the theme picker already, and more coming on a regular basis in the next few weeks.

When working with a theme you can now

drag the header text wherever you like

.

The

Store has been revamped with several new features

, including the ability to add up to 5 images per product. More features for the Store are on the way, stay tuned.

If you "Like" an album or track, the

cover art will appear on your Facebook wall with a clickable link

to start playing the music.

We made

several improvements that optimize our websites for search engines

. For the SEO conscious out there, you now have full access to META tags on each page. Buttons and headers are now text rather than images, so search engines will be able to read them, and individual page URLs have been optimized as well.
Aside from these changes, there are dozens more things that we've improved based on feedback from our members. Bottom line is that this new system is a lot more modern, efficient and easier to use, and a solid foundation for the next 5 years of Bandzoogle innovation.
What's next?
Now that we have a great platform to build on, our goal is to release a constant stream of new features and improvements in the coming months.
The first big project that we are currently focused on is to overhaul the theme system and design options, including adding things like slideshows for header images, flexible column layouts, and more.  Until that's ready, we're calling this initial release "Beta", because we believe that the new design system will be the single biggest upgrade in our company's history, and one that many of you have been waiting for.
We also want to focus on mobile, first by making Bandzoogle sites look better on small screens, and then by building tools for members to update their sites from mobile devices.  Otherwise, we have plans for multilingual features, more integrations with other music and web services, a redesign of our website and of this blog, and many ideas to let you do more from your Bandzoogle Control Panel.
These are exciting times at the company, and we can't wait to show everyone all the great new features that we're working on. As always (and now more than ever!), please send us your comments, suggestions and feature requests.
Thanks for being patient and supportive these last 2 years and through this migration,
and thanks for flying Bandzoogle!

David Dufresne
CEO, Bandzoogle
Why not share this with your friends?
Build a stunning band website and store in minutes
Promote your music on your own unique website.
Sell music & merch directly to your fans. Keep 100%.
Grow your fan base with built-in marketing tools.