If you're a musician thinking about how to optimize your website for SEO, we want to show you why we think Bandzoogle is your best option for a website platform. Bandzoogle websites are packed with built-in search engine optimization features for musicians that you probably don't even know about. Let's take a look at them.
#1: Title Tags and Meta Descriptions
You've probably heard all about title tags and meta descriptions, and why optimizing them is important for your SEO. Bandzoogle websites automatically generate these tags for you. Let's give you an example, looking at the website of Bandzoogle member Stiff Little Fingers.
On the band's homepage there are two meta tags (which only search engines and other bots read) in the page HTML:
<title>Stiff Little Fingers - Home Base</title>
<meta name="description" content="Official site including news, a history of the band, discography, articles, shopping, tour dates, and links. " />
Google reads those tags, and uses them to display the text that shows up in search engines, like this:

Google search result for the Stiff Little Fingers website.
Bandzoogle generates that meta tag text automatically from the page content by default.
Some band prefer to customize their tags though, and if you feel confident enough to do it, you can easily customise your tags for each page on your site. 

Easily customize your page meta tags with Bandzoogle.
So, no matter how familiar you are with SEO best practices, we automatically make sure you have at least basic tags on your page. And more advanced users have the tools they need at their fingertips.
#2: XML Sitemaps
In order for Google to index your pages - and include them in search engine results - it has to be able to find them. And the easier it can find them, the better it is for your SEO. Sitemaps are important for helping Google (and other search engines) crawl and index all of the pages of your website.
When you build a website on Bandzoogle, we automatically generate an XML sitemap for you. No need for fancy plugins or advanced settings. If you're interested (and you have a Bandzoogle site), you can find your sitemap by going to www.yoursite.com/sitemap.xml.
We also make it easy for you to submit your sitemap to Google Search Console.

Bandzoogle makes it easier to submit your sitemap to Google Search Console.
Once you submit your sitemap to Search Console, you never have to think about your sitemap again. Bandzoogle will keep it updated automatically.
#3: HTTPS Encryption
When your website is encrypted with HTTPS, the data from your website visitors is secure and safe. Every Bandzoogle website uses secure HTTPS automatically - it's all managed by our developer team.
When your site is secure, you get that nice little "Secure" icon next to your URL in the browser, like the website of Bandzoogle member Zardonic:

All Bandzoogle websites are secure.
Why does that matter for SEO? Well, Google cares so much about secure browsing that they reward websites that use HTTPS encryption with better visibility in search engines. So if you don't have it, you're at a disadvantage.
So, simply put, HTTPS = better SEO. It's all automatic with Bandzoogle, so you don't have to think about it.
#4: Mobile Optimization
More people search on Google using a mobile device than on desktop, which means the browsing experience for mobile users is a huge priority for Google. So, if your website is optimized for mobile browsing, Google will give you better visibility in search engines.
All Bandzoogle websites are automatically optimized for mobile devices. All of our theme layouts use responsive web design, which means you only need to create your desktop layout, and your website will automatically look great on any screen size.
So, using the website of Bandzoogle BOYCUT as an example, you can design your page layout to look like this:

Design your desktop page layout on Bandzoogle in any way you like.
And Bandzoogle will "automagically" make it look great on an iPhone:

Bandzoogle automatically creates an optimized layout for mobile devices.
No matter what kind of screen size your fans are using to browse your site, it will look great. Best of all, you don't need to think about it! We take care of it, and it's great for your website SEO.
#5: Easy Google Search Console Verification
Verifying your website with Google Search Console is usually one of the first basic steps for getting your SEO started.
It's not hard to do, but Bandzoogle makes a little easier for you. All you need to do is copy your verification meta tag, and paste into your Bandzoogle website settings.

Verifying your website in Google Search Console is easy with Bandzoogle.
No need to fuss with HTML. Easy!
#6: Free Unique Domain Names
A nice looking domain name - one that includes your band name - will help you look better in search engines. Plus, it should help you rank better for your own band name.
Here are some examples of good domain names that Bandzoogle members use:
When you become a member of Bandzoogle you get your own custom domain name, totally free. Yes, you read that right. No need to go to a domain registrar like GoDaddy, or even play with DNS settings.
All you have to do is choose one after you sign up, like this:

A custom domain name of your choice comes free for every Bandzoogle member.
It really is as easy as it looks. You just choose an available domain, and it's yours for free as long as you remain a paying member.
You don't have to think about it, or even worry about paying to renew it every year. We do it all for you. And it's great for your SEO.
Of course if you already own your own domain name, you can use that instead.
#7: Automatic Schema.org Markup for Musicians
If there's any one thing that makes Bandzoogle the best website platform for music SEO, this is it!
Schema markup is a type of "structured data" that's hidden in your site code. It helps Google understand the information on your page, including your band info, your music albums and tracks, your events, and more. That schema helps you get really nice Knowledge Panel features - and generally look more professional - in Google search engine results.
Here's an example of a Knowledge Panel in Google for Bandzoogle members The Tea Party:

Schema markup helps you look more professional in search engines.
This is the kind of thing that having schema on your band website will help you get.
Bandzoogle is the only website platform that automatically adds all of the relevant schema for musicians to your site code. You don't have to think about it - it just happens! If you're interested, you can learn how it works and what it does in this blog post. If you want to get even more technical, we wrote a detailed post about optimizing your schema.
All you have to do is use built-in Bandzoogle features on your website, like the events calendar, music player and "My Sites" features. We do the rest for you, under the hood.
#8: Image Alt Tags
It's important for musicians to make sure promo shots, album covers and other images show up in Google searches. For that to happen, you need to use "alt tags" in the html for your images so that Google can understand what the image is.
That's going to help you get more images showing up in your search results, like Bandzoogle member Delaney Gibson:

Alt tags help your images show up in search results.
Bandzoogle automatically generates alt tags for the images on your website, including your album covers, photo gallery images, any image you add using the built-in image feature, and more. All you need to do is add a description in the "caption" or "title" fields for some types of images.
Best of all, you don't even have to think about it! Your SEO is automagically better because we do it for you.
#9: Automatic Page Interlinking
It's really important for your SEO that all of your pages link to each other. That way, Google can crawl all of your pages and understand what's on your site.
When you add pages and other content to your website, Bandzoogle automatically adds the right interlinking in the right places.
For example, all of your key pages get added to your main website navigation menu, like this menu on the website of Bandzoogle member Kaia Kater:

Bandzoogle automatically internlinks the key pages of your website.
It might sound simple - and it is - but it's one more thing Bandzoogle does automagically for your SEO, so you don't have to think about it.
#10: Easy to Add and Edit Text
Text content is the meat-and-potatoes of SEO. It's not the most exciting type of content compared to music, videos and images. But the reality is that Google can't understand those other types of content - it can only understand text. So, good ol' fashioned text content is what gets your website ranking in search engines.
Bandzoogle makes it super easy to add text content and blog posts to your website, with just a click of your mouse. And it's just as easy to manage and update your content with a simple visual editor.

Adding and updating text is easy with Bandzoogle.
You can add links, keywords and whatever else you want to add, without having to know any HTML code.
#11: Clean HTML Page Structure
There are a few basics you need to take care of when building a well-structured page for SEO, like header tags. Clean, well-structured HTML is important for ranking better in Google. It not only helps Google understand the content on the page, but Google also prefers cleanly-coded websites.

Bandzoogle produces clean, well-structured page HTML.
Bandzoogle takes care of all the under-the-hood HTML for you, so that it's clean, organized, and SEO-friendly. All you have to do is add great content to your pages, and we do the rest.
#12: Fast Page Loading
The amount of time it takes to completely load a web page is important for your SEO. Faster-loading websites are ranked better in search results than slow ones.
The speed and reliability of our member websites is an obsession for us. Bandzoogle websites are optimized for speed in many ways, including:
Super-fast and reliable premium Amazon AWS servers to host Bandzoogle websites.

Amazon Cloudfront CDN to deliver content quickly to your site visitors.

Optimized caching, code minification and gzip compression for faster page loading.

When you upload large files to Bandzoogle, like images and video, they are automatically optimized to reduce the file size while maintaining visual quality.
But of course, you don't need to worry about the technical details. All you need to know is that, as a Bandzoogle member, you have a team of pro web developers on your side using only the best systems and practices under the hood.
#13: We Care More Than Anyone
No one cares about music SEO more than we do. That's why we published a comprehensive eBook called A Complete Guide to SEO for Musicians and made it freely available for everyone. Our goal is to help all musicians understand music SEO, so that you can actually benefit from it.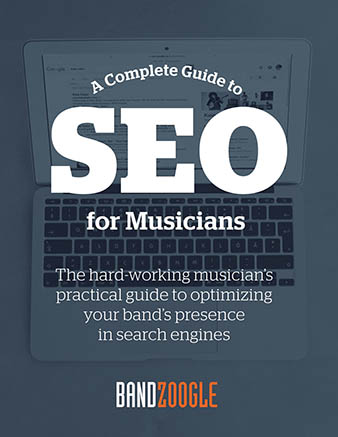 We hope that you now see why, when it comes to SEO, we think Bandzoogle is the best website platform for musicians.
Build a band website that's SEO-friendly. Bandzoogle is easy to use and offers built-in tools to optimize your website for search engines. Sign up free with Bandzoogle now.
Why not share this with your friends?
Build a stunning band website and store in minutes
Promote your music on your own unique website.
Sell music & merch directly to your fans. Keep 100%.
Grow your fan base with built-in marketing tools.