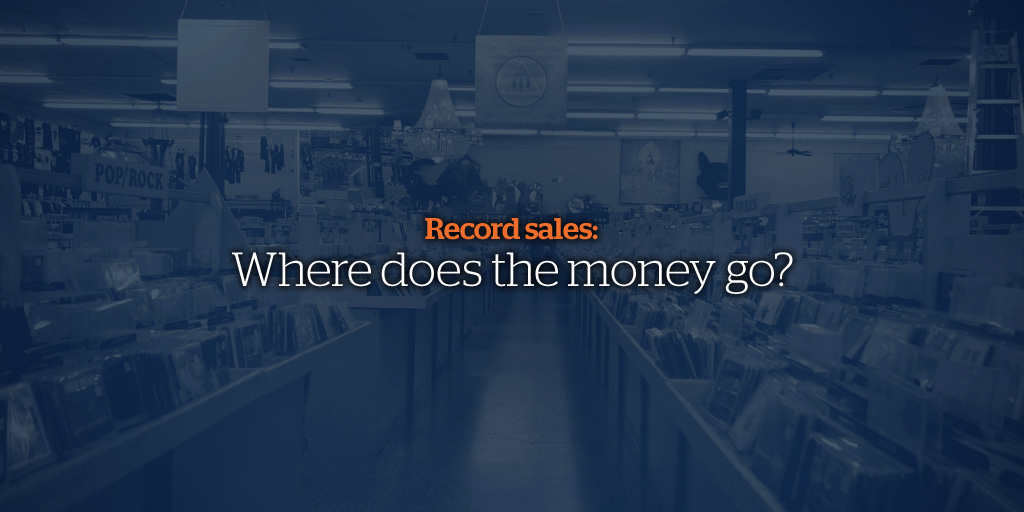 UPDATED POST: Major vs. Indie: What really happens when you sign a record deal
I remember when new CDs used to cost at least $19.95. Since the whole MP3 and file sharing phenomenon, the prices of CDs has dropped significantly in order to make buyers go out to record stores and buy CDs instead of downloading them for free.
After all, isn't that what the consumer wanted? Did they not ever say "If the prices of CDs went down, then I'd buy my music instead of getting it for free and having to deal with the hassle of finding the songs online?" So why did some of the biggest bands in the industry get all riled up over file sharing? Well, to many, the thought was they were pissed off because they would not make as much money as they could.
But the truth is, many major label artists don't make a lot of money from record sales. Sure, if you sell 11 million records in the end you'll have a full wallet, but for many who sell only 500,000 copies (a big achievement in its own right) the money they make isn't even enough to buy a Honda Civic. This is what many music lovers fail to see. And who can blame them? Unless you know about the music business (which 95% of bands in the world don't) you won't realize how little money an artist actually gets even if they are the songwriters of the material found on the record.
Let's break it down for you. In the making of a CD here are the key players and the percentage of sales that they get, Artist (6.6%) Producer (2.2%) Songwriters (4.5%) Distributor (22%) Manufacturing (5%) Retailer (30%) Record label (30%).
While these figures are an approximation, they come pretty damn close to the real thing. Now let's put this to work. Again these are all approximated numbers, but you'll get the idea.
Let's say your CD is for sale for in stores at $16.00 and that you are a band of 4 that also writes their own material. Your deal is to receive a royalty rate of 11%, but your producer takes 3% of that. So in the end you make 8% net royalty. $16.00 – $8.32 (30% for retailers, 22% for distributors) = $7.68.
Let's round this off to $8.00 (a very optimistic round up by the way) $8.00 - $2.00 (25% for packaging deducted by the label) = $6.00 X 8% = $0.48. So you make $0.50 per CD sold.
Cut out the middleman. Sell your CDs and digital downloads royalty free on your Bandzoogle website, and keep 100% of your music sales. Sign up free now!
Now let's say you sell 500,000 copies. So that means you have $250,000 coming to you, right? Nope. Let's see what else is taken off. In many cases the record label will take another 15% is deducted for promotional and review copies for radio and magazines. $250,000 – $37,500 (15% for promo copies) = $212,500 In addition to that the record label has to take their royalties. That's another 30% of $212,500. $212,500- $63,750 (30% for record label royalties) = $148,750.
Not as common anymore, but still in practice is the deduction of freebies and returns. What usually happens is that a retail store will X amount of copies, but what happens when they don't sell? They get returned. And who ends up paying for this? Yup, you guessed it, the artist. $148,750- $14,875 (10% for returns) = $133,875.
Then there are recording studio costs that include the engineer, equipment rentals, and studio costs. With the advancements in the digital recording world studio costs have decreased, but let's just say you spent $75,000. $133,875- $75,000 = $58,875.
And who got you the deal? If a manager was involved you can guarantee he will take 20% commission. If you are a multi platinum selling artist then maybe the rate drops to 15%. $58,875- $11,775 (20% to manager) = $47,100.
And now let's say you split the band's earning evenly. Since there are four members in the band, you'll split the amount earned 4 ways. $47,100 / 4 = $11,775.
[Download our Free eBook: 23 Ways Musicians Can Make Money]
So if you ever asked yourself "what's the big deal with getting music for free instead of buying?" let the example above shed some light on the answer. The above calculations are for a CD sold today. Keep in mind that back in the day before MP3s, bands could sell their CD for almost $20 giving the band approximately $1.00 for every CD sold instead of $0.50. Pretty dramatic difference if you ask me.
Of course record deals and artist royalties differ from contract to contract. The hotter you are prior to signing the better your deal and royalty rate. Also note that retailers benefit less nowadays as the price to make a CD has not changed all that much, yet album prices in stores are getting lower. Do not take the calculations above at face value. They are merely there to give you an idea of how little artists used to make and much less they do today.
Why not share this with your friends?
Build a stunning band website and store in minutes
Promote your music on your own unique website.
Sell music & merch directly to your fans. Keep 100%.
Grow your fan base with built-in marketing tools.