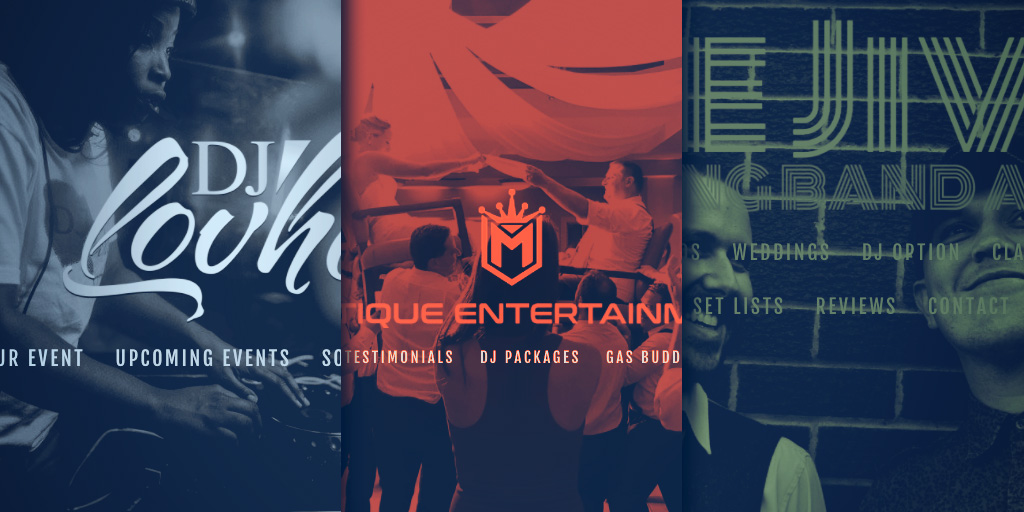 A great DJ can make or break a wedding reception, so you have to be at the top of your game. Having an awesome playlist is only part of the process. As a wedding DJ you have to also promote yourself. One tool that helps with this is having a professional wedding DJ website.
Setting one up through Bandzoogle is a breeze, but what about standing out? With a broad range of wedding DJ website templates, we've got you covered. Once you choose a wedding DJ website design, you can customize it further with our theme editor.
Each of our templates has its own unique characteristics, so you can choose the one that best suits your style. In this post we'll take a look at our Eclipse template to show you how one theme can look different depending on the options you choose.
[How to build a wedding DJ website]

Center Stage
The mark of a notable website starts with outstanding imagery. Without it, your website can look unprofessional. Being a DJ you are your brand, so you'll want to add a great image of yourself to the header area. Here's a nice example by DJ Lovher.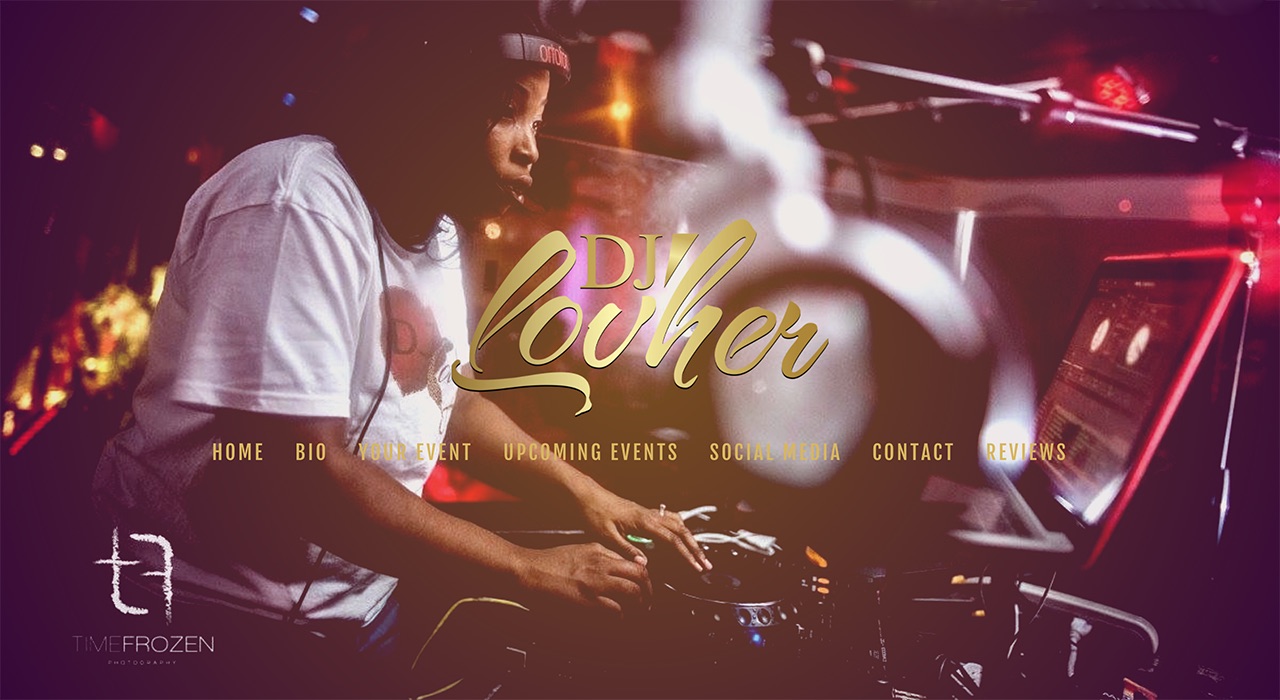 The header image is your first introduction to visitors, so make the image welcoming. You can highlight the header image by using our built-in image filters (think Instagram), and color overlays as well.
Although there are a lot of cool DJ turntable images, we recommend staying away from using stock photos in your header. The objective is for you to set yourself apart. Using an image of yourself will let potential clients see you at work.
Move it
If you really want to shine, consider adding a video header instead of still images. That's exactly what DJR Music did in his header using the same Eclipse template as the other sites in this post.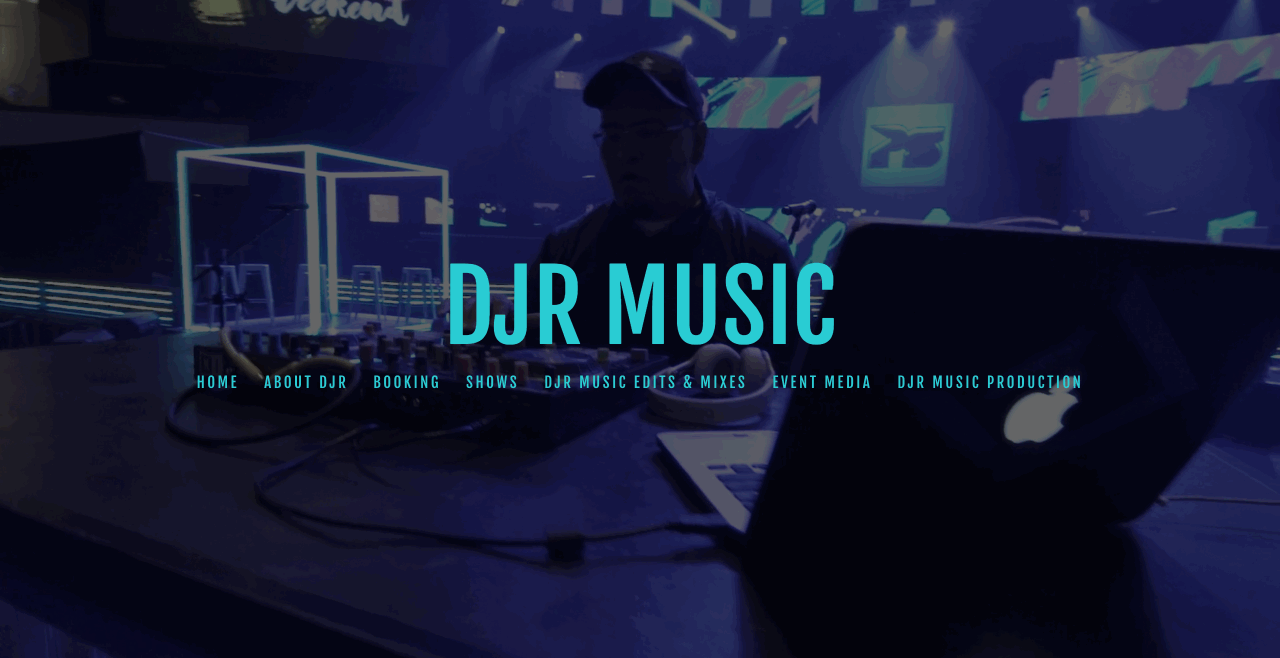 Video adds movement to your website and shows you in your element. People buy from those they like and trust. With a video header it shows your fun personality and gets visitors feeling comfortable with you.
The video header doesn't have audio, so it won't interfere with any other mixes or videos you're displaying on the rest of your site. Another cool thing is that you can have a different video header on each page!
Design your Wedding DJ website in minutes with all these features and more. Sign up free with Bandzoogle now.
New Heights
A large header works well, but you can also adjust the height to accommodate your content. Header image sizing can be done for the homepage as well as inner pages. This will alter the look of your pages giving some variation to your website.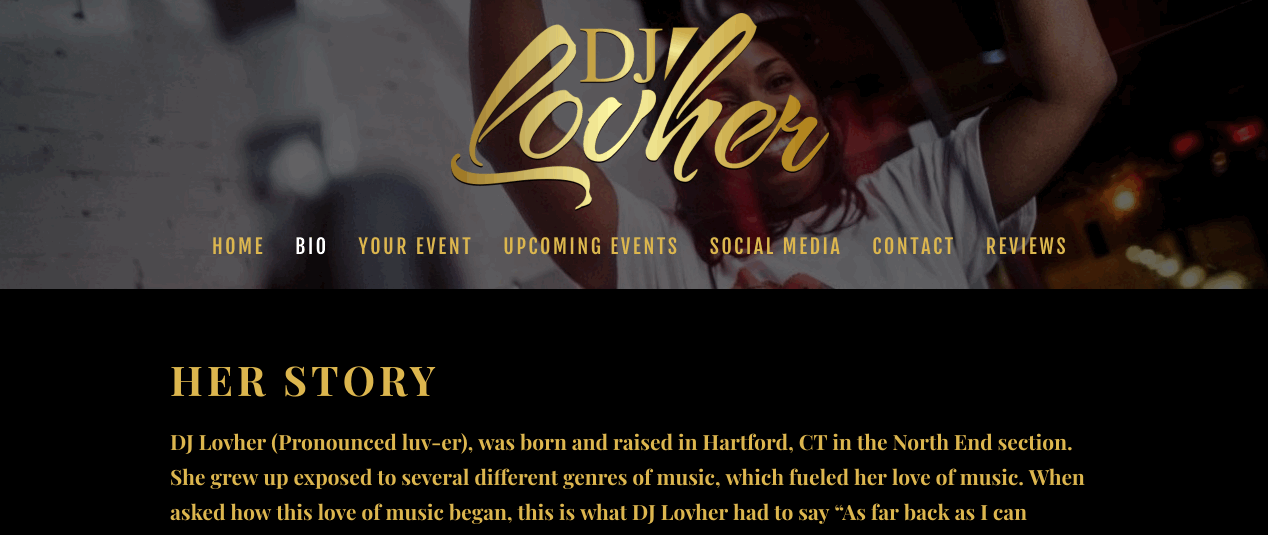 Take note that you can get a carousel effect in your header with our slideshow header feature. This allows you to add up to five images in the header area to show off different looks per page.
Brand/Logo
An element that makes a huge difference to your website is the title or logo. There are so many different options with color, design, and placement. It can really make one website look distinctive from another.
Here's an example of just one way to switch it up. The Jives DJ crew uses a logo with bright colors to accentuate their name.

By reducing the size and using the alignment options, you can change the look whenever you'd like.
It's also a great idea to use a colorful title or logo. Being a wedding DJ you want to let your brides and grooms know you like to have fun. You don't need to go overboard with lots of different colors, but using accent colors throughout will make the website stylish and lively.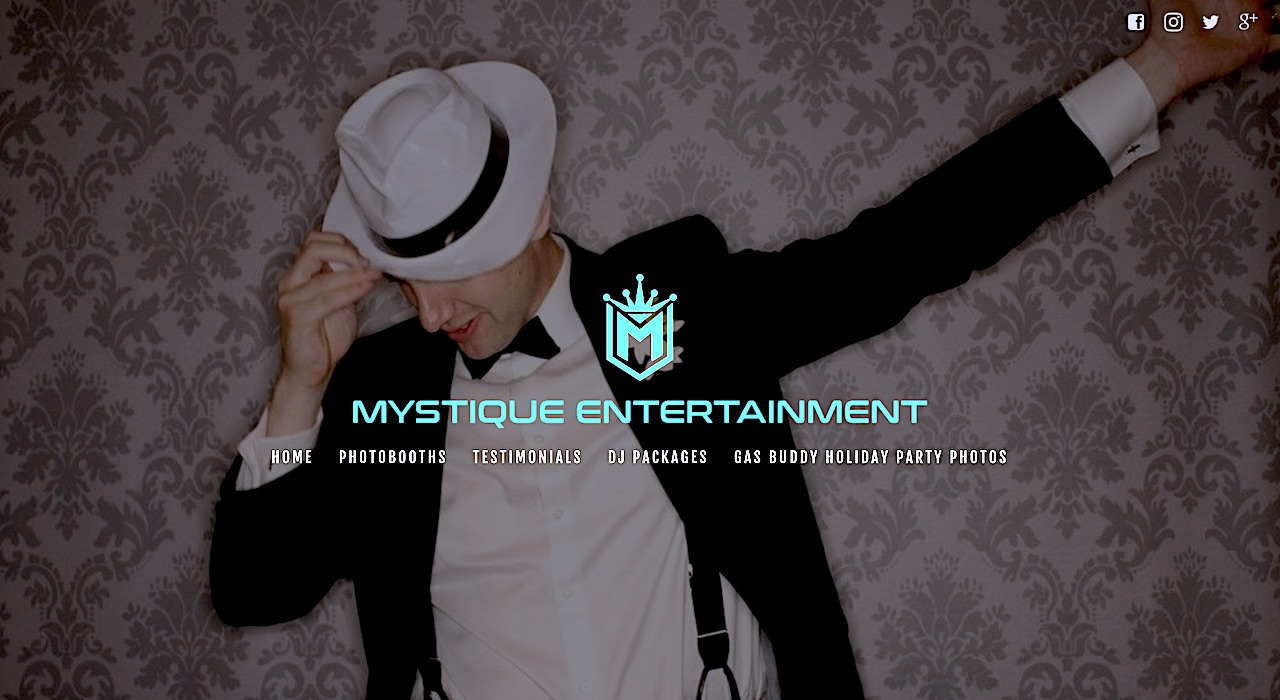 Sections
One of the best options you can add to your website design are custom styled sections. Sections allow you to add a colored background or image behind any of our features.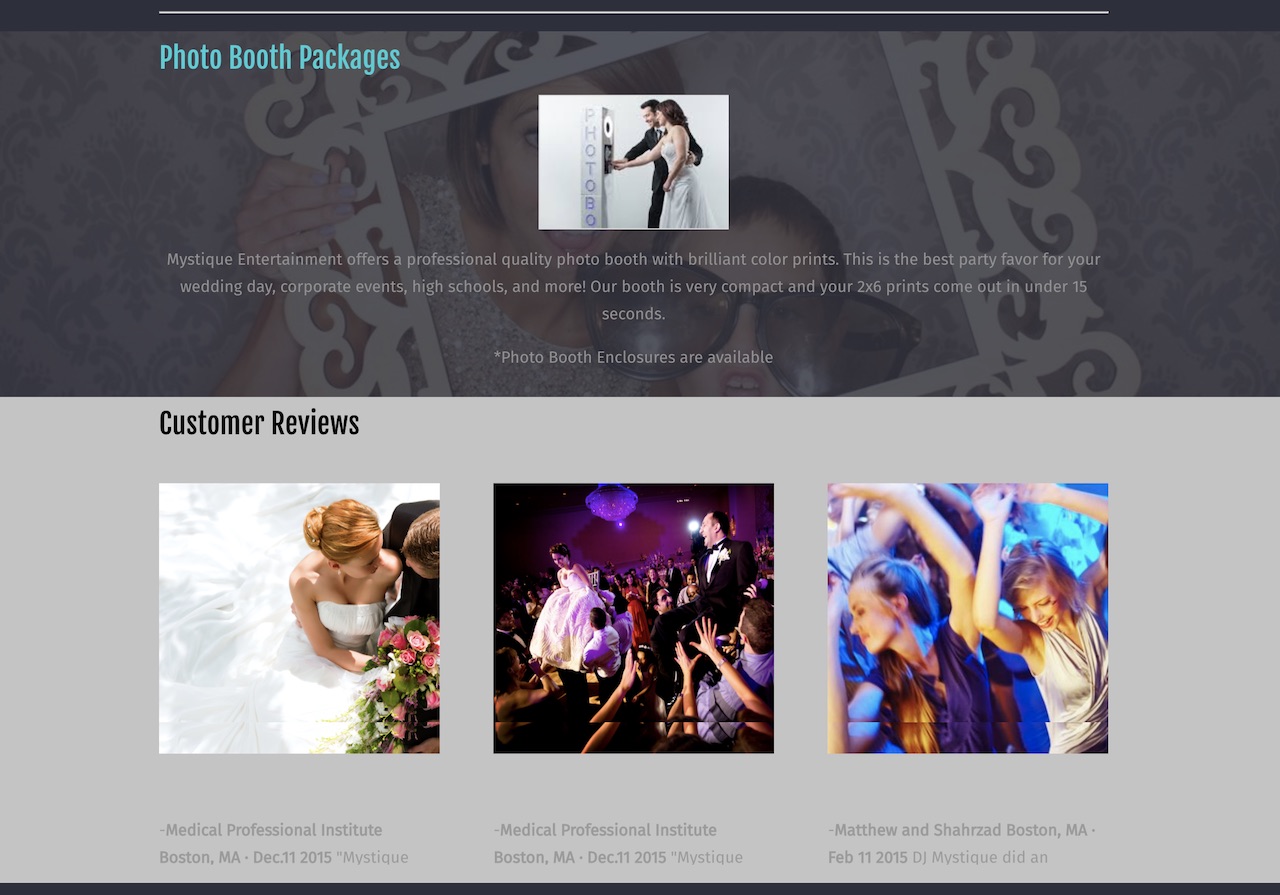 Once you add color or image you can change the font colors in that section. You can add padding around the image to make a certain feature more prominent as well. If you upload a custom section image you can change the opacity as well as the scrolling properties.
This is great for highlighting DJ packages and testimonials. Both are a must on a successful wedding DJ website.
Bring it together
With our theme editor you'll have many options to fine-tune your design. You don't have to have any special coding skills because everything is built into our control panel. You'll have control over theme decorations, custom fonts, and button styles. With so many options the sky's the limit!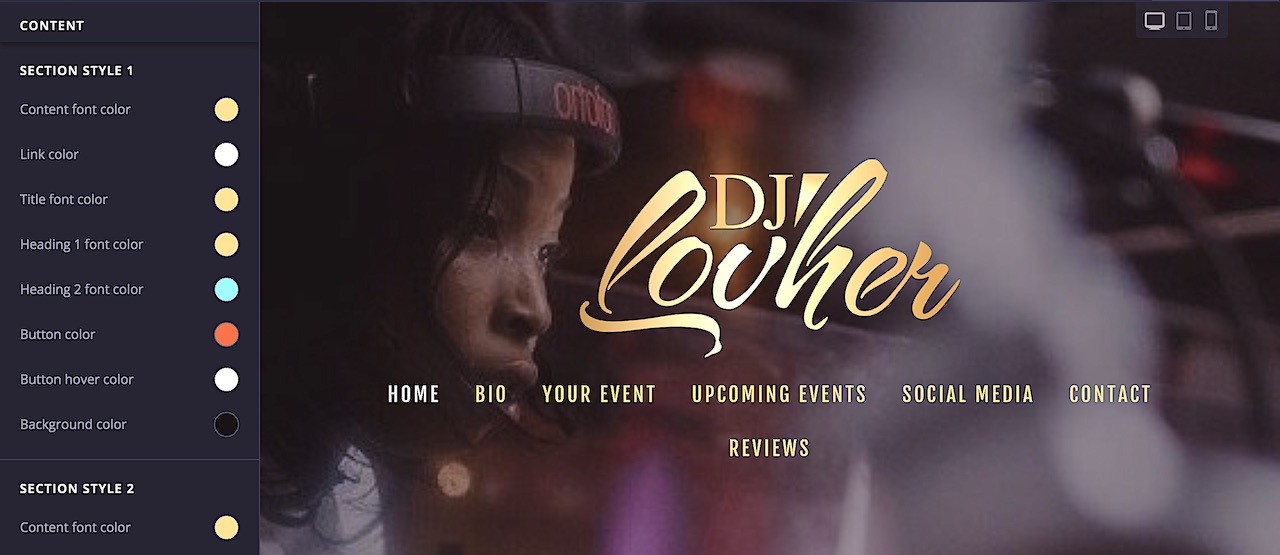 One of our templates can produce many different styles. Using color, sections, and branding you can design a wedding DJ site that fits your personality. If you need more inspiration, check out this blog post: Website design inspiration: Best wedding DJ websites. There are even more examples in our blog and examples page as well.
Give it a try and see how easy it is to get a professional looking wedding DJ website set up in no time!
Why not share this with your friends?
Build a stunning band website and store in minutes
Promote your music on your own unique website.
Sell music & merch directly to your fans. Keep 100%.
Grow your fan base with built-in marketing tools.