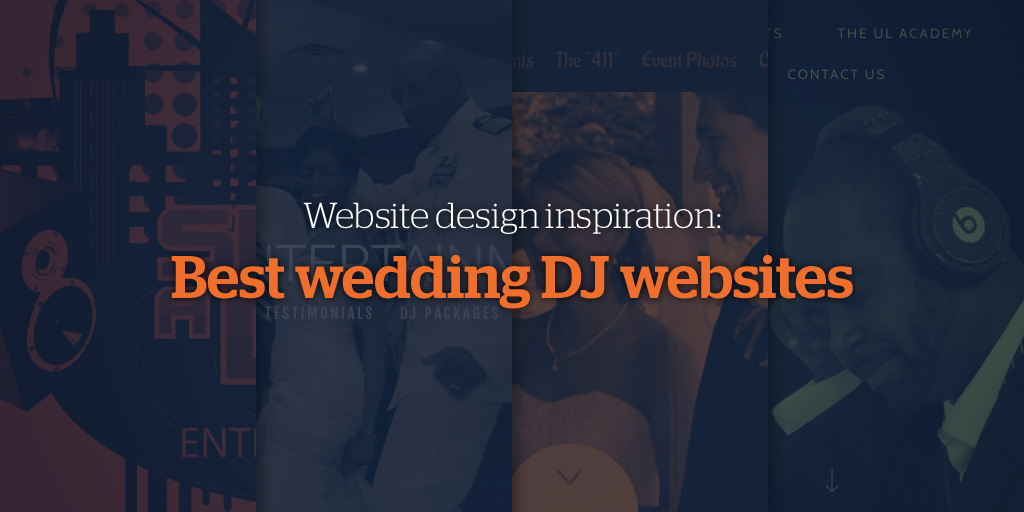 You've invested thousands of dollars into DJ equipment and countless hours getting your playlist just right. You've mastered the electric slide and honed your MC skills. Now you're ready to book your calendar for wedding season but there's one big problem. No website!
Well, you're in luck because we here at Bandzoogle are problem solvers! You can easily design a pro website using one of our modern and mobile-friendly DJ website templates that'll have you in demand with all the brides.
Let's take a look at several examples to get you started on the right track.
Home  
Your Homepage sets the stage for the rest of your website. It's the page that'll get the most traffic, so you'll want to grab your visitor's attention right away. A DJ is one of the most important vendors a couple can hire for their wedding. When they get to your website they'll want reassurance that you're the right DJ for the job.
Your homepage should list the types of events you can be hired for. A great example is by Bandzoogle member Magic Moments DJ Services.
Although they DJ various events they highlight weddings with wedding inspired header photos. They also have a dedicated image linked to more information on their wedding services.
Similarly, Enchanting Entertainment uses several fun wedding images for their website header. This is inviting to the couple and let's them know you'll be a great addition to their wedding.
If you've won any awards or contests, it's a must that you add this to your homepage as well! This sets you apart right away from all the other DJ's on the couple's vendor list.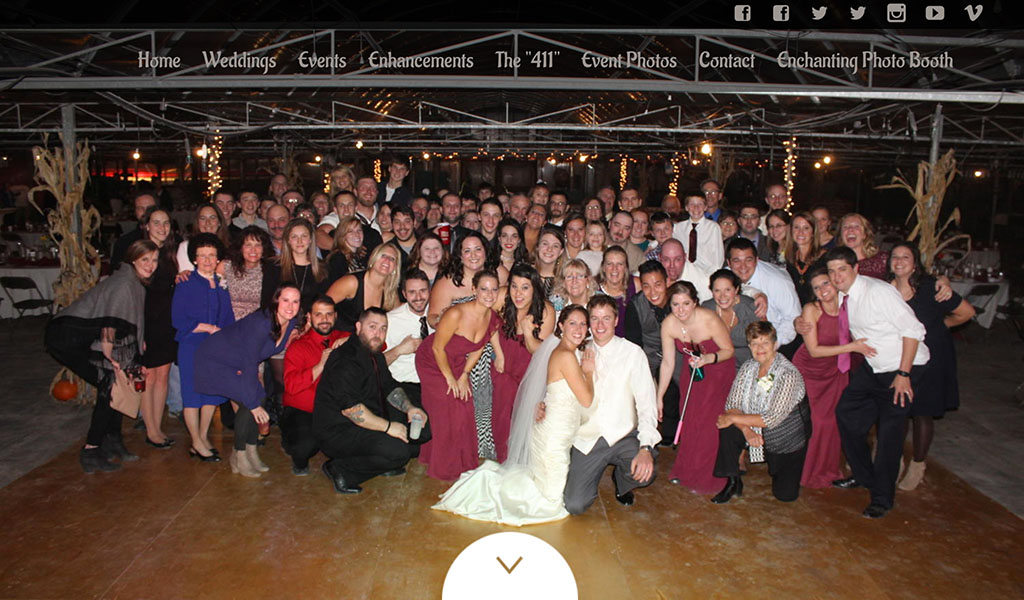 Include some testimonials and a wedding promo video right on the Homepage as well, which will give your potential clients a great first impression.
[How to Build the Perfect Homepage for Your Website]
About  
When it comes to choosing a wedding DJ, the couple will want someone that fits their personality. Your About page is where you'll want to set the tone for who you are, your style and background on how you became a DJ.
If you're setting up a company website, you'll want a separate section with information on the business and a profile on each DJ.
Taking a look at DJ Brevin's About page, you'll see that he starts the page with a short testimonial and fact sheets. Planning a wedding is time intensive so you'll only have a few moments to catch the couple's attention.
DJ Brevin handles this well by adding a Fast Facts section followed by a more lengthy bio. He wraps the page with a handy FAQ section answering any questions a couple might have ahead of time.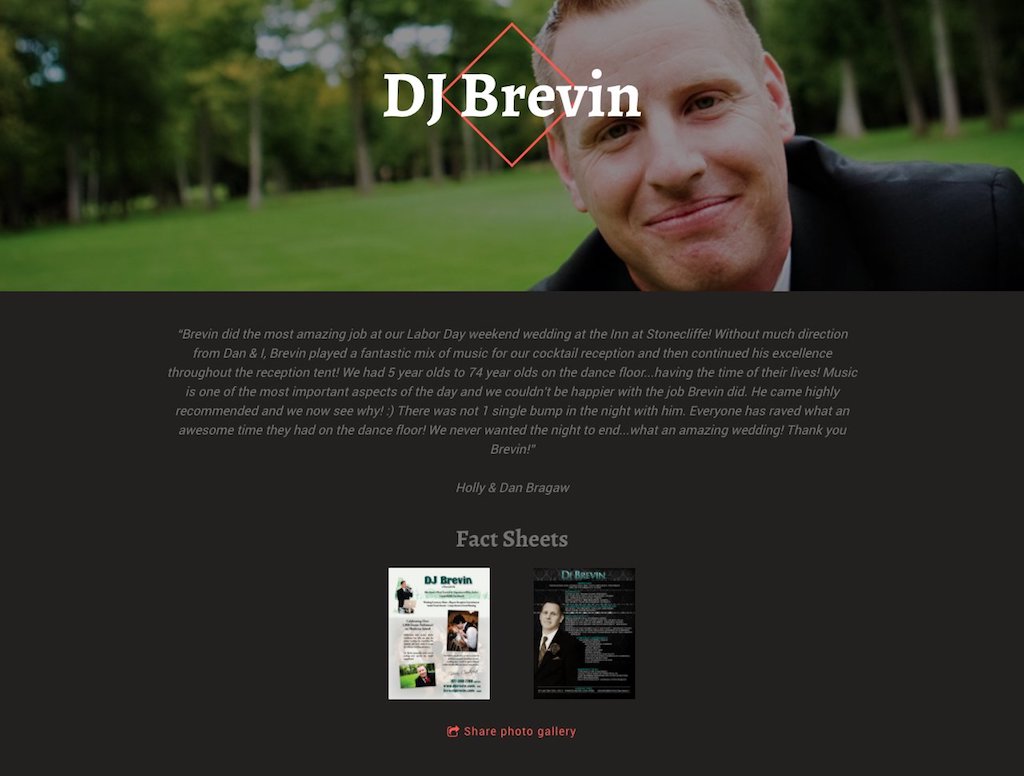 Design your Wedding DJ website in minutes with all these features and more. Sign up free with Bandzoogle now.
Photos
The photos page is where you get to shine. A wedding is a party after all, and this is where you get to show off how fun it is. If you have videos to share, that's even better!
DJ Trav Gales' photos page shows fun dance pictures, images of elegant lighting set ups, as well as photos of him with happy couples from past events. This variety gives a couple a sneak peek into what'd they'd be getting if they hired him.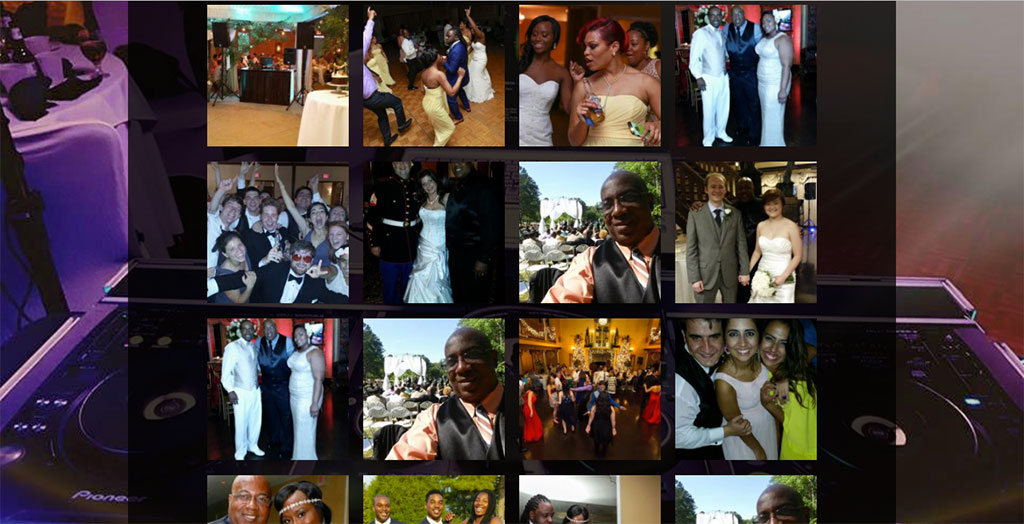 Testimonials
People like to work with those they know and trust. Since they don't know you yet, it's important to establish trust as soon as possible.
One way to do this is by the word of other clients. For each wedding you do, it's vital to get a quote or testimonial from the couple and even guests at the wedding as well.
Put all the quotes, thank you's, compliments and testimonials on one page as proof you're the only DJ they need for their big day.
Klay the DJ does a great job of displaying testimonials, as well as a handwritten thank you note. He's also added reviews from the popular wedding planning tool, WeddingWire. You can easily embed this type of widget on your own testimonials page by pasting the embed code into our html feature.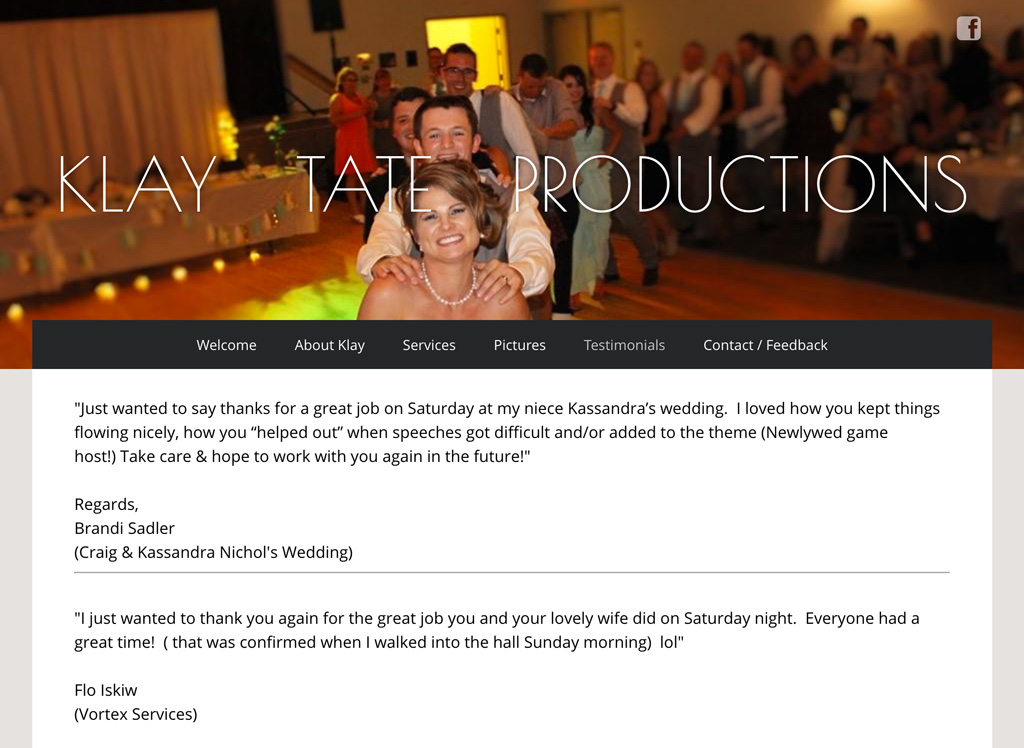 Pricing  
Time is of the essence, so you'll want to make it easy for the couple to see if your services fall within their budget. Offering different packages gives them options they otherwise may not have considered.
DJ Mystique offers a Wedding starter package, as well as an upgraded full-service package. He also offers an add-on photo booth for added wedding fun!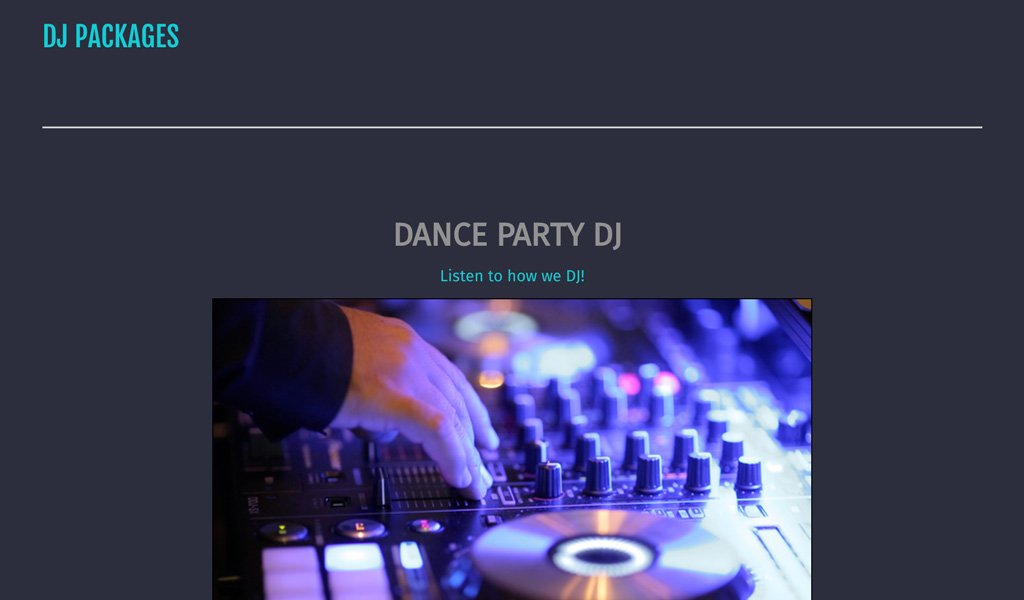 Song List  
Although a Wedding is traditionally a formal affair, couples will still be asking, "Yeah, but does this DJ play my jams?" And to that you'll wanna answer with a big "Heck Yeah!"
The best way to do this is by having a music playlist page. It might seem like a lot of work, but giving your couple peace of mind that you'll be playing all the hits is worth it.
One way to show this off is by having a Top 100 Party Songs playlist like ShoDJ has done on his Music Playlist page.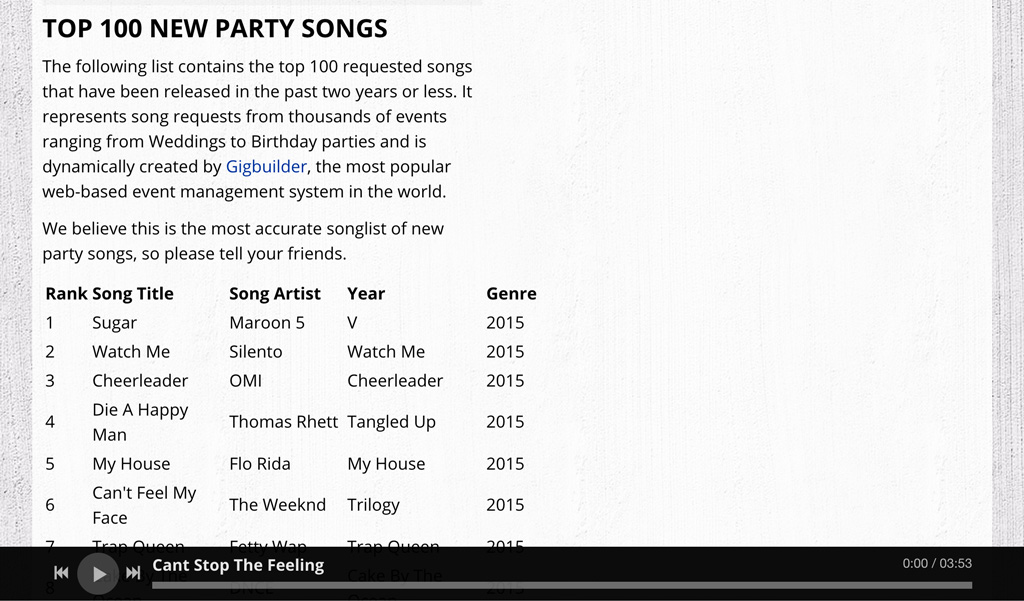 Other services   
The music is the focus, but package add-ons are a fantastic way to spice up the party. DJ Tron does this well by offering options such as lighting, custom dance floor monogram and even a personal event host.
Anything extra you can provide your couple will make their day that much more special.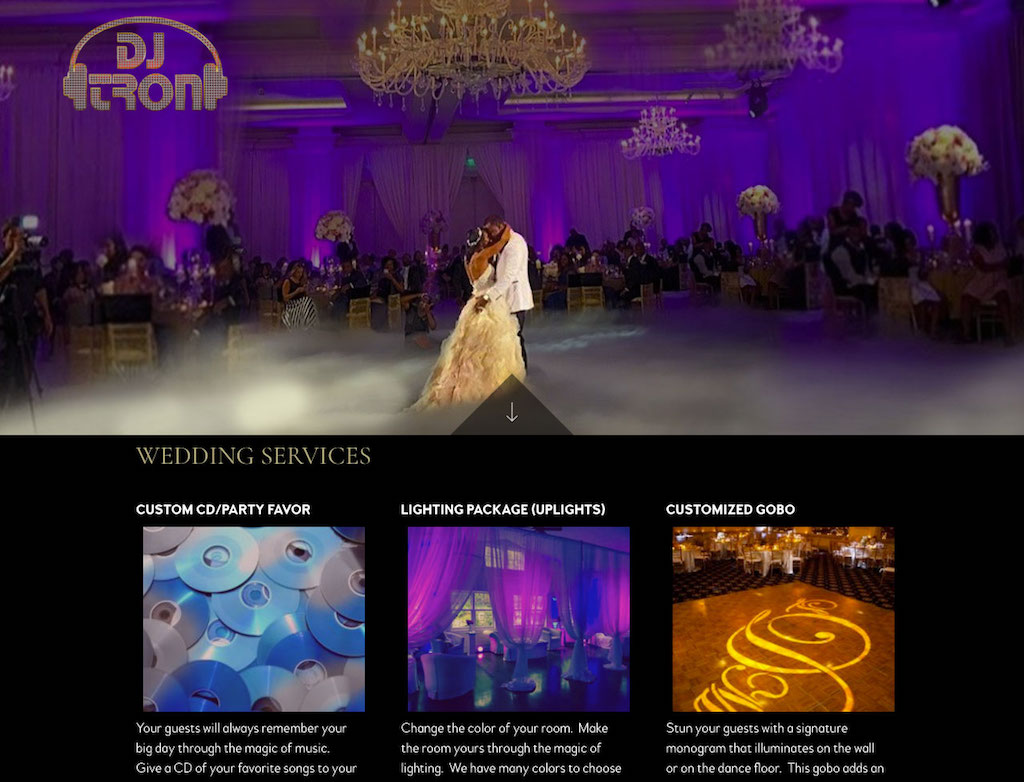 Contact
No wedding DJ site would be complete without a way to contact you for your services! The contact page is usually the last (but definitely not least) page in your website menu. This is where you want to encourage a couple to contact you for more information or to book their event.
To make the decision easier, it's nice to show testimonials on the contact page of other happy couples who have used your services.
The most important element though is your contact form. This is where a couple can enter their contact details and a short message about what they are looking for on their big day.
DJ Uno Love of She's a DJ Entertainment also includes a Store feature where she can collect a deposit. This is a perfect example of making it easy for a couple to hire you!
Now that you know the essential pages you need for your wedding DJ business, it's time to get your website started! Check out this post for more tips for designing your website: How to Build a Wedding DJ Website
Still need more ideas? No sweat. We have many more examples of great musician and DJ website designs here and here. Give it a try and you'll see how easy it is to get your Wedding DJ website up and running.
Why not share this with your friends?
Build a stunning band website and store in minutes
Promote your music on your own unique website.
Sell music & merch directly to your fans. Keep 100%.
Grow your fan base with built-in marketing tools.