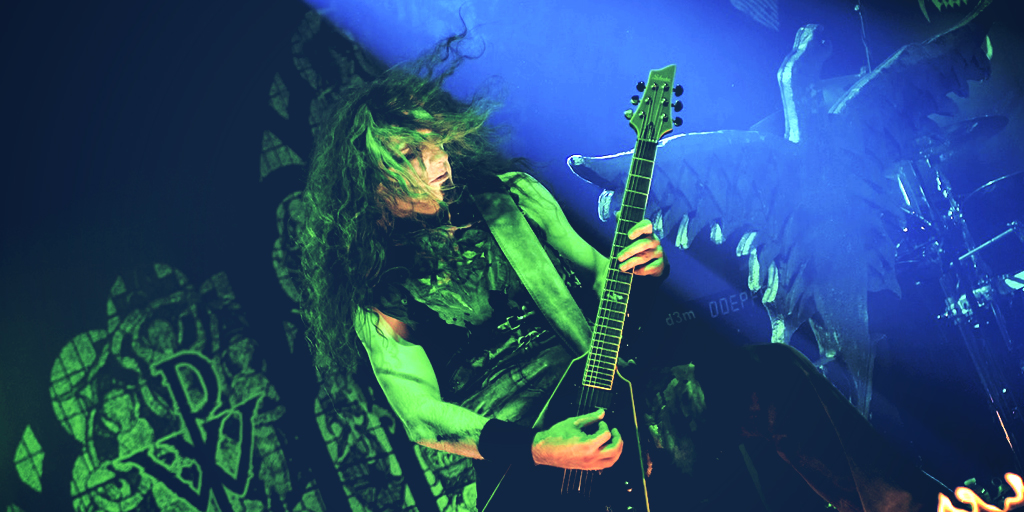 Being a great rocker is just the beginning. To get your music heard you need a place for people to hear it. Social media is essential for marketing your music but also very distracting. To keep the focus on you, you'll want to get people to a space that's all your own. This is where a custom rock music website comes in.
With easy-to-use tools you'll set up the rock music website design that suits your style. It's not as difficult as you may think. We have everything you need to get going, including examples from other rockers like you. Let's explore a few here.
Header
Rock is a genre with a lot of personality. Colorful bandanas, loud guitars, and long flowing hair - when you got it, you gotta flaunt it! The way to do this on a website is by having a great header image. Gang of Thieves takes full advantage of their rocker status with an awesome hair-flipping header image.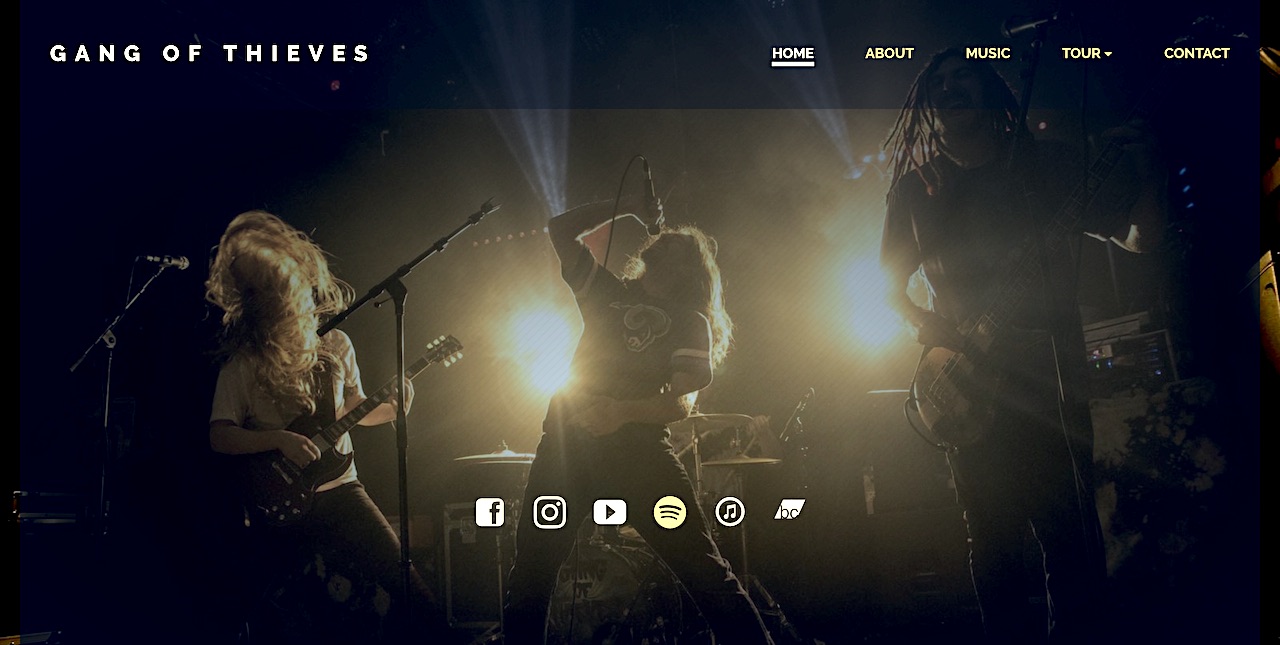 The photo you choose for your header image is not a decision to be taken lightly. This is the first impression  you'll be making on fans and media pros alike. Choose a high-resolution photo that was taken by a professional photographer. Images taken on a mobile device may look good on that device, but they will appear blurry when viewed on larger tablets, laptops, or desktop computers.  
Also, by getting professional photos done you'll have a variety to choose from. And that means you'll have more excellent images to  use on your social media accounts, and for press purposes as well!
Colors
Your header image hooks the visitor, but the style of your website  must keep them interested. A website with poor aesthetics will discourage visitors from navigating your pages. The colors of your website must be pleasing to the eye. Sulfur City rock band got this right with a mix of blues and accents of yellow.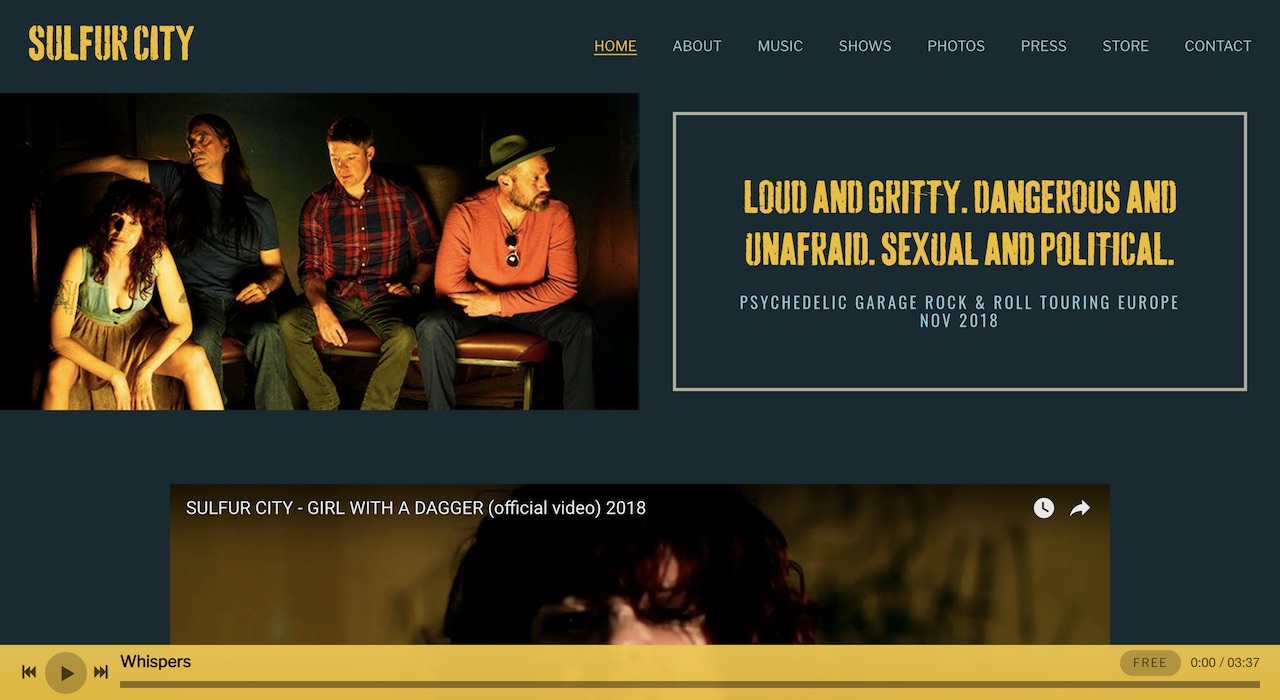 When color combinations come together it makes for a very stylish website. Color theory doesn't come easily to everyone so we have two tips to help:
The first is to use a color wheel. A color wheel allows you to enter your main color and it will tell you what other colors compliment it.
The second tip is to view the website as a visitor. Make sure the background color and text color don't clash with each other.  If you have too much of a contrast it can be hard on the eyes and frustrating to read. Also make sure the text isn't too light - otherwise visitors won't be able to read what you've written.
Section Style
Your website is viewed on a flat screen, but that doesn't mean it has to look boring. Give it variety and texture to make it visually appealing. One way to do this is by adding an image behind different features.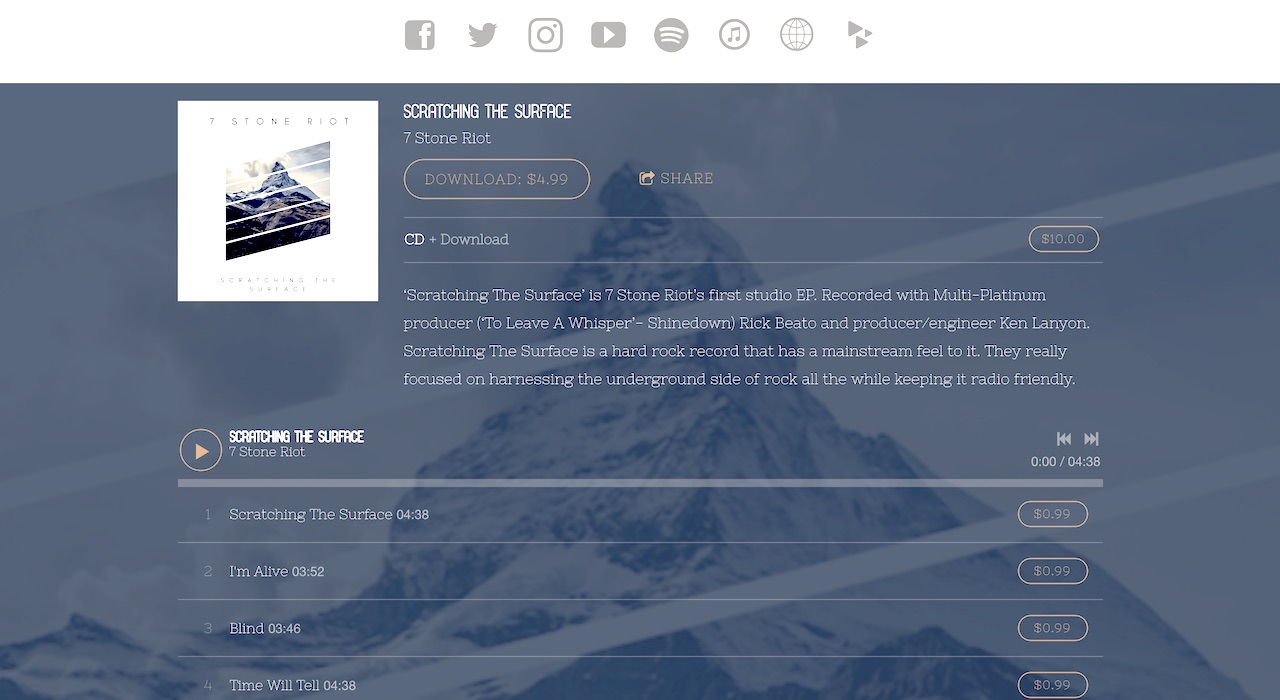 With the new addition of styled sections you can change the way each feature block looks across your site pages. You can use a solid color or any image you'd like. If you use an image you can even adjust the transparency and position. With these tools your website can look very different from anyone else's, so you'll stand out even more.
[Add styled sections to your band website]
Music
Your music is the star of the show so make it easy to find and listen to. A page with variety is nice as long as it's organized. The Glass Hour Band does this well. Using a combination of streaming music and videos,  they give fans a good feel for their musical style.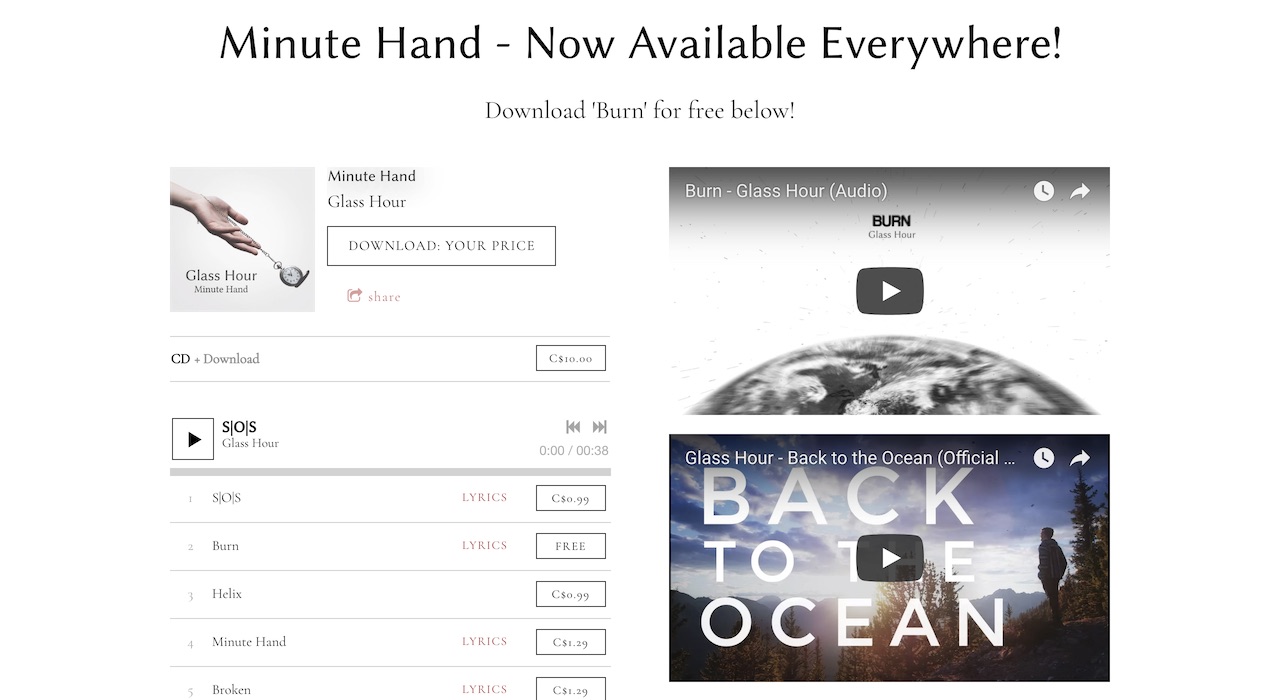 Visitors can stream the tracks and see which ones they like most. Fans can download one track for free and if they want more they have a couple options. They can pay for individual tracks based on a set price, or they can name their own price for the full album. Providing multiple options puts the fan in control. You may be surprised at how generous fans can be when you use the pay-what-you-want feature.
Bio
You can have the best sound but if you don't have charisma your fans will get bored. Let them in on  your personality with a nice 'About' page. This page should offer an account of who you are, what you've done, and where you plan to go. It also lets people know of your awards or accomplishments. If you are a full band  be sure to post a group bio as well as individual bios for each band member.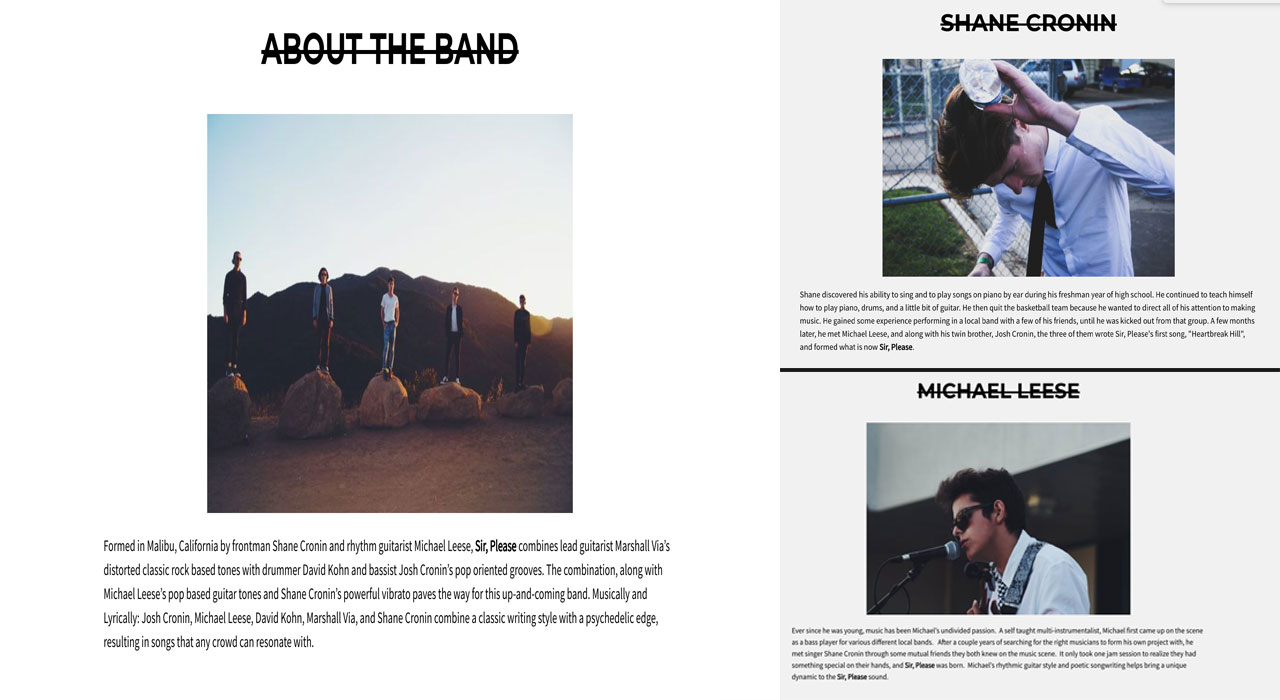 Visitors have a short attention span so make sure you add images throughout the page to break up text. You can also use design elements to spice up the page. For example, the Sir Please band is using the cool strikethrough option that our Spotlight theme provides. These small design tweaks give your site a little something extra and convey your attention to detail.
[How to Write an Effective Musician Bio (with examples!)]
Build an easy-to-update, professional rock music website with all these features and more! Try Bandzoogle free now!
Merch
In addition to digital downloads, selling merch is another way to bring in additional income. Selling merch at live shows is excellent, but not all fans are able to attend. Selling items on your website opens up sales from all over the world. Options for merch items are endless but here are a couple of ideas from alt-rock band, The Motel Pines.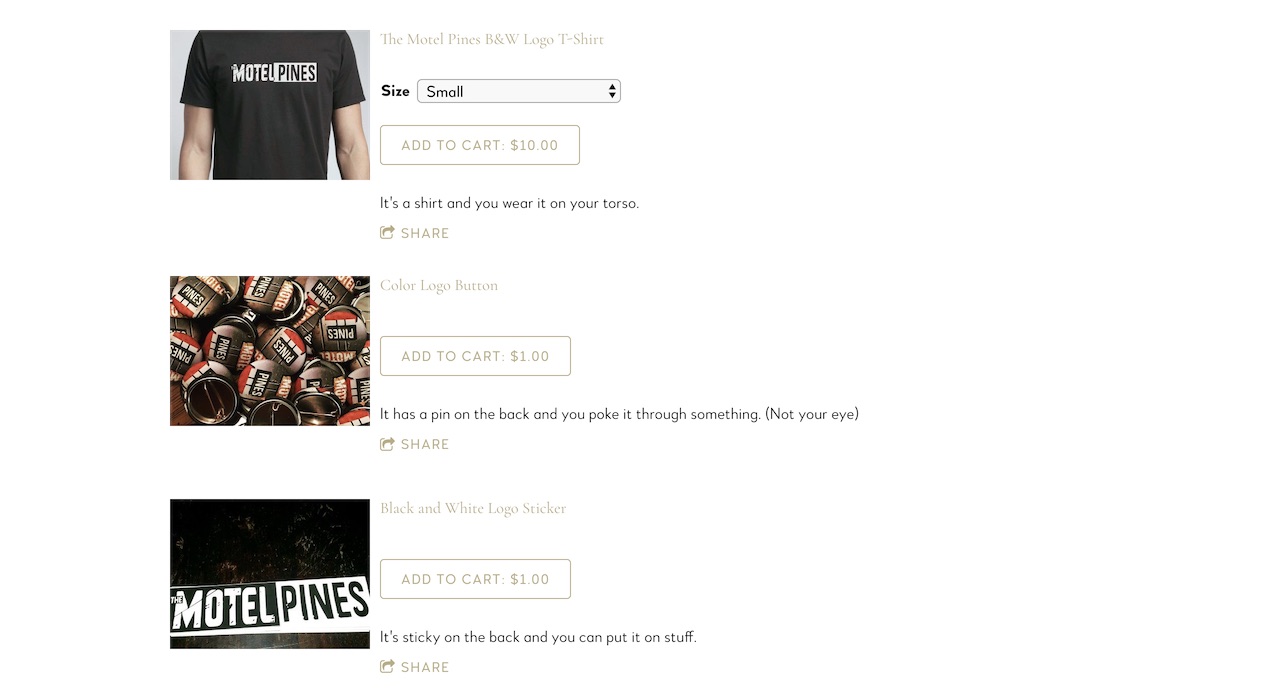 T-shirts and hats are usually the most popular merch items, but smaller items like stickers and buttons are a hit too. Anything that fans will show off is great because that brings more attention to you. It's especially exciting when they tag you in photos on social media wearing your merch!
Media
Another way to make your website stand out is through visual media. Photos and videos make a static page come to life. This is especially true of performance shots like that of high energy rock band, Hunting Delilah.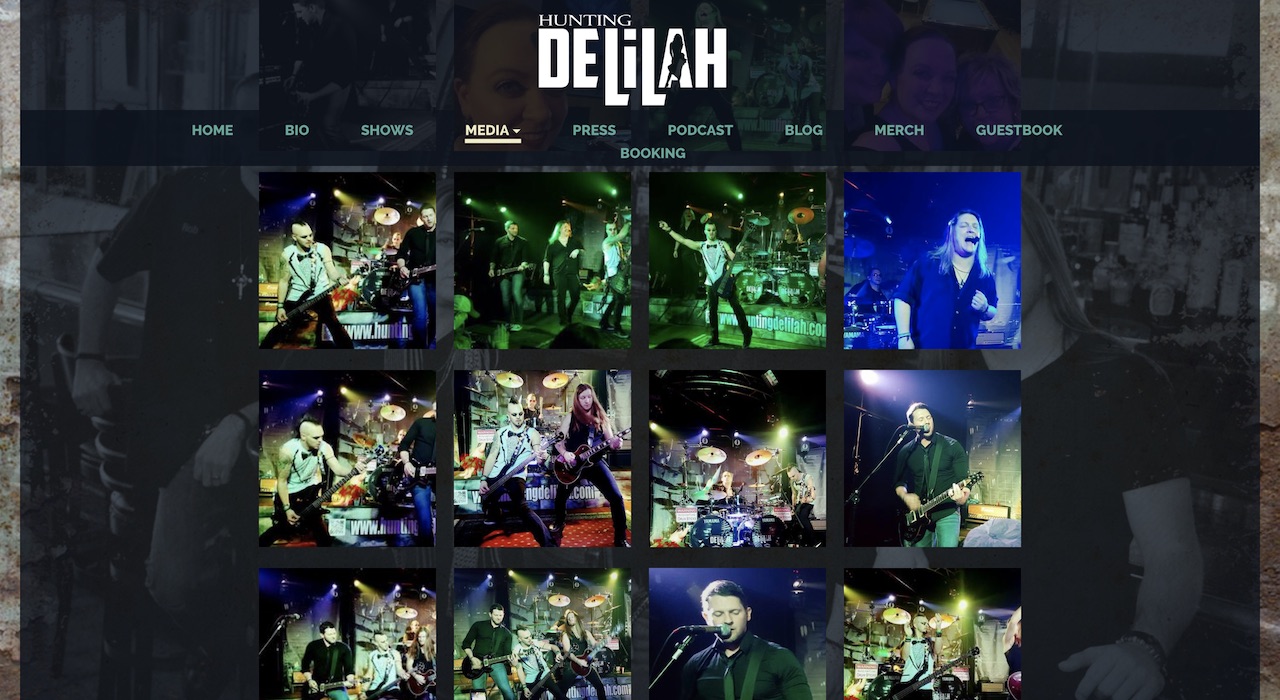 Giving fans multiple photo galleries of live shots lets them see what it's like  to attend your shows. It's fun for them to see pictures of you on the road or in the studio as well. This gives them a peek into the life of an indie rock star.
EPK
One page that is overlooked too often is the electronic press kit (EPK). This page is critical for industry professionals. An EPK page is a summary of all your other pages and saves time for busy  artistic directors, booking agents, and presenters looking for music acts. The goal is to provide enough content to present the band without the page being cluttered. The Osceola Brothers do a wonderful job here with their EPK page layout. Using our preset pages gives you a blueprint to follow to get the right look.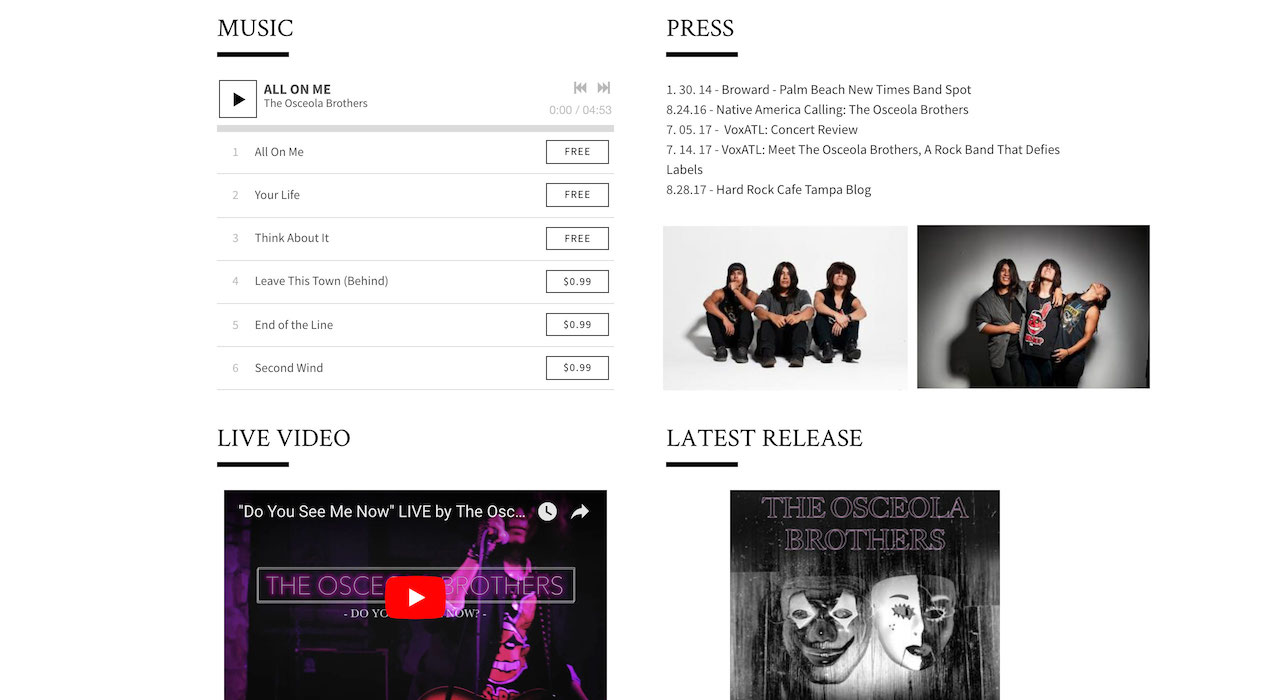 [Create an electronic press kit for your band]
These rock music website templates are a great example of the numerous styles available for your own website. If you need a bit more guidance check out our free online guide How to make a website for your music
In this post we focus on the rock genre, but we have many more examples. Take a look at our sample band sites page as well as in our blog in the featured websites section.
Why not share this with your friends?
Build a stunning band website and store in minutes
Promote your music on your own unique website.
Sell music & merch directly to your fans. Keep 100%.
Grow your fan base with built-in marketing tools.