As a storyteller, folk music is a natural fit for you. With its rich history and deep roots you've fallen in love with being a folk musician. You want to share your stories with the world, but social media can only take you so far. You need a dedicated space to share your songs and your own website is the answer.
You may find yourself doubting your website building capabilities, but rest assured, you can do it! Start by checking out our previous post on how to design a great folk musician website. It'll walk you through the pages and features you need to get the ball rolling. Once you know the basics, you can spice it up and customize it to fit your style.
To get your creative juices flowing we'll take a look at a few folk music website templates for inspiration.
Welcome Home
Folk music feels like walking into your family home. The first page on your website should convey the same warm feeling. Start with a short welcome message and be sure to include a mailing list signup form. That way you can stay in touch with your fans by sending newsletters and updates.
To give a sense of calm it's best to keep your pages clean and light. Folk-duo The April Maze have a great example of this on their Homepage.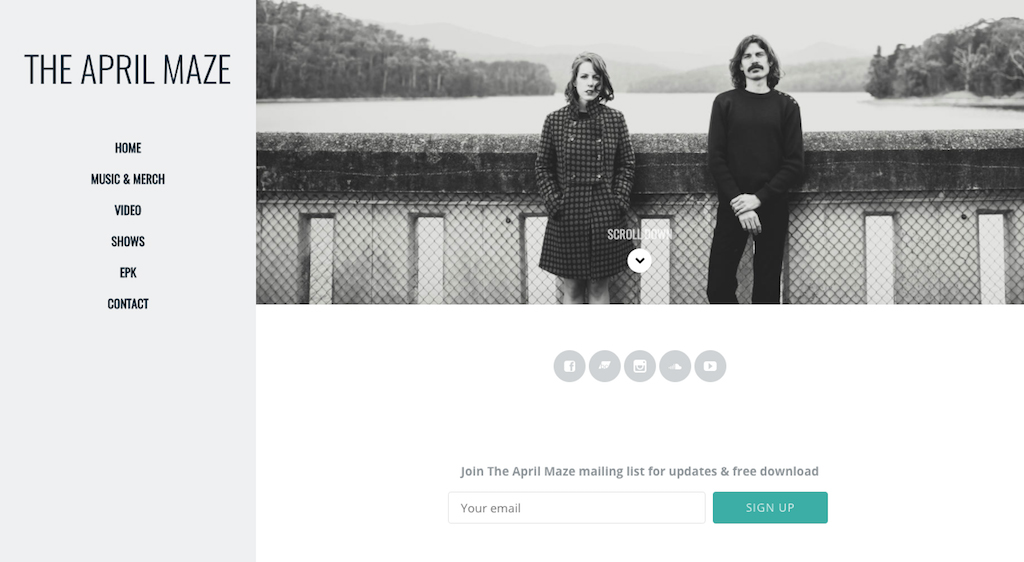 Their header image is simple, which puts the focus on them as the artists. The content area provides the right amount of information without cluttering the page.
[How to Build the Perfect Homepage for your Band]
Hello Friend
Folk is an easy genre to like because it's so down to earth. The artist behind the music should be just as likeable though. Let your fans get to know you by adding a full bio about you or your band. Include points about how you got started, your accomplishments, and upcoming projects.
Take a look at the Bio page for singer-songwriter Anielle Reid. This is the perfect example of how to write a compelling biography. It's written in 3rd person making it easy for media professionals to copy it for articles or introductions. Adding an image personalizes the page and draws in fans who want to know more.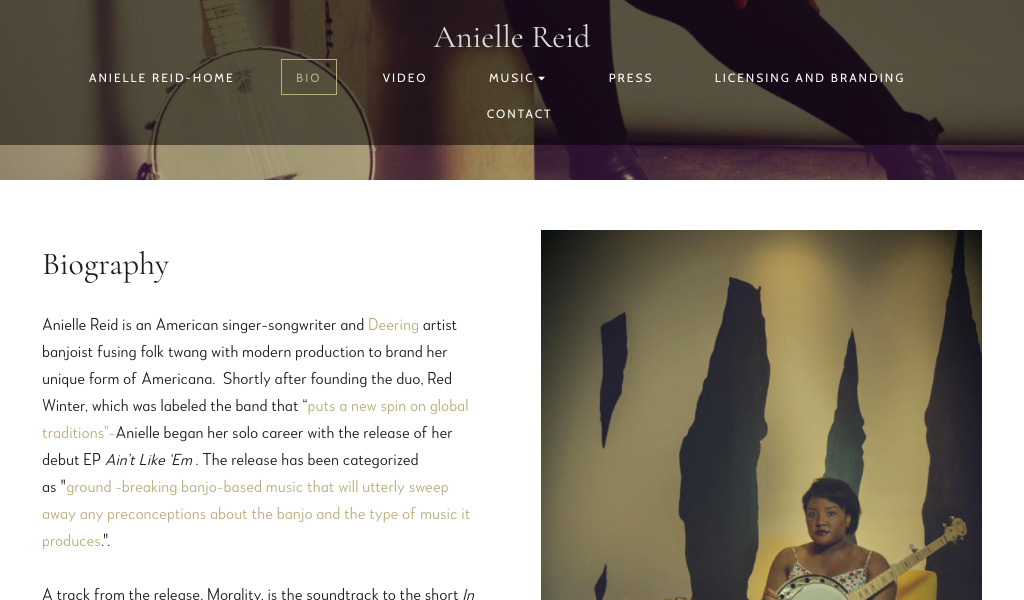 If you have a folk band it's a great idea to write short bios for each band member and a full band bio. Fans love to know fun facts about each player in the group!
Fiddle Me This
One of the best reasons to have a folk band website is to get fans to listen to your music. Sure, you can have them listen to one of your songs on social media, but with all the distractions they'll likely forget about you after the track ends.
Get them to your website and show 'em all you've got. Irish folk singer, Brian Duffy has a great-looking music page on his singer-songwriter website.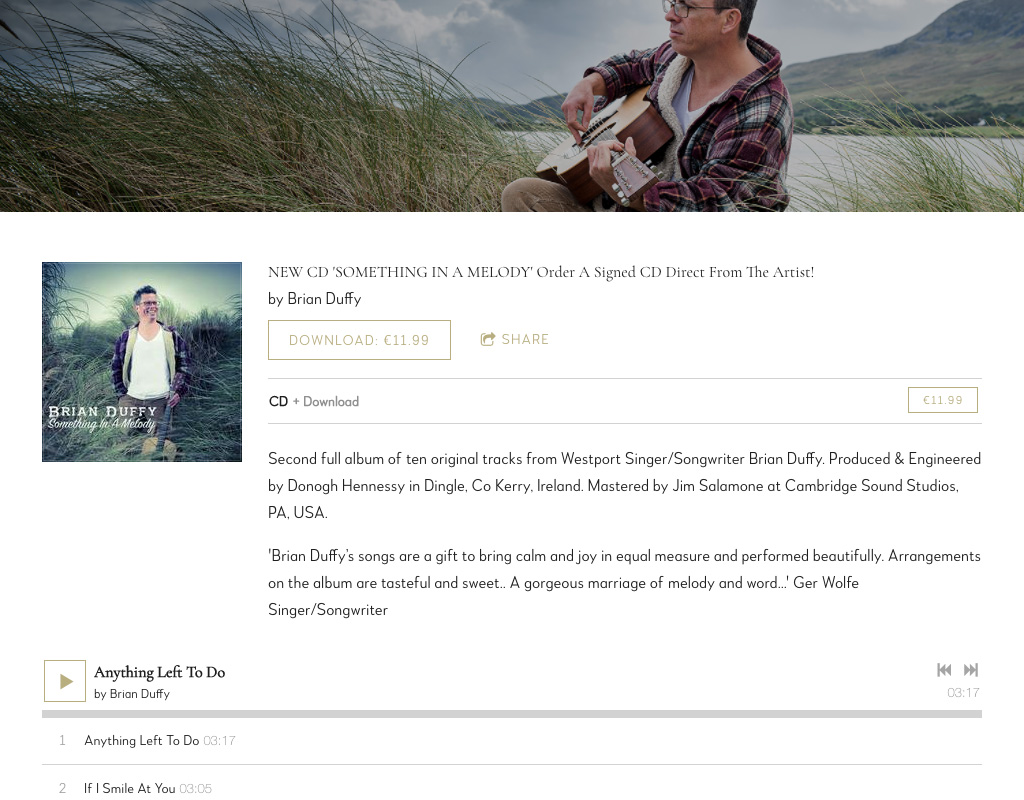 His album cover is bright and easy to view. He included a good deal of info about the album as well as a quote from another folk artist. He also gives fans the option of purchasing the download or the download with a physical CD as well.
The organized layout makes it easy for fans to buy right from his website. Fans can listen to the streaming tracks before they buy to get a feel for the tone of the album.
Give 'em a Show
As a folk musician you've mastered the art of storytelling. It's a real treat for fans to hear these stories in person. It's the same feeling you get telling tales around a campfire, warm and cozy.
Marci Geller is a singer-songwriter who gets it. She plays at various venues but also performs at personalized house concerts as well.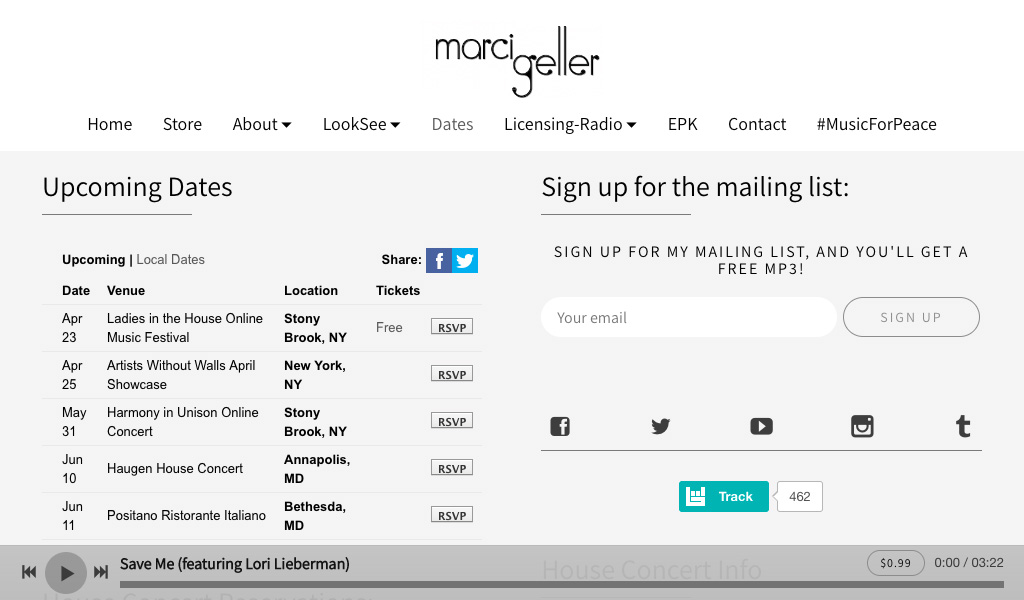 She understands her fans want an intimate ride through her lyrics, so she gives them the opportunity to do this from the comfort of their own home. She provides a good deal of information about house concerts to ease her hosts. Reviews from happy house concert hosts makes perspective hosts feel secure in booking her for their own at-home music show.
[10 Ways to Book More House Concerts]
Check Me Out
Having photos on your website is a great idea because it gets fans acquainted with your personality. The more they see your face, the more they'll associate you to your music. Adding images to each page also makes it more visually interesting.
It's also a good idea to have one dedicated page for photo galleries. You can get it up with promo photos, performance photos, fan photos and candid photos as well.
Another stylish option is to add both photos and videos to the page. Folk singer Dylan Moses shows us a nice media page with photos to the left and videos to the right.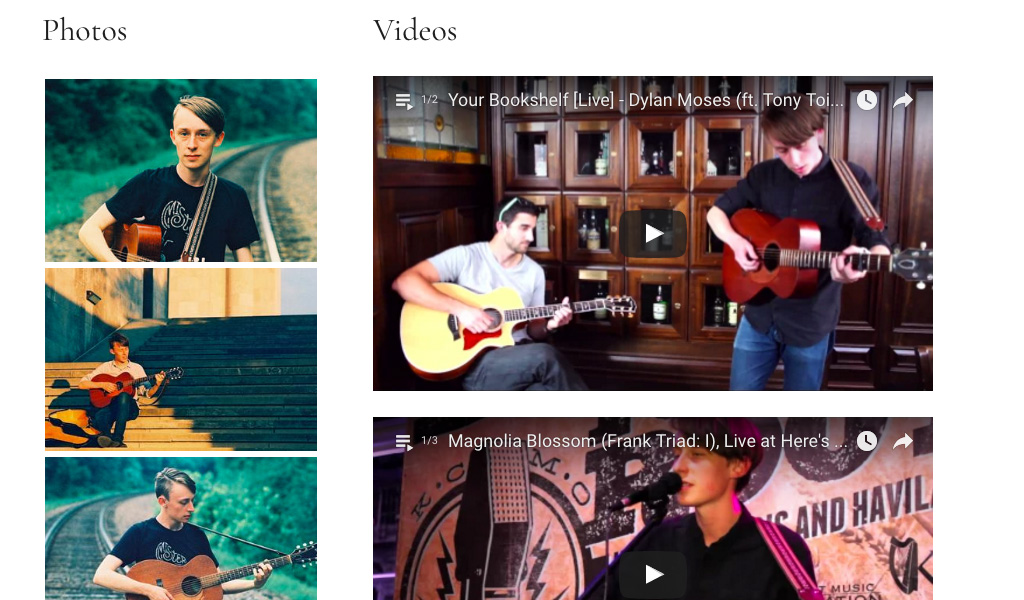 You can do the same on your site with our built-in column chooser. This allows you to set up 1 to 3 columns, 50/50 split or sidebar styles. With so many options you can make your website fit your design style.
Build your folk music website in minutes with all of these features and more. Sign up free with Bandzoogle now.
T-Shirts, Hats and Stickers
Folk fans are family. They're happy to support you and spread the word about your music. This is great on social media, but what about offline? Get them in your band related merch.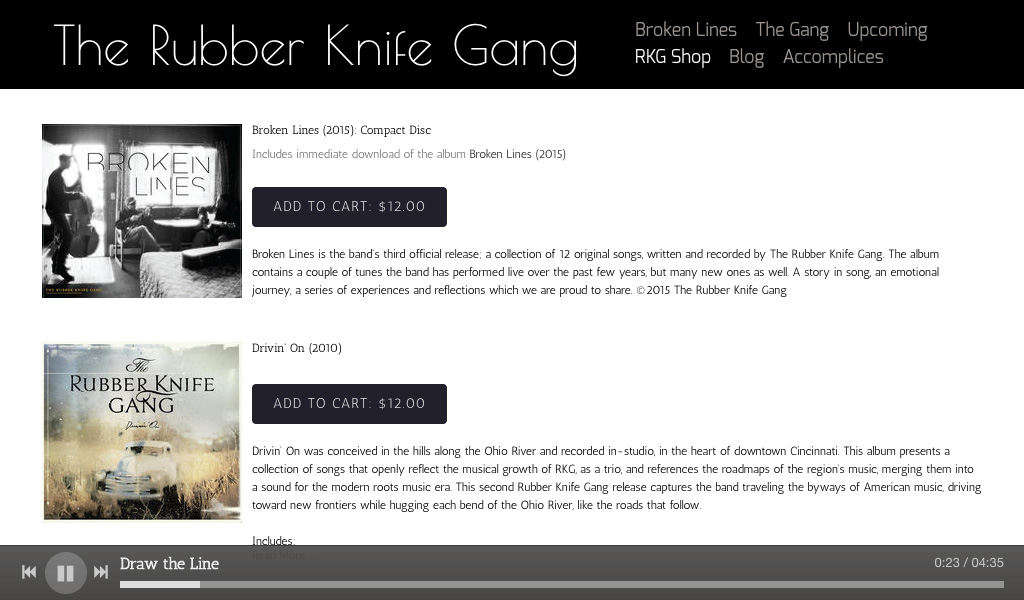 Fans love choices and The Rubber Knife Gang uses their Shop page to sell all sorts of items. From posters to vinyl records, the band has their fans covered. A great way to make new fans by getting your merch seen around town on hats, shirts and stickers as well.
Media Matters
If your fans are the fire, media professionals are the fuel that can make the fire grow. For that reason you want to make it easy for industry folks to learn about you and your music. The best way to do this is by condensing all your best stuff onto one page - an Electronic Press Kit (EPK).
To get an idea of a great EPK, let's look at the press kit page for Texas folk duo, Beth // James Band.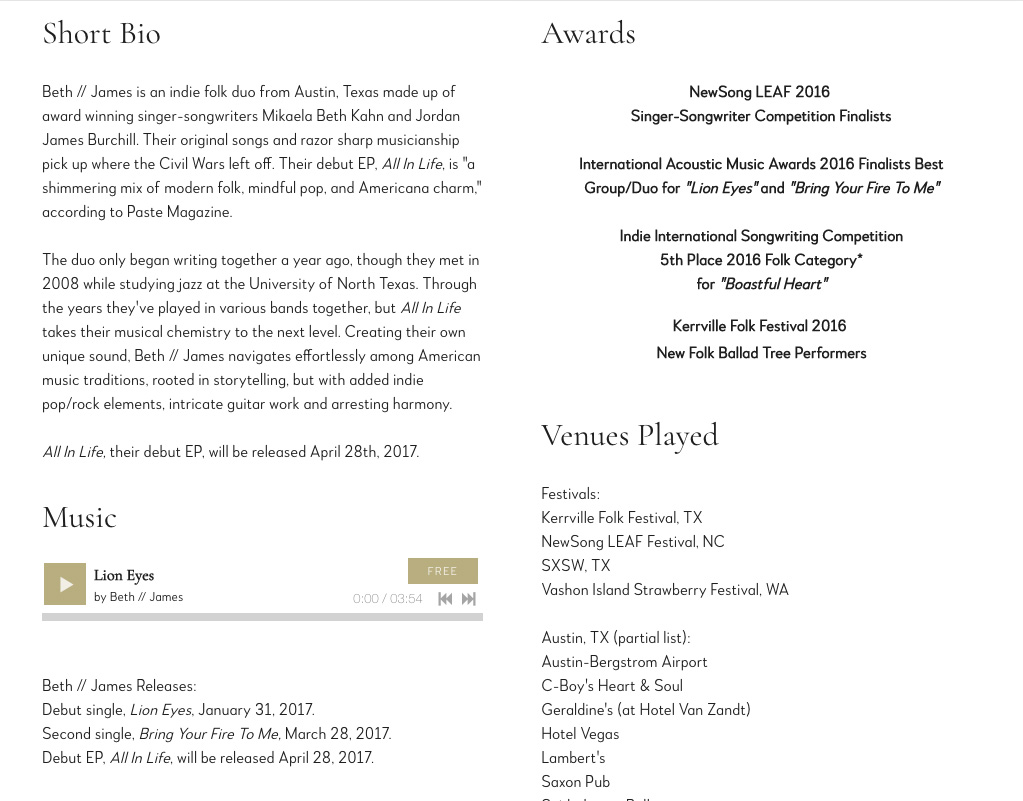 This page gives the visitor enough information to learn about the duo without them having to fish through all the pages on their website. A press kit page should give the viewer a chance to hear your music and learn about you as an artist or band. What should you include on your press kit page? Here are The 8 things that should be in every band's digital press kit
Get in Touch
After taking the time to navigate your website, fans and media pros may want to get in touch. Make it easy for them to contact you by using a custom form. The most common fields are name, email, and message as seen on Joseph Tonelli's Contact page. We also recommend adding a mailing list signup form to this page to give fans one last opportunity to get on your list.
The Contact page is the last page in your menu, so this is also where you'd add any social media icons as well.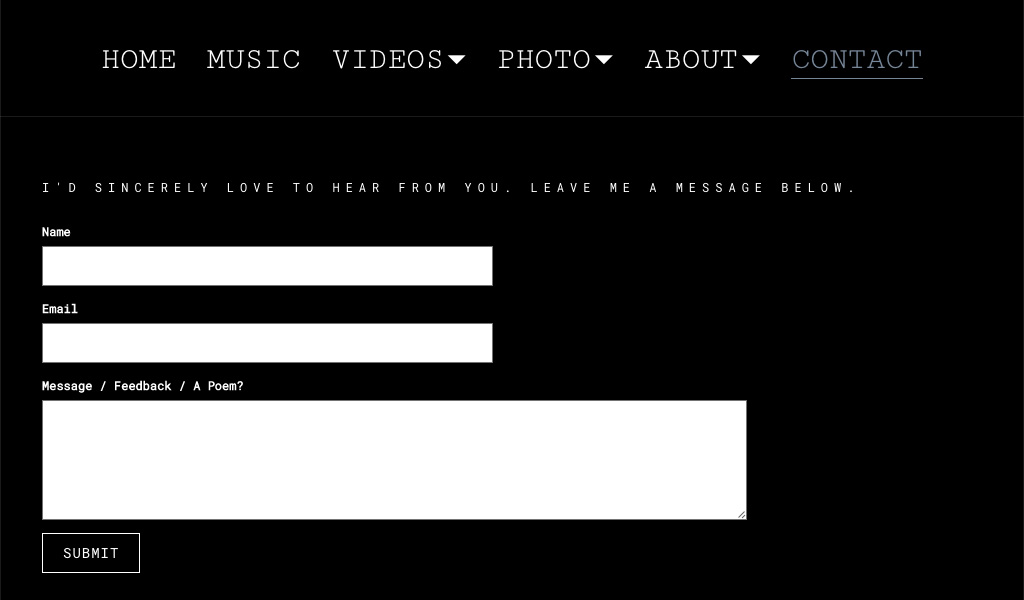 By now you can see how easy it is to design an attractive folk website for your music. In this post we focus on folk music but we have many more examples. Take a look at our sample band sites page as well as in our blog in the featured websites section. Once you have your own folk website set up you'll be happy to invite fans, friends and family to take a look!
If you need a bit more guidance on designing your site, check out our free online guide How to make a website for your music.
Why not share this with your friends?
Build a stunning band website and store in minutes
Promote your music on your own unique website.
Sell music & merch directly to your fans. Keep 100%.
Grow your fan base with built-in marketing tools.