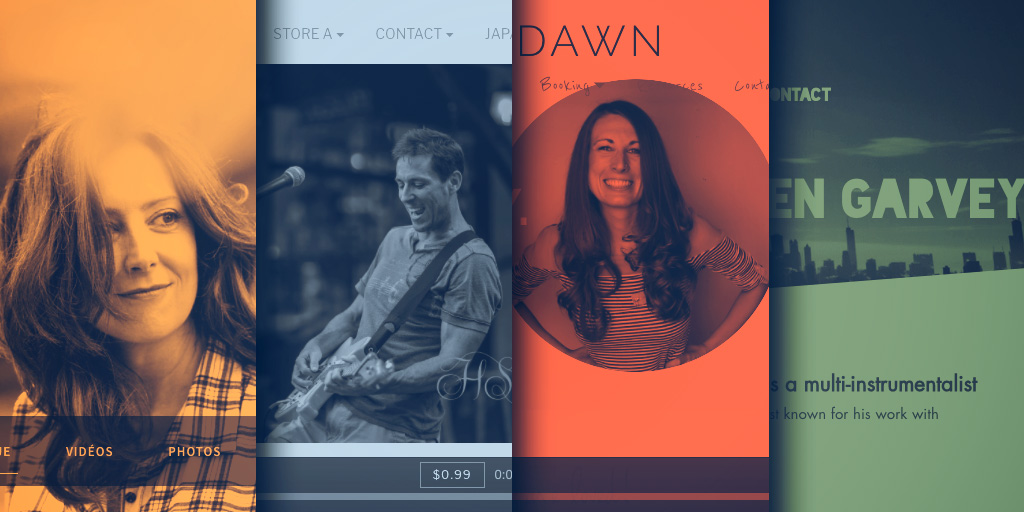 The essentials to a great site are a professional header image, engaging content and a pleasing design. The image and content is something you bring to the sitebuilding process and we provide the designs. With over 100 beautiful mobile ready themes it's a breeze to set up a good-looking band website design.
Our modern templates give you the framework, but to make it stand out even more we've recently added styled sections. Sections allow you to divide your content with a different colored background. With this built-in tool it's easy to customize your design to suit your style.
[How to use styled sections to customize your website design]
Since its release our members have shown their creativity with sections. Here are a few ways they've used styled sections to create a look of their own.
Visual Interest
Although Bandzoogle is ideal for artists and bands, our services work well for anyone trying to build a website with great features. Speaker/author Tiffany Dawn uses contemporary colors to make her website stand out.
Using a muted pink in the header area allows her header title to pop up top. This also gives her two section colors to work with in the content area, light cream and green. The orange and gray accents draw the eye to those places on the page. This is great because those are the buttons visitors will need to click to navigate to more pages or buy music/merch from her site.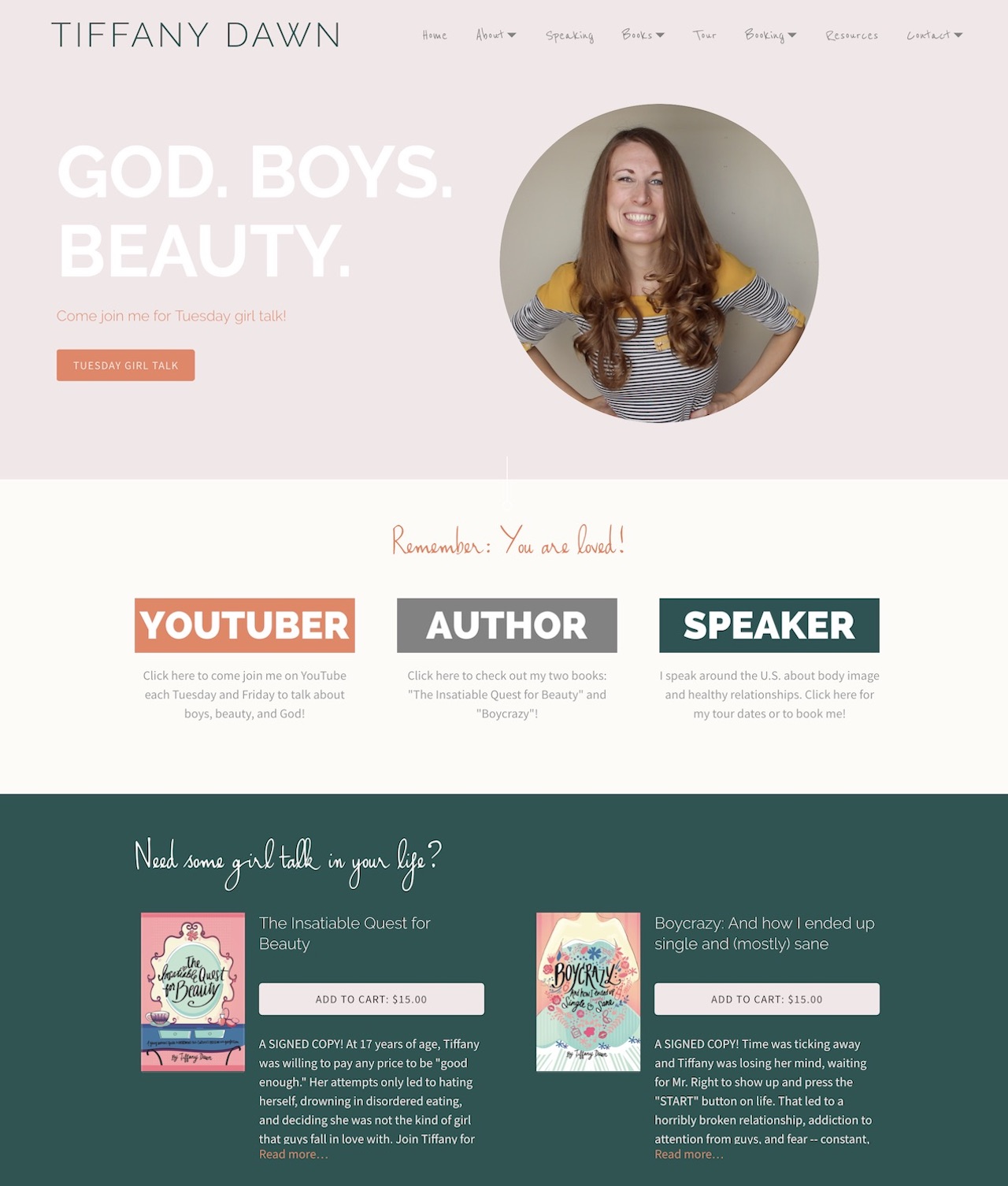 Subtle Change
It doesn't take much to give your band web design a little flavor. Musician Kelly Pettit creates a calm, inviting feel by using different shades of green on his site. This slight variation of the same color breaks up the features into organized blocks.
The rule of thumb for any website is to stick to three main colors. To do this you'll first choose your primary brand color. Then use a color wheel to find a complimentary color and an accent color. From there you can use other hues of those three colors, but make sure they blend well together.
Kelly does an excellent job of this on his site using a dark green header and lighter shades for the content sections. This particular template, Duet, is a good choice if you'd like to use color segments to vary the look of your site.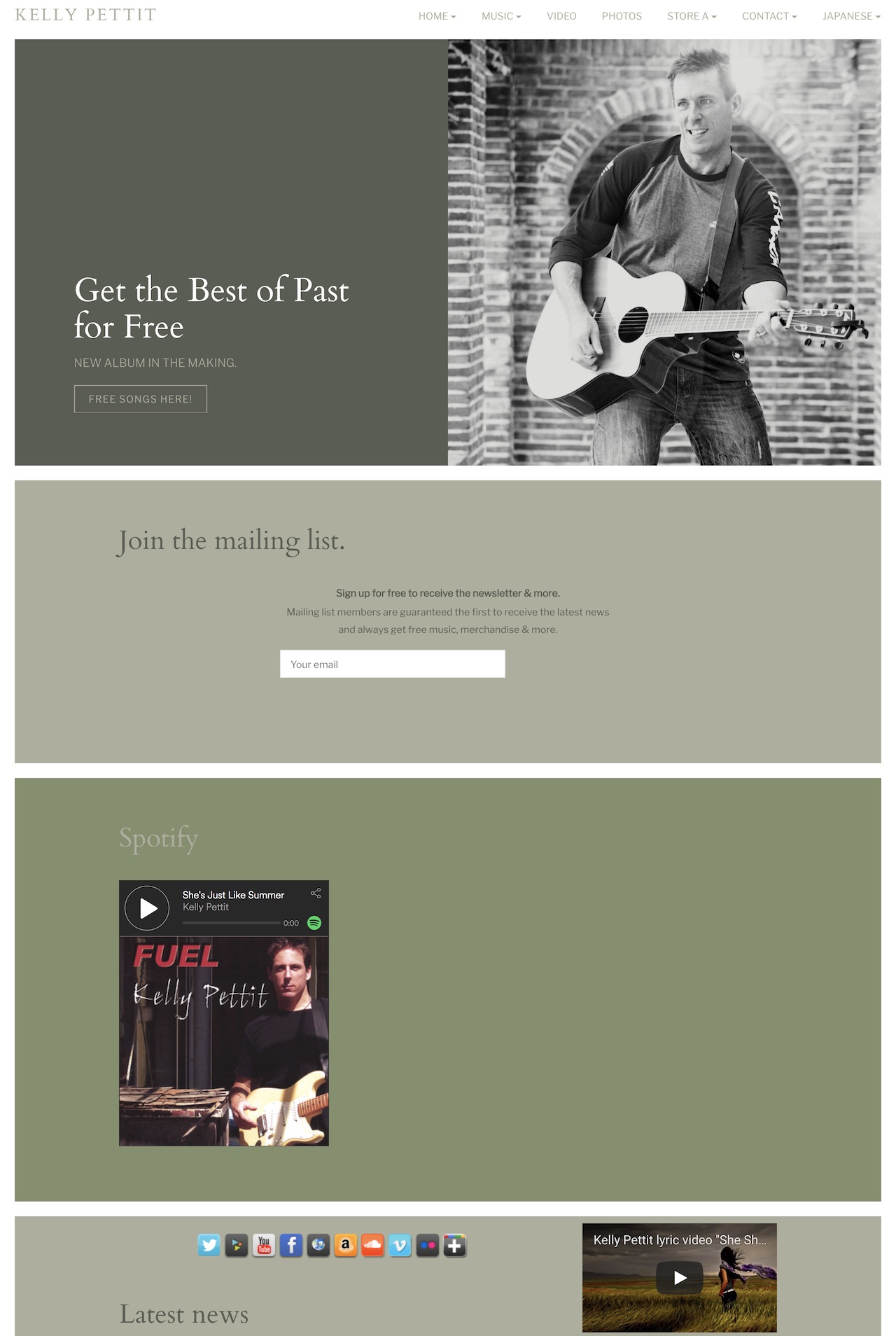 Highlighted Content
When a new visitor comes to your site for the first time you want to grab their attention. Use styled sections to emphasize awards, significant accomplishments and press quotes. You can do this with different colored sections.
Displaying accolades on your homepage makes visitors want to continue exploring the rest of your site.This is why displaying these prominently on the page is ideal.
Multi-instrumentalist, Darren Garvey, does just this on his website. The body of the site is a soft white with his press quotes in a dark blue-grey section. Using white text in this section draws the eye to it making it a focus on the page.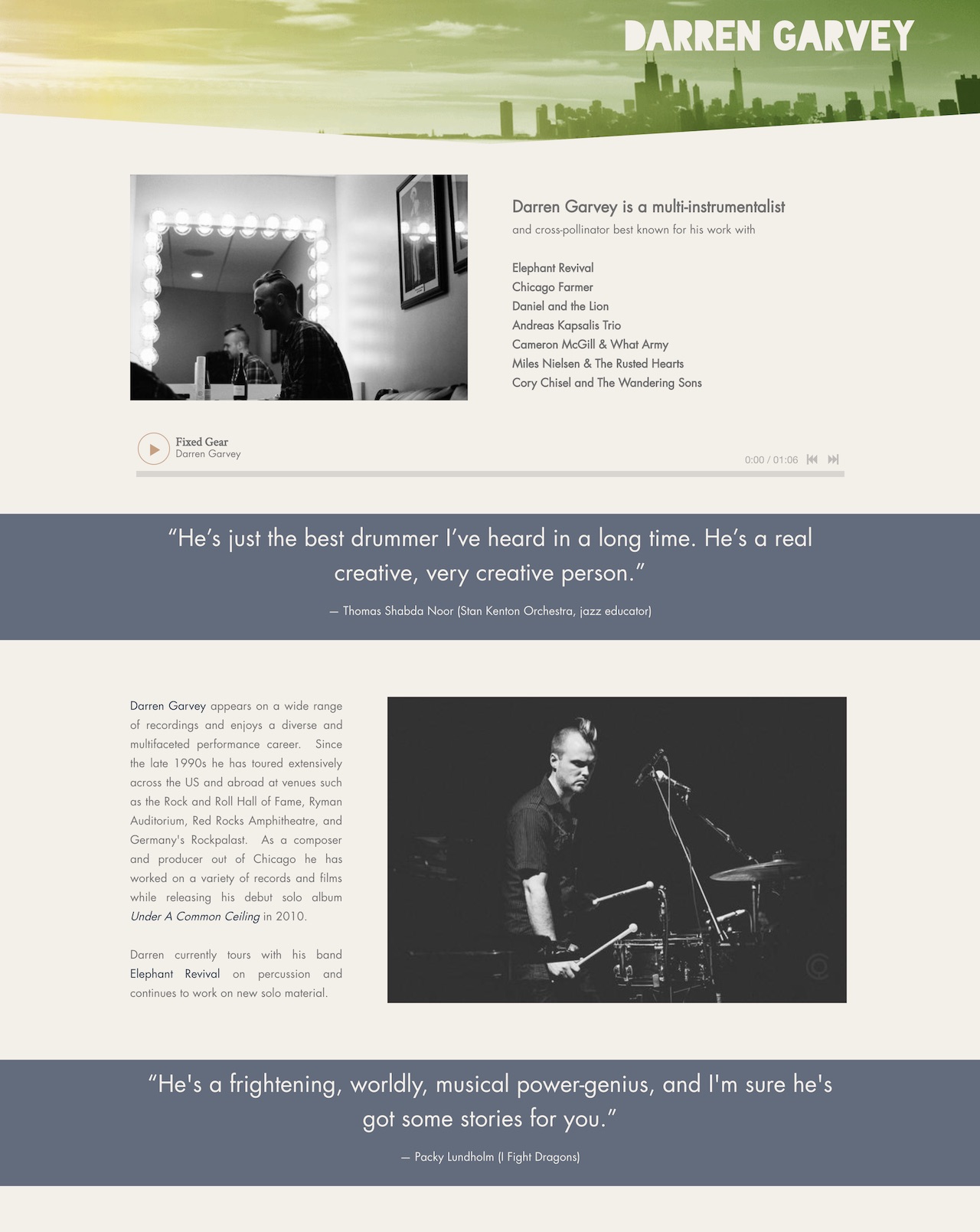 Colorful Pages
Color variations by feature are great but if you want to go even bigger, consider changing the color on alternating pages. It's a nice transition for visitors as they navigate your pages. It also livens up each page since the next page is a different color.
This option makes it easy to switch the colors whenever you'd like. For example, you can change the pages to red and green for the holidays then easily switch back in the New Year.
French singer Andree Belle-Isle brightens her pages by using lime green and dark coral pages. You'll also notice that on section style two the footer remains as the original color. This helps tie all the pages together.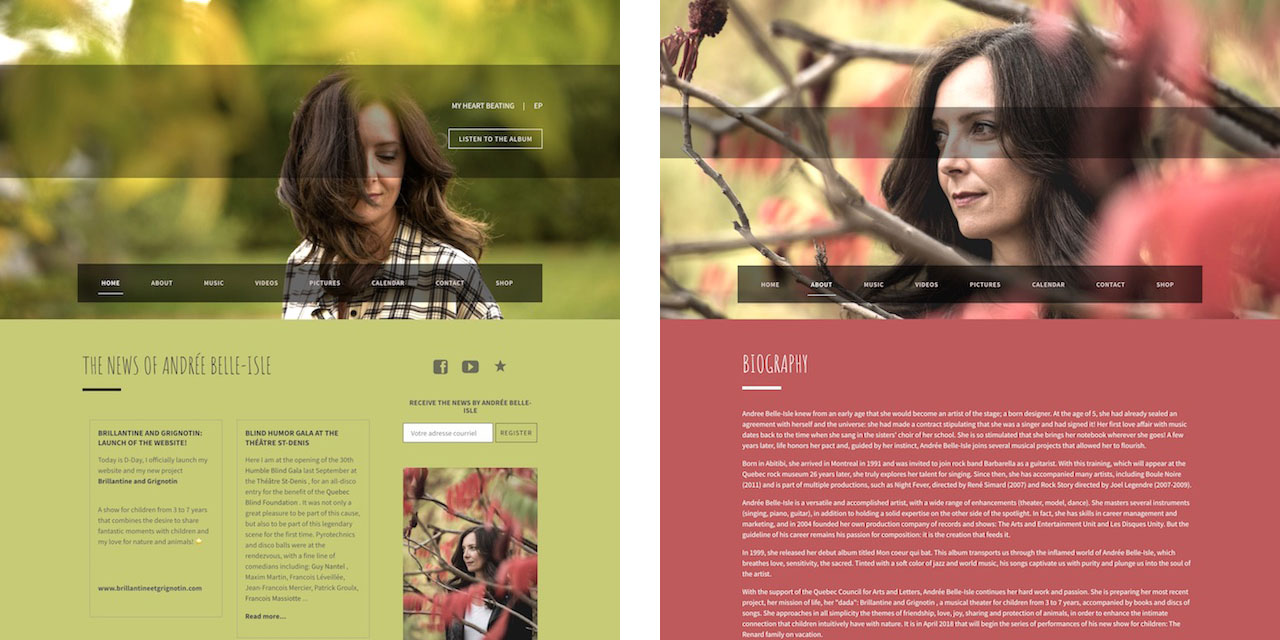 These are just a few member sites with nicely styled sections. If you need more inspiration for your website building check out our Sample Band Sites and our blog, which is full of Beautiful Band Website Templates. With all the available options website design for bands has never been easier!
Create a beautiful, modern website design in just minutes. Try Bandzoogle free today!
Why not share this with your friends?
Build a stunning band website and store in minutes
Promote your music on your own unique website.
Sell music & merch directly to your fans. Keep 100%.
Grow your fan base with built-in marketing tools.