Every time you leave your house these days, you'll no doubt be reminded that the holiday season is here. Christmas, Hanukkah and Kwanzaa decorations, all flavours of holiday music, trees full of pretty lights, and of course, sales everywhere. And lots of shoppers.
This is a great time for musicians and bands to offer their fans a deal on music and merch for the holidays (and Boxing Day here in Canada, our version of Black Friday). You can even have a year-end sale to help clear out inventory.
[3 Ways to Boost Online Music Sales this Holiday Season]
With Bandzoogle, Pro members can use sale pricing to easily offer fans a discount through the Music & Merch Store features (and they also get to keep 100% of sales!).
For example, Cloud Cult are using our sale pricing feature to have a Holiday Sale, offering their fans a discount on various albums, shirts, and books: www.cloudcult.com/cloud-cult

3 tips for having a sale
Here are some tips to help with launching a sale:
1. Make it temporary
When putting your music and merch on sale, make sure fans know that it's a limited time deal. This will encourage them to act fast and save while they can. So when you decide to have a sale, also have an end date for the sale.
Bandzoogle member Marci Geller does this perfectly on her site, advertising a "Happy Holiday Savings" sale that ends December 15th: www.marcigeller.com/store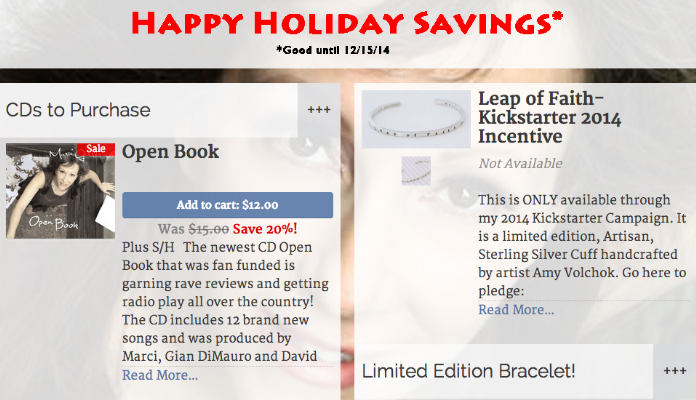 2. Offer exclusives
One way to entice fans to get into the shopping mood is to offer some exclusives with your sale. Maybe you've recorded a new song and it can only be purchased on your website. Or you make a previously unreleased live album available only for the duration of the sale. How about printing some limited edition t-shirts?
3. Get the word out!
Of course, the most important part of having a sale is letting people know about it. Here are some ideas that can help get the word out to your fans:
Mailing List
The most reliable way to reach your fans is still your mailing list (good thing a mailing list feature is included with all Bandzoogle plans!). Be sure to send an email blast the day your sale starts, and even on the last day as a final reminder. Keep the email simple, with a clear call-to-action for people to click to visit the Store page on your website.
Website
Besides offering the sale through your website, there are several things you can do on your site to bring attention to the sale:
Landing page: Having a sale is a good reason to create a special landing page (which you can do on Bandzoogle by adding an "Intro page" in the Pages tab). Visitors to your website will have no choice but to see that you're having a sale.
Just be sure that the landing page is simple, has a call-to-action to visit your Store page, as well as a clear link to simply enter the regular site. See: How to Properly Use a Landing Page on Your Website
Blog: Be sure to write a blog post with details about your sale. That way if someone is checking out your latest activity, they'll see the news about your sale front and center.
Call-to-action: Whether you create a special landing page or not, you should also make your sale the primary call-to-action on your Homepage. You can create an image to feature at the top of the page that links to your Store page, and even create a special header image that advertises the sale.
Facebook
When announcing your sale on Facebook, be sure to include an image with the post. As you probably know, not all of your fans see the updates from your page (it can be less than 10%). Posts with images reach more people, and have more impact. So add an image with a link to your sales page.
[Social media marketing for musicians: How to get more fans with Facebook]
You can also pay to "boost" a post to reach more of your fans. It's not something you should do often, but having a sale would be a good reason to boost a post. Don't break the bank, but spending a little to reach more fans might be worth the investment.
You can also send out little reminders throughout the sale, and even a second "boosted" post to remind fans about the end date of your sale.
Twitter
Similar to Facebook, Tweets with images get more favorites and retweets, so you should also use an image when promoting your sale on Twitter. You can also get away with many more updates on Twitter, so tweeting several times to announce your sale, updates throughout the sale, and several reminders is perfectly fine.
[Social Media Marketing for Musicians: How to Get More Fans on Twitter]
And of course, if you're active on Google+, Instagram, or any other social media platforms, be sure to post updates to let your fans know when your sale starts and ends. Good luck!
*This post is also valid if you celebrate Festivus.
Build a professional website in just a few clicks where you can sell music and band merch commission-free! Sign up with Bandzoogle now.
Why not share this with your friends?
Build a stunning band website and store in minutes
Promote your music on your own unique website.
Sell music & merch directly to your fans. Keep 100%.
Grow your fan base with built-in marketing tools.