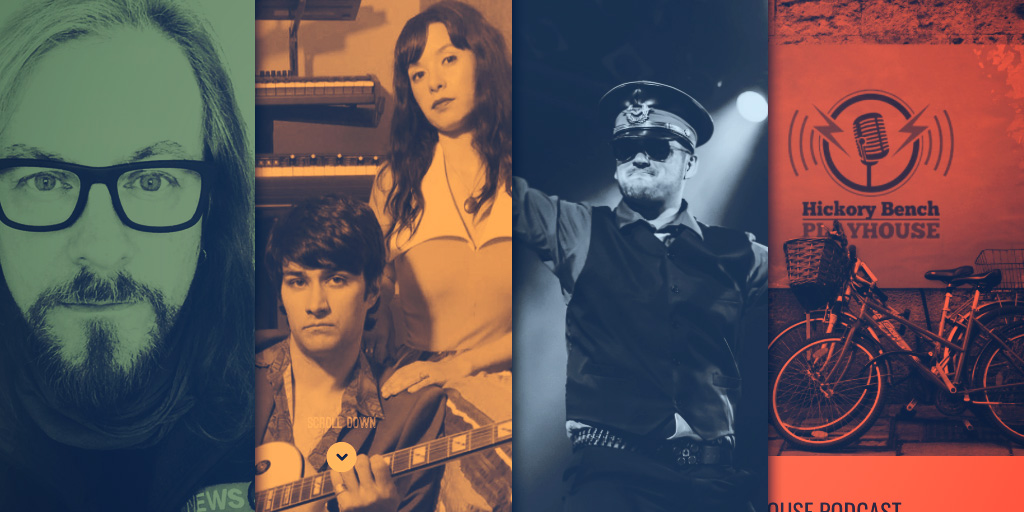 If you're looking for a way to elevate your website style we recommend checking out our Portside template. This theme is unique in many ways, with the highlight being its vertical menu bar.
Since its introduction it has become a favorite among our members in all genres. Let's take a look at some examples as to why this musician website template is such a hit!
Music
As a musician, artist or band your product is your music. Without music on your website it's difficult for a visitor to become a fan.
With the Portside template you can easily add the sitewide music player to the left sidebar. This calls attention to your songs and gets fans listening right away. The best part is that the music will continue to play while your fans are navigating through the rest of your pages.
With Bandzoogle you aren't limited only to music. You can use our music features for any sort of audio you have such as music lessons, sermons, and spoken word poetry. Another great option is to use it for podcasting. Our blog feature allows you to add tracks that can be downloaded by your visitors, where they can also subscribe to the podcast on iTunes. Here's a great example by The Hickory Bench Podcast.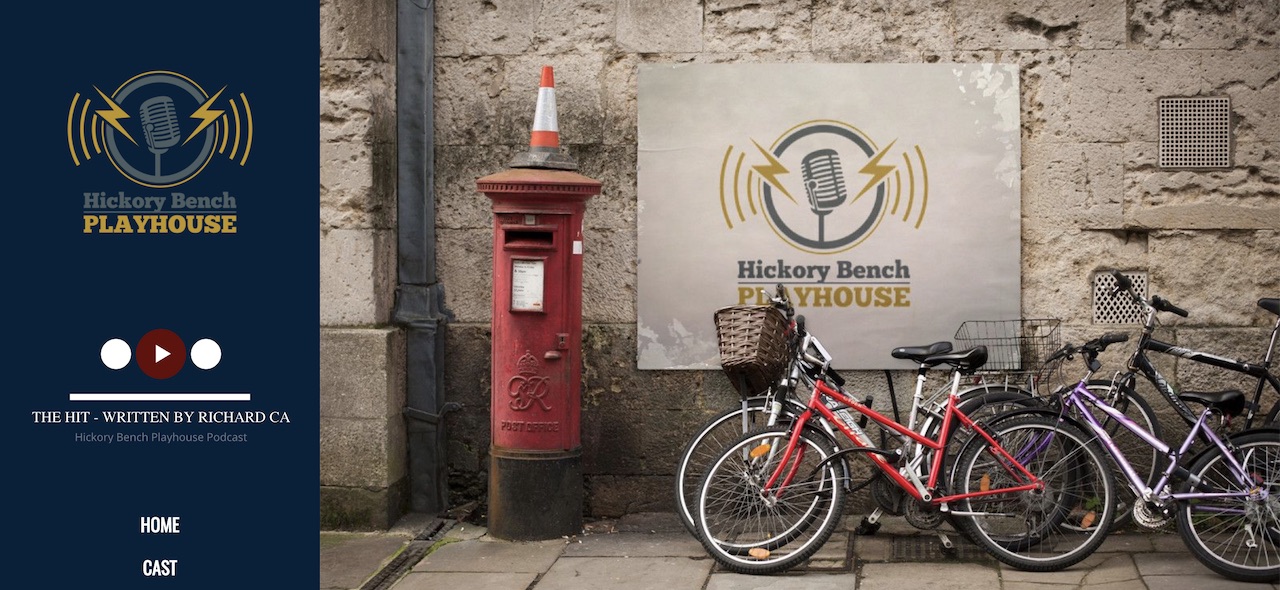 With all of our features you can create a website that suits any of your entertainment career needs.
Call-To-Action
You want fans to buy your new album? Check out some of your shows? Watch your videos? Then all you have to do is ask! You can do this with a call-to-action (CTA) on your website. It's super easy to set up with Portside because we have a CTA option built right into the header area.
To make the header pop even more, consider adding a video to the top of your website. To get an idea of how to use a CTA and video header together, check out the website of The Philanthorpist DJ: Housto.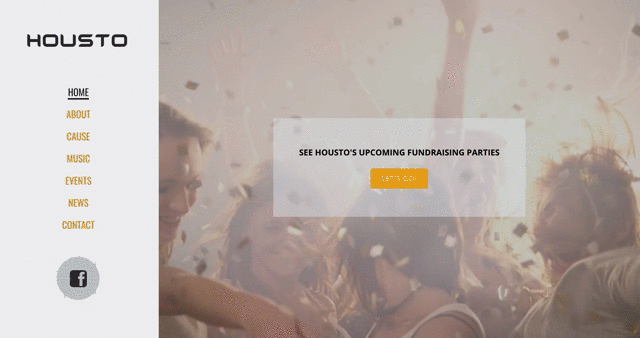 The video provides movement to the page which makes it fun and festive. With the CTA overlay it gives visitors a nudge to take action while they are there.
Create your own stylish, mobile-ready website with the Portside template in minutes. Try Bandzoogle free today!
Color
When choosing a musician website design it's important to decide the mood of your site. This will help determine your primary brand color. From there you can decide on a secondary contrasting color and third accent color. Keeping the colors to a minimum will help keep the site looking sleek and modern.
Zaia Band has a beautifully designed site using a mixture of dark and light colors.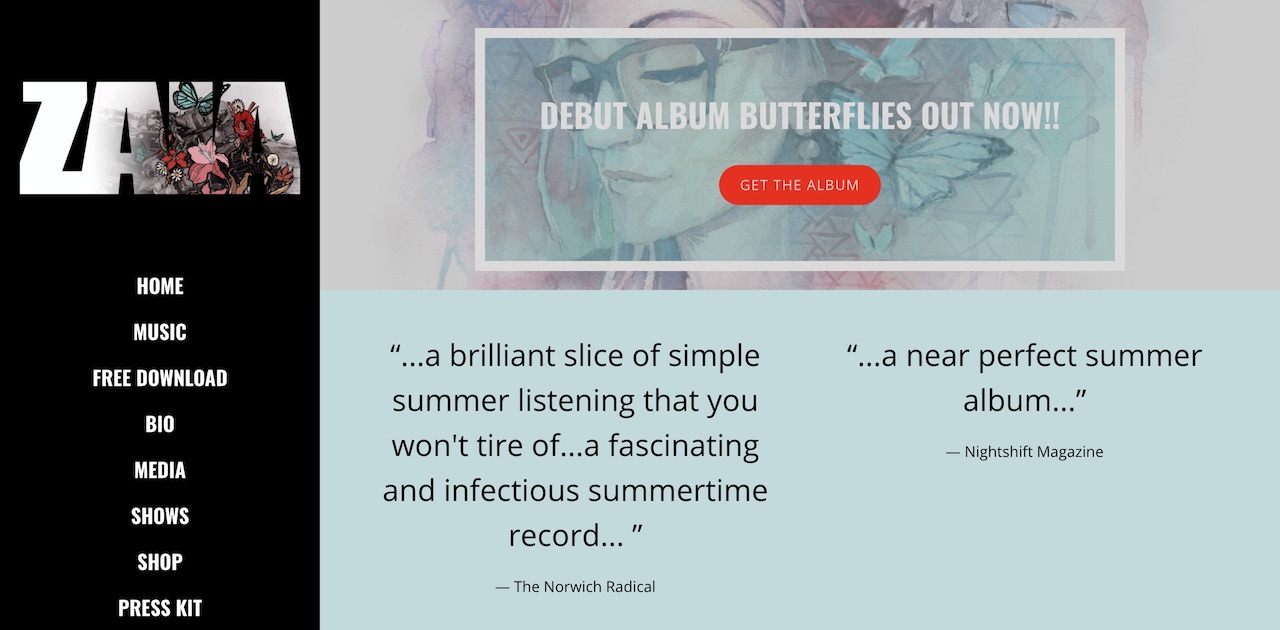 Although there are different colors on the page, they all work well together. If you'd like a similar look but aren't sure how to make it look nice, you can enlist the help of a color wheel. Google has many to choose from and they'll tell you which colors compliment each other.
Another nice touch is the Zaia Band logo. Being a folk reggae band they've kept typical reggae colors but with a muted twist. The logo font is easy to read and stylish at the same time.
[10 Principles of Great Music Web Design]
Blend
With the Portside template, the sidebar is a deliberate design characteristic but if you want a more subtle look, we've got you covered there too.
STP2 (Stone Temple Pilots tribute band) uses several black and white images to blend into the sidebar.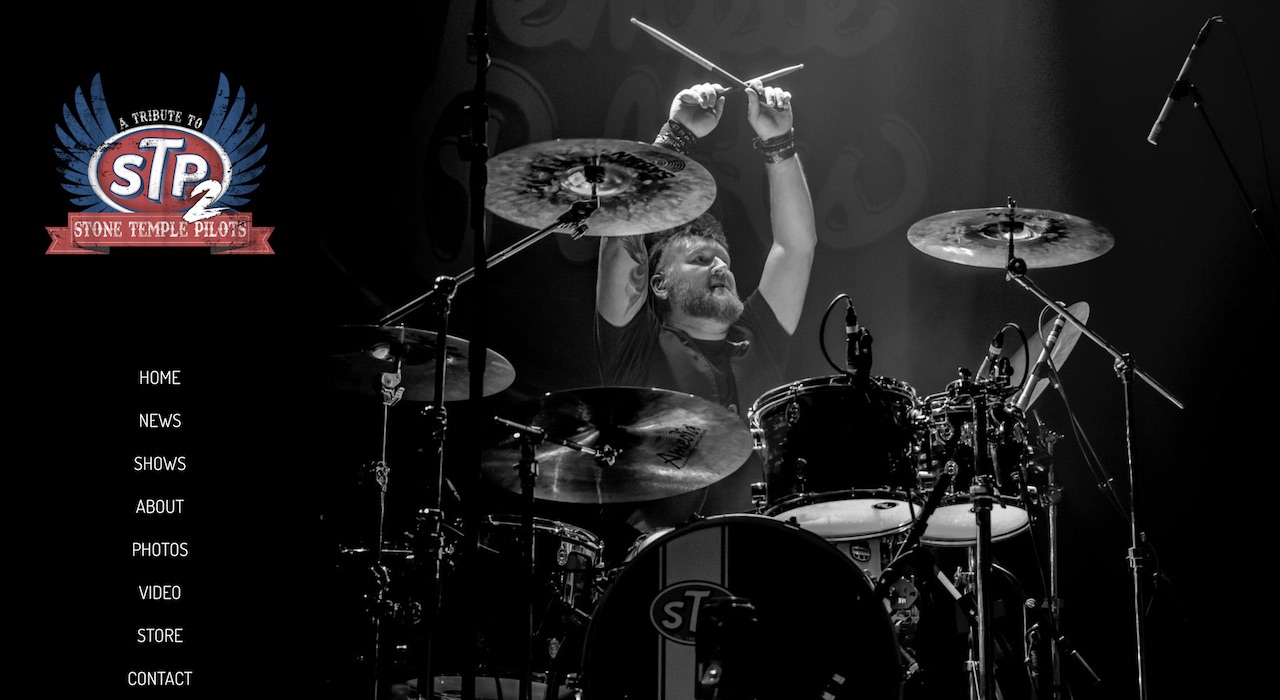 With our theme editor you can change the color of the sidebar to match the color of your image. Blend it in with the image or choose a color to make it pop. With so many color options you can create something really unique to your brand.
[How to design a great tribute band website]
Split Screen
If you want the opposite effect, you can set it up with a three column look instead of blending in.
Singer-songwriter, Steven Roth, uses a split screen look with two header images side-by-side.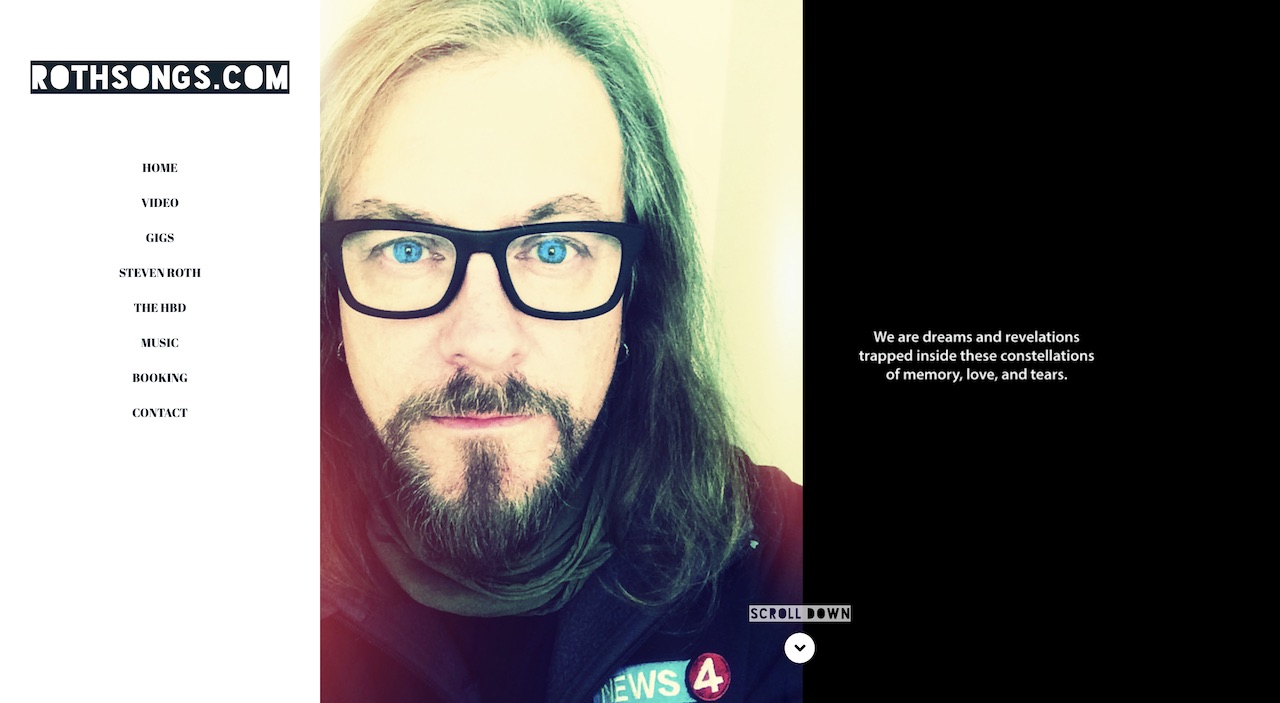 You can set this up with any photo editing software like picmonkey.com or Photoshop. Just place two images on the same canvas then save. With this set up you can add as many images in the header space as you'd like. You can even try a collage, photo grid, or photos with press quotes on the side.
Sections
The header options give you a lot of design choices but the content area needs love too. With custom styled sections the website can stand out on all pages. You can add up to three different colors in the site content area. Take a look at synth pop duo, Moonray, for an example.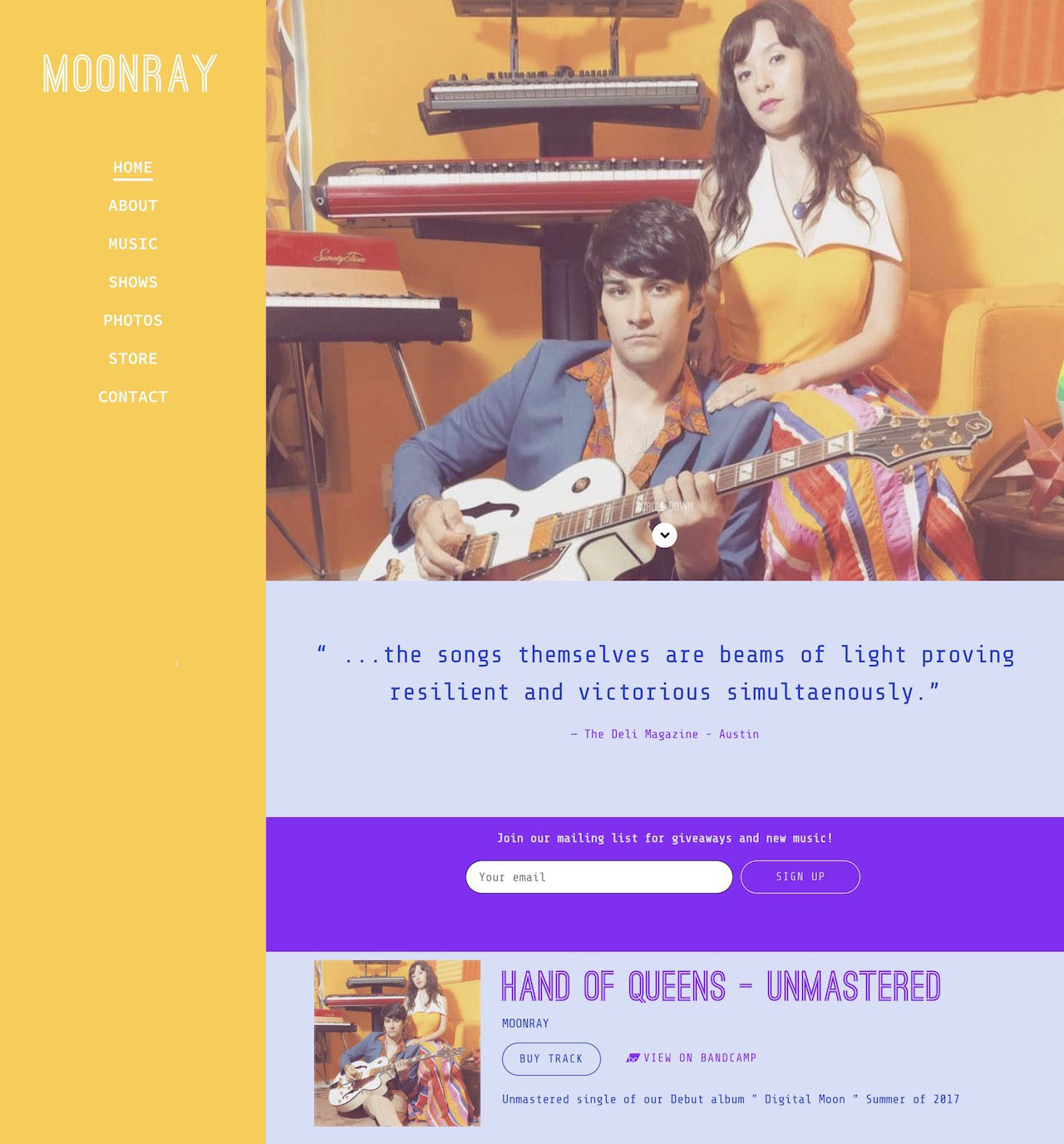 Notice their mailing list signup form is in dark purple while the other sections are in lavender. Using sections can bring attention to certain features such as a call-to-action. You can also change the page color on different pages with sections as well. This option brings even more variety to your website.
You've seen six different Portside examples here, but for more inspiration we recommend checking out our blog and examples page as well. Once you settle on the look you want, it's easy to get started with a website of your own. The best musicians websites are built here with Bandzoogle, and with templates like Portside you'll have your site up and running in a snap!
Want even more design options? Check out our top 16 website templates for musicians and bands
Why not share this with your friends?
Build a stunning band website and store in minutes
Promote your music on your own unique website.
Sell music & merch directly to your fans. Keep 100%.
Grow your fan base with built-in marketing tools.