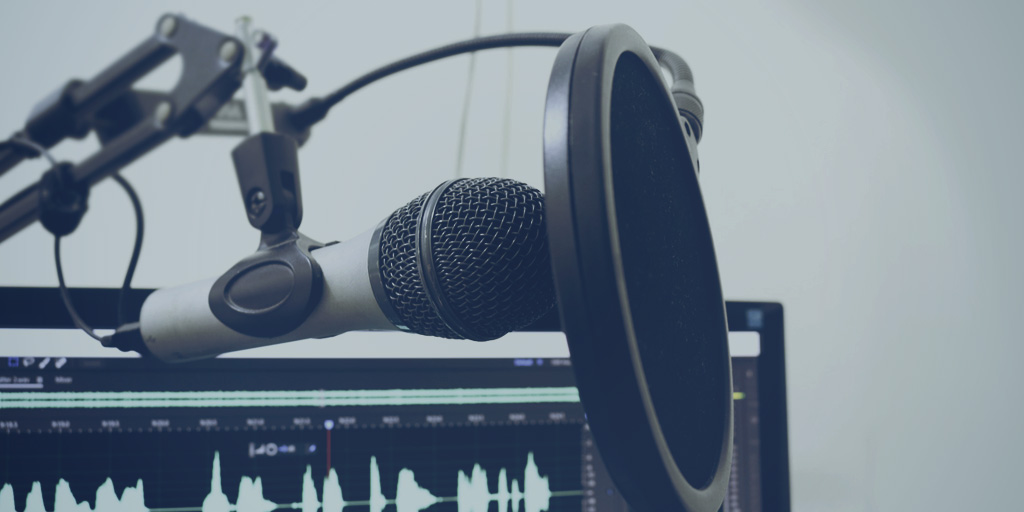 With hundreds of thousands of podcasts, it's more important than ever to stand out. A great way to do this is by having a custom podcast website. This brings a face to the voice and allows you to offer more insight into your show.
You may not know what you need or how to get started, but we do! Bandzoogle is here to help get you set up with a great podcast website design. With many built-in features you have everything you need to turn listeners into super fans!
Let's take a look at a few of the pages you'll need to get started.
[How to add a podcast to your Bandzoogle website]
Home
Your website homepage is an extension of your podcast. This brings a visual aspect to your audio show. Even if you'd like to remain mysterious, you can still bring the website to life with color, images, or your show logo.
Here's a great example by entertainment podcast, Making a Scene. Host, Travis Smith, keeps the website light and simple. The custom logo keeps your branding consistent throughout all your podcast outlets, social media and website.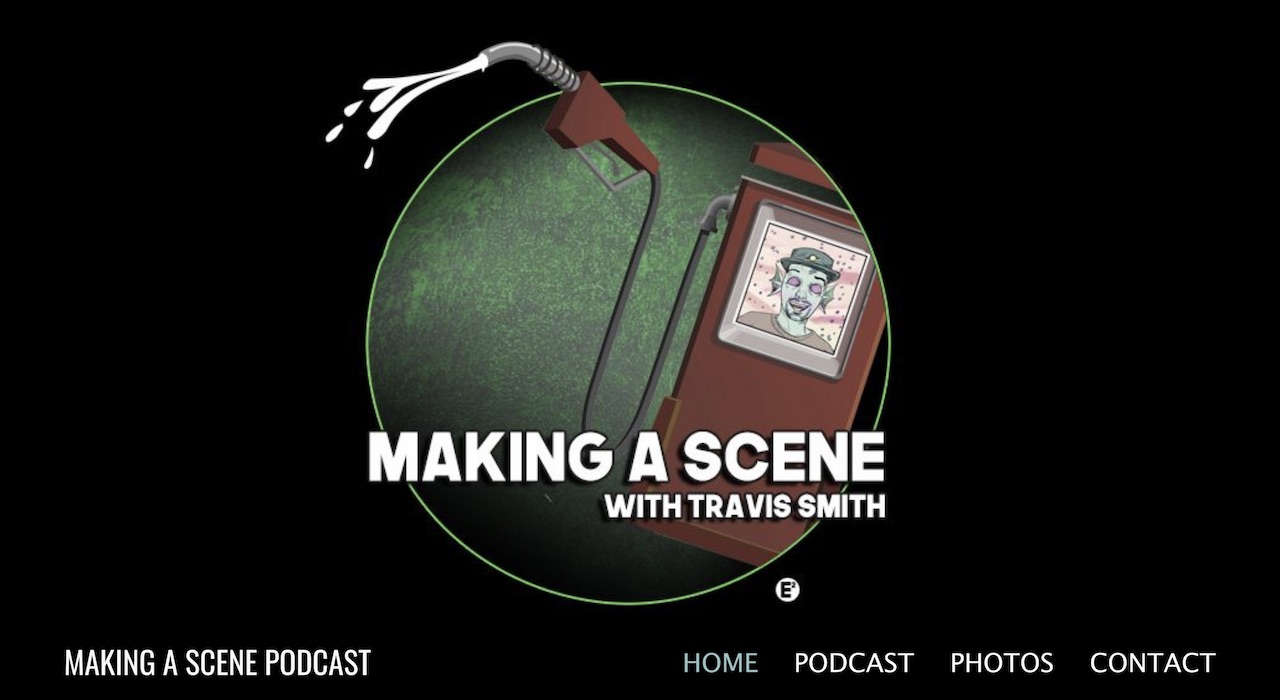 Besides a great header image, you'll want your homepage to have a few other things. The first is a call-to-action (CTA). A CTA is something you want your fans to do when they get to your website. A CTA would be something like, "Join my mailing list" or "Listen to the latest podcast episode."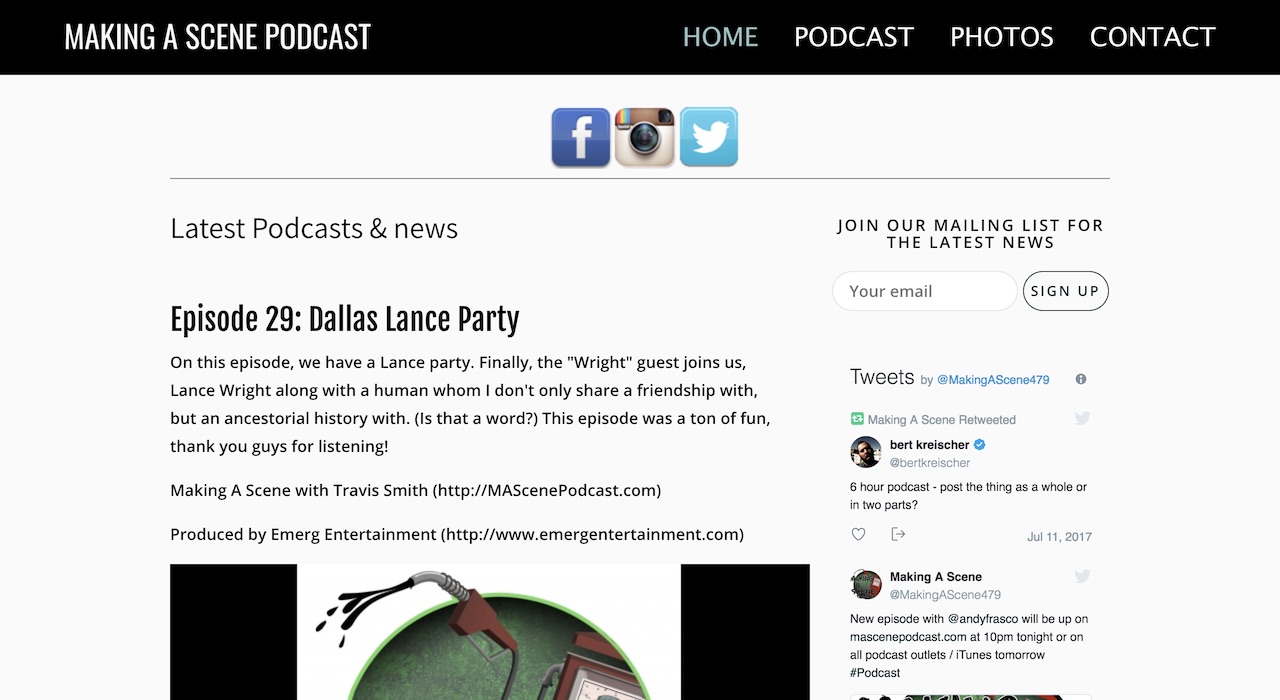 To round out the homepage, add a short description at the top about the podcast. You can also add Twitter or Facebook feeds to let fans know you're active on social media as well.
About
The about page is where you'll want to be descriptive and give listeners an idea of why your podcast is worth a listen. If your description is too basic or boring they may think your podcast is as well.
In addition to a show description you'll also want a host bio as well. A great bio gives a timeline of how you got started, current podcast success, and where you'd like to take it in the future.
DJ TLM of the Share the Knowledge Podcast gives an excellent job of a great bio page.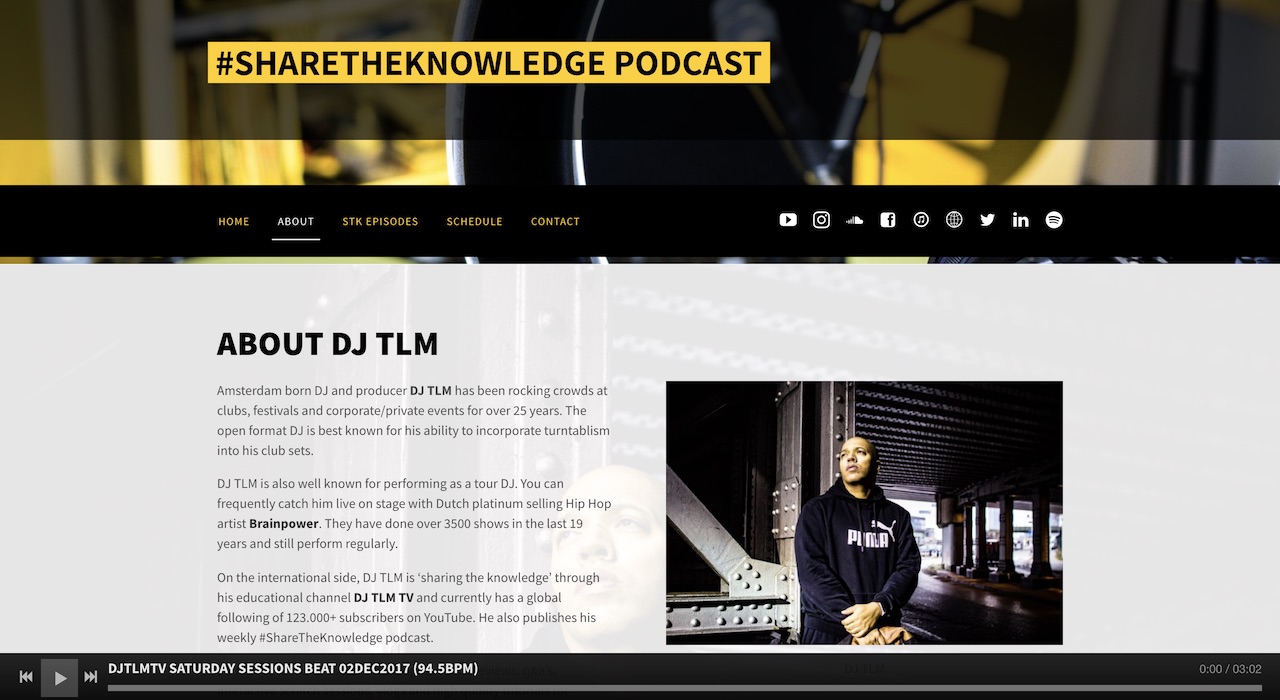 He combines both the podcast description and host bio into one. He's also included a nice image of himself as well. This is a great idea if you also video your podcast sessions. Getting people to associate your voice to your face is great for building your brand.
To spice up the page further he's also used our styled sections feature. This allows you to add an image behind any section of your site to highlight the content.
Episodes
Having a few of your latest episodes on the homepage is great, but you should also have a full list on an episodes page. This helps visitors see how long you've been around. It's also a great index for fans to visit certain episodes or topics.
Our blog feature offers a built in podcast option to allow visitors to download or subscribe with iTunes. With our tiled view you can display your episode tracks and show notes. The Musician's Talk Show Podcast does a great job here.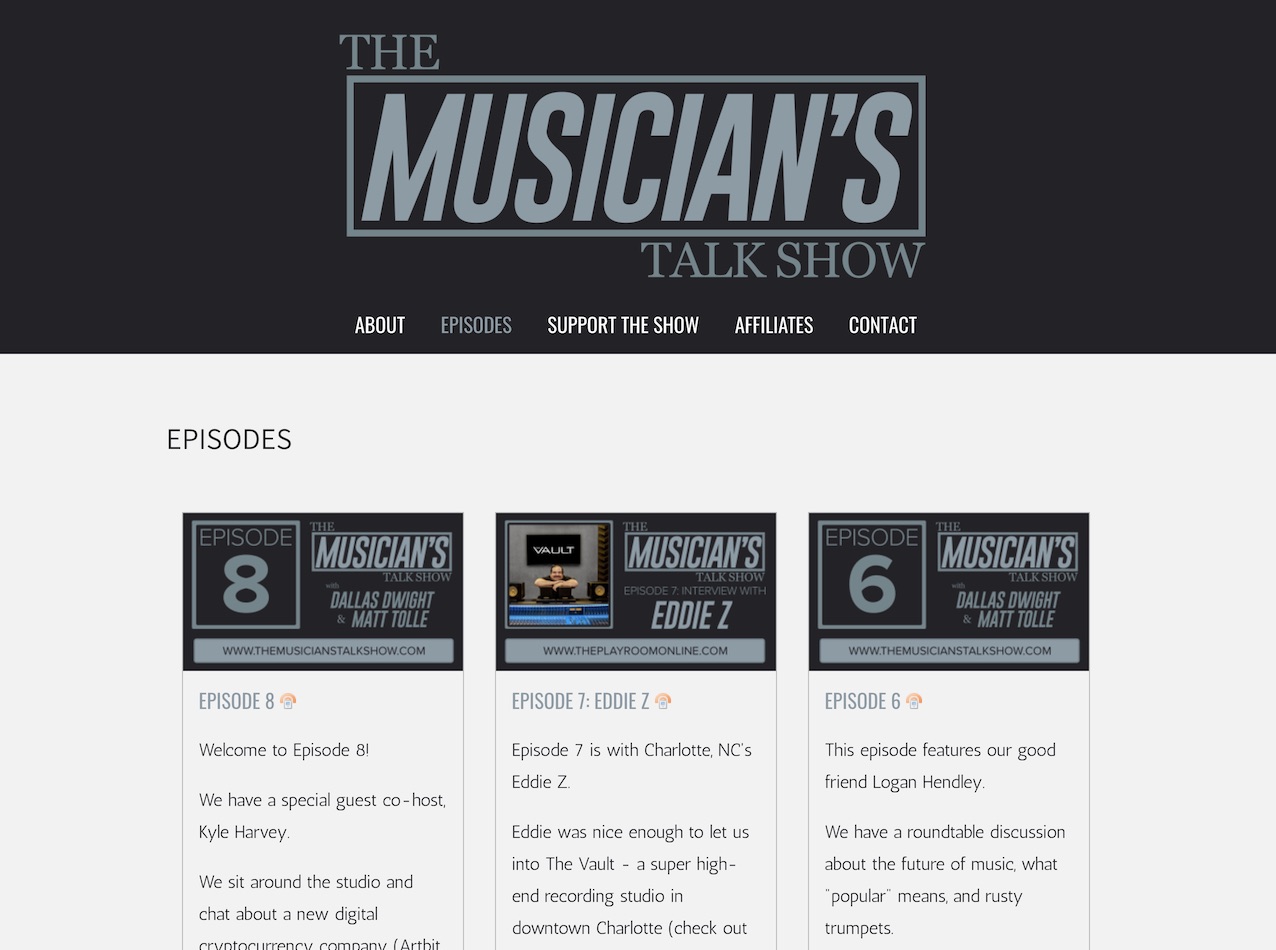 Another option is to use our music feature to list all the episodes. This makes for a more compact look and is useful for those with many podcast episodes.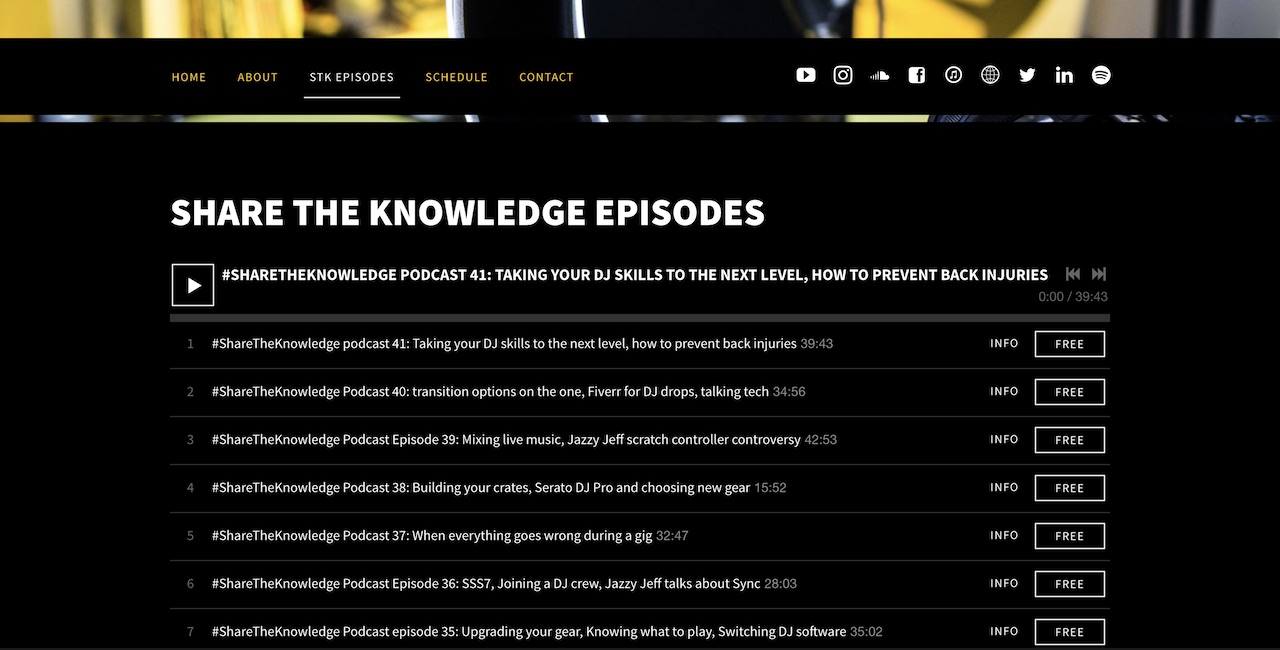 You can set each track to free or free in exchange for an email address. This entices people to get on your mailing list and you can send newsletters to stay in touch with your fans. Our music feature also allows you to set a price if you'd like to sell bonus episodes.

Create your own podcast website that's mobile-ready and easy to update anytime! Try Bandzoogle free today!
Store
When you start to build a large following, fans want to belong to your tribe. Selling merch is a great way to give your fans a piece of the podcast.
The True Crime Garage Podcast offers many cool items on their store page.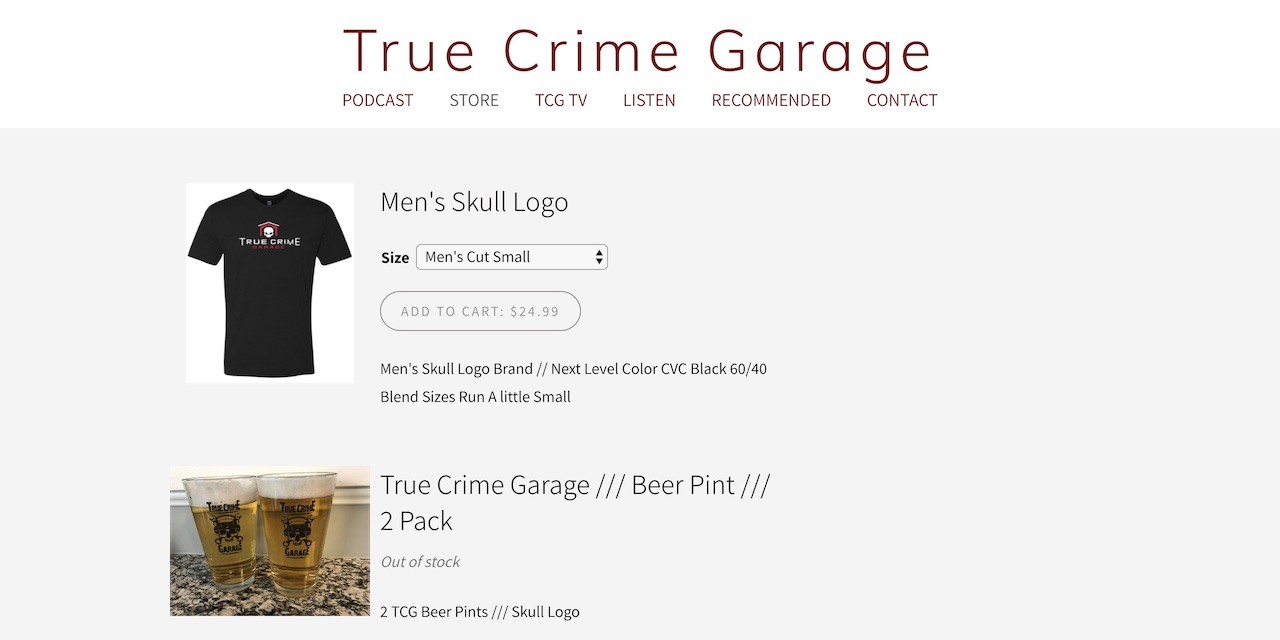 T-shirts, hoodies, and beer mugs give fans a way to show their support for the show. Branded merch is also a great way for fans to shout you out on social media as well.  
[The ultimate guide to selling merch online]
Contact
The final page on any website is the contact page. This is where fans and industry professionals can get in touch with you. The contact page should never list your direct email address. Spam bots crawl sites looking for this type of information and you'll get more spam to your inbox. Instead you'll want to use a custom contact form like The Hickory Bench Playhouse Podcast.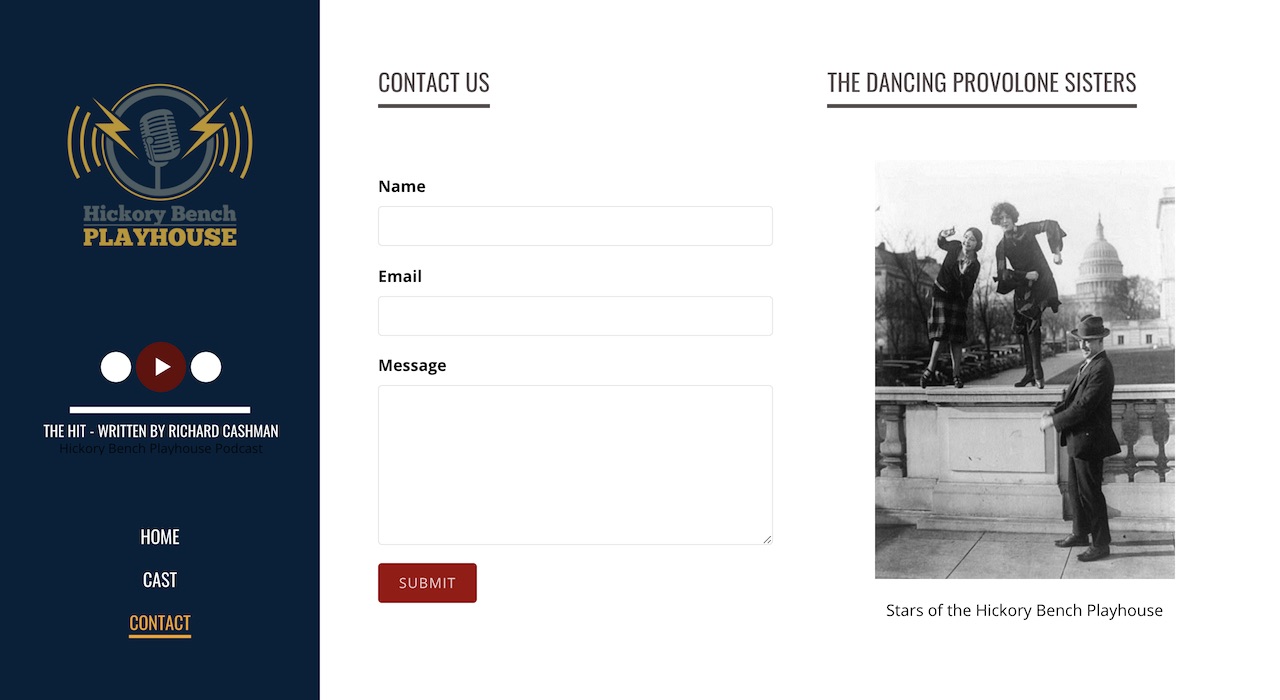 You should also add one more mailing list signup form to the page as a last effort to get fans on your list. A contact page should also include social media icons that link to your active social media accounts.
If you have affiliates or sponsors, consider adding them to the bottom of your contact page. That way fans can check them out as they are about to exit your website.
These are just a few examples, but we have many podcast website templates available to suit the mood of your podcast. For more design inspiration, check out our Website Examples page and the Beautiful Website Templates category of our blog.
For even more insight we recommend checking out the 10 principles of great music web design. Once you get started you'll see how easy it is to make an awesome website for your podcast!
Why not share this with your friends?
Build a stunning band website and store in minutes
Promote your music on your own unique website.
Sell music & merch directly to your fans. Keep 100%.
Grow your fan base with built-in marketing tools.