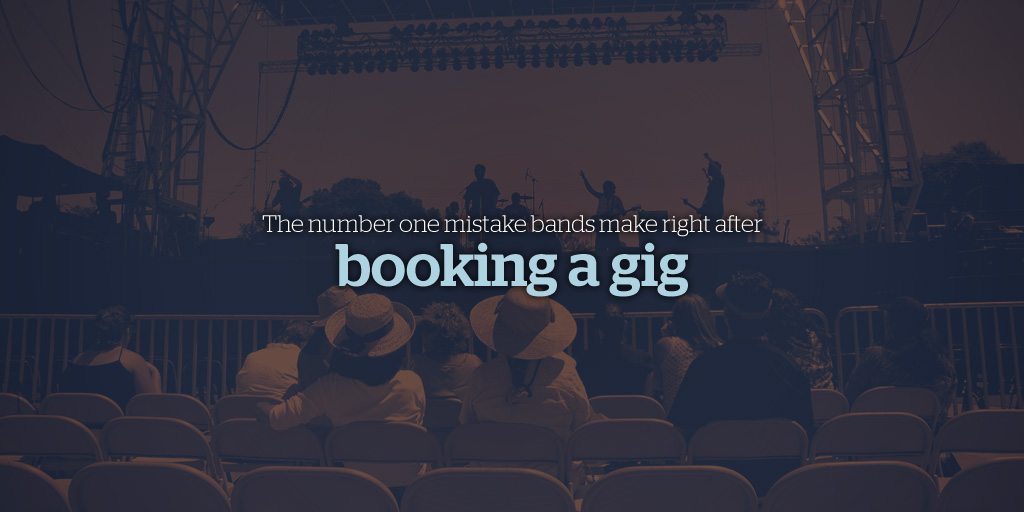 This is a guest post by Jhoni Jackson, which originally appeared on the Sonicbids Blog.
You've confirmed with the venue or talent buyer that your proposed show is a go – congratulations! But the celebration should kinda stop there, because you still have a ton of stuff to get in order before you hit the stage. If you want to ensure the event is problem-free, there are a slew of crucial details you've got to nail down – immediately.
[How to Get a Booking Agent to Book Your Band]
The worst mistake a band can make after booking a gig is not nailing down all those details right away. So often I get a post-confirmation "thanks!" and nothing else. Silence for weeks – then, a few days before the show, the questions start rolling in. And it's almost always stuff that should've been sorted way earlier.
Waiting until two weeks before to ask who's responsible for posters and flyers, not asking about venue fees until the day of, finding out hours before that, no, they don't have a drum kit you can use – these are things that could totally screw up your show. And if somehow all goes well anyway, the next time you reach out, whoever booked you will remember that scramble-induced panic you caused.
There's some responsibility on the venue or talent buyer, of course, to inform the bands and artists about typical protocol. But even if they offer up details without prompting, it's the band's job to ensure they're prepared for the show, and that means getting all the necessary information ahead of the show.
Don't wait for someone to give you the rundown. Ask questions. You can start with the thorough checklist below.
1. What's the deal with money?
You'll probably want to ask:
Can you charge a cover?
What percentage of the cover do you get paid?
Are there any fees – sound engineer, tax, or anything else – that you should be aware of?
If there's no cover charge, will you be paid at all?
When does payment go down, anyway? And who's doling it out?
There are no universals in band payment at venues. Don't be afraid to ask. It's important that both you and those in charge of booking are comfortable with the agreement.
[How to Make Sure Your Band Gets Paid for the Gig]
2. Will an employee work the door or should you bring someone?
If a promoter has contracted you for a show they're organizing, then he or she probably has this covered. But if you're the one booking the whole thing, you should find out whether or not you need to provide someone to charge the cover. (And if you do, bring your own petty cash for change.)
3. Is there a backline?
Some venues are equipped with amps and a full drum kit, but others aren't. Find out what they've got on hand and if it's available for use. You don't want to find yourself freaking out when you're missing necessary gear.
4. When is load-in and soundcheck?
People who wait until the day of to figure this out usually end up being late, and that's annoying to everyone else who showed up on time. (You don't want to tick off the sound engineer, y'all.) Avoid any issues by asking about the schedule in advance.
[The 6 Unspoken Rules of Soundchecking]
5. What's the line-up?
If you're organizing, you should make a plan and inform the talent buyer or venue. If you've been asked to play, find out when your set is scheduled. Don't accidentally delay the whole show by not being ready because, uh, you didn't know your band was up next. Additionally, ask how long of a set they're expecting you to play.
6. Is it okay to sell merch?
Probably, but you should ask anyway. Maybe they'll offer up a table so you don't have to bring your own.
[14 Ways Musicians Can Make Money from Live Shows]
7. Are you allowed to bring guests?
One person per band member is the norm for guest lists but, ultimately, it's up to the venue or talent buyer.
8. How will promotion work?
This is a huge one. You'll be promoting your show regardless, but if the venue is willing to supplement your efforts, you should take advantage.
[Band vs. Venue: A Breakdown of Who Should Handle 4 Types of Show Promotion]
Find out who will design the flyer or poster. Does the venue pay for any printing or should you do that yourself? (Likely the former.) Can you at least drop off a poster to display there?
If the venue lists its own events on Facebook, find out if they'll handle yours. If not, let the booker know you'll list it from your own page and send the link once it's ready.
For a full guide to promoting your music, check this tip-heavy post.
Jhoni Jackson is an Atlanta-bred music journalist currently based in San Juan, Puerto Rico, where she juggles owning a venue called Club 77, freelance writing and, of course, going to the beach as often as possible.
Bandzoogle lets you create a professional website in minutes with all the music promotional features you need including a blog, mailing list, and social media integrations. Try Bandzoogle free now!
Why not share this with your friends?
Build a stunning band website and store in minutes
Promote your music on your own unique website.
Sell music & merch directly to your fans. Keep 100%.
Grow your fan base with built-in marketing tools.