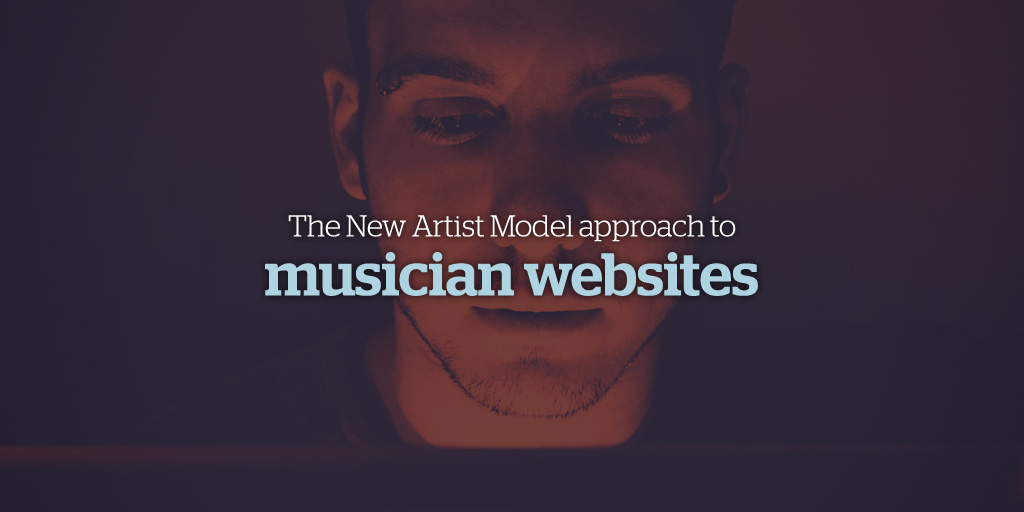 Guest post by Dave Kusek.
Your website is arguably the most important piece of your online presence - it's the glue that holds everything together. But it can be so much more than just the place you sell your music.
Your website can be a powerful funnel that drives your fans towards more engagement and helps them up the ladder towards superfans. It's the place where you can convert people from casual fans to paying customers. And it's the place where you can start more direct conversations with your fans as you grow your email list.
I don't want you to think of your website as a just static page. Instead, think of it as a part of a big funnel - a tool to move your fans towards deeper engagement.
If you want to go even deeper to optimize your musician website to be a powerful platform that will drive engagement and sales, make sure you join Dave Cool and Dave Kusek in a free online musician website workshop on Thursday, May 26 at 1PM EST.
We're going to go through the key elements every musician website needs, plus we'll be doing a few free website critiques, so don't miss it! Even if you can't make it live, signup here to get the recorded replay sent to you!
Hit the Big Three
The first step to really make your website an effective funnel is to make sure you're hitting the big three. In other words, your website needs to specifically address three different types of fans and give them the content they're looking for. (You also need to have content specifically for press, but we'll talk about that in the free online workshop)
1. Potential Fans
Number one is potential fans. These are people who have just discovered your music. Maybe they got a recommendation from a friend, they saw you open for another band they like, or they heard your music on the radio. Either way, they're looking for more information and they're looking to solidify their opinion about you - and that means you need to make a good first impression.
First and foremost, you want to make sure you're website looks visually pleasing - that means not cluttered, easy to navigate, and a cohesive look and feel with consistent photos, colors, and fonts. Potential fans aren't invested in you or your music, so if they can't find what they're looking for quickly, they're gone.
These people are mostly looking to hear more of your music, so make sure you make it easy for them. Include a music player with full versions of a few of your best songs at the very least. Make sure this player is above the fold when people hit your site - like we said before, the less searching they have to do, the better.
2. Current Fans
The next group of people you need to cater for are your current fans. These people make up the vast majority of your fanbase. There's definitely a spectrum of dedication among your fans, but for the most part, they're looking to get to know you a little better and to buy things when they visit your website.
For these guys, make sure you have a well-crafted bio. Try to tie in your personality - like it's coming from you - so they feel like they're getting to know you on a more personal level. A blog is also a great way to keep your fans up to date on what you're up to. Try sharing the behind the scenes work that goes into your music, photos from the road, or info on your gear.
You also want to make sure your store and tour info is set up, easy to navigate, and up to date. These fans are much more invested in your music and they want to buy your album, merch, and tickets to your next show. It's best to have your store and tour info built right into your website so they don't have to click all over the web to get it.
Like we said earlier, there is a spectrum of buyers here, so try to have a few different price points available. Have digital downloads and physical CDs, lower-end stickers and T-shirts.
3. Superfans
And the last group you need to think about when creating your website are your superfans. You won't have a lot of superfans, but they will probably make up a big portion of the buying power of your fanbase, so it's really important to give them what they want.
For the most part, superfans are looking for a more personal connection with you and your music and exclusives. Your blog is a great place to give them the insider content they want. In addition to your update posts, try to get a little more personal. Tell them the stories behind certain songs or what the lyrics mean to you. Another option is to have a member-only login-restricted area of your website where you post this kind of content just for superfans. 
If you can, try to offer limited runs, meet and greet packages, and exclusive sets on your store for your super fans. Maybe create a batch of 100 limited alternate design or alternate color T-shirts, or special bundles for your new album.
Make Your Website Part of Your Funnel
Alright, now that we have your content figured out, let's quickly go through each step of your website funnel so you can see how fans travel through your site's content and move up the ladder towards superfans.
Social is at the top. This is where you gather your community around your music and start linking them to your website. Think of your social interactions the start of a conversation - you start the relationship, you get them interested, and you link to your website or your blog to find out more.
Next is your blog. This is where fans can get to know you a little better. Post behind the scenes info and let them into your world. Your blog should be the most dynamic element of your website - you should update it on a regular basis to give your fans a reason to keep coming back. After all, the more they visit your site, the more they're exposed to your offers, and the greater the chance they'll make a purchase.
Next you have your email collection. A great approach is to give your fans some incentives for signing up. Up front, you can offer them a few free songs in exchange for their email address, but you also need to think about what you're going to give them after they're on your list.
Your email should really be the place you give your fans even more exclusive content. (After all, why part with their email when they could get the same info on social media? Try offering early access - to new music, new merch, and new videos - exclusive discounts, and more personal, deep, and funny stories behind your music.
[9 ways to build your mailing list (and sell more music online)]
And finally we have your store. A paying fan is one of your biggest assets as a musician, after all, you have to make a living! All the previous levels of the funnel will drive fans here - the point when they're comfortable enough and invested in your career enough that they're willing to give you money.
If you want to learn more about the specific elements you need on your website step-by-step, you can sign up for the online musician website workshop on Thursday, May 26 at 1PM EST for free here. Dave Cool and Dave Kusek are going to be breaking the essential website strategies for indie musicians and doing a few free, live website critiques. If you can't make it live, signup here to get the recorded replay.
Dave Kusek is the founder of the New Artist Model, an online music business school for independent musicians, performers, recording artists, producers, managers, and songwriters. He is also the founder of Berklee Online, co-author of The Future of Music, and a member of the team who brought MIDI to the market.
Bandzoogle websites have a built-in mailing list tool, and you keep 100% of your sales when you sell music, merch, & tickets online. Sign up free with Bandzoogle now.
Why not share this with your friends?
Build a stunning band website and store in minutes
Promote your music on your own unique website.
Sell music & merch directly to your fans. Keep 100%.
Grow your fan base with built-in marketing tools.