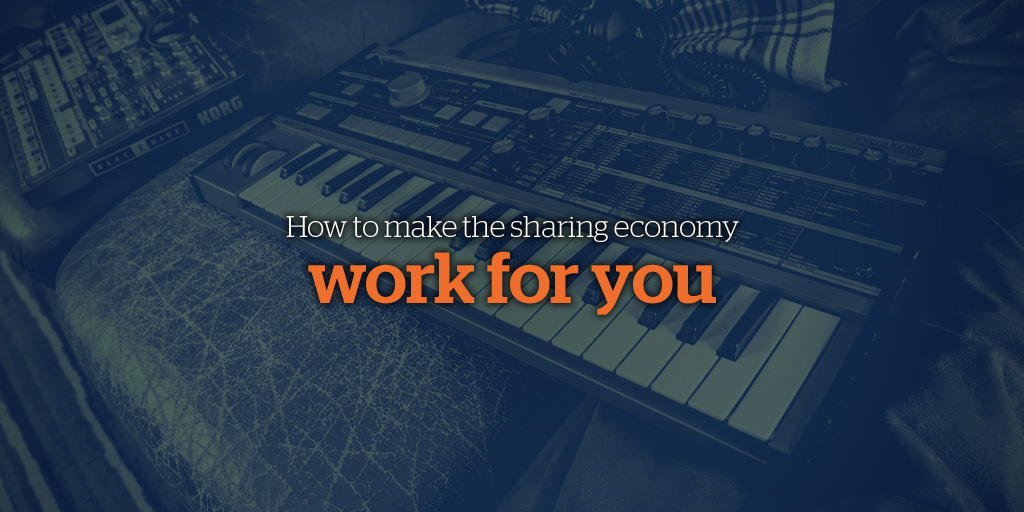 Guest post by Julia Wilde, Co-founder & CEO of Sparkplug
One of the most empowering tech movements in recent years has been the the rise of the sharing economy. The sharing economy is an ecosystem built around the sharing of human and physical resources  — connecting with another person to "share" in their skills or possessions.
If you're a working musician, you know the importance of a cost-effective tour and a side-gig where you earn as much buck as you can for your bang. The sharing economy opens up a new marketplace of competitively priced resources from individuals all over the world. It also creates new opportunities for musicians to monetize their assets and their time, to better fund their lives and their music.
Here are a few tips on how to take advantage of six different sharing economy marketplaces.
Airbnb
Airbnb was founded by recent college graduates without steady jobs who needed to supplement their apartment's high rent. (Sound familiar?) From these roots, a game-changing sharing economy marketplace was born where individuals can rent out their rooms, apartments, or houses via an online platform. For musicians, who tour extensively and need both cheap accommodations and supplemental income, Airbnb represents a tremendous opportunity to both save and make money.
Airbnb has rooms listed in over 190 countries at every conceivable price point, complete with listing photos and user reviews. By renting apartments, rooms, or even couches from people all over the world, musicians have the opportunity to save on hotel costs virtually anywhere they tour. And because Airbnb provides a platform to monetize dormant living space, musicians who are on tour can rent out their places while out on the road. You set your rates and availability. Airbnb handles identity verification, insurance, and payment.
Relayrides
In a similar fashion, Relayrides turns the average car owner into a car rental entrepreneur. The company handles insurance, payment, and connects you with customers searching across the site.
So, if your Prius won't cut it for the next round of full-band dates, you can upgrade to something larger at more competitive pricing than many rental companies. And if you know you'll be on the road without your car, you can rent it out, earning some cash to put towards that rental.
Of course, you don't need to be out of town to earn money on your car. If you're not using it and looking for some extra dough, you have the ability to edit your calendar when you know it won't be available as well as the discretion to accept or decline every request.
Sparkplug
Sparkplug is the sharing economy marketplace specifically created for musicians and audio pros. Sparkplug taps into musicians all over the world who have instruments, gear, and space (studios, rehearsal rooms, etc.) available for rent between sessions and shows.  Through Sparkplug, artists rent out their gear to both make extra cash and connect with fellow musicians.
Sparkplug allows you to easily search for what you need in a particular area, and then rent directly from an owner. Whether you're looking for amps, kits, mics, or studio space, pricing is generally more competitive than big backline companies, and you'll find some rare and vintage items on the site in addition to the backline staples. For example, you can find listings ranging from a commercial recording facility in Los Angeles to an Ampex 601 tube microphone preamp in Portland.
On the flip side, you can list your own instruments, gear, and space, and earn money for your next tour or session.  You can also add services to your listings, such as an hourly rate for an engineer or a flat fee for piano tuning. Sparkplug takes deposits and handles payment, and, similar to Airbnb and Relayrides, you always approve who rents.
Lyft & Uber
You're probably pretty familiar with ride-sharing apps Lyft and Uber, if only because of their ability to generate controversy as they battle taxi commissions around the country. These services are often less expensive than taxis, and you can specify what type of vehicle you want, so if you have a ton of gear with you and need a quick lift, you can call on a huge SUV to transport you and your stuff back home at the end of the night.
From a side-gig perspective, while Relayrides allows you to tap into the rental power of your car, Lyft and Uber allow you to bill out yourself along with it. So, instead of working at the neighborhood coffeehouse, you can earn money as a driver in the comfort of your own car. Both companies will put you through training, handle insurance and payment, and pair you with nearby riders in their moment of need.
The reason this platform works so well for musicians? You decide how much you want to work and when. This is a game changer for people who go on tour and can't be beholden to a traditional employer, or who get last minute calls for sessions and need to take off at a moments notice.
If you don't have your own car, there is also the option to earn money as a bike messenger on Postmates. Similarly to Lyft and Uber, you simply let the app know when you're available to work.
TaskRabbit
TaskRabbit is a marketplace that lets you hire people to do small jobs and tasks. So if you need someone to help sell merch at a show or move your amp collection to a new rehearsal space, you can hire a Tasker by the hour using TaskRabbit.
TaskRabbit also is a good way to make some extra cash doing odd jobs.  Whether it's doing someone's laundry, running an errand, playing music at a party, or bartending at a private event, you decide what services you want to offer and your rates and availability.
---
Musicians are used to a changing landscape. We've moved from label deals to crowdfunding, physical distribution to digital, and digital to streaming  all in the blink of an eye. As technology continues to evolve, impacting our business in unexpected ways, we've not only learned the art of change but also how to harness it  —  to make it best work for us in a business where every inch of savvy counts. The sharing economy offers amazing opportunities for musicians to both make and save money if we can tap into it effectively. Because, really, its just a high-tech way to tap into and support one another. What could be more powerful than that?
Build your own professional website in minutes that looks great on all devices. Try Bandzoogle free now!
Why not share this with your friends?
Build a stunning band website and store in minutes
Promote your music on your own unique website.
Sell music & merch directly to your fans. Keep 100%.
Grow your fan base with built-in marketing tools.