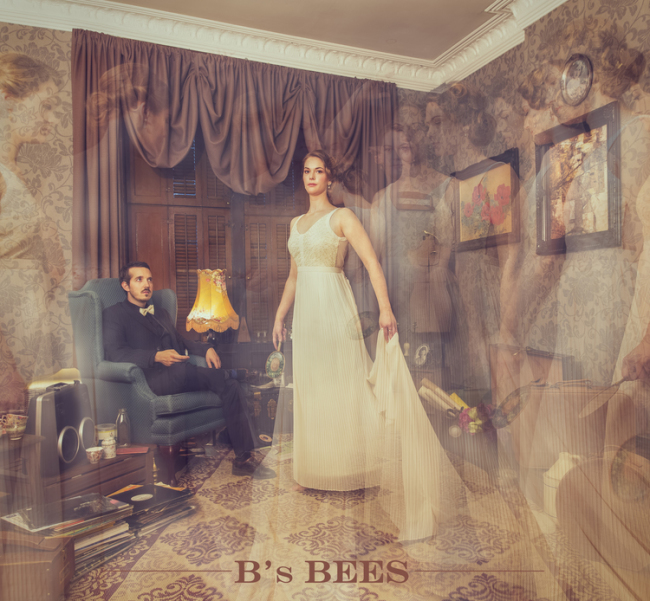 In this guest post, photographer Faya gives an amazing behind-the-scenes look into the making of an album cover with Bandzoogle member B's Bees. She gives great insight into what a photo shoot like this involves, which we think is helpful for all bands and musicians. Enjoy!
---
Recently, I had the opportunity to work with Montreal Jazz Band B's Bees for their first studio album cover.
I have collaborated with a variety of bands from the Montreal music scene over the last little while, I found myself developing more and more elaborate shoots which have involved finding or building props, clothes styling, design and couture, and even climbing trees in the middle of the night, on an island, in the middle of a lake.
B's Bees is a 7-piece hard swinging jazz band that highlights the music of the 1960's Hard Bop era. I have been friends with band founder, Brandon Goodwin, even since our first years in Montreal. We had previously worked together on the official band picture and when he mentioned wanting a more intricate piece for the album cover, I was there!
As with every shoot, we had to figure out the same challenges. Photography is much more than just taking the picture, it's all the hard work that goes into it, the weeks of research, development, props gathering, the team, coordinating all the elements, and overall, the time and the passion.
Location
We were on minimal budget, so rental was out of the question. We ended up converting my home studio into this magical room we are imagining, with the Victorian feel, wallpaper, armchair, big curtains. Then, we filled it with organized clutter, inspired largely by the book, A Perfectly Kept House Is The Sign Of A Misspent Life.
Props
Brandon's girlfriend's family provided us with most of the props for this shoot. Yay grandparents! Additional items were purchased at flea markets, Home Depot and Fabricville. All within a $150 budget.
Wardrobe
Wardrobe was taken care of by Brandon's good friend, Kristy Wilson, who brought along Nathy for makeup with her charming ways.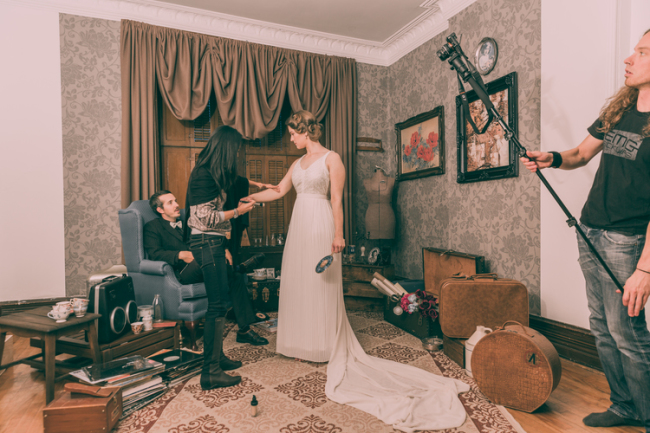 Assistant
I worked with my long term assistant, Sebastien Villiard.
Video
As this was such an elaborate shoot, I knew that it had to be documented. That same day I had a request from Chris Kells wondering if I had any shoots he could be part of. Coincidence?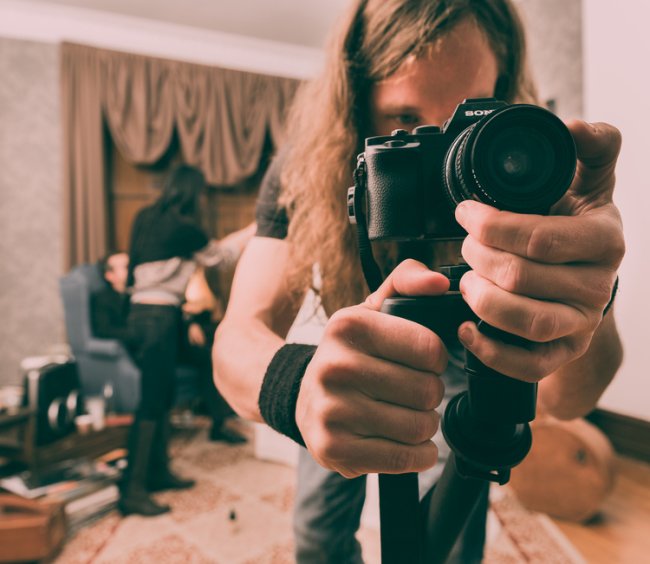 Voilà messieurs dames! We were ready!
The Shoot
This shoot was a whole journey, with prep starting up to 3 weeks prior to the day of the shoot. I have to say I felt almost crazy when designing the set as every single prop to the folds of the curtains were intentionally placed. I can only imagine that such is the case for movie sets also. This is where the line between cinematography and photography starts getting blurred. Is there even a line for such concepts? Am I overdoing it? Is this even going to look good? Oh, the eternal doubts of a creative mind.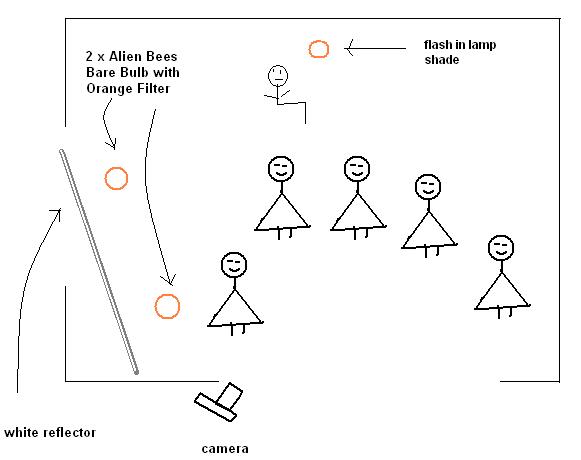 Here is the BTS video that follows this endeavor. Hope you'll enjoy it!
---
Originally from the tropical island of Mauritus, Faya is now based in Montreal, Canada. Her main focus is band photography in parallel with experimentations in fine art. Visit her website: www.thefaya.com
B's Bees is a Montreal based 7-piece hard swinging jazz outfit that highlights the music of the 1960s Hard Bop era. Check out their website (built using Bandzoogle) at www.bs-bees.com
Why not share this with your friends?
Build a stunning band website and store in minutes
Promote your music on your own unique website.
Sell music & merch directly to your fans. Keep 100%.
Grow your fan base with built-in marketing tools.