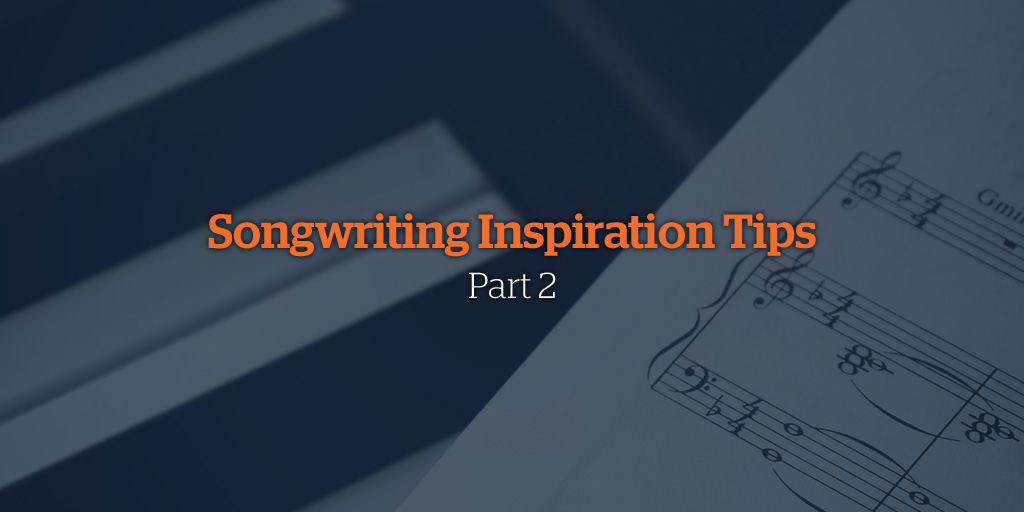 In part 1 of songwriting inspiration tips, I talked about using internal and external methods for finding new song ideas. Maybe you already have a lot of ideas but you're just stuck on the same ole topics like... love, breakups and partying.
That's cool, but maybe there's a new way to deliver the message. This is where you can break out of your comfort zone and let your creativity shine. Let's explore some non-traditional ways to inspire hit songs by using numbers, letters or sounds.
Numbers
So you're looking for a hit song right? Well fortunately (or unfortunately) it doesn't even take thoughtful lyrics to make that happen. For example, if I sing "eight six seven five".....what would you chime back with? That's right.... (all in unison now...) three ohhh ni-e-i-ine. Or for those not lucky enough to have been around in the 80's that's code for the Tommy Tutone hit 867-5309/Jenny song. Who's Tommy Tutone? I don't know but I do know that he got a lot of notoriety with his hit song about a phone number.

Another number song was the Musiq Soulchild hit called 143 (I Love You). This hit the R&B airways and shortly thereafter '143' was flying through the mobile world as the shortened text version of I (1 letters) Love (4 letters) You (3 letters). Even now Musiq is capitalizing on this song idea with his new relationship book titled "143: Love According to Musiq". The way the industry is changing, writing songs with products in mind isn't a bad idea!

I don't know if there will ever be a year so anticipated than the new millenuim, but Prince sure did capitalize on this concept with his monster hit "1999". This is just one more example of how you can use a number as the basis for your next record.

A few other personal favorite 'number songs' are 99 Luft Balloons (who even knows what this is about!), 8 6 12 by Brian McKnight and 24/7 by Kevon Edmonds. What are some of your favorite 'number' songs?
Letters
Numbers songs aren't the only way to catch the audience's attention. What about simply throwing out some letters to get everyone pumped! I know some of you remember the 90's hit "O.P.P." from Naughty by Nature. This little diddy was all the craze in the hip-hop community because it was saying something negative in a light-hearted way. Before you could even object to the content you were head bobbin' "Yeah you know me!"

It might even make you say "OMG!" Which is exactly what Usher did with a recent song with the same title. He took one of the most popular texting abbreviations and turned it into 3.8 million units sold and the Billboard Top R&B song award for 2011.

To take it back even further we can check out little Michael Jackson and the Jackson 5 with the 70's mega hit "ABC". Talk about super simple lyrics. This hit was created by 'The Corporation' - a team of writers, but I'm sure some of you could pen a similar hit on your own with a bit of think-inside-the-alphabet motivation.

A couple of other 'letter' songs include the ever popular party dance track "YMCA" by The Village People and "X&Y" by Coldplay. One group liked this idea so much they used only letters in their name. Yep, you guessed it.... "LMFAO."
Sounds
Some of the above mentioned songs did take some thought, but if you are really stumped for lyric ideas, just let any noise come out of your mouth and you may be on your way to star status like some of these lucky folks.
Take pop band Hanson for example. What the heck is an "MMMBop"? I couldn't tell ya, and I don't even think they care, because the song stayed at #1 on the Billboard charts for 3 weeks. Not bad for a noise little babies make while learning to talk.
Another fun sound to make is "Uuh Ahh" and Boys II Men made a lot of people blush with this sexy ballad. Previous to this song they were viewed by fans as a romantic pop type a cappella group. This song not only used a very relatable sound to draw new listeners, but allowed current fans to accept the group as more grown up as well. It's like you know what they're talking about but they got the message across in a brand new way without being vulgar.
Since we're already on the fun train, another song that makes absolutely no sense is "The Witch Doctor" a.k.a. "Oo ee oo ah ah ting tang walla walla bing bang". This song has been covered many times and played on even more TV shows and cartoons. It's just another example of the many directions you can go with your music when you break out of the mold.
If TV and movie music interests you, it might be to your advantage to give it a try. Just think of how many times you've heard the 'DunDun' on Law & Order (really named "The Clang"), or the suspenseful booping clock sound in the 24 TV series. All that music has to come from someone, why not you?
As you can see it doesn't take months of agonizing about storylines to write all your songs. Let simplicity inspire you. Think about new ways to use the basics of numbers, letters, sounds and any other uncomplicated ideas that come to mind.
Bandzoogle lets you create a professional website in minutes with all the music promotional features you need including a blog, mailing list, and social media integrations.Try Bandzoogle free now!
Why not share this with your friends?
Build a stunning band website and store in minutes
Promote your music on your own unique website.
Sell music & merch directly to your fans. Keep 100%.
Grow your fan base with built-in marketing tools.