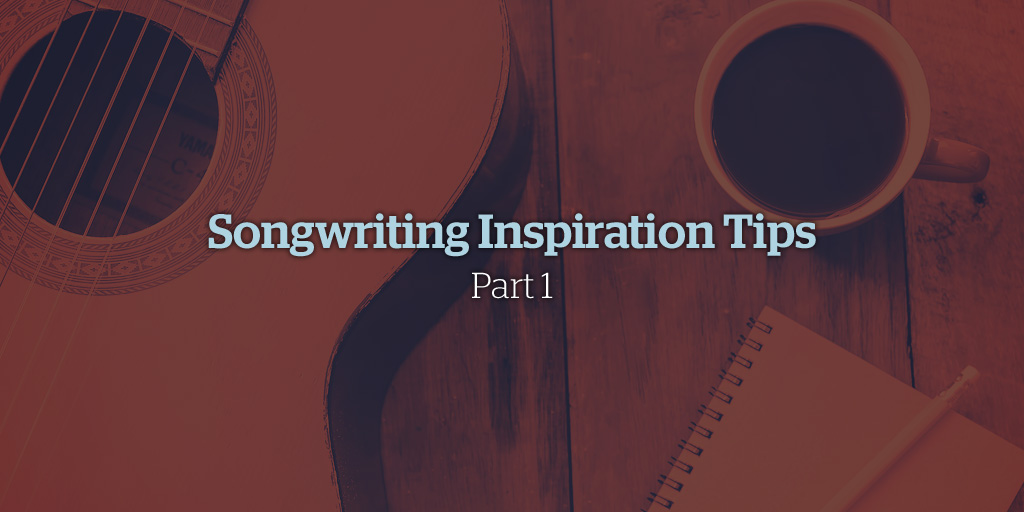 When you're suffering from writer's block, the solution can come in many forms, including de-stressing, self-care, external influence, or some sort of inspiration. For the songwriter, two types of inspiration can help: internal or external (sometimes both!)
Internal Inspiration
Internal inspiration takes the view that everything you need, you already have inside you. Especially with something as personal as songwriting, the topics you write about are somewhere hiding in your mind or heart.

To purge these ideas you can try a few exercises…

Meditate: Find a quiet space, relax, and focus on either your breathing, a question, or an image. Then let the inspiration come to you. Many books, articles and blogs have been written on this subject so if you get stuck you can find out what's worked for others and give it a try. Even fifteen minutes of meditation can produce great results. The goal is to just quiet the noise around you enough to allow new ideas to flow out of you. Have paper and a pen nearby to jot ideas after your meditation session.
Journal or write: Getting your wild thoughts out on paper can be very freeing. Grab a journal or some paper and write! Write out what you are feeling or thinking. If the feelings are about someone else write them a letter (you don't have to ever give it to them). Don't censor yourself, just let it flow. Then when you've gotten it all out, go back over it and highlight words or phrases that hit you. This could be the beginning of a new song.

Choose a topic and mindmap: Similar to journaling is the process of mindmapping. Grab a sheet of paper and in the center write one word or topic and circle it. Now write down every word or phrase that comes to mind when you think of that word. It doesn't have to make sense and don't put any restrictions on yourself. Here is an example of a fun little mindmap I threw together on the topic of "Summer": 

External Inspiration
External inspiration is a bit easier because there are many more available options . When you surround yourself with people and really pay attention, song topics are all around you.
If you find yourself sitting at home staring at a blank paper, put your pen down and get out into the world! Be curious, listen intently and don't worry about eavesdropping. If a couple or group of people are talking in public, it's free rein for your ears.

Here are some other ways to get inspired:

Take a walk: Changing your environment can shake up your brain to think about new ideas. You can take a stroll through your neighborhood, go to the park, walk around the city, nature walk, or hike. You can even just take a drive around town to change your scenery. Focus on the little things around you, the way you feel, and what's on your mind.

Listen to other songs: Break out your music collection and listen to a few of your favorites. Note what you like about each song, get specific. Ask yourself how you could make it better or how you could say it differently. Can you add a twist? Or maybe the lyrics will spark a new thought or idea for you to write about.

Read a book:  Not only does reading have a calming affect on the mind, it can also open up the imagination. It can be anything from fiction, self-help, sci-fi, or even a comic book. Anything to get the brain moving and thinking can help.

Host a group idea session: If you're struggling with ideas I'm sure others are as well. Consider hosting an idea session with other songwriters in the area. Have a few snacks and a large white board or poster board. You can either just have a general brainstorming thrown down or choose a specific topic to focus on. This should be a fun activity so don't get bogged down with the details.
Preventative Measures
Like the old addage, "An apple a day keeps the doctor away" so it goes for writing ....except you don't have to eat apples or visit a doctor. Just write something every day to train your brain. Write lyrics, short stories, letters, blogs, poems, or even just doodle some words. This stimulates the right side of your brain which is associated to creativity. Here are a few more ideas to prevent writer's block from getting in your way:

Keep a song journal: Have a dedicated journal that you carry with you everywhere. When an idea strikes you, write it down. Get in the habit of writing it down right away as it may slip your mind later. This is especially true right around bed time when your mind is settling down to rest and various thoughts come to mind. Keep the journal near to jot down your ideas. If you are more of a digital person you can even use a notepad option on your phone.

Mini recorder: Similar to a song journal you may want to carry around a mini voice recorder. When a melody, lyric or beat crosses your mind, record it! You can even record it to your phone or leave yourself a voicemail.

Weekly topic: Choose one topic every week and throughout that week write down any ideas that come to mind. For example, if the topic is tacos, you may think about the toppings as you grocery shop, or you may eat at Taco Bell that week and notice the people around you. You may even cook your own tacos and notice what feelings you have in the process of building your Mexican feast. This is a silly topic but you can see how many thoughts can come up around one single idea. 

This is just a small sample of the many inspiration ideas available to break through the writer's block wall. Read Part II for more Songwriting Inspiration Tips
Bandzoogle lets you create a professional website in minutes with all the music promotional features you need including a blog, mailing list, and social media integrations.Try Bandzoogle free now!
Why not share this with your friends?
Build a stunning band website and store in minutes
Promote your music on your own unique website.
Sell music & merch directly to your fans. Keep 100%.
Grow your fan base with built-in marketing tools.