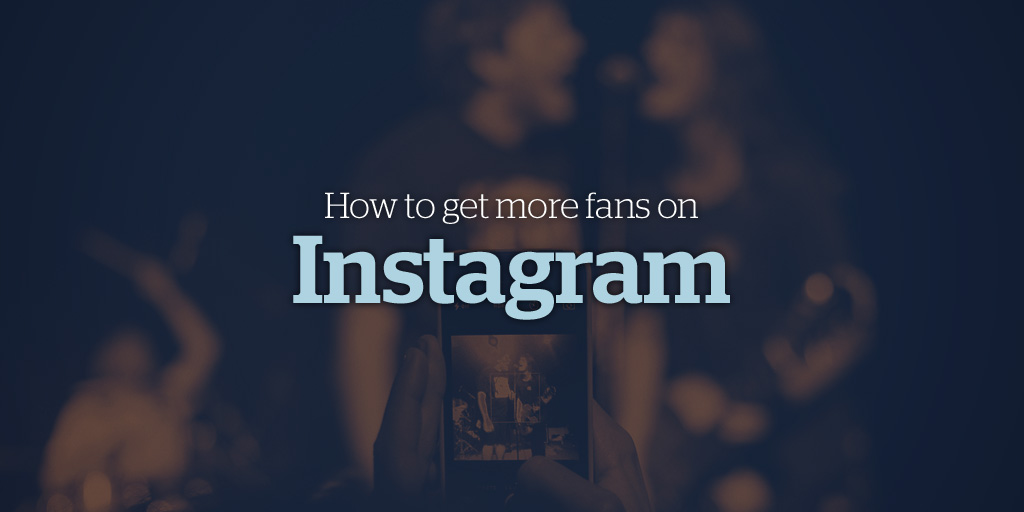 A picture is worth a thousand words. And Instagram is proof!
When Instagram came on the scene in 2010, Facebook and Twitter (mostly Twitter) had no idea what they were in for. Everybody loves pictures. In fact, it's proven that posts with photos get much more feedback.
So it's easy, right? Just slap up a photo, leave a caption, and your fanbase will double? Not exactly. Here are some good tips for creating a strong presence on Instagram and maintaining it.
Setting up an Instagram Profile for your Music
1. Pick a Username
Pick something easy and predictable. All of your social media handles should make sense together. If you band's name is UglyClown (hopefully you come up with something more creative), your handle across all platforms should be @uglyclown or @uglyclownmusic. Don't add numbers, symbols, or underscores if you don't need to.
2. Get a Decent Profile Photo
Instagram profile photos are relatively small and users can't click on them to blow them up. Use a profile picture that is easy to see on a standard-size phone. Use a band logo or photo that is clear and easy to make out.
3. Leave a Bio that Makes an Impression
Your bio can only be 150 characters - almost the same length as a tweet. Write something that leaves an impression. You don't have to take up the whole space either.
[How to Write an Effective Musician Bio (with examples!)]
4. Website Link
With a social platform like Instagram, it can often be hard to explain what you do through a photo. People will see snapshots of your life, but they won't necessarily get a well-rounded idea of what you do for a living or who you/your band are. This is why a link is so important. Give people a way to find out more about you. It will most definitely enhance their appreciation of your photo posts.
[10 Reasons Why You Need a Website]
Instagram Basics for Musicians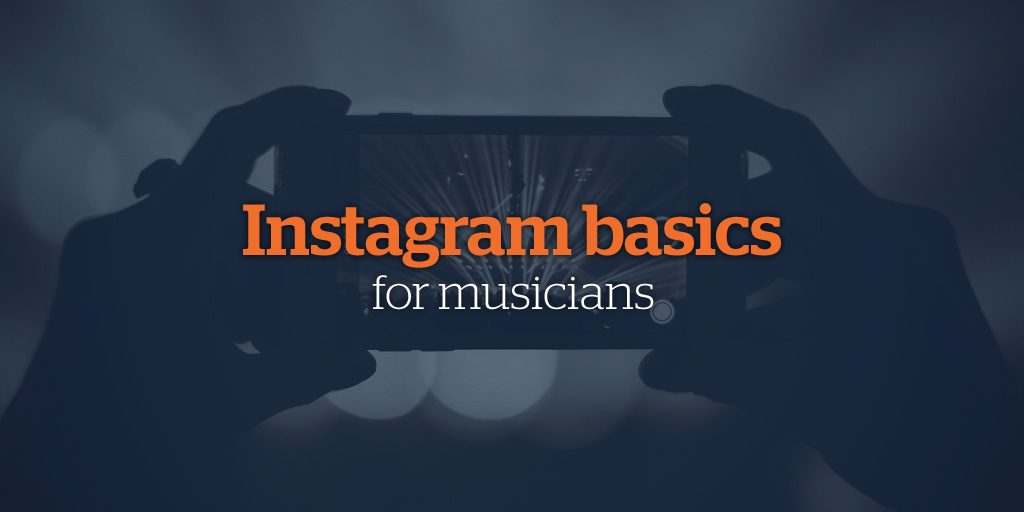 1. It's all about the Image!
First and foremost, Instagram is all about images. Might sound like common sense, but people forget this every single day. The proof is in poorly shot photos, blurry images with poor lighting, and people with dissertation-like captions underneath their pictures. Take good shots! Keep the main thing the main thing!
2. Videos Rock too!
Videos are secondary, but when they're done well, they can be just as engaging. Usually shorter videos get more feedback than longer ones. Instagram operates off the premise that a picture is more engaging than a sentence. People actually have to force themselves to stop and read something when a picture is more immediate #weresolazy.
It's the same deal with videos. They require a little more "energy" and focus than picture. So the shorter your video is, the less time it demands of your viewers, and the more likely they are to make it to the end. Of course there are always exceptions to the rule.
3. You Need @ and #
If you want a strong Instagram presence, you need good content paired with these two symbols.
The @ sign: The @ sign allows you to mention other individuals, businesses, and organizations on Instagram. It's as simple as including their handles in your caption.
You can also tag people in the same way that you would tag someone on Facebook (choose the "Tag People" option). By tagging this way, you image will appear in that other user's feed - a separate feed that has all the photos of that user tagged by other people.
The # sign: The hashtag (#) is followed by a word or group of words. It creates a new stream (i.e. new feed) when you click on it that includes all posts using that same hashtag. It's a great way to be found on Instagram, start conversations, and join in other conversations with users you don't follow or who don't follow you.
4. Pay Attention to Your Fans
Getting fans is great, but keeping them is equally important.
Existing Fans: Whether it be a comment under your photo or a direct message, be consistent about responding to your fans. It's one way to come off as more human instead of functioning like a robot that only shows up on social media to post things. Also remember to check in on your fans' photos every once in awhile. Comment when you come across something you like!
New Fans: When you can, visit the page of someone who has just begun following you. Find out who they are. Who knows, it could be someone in the industry watching you from a distance. No matter who it is, drop a note on one of their photos thanking them for following you. It might not always be possible to keep up with this. But it does make an impression with your fans when you do this.
Mentions: When someone else posts a photo of you or about an event you're connected with, drop a note in the comment section of that photo. Consider re-sharing the photo. Help promote the image - especially if it's a show flyer and can help draw a bigger turnout.
[15 Ways to Get More Music Fans]
5. Post Often, But Not too Often
Frequency of Instagram posting falls somewhere in between Facebook (2 or 3 a day) and Twitter (where you could post up to every hour if you wanted). As many as 5 or 6 Instagram photos/videos in one day wouldn't be overkill depending on the type of content you share. But regular users average around 3 posts a day. Don't share too much advertising in one day. That's when it becomes overkill.
6. What to Post  
Posting can sometimes get tricky if you are a solo artist and you share both personal and professional images within the same feed. Some artists have two different accounts for this reason. Others feel comfortable letting their two worlds collide.
For a band it's a bit easier. Posts should reflect your group - no matter if they are serious or goofy. And if each band member wants his/her own band-related account where they can post music and personal stuff, that's also an option. But ultimately a band should have at least one unifying Instagram account. So here are a bunch of ideas of what you can post:
Images
Promo images: this includes artwork of an upcoming show - something polished and designed specifically for the sake of advertising.

In the studio: post a shot of yourself in the isolation booth or a shot of your band behind the soundboard listening to mixes.

On the road: there's so much you can do here. Post photos in front of a gear-loaded van, photos of weird Donald Trump bobbleheads at a rest stop, or the toothless old man you met while driving down a road in the middle of Iowa. The possibilities are seriously endless.

Shots of fans: These are the best! Post-show shots with fans are such a great way to recap a night in someone's city.

Behind the scenes: Take a shot of the green room, or a bandmate sleeping on the floor behind the stage. Fans love that kind of stuff!

Touristy images while on the road: did you go to the top of the Statue of Liberty? Take a shot of NYC from there. Get creative.

Rehearsals: Photos of a rehearsal are a great indirect way of promoting an upcoming show without using a promo image. Your caption would go something like this: "In the basement workshopping a few new tunes for this Friday's gig in Philly!" Slip it in there.

Writing sessions: Take an artsy fartsy shot of your lyric notebook and guitar. Post some lyrics you are working on. People love seeing the scribble lines and doodles around your words.

Things that inspire you: These kinds of posts pull in the people who want the backstory. They help your fans learn more about you since they already know a lot about your music.

Funny memes: there are no shortage of these!
2. Videos
You can turn nearly all of the above suggestions into video posts, but here are a few additional ideas.
Clips from live shows: ask your fans to tag you when they post clips from your show. Then reshare.

New song previews: prop your phone up on a window sill and capture a 30-second snippet of a new song.

Live Video of other artists/bands: don't forget to capture and share clips from other artists and bands. Share clips of the band that played before/after you at gig or other groups whose concerts you attend.

Talk to your fans: Your fans hear you sing/play all the time, but they probably don't hear you talk enough. Do a short video telling them about what you're currently working on, thanking them for their support, wishing them Merry Christmas...etc.
How to use Hashtags & Search to find new fans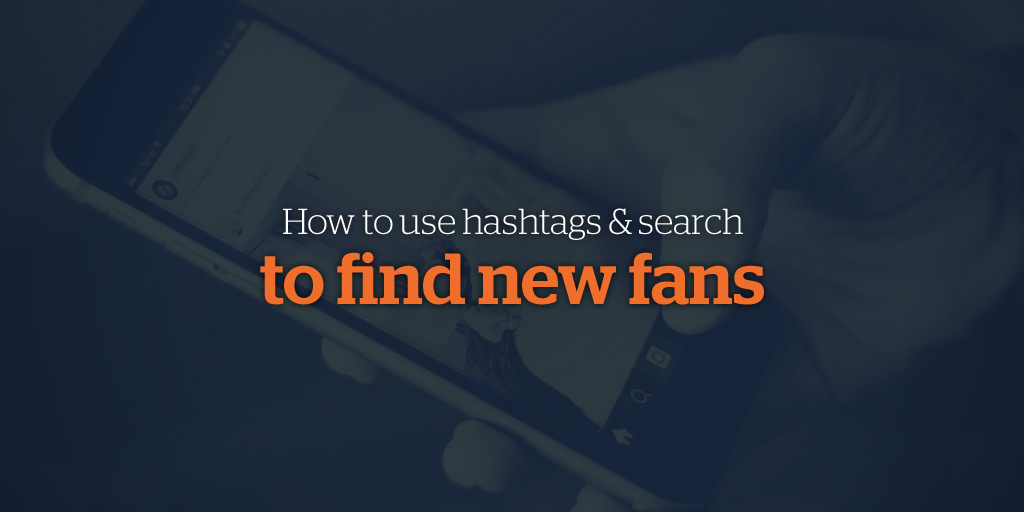 We touched on this a little, but here are a few additional ways to grow your fanbase with hashtags and Instagram's search option.
1. Find people talking about your music
Do you have a hashtag? For all you know, people could be hashtagging your name and posting photos and videos of your live show. On a whim one day, I decided to hashtag #joyike and came across several hundred photos/videos that fans had posted from past shows!
2. Find people talking about niche topics
Use the hashtag to find people talking about similar artists, genres, and niche things that relate to your music. For example, if you play the bass ukulele, hashtag #bassukulele with a video of you playing that instrument. Your video will show up in that feed and appear to an audience of people who already love that instrument, and are therefore more likely to like your music.
3. Search your event's hashtag
It's not always the case, but sometimes the event you're playing will have its own unique hashtag. It's a cool way to collectively recap what happened (and is happening) at an event. #SXSW is a familiar event hashtag.
Check to see if your show, festival, benefit concert, conference, or special event has its own hashtag. People are probably posting photos/videos of your performance. You can also post and hashtag photos/videos on your own Instagram account.
Other Ways to Grow Your Instagram Following
1. Announce your Instagram handle from the stage
No doubt, at least 10% of your audience is taking photos/videos of your set. Tell them to tag you on Instagram. It's simple: "Hey guys, if you're posting anything from the show, please tag me on Instagram. My handle is ____". I always come away from each show with a few new Instagram followers who start following me after I mention my handle.
2. Photos with fans after shows
When your fans come up to your merch table after the show and ask for a photo, remind them to tag you on Instagram. It's simple. They're probably going to post the picture anyhow. Have them take the next step and tag you.
[25 ways to get more fans for your band using Instagram]
3. Newsletter Recap
Each month in your newsletter, do a brief recap of cool things that happened since your last blast. Link to specific Instagram photos/videos that help illustrate your recap. You can even include Instagram photos within your newsletter and remind subscribers to follow you if they want to stay in the know.
4. Be Consistent
Everyone makes excuses for why they can't stay on top of their social media. It's not easy. You really have to make the time or plan posts out in advance. Hootsuite, known for its ability to schedule Facebook and Twitter posts, has now created a way to schedule Instagram posts. Check out this article for a list of other scheduling resources.
Bottom line is: treat your Instagram as a vital part of your music career. Give it regular attention, post quality photos, post relevant photos, communicate with your fans like you would on any other platform, and actively connect with new audiences. Good luck!
Want more social media marketing advice? Check out the other posts in this series:
How to Advertise Your Music on Instagram
Social Media Marketing for Musicians: How to Get More Fans with Facebook
Social Media Marketing for Musicians: How to Get More Fans on Twitter
Social Media Marketing for Musicians: How to Get More Fans on YouTube
Joy Ike is a full-time singer/songwriter based out of Philadelphia, PA. She is also the founder and primary writer for Grassrootsy, one of the most-read music business blogs on the internet. She believes the greatest tragedy in the world is having a talent and keeping it to yourself.
Bandzoogle lets you create a professional website in minutes with all the tools you need to promote your music, including a blog, mailing list, social media integrations, and more. Try Bandzoogle free now!
Why not share this with your friends?
Build a stunning band website and store in minutes
Promote your music on your own unique website.
Sell music & merch directly to your fans. Keep 100%.
Grow your fan base with built-in marketing tools.