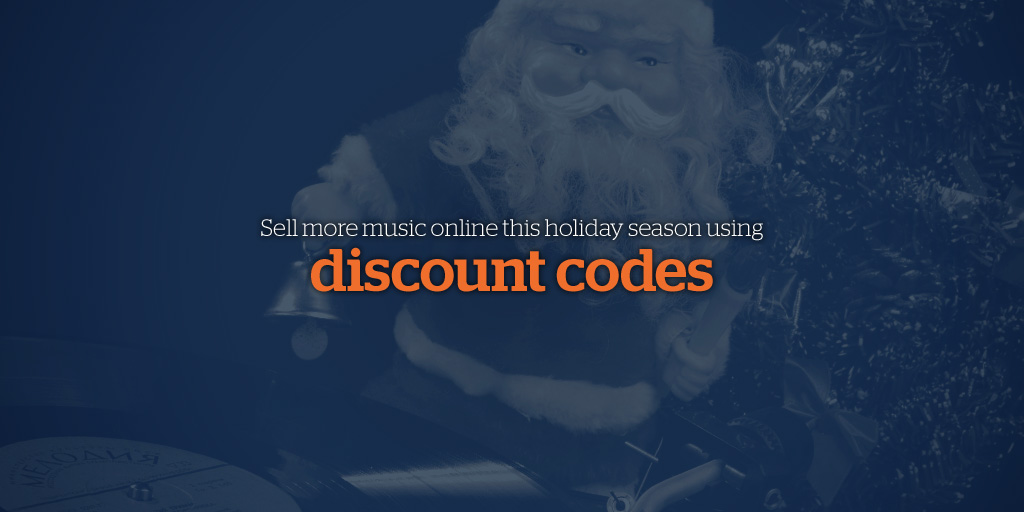 Selling music is a tough business but during the holidays people are a lot more open to buying. With the popularity of Black Friday and Cyber Monday increasing every year, it's a good idea to position yourself to sell your music and merch online.
[The Complete Guide to Selling Your Music Online]
Fans are always looking for unique gifts to give family and friends. This is your time to stand out by offering your music in ways you may not be able to the rest of the year. Between Christmas, Kwanzaa, Hanukkah and other celebrations there are many opportunities to promote your music to the world.
Because it's the time of year for holiday cheer, what better way to love on your fans than by giving them a sweet deal on your music and merch. Bandzoogle Pro members can easily do this with discount codes in our Music & Store features (commission free!)
Just set up the code of your choice, enter the percentage off you'd like to give and set an expiry date.

Then spread the code all over social media and through your mailing list to treat your fans. In the shopping cart they will just enter the code and the discount will display above the total. It's as easy as that!

To get you started here are 6 ideas for offering discount codes this holiday season
A Day of Thanks: You love your fans and you wouldn't be where you are without them. Offering a 50% discount on Thanksgiving or the day after (Black Friday) is a fantastic way to say thank you to all your loyal fans. Example discount code: givethanks
Cyber Monday: Some of your fans may be sad that they missed out on the ½ off deal so give them another chance with a generous one day only 25% off sale on Cyber Monday. Example discount code: 1daycyber2015
12 Days of Christmas sale: Try something fun that'll get your fans to jump early by offering a 12 days of Christmas sale. Start with 24% off and each day decrease the sale amount by 2% ending the day before Christmas. This creates a sense of urgency to buy early. This can also be done for other holidays and celebrations such as Kwanzaa or the Hanukkah Festival of Lights. Example discount code: 5goldenrings
Post-Holiday inventory blowout: Got some old merch you want to clear out before the new year? How about offering a 2 day only 20% sale. This would also be a great time to offer item bundles such as one CD and two t-shirts, or a guitar pick, a t-shirt and a CD. Example discount code: auldlangsyne
New Year, New Music 2016: If you have a new album, EP or single that'll be ready toward the end of 2015 think about releasing it on New year's day 2016. Then you can delight your fans with a 16% discount to get them on board with your new music. Example discount code: popchampagne16
Festivus: Traditionally celebrated on December 23rd as an alternative to the commercialism of the holiday season, this 'holiday' gives you one more chance to treat your fans. You could offer a one hour flash sale of 99% off as a way to stick it to big business. ;) Example discount code: idowhatiwant
Sales Tips
Now that you have some discount code ideas here are a few tips to make the most of putting your music and merch on sale.
Create urgency: Use FOMO (fear of missing out) to your advantage by giving your sale a time limit. Everyone wants a deal so make sure they know that NOW is the time to buy. When your items are on sale make it clear that the discount is for a very limited time which will encourage fans to buy right away.

Presentation: Present your sale and sales items in a professional yet fun way. Use images to show fans what they'll be getting for their money. Your fans will match your excitement level so project your enthusiasm on every sales message you post. Make sure your message makes them feel the passion you have for your music.

Offer a few options: Discount pricing is great because it gives your fans the best chance at big savings. That said, if you want to put individual items on sale you can do that too with our sale pricing option as well. You can also put your fans in the drivers' seat by letting them pay-what-they-want for digital downloads.

Promote, promote, promote: As the holidays approach advertisements will increase dramatically. Bell ringers, commercials, and sale signs galore! Obviously you want to get your products out there but you'll want to do it in a way that doesn't make your fans feel like they are just another number. You don't want to ONLY post about selling your music. Post other non-music related things so fans get to know on a personal level as well.

Use your mailing list: Email marketing is 40 times more effective than Facebook & Twitter combined. So be sure to use Bandzoogle's built-in mailing list tool to send an email blast to your fans announcing your sale.
[The Complete Guide to Email Marketing for Musicians]
The goal of discount codes is twofold. The first is to reward your current fans with a nice holiday markdown. The second is to bring awareness to your music and website. Putting your music on sale gets fans talking about your band and sharing the discount code with their friends. This is the way new fans are made!
Build a professional website in just a few clicks where you can sell music and band merch commission-free! Sign up with Bandzoogle now.
Why not share this with your friends?
Build a stunning band website and store in minutes
Promote your music on your own unique website.
Sell music & merch directly to your fans. Keep 100%.
Grow your fan base with built-in marketing tools.