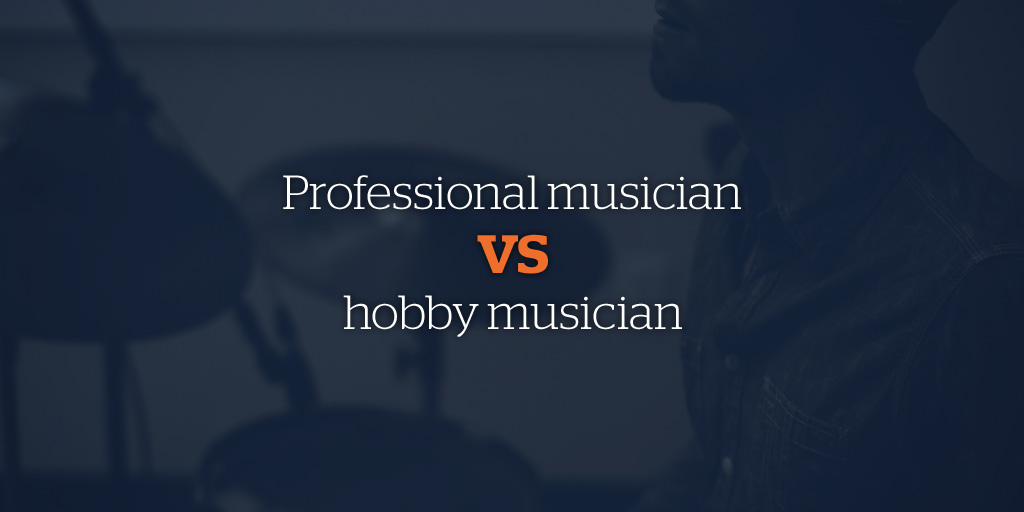 Guest post by Dave Kusek originally appeared on New Artist Model
There's an interesting divide among musicians. For some, music is just a hobby, and that's fine. But others need more. Everyone starts as a hobby musician, but eventually some want to take the next step. Unfortunately, moving from a hobby musician to a career musician is no easy task.
You might be surprised to hear this, but what really separates the professionals from all the other musicians isn't their skills. It's not their mastery of guitar picking techniques, the number of songs they've written, or even their ability to play a killer show. It's how they think about their music career that really sets them apart. It's a shift in mindset.
Anyone can practice for hours and hours on end and get their chops really tight, but no matter how good you are, if you're just playing or writing in your room or rehearsing in your garage, no one will ever know about you. If you find yourself feeling stuck and unsure of how to make music your career, try out these 5 tips:
1. A professional musician finds their own path
A big motivator for a lot of musicians just starting their career is the hugely famous artists playing in huge venues for crowds of thousands of people. Naturally, we all want to be like them. However, the common approach is to try to do exactly what they did – follow their steps to the tee – to get to the big league.
But in reality, this is probably the worst approach. Professional musicians know that they forge their own path every step of the way. Every artist's career is SO unique and there's really no single path to success. If you have your blinders up and are completely focused on one thing, you're probably going to miss other opportunities that are right in front of you.
2. A professional musician makes a plan
Although a lot of the stories make it seem this way, all your favorite musicians and bands didn't just wake up one day in front of a crowd of thousands of people. They spent years and years practicing, rehearsing, and above all, making a plan for themselves.
Set yourself goals to accomplish in one year, six months, one month, and this week. Having something clear and tangible you're working towards will help you focus your efforts. You'll have an easier time knowing which opportunities you should really push for, because you'll know where you ultimately want to be in the end.
3. A professional musician understands that collaboration is key
In some ways, musicians are competing against each other – competing for gigs and the attention of an audience – but the professional artists always make it a point to teach, learn, collaborate, and give out opportunities when they can.
If you're just focused on you and what you want to accomplish, you're going to miss out on a ton of opportunities that could come to you in the form of your connections with other musicians. Even if you're just starting out, everyone has something to offer. You could bring some of your fans to a collaborative show, you could send out a tweet or two about how awesome another band is. If you always try to contribute to a relationship instead of just taking, others will remember you and give back.
4. A professional musician knows that this is a people business
As important as social media is, the music industry is still a people business. You could have thousands of followers on Twitter, but that doesn't always convert into real gigs or real album sales. For the most part, venue owners, booking agents, managers, and other artists work with people they know, so you need to make it a point to know as many people as possible.
Now, this might seem like a big barrier, especially if you're just starting out. After all, you probably don't know the guy in charge of local bookings, or the indie publisher that works with your favorite indie artists, or the producer in the local studio. But everyone has a network of connections that you can start building off of, and each new connection, no matter how insignificant it may seem in the grand scheme of things, exponentially increases the size of your network. Remember this: there is no such thing as a bad connection in music.
5. A professional musician never stops learning
Another habit of professional musicians is that they never stop learning. Music is a lifelong journey. You will never get to the point when you can say "Okay, I'm a master musician." There's always some new technique that you can learn, something you can improve, something you could be doing better or more efficiently.
Don't get discouraged by this. It's one of the things that makes being a musician so exciting. The thrill of waking up and knowing that there's more to explore in music is the drive that keeps all of us going – it's one of the beauties of creativity.
Not only should you be striving to improve your playing and your writing, you should also be working towards a better understanding of the music business and a closer relationship with your fans. In the New Artist Model online music business school you'll learn how to turn your music into a successful business – one where you are the CEO. You'll create an actionable and personalized plan that will help you achieve a career in music, and you'll be able to do it all with the resources you have available right now.
If you'd like more strategies like these, you can download this ebook for free. It will take you through some of the best strategies for indie musicians to help you grow your fanbase and your career.
Dave Kusek is the founder of the New Artist Model, an online music business school for independent musicians, performers, recording artists, producers, managers, and songwriters. He is also the founder of Berklee Online, co-author of The Future of Music, and a member of the team who brought MIDI to the market.
Bandzoogle lets you create a professional website in minutes with all the music promotional features you need including a blog, mailing list, and social media integrations. Try Bandzoogle free now!
Why not share this with your friends?
Build a stunning band website and store in minutes
Promote your music on your own unique website.
Sell music & merch directly to your fans. Keep 100%.
Grow your fan base with built-in marketing tools.