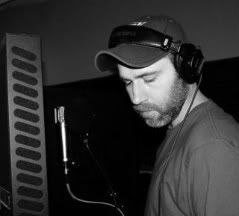 Benji is back ! Back in May, Allison had asked a good number of questions to Benji Rogers, Founder and CEO of PledgeMusic, and proud Bandzoogle member. The interview was an intro to PledgeMusic's fan-funding platform, and Benji shared his own experience, using it to fund recording of his last E.P. This time we asked him for a more detailed play-by-play of how a PledgeMusic campaign works. Adding a PledgeMusic widget to a Bandzoogle site is easy (Control Panel / Edit Pages / Add Feature / HTML code) . You can see the widget in action on Benji's own Bandzoogle site: marwoodmusic.com.  If you use it don't forget to add the e-mails you collect to your mailing list members list (and we might work with PledgeMusic to make it seamless in the near future). Let us know in the comments if you have experience with it and if you think it could help your next project.

Scenario 1.

The band is tight. The new songs are bumpin'. More people you DON'T know are showing up at your gigs. But your bank account is too empty to record the music to put in peoples' players.

Scenario 2.

The record is done. The songs are amazing. You're in rotation on WROK in Kalamazoo, but can't afford to take a week off of your day job to get out there and rock face.

Sound familiar? We've been there. It's the rub. It's why we created PledgeMusic.

What is constant in those scenarios (and the million other we could conjure) is the emotional connection your fans have with you and your music. Your ability to succeed can be greatly enhanced by identifying that connection, listening to your fans wants, communicating directly with your fans, and offering your fans an engaging experience, strengthening the emotional bond.

So how on PledgeMusic do you do this?

1. Sign up for an artist profile on PledgeMusic. It's simple and it's FREE.

2. Initiate a data capture strategy. We have developed a widget which allows you to collect fans' email address, their Facebook information via "likes" and "shares", and/or their Twitter information via "tweets" and "follows", in exchange for the download of one of your tracks. The widget aggregates the data in your artist profile and is easily exported. The widget is our gift to all artists…FREE.

3. Fill out a project sign-up. Our 8 Step process is thorough, but don't be intimidated. It is designed to give us a clear understanding of what you are offering your fans, how well you have collected their contact data, what type of budget you are shooting for, how creative you are in reaching those fans, and whether or not you are contemplating raising awareness for a particular charity in conjunction with your project.

Your creativity should shine when creating the incentives you'll be offering your fans. They tend to love items that you've personalized and signed.. a handwritten lyric sheet is one of the most popular. Special engagements, in the form of VIP Soundcheck Passes and House Party Gigs are popular too. What about that collection of motel soaps you have from the last tour? The bottle of Fiji water you jacked from Michael Bolton's dressing room? A postcard from the road? As long as what you are offering is legal and honest, do it!  We encourage artists to give back to their community by donating a portion of the proceeds from their campaign to charity. This is certainly optional, and works best when the artist selects a cause they have researched thoroughly.

4. Ask us questions through our internal messaging system, or if you are ready, send to us to begin the review process. We'll either approve or ask you for some edits. Once you're approved, you control the launch! It's always advised that you tease your fans into your campaign. Start a countdown of Facebook and Twitter. Blast out an email saying you have a special announcement upcoming! Once your campaign goes live, you have either 30 or 60 days to raise your target amount. With simultaneous emails, social network posts, and general word-of-mouth, you campaign will be accepting pledges straight off, and the fun begins!

Since this is meant to be a unique and engaging experience, we have designed it so that only the fans who have pledged to your campaign have access to a private updates section. Grab a Flip cam, use your PDA camera, write a studio blog, upload acoustic demos … go crazy! The more updates, the better. The more revealing they are, spectacular. Be goofy, have fun, show your fans the process as it unfolds. The good, the bad, and the ugly. And since you've linked your Facebook and Twitter accounts to your project, the update headers are automatically updating to those accounts. People see a bunch of activity with creative titles like "Studio Video #1: Scratch tracks and the biggest rat I have ever seen!" and can't help but click on it. If they haven't pledged, they can't see the video, but they are prompted to sign up and pledge! Internet marketing 101 says it takes an average of 6.6 visits for someone to make a purchase. Though we have that beat, the point is, the more updates the better! And the more relevant and engaging that the updates are, the better!

5. You reach your goal!! Congrats!! The funding period clock is shut off, but you're not! You can continue to raise $$ for your project right up until you release it on our site. Oftentimes, you won't be able to start recording until you receive your first payment from PledgeMusic, so continue with the updates… all the way 'til release!  This is also a time to start fulfilling some of the pledges that came in. Maybe you'll be sending out some back catalogues collections, or performing some house concerts. Our fulfillment system allows you to check these items off individually, even if a single pledger has multiple items. We've even designed it so you can print off individual shipping labels!

6. Your second payment comes when you upload and release the project on our site, and the final payment is disbursed when you have marked all items as shipped and we confirm their delivery.

In the end, what you have is so much more than an album and some money left over. You have created an experience with your fans, which would otherwise never have happened. You have shared with them via the updates. They have commented, liked, shared and posted… perpetuating the momentum of your project. You have a knowledge of what they like and want, and how far they are willing to go to get more of you and your music. You have earned their trust by delivering beyond what they ever expected. You've given each other a part of yourselves. And if you've chosen a charity, you've made music for a change.
Why not share this with your friends?
Build a stunning band website and store in minutes
Promote your music on your own unique website.
Sell music & merch directly to your fans. Keep 100%.
Grow your fan base with built-in marketing tools.