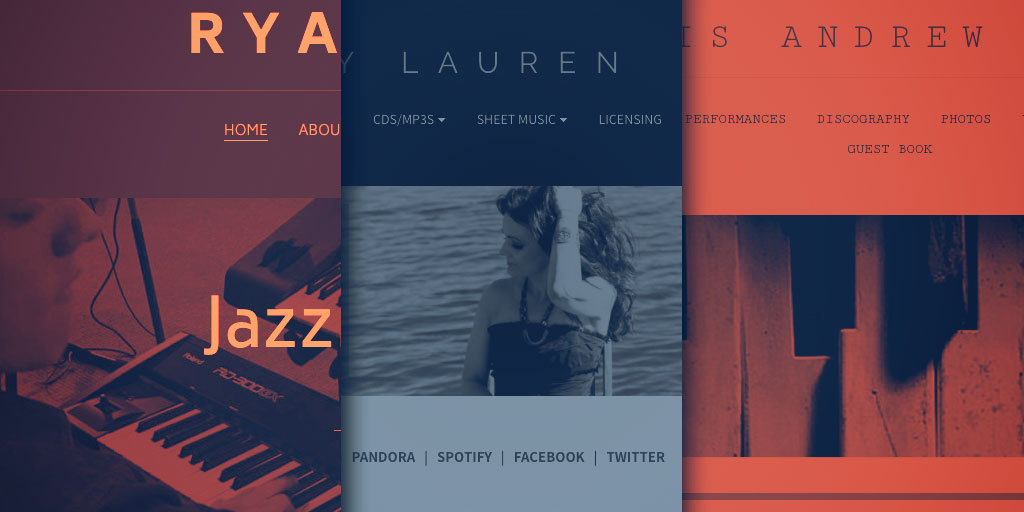 You've been playing piano for awhile now. You've performed at lots of events, but after it ends how can people find you? You've been sending them to Facebook, but this hasn't been very effective. If this sounds like you, it's time to switch gears. You need a website and a real way for fans or prospective clients to contact you.
You'd like a pianist website, but you're afraid that'll be a lot of work. We hear that a lot, and we get it. That's why we offer beautiful pianist website templates. You don't have to know any coding but you can still customize it to the style that fits you!
If you're concerned that your pianist website design will look like all the others, we've got you covered there too. With our theme editor you can make any of our themes different enough to stand out. To give you an example, we'll look at three pianist members using the same theme, Beckett.

Spotlight
When someone arrives to your site for the first time, it's important to let them know who you are and what you do. A great way to do this is with an image of yourself or your piano (or both!)
The header image should be a professional image. Stay away from candid shots or mobile phone pictures. Although these are fun, they don't work well in the header area. You can use more personal shots on a photo gallery page.
Once it's obvious you play piano, let your visitors know what genre. If they're looking to hire a pianist they'll need to know if your style will fit their event.
Ryan Kaefer does a great job displaying his name and genre in a prominent way.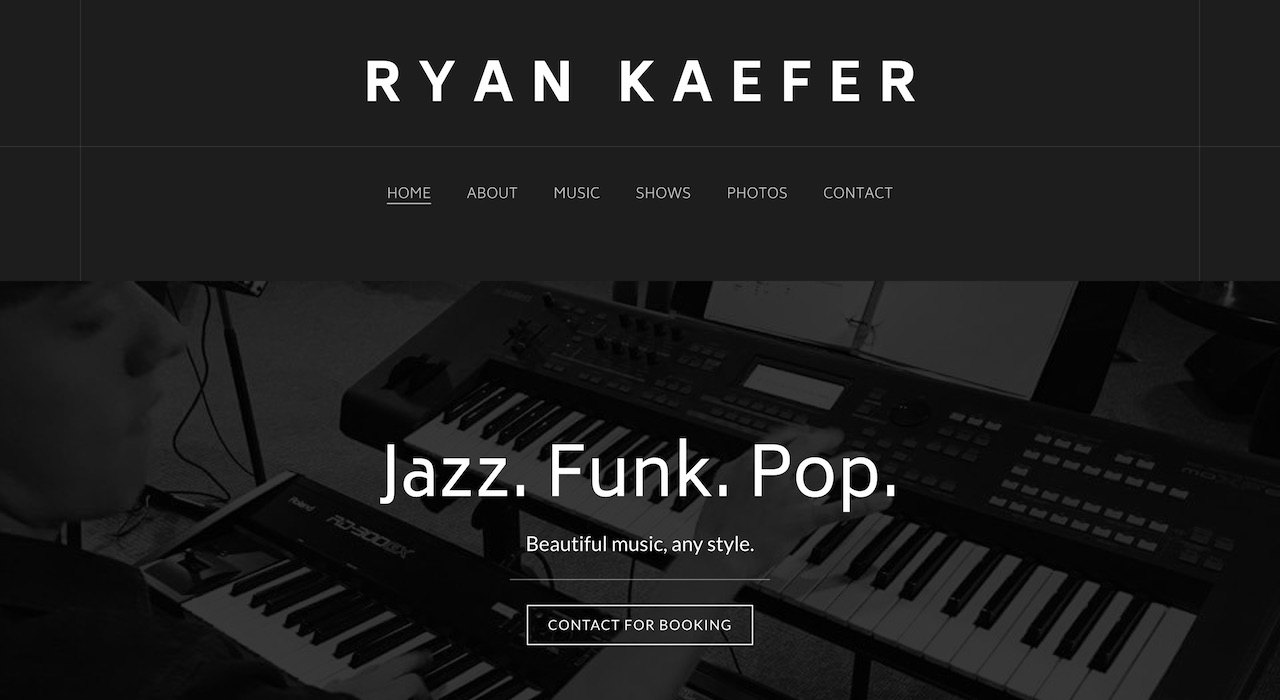 Make the most out of your header space. This is the first thing visitors will see so show enough to make them continue exploring your pages.
Call to Action
Another essential aspect of the homepage is a call-to-action (CTA). A CTA is a way to get visitors involved on your site. A call-to-action might be something like:
Sign up to my mailing list!

Watch my video!

Buy tickets to my show!
To make this easy, we give you the option to add a CTA right in your header space. Amy Lauren has a great example for us.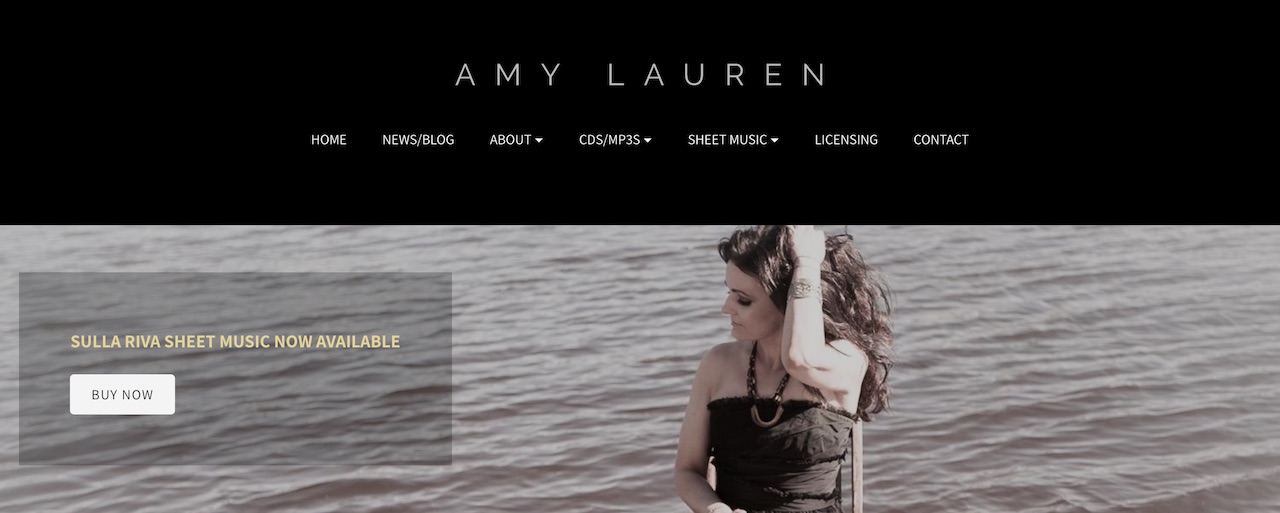 She announces sheet music for sale and gives visitors a button to buy now. This button leads to her sheet music page. There fans can purchase individual PDF files or the whole collection.
Music
Your music page is where you can stand out even more. You can sell both albums and individual tracks on any page. Visitors can stream the songs to hear your cover tracks or original songs.

Fans will be able to buy your music from your site. The best part is we don't take a cut of any of your sales. This is a win-win for both you and your fans since it's easiest for them to buy right from your site.
Build a professional, mobile-ready pianist website in minutes. Try Bandzoogle free now!
If you'd like to add some mood music to your site you can add the sitewide music player like Chris Andrew's done.

The sitewide music player sits at the bottom of your website. It continues to play while visitors are navigating your site pages. This is a great option to get visitors to play your songs a little longer than on a per-page basis.
Mood
Our theme customizations are so robust that you can even change the mood of your site. If the underlying feeling of your recent album is somber, you can tailor your website to that look. This is ideal for darker classical tunes or even the blues.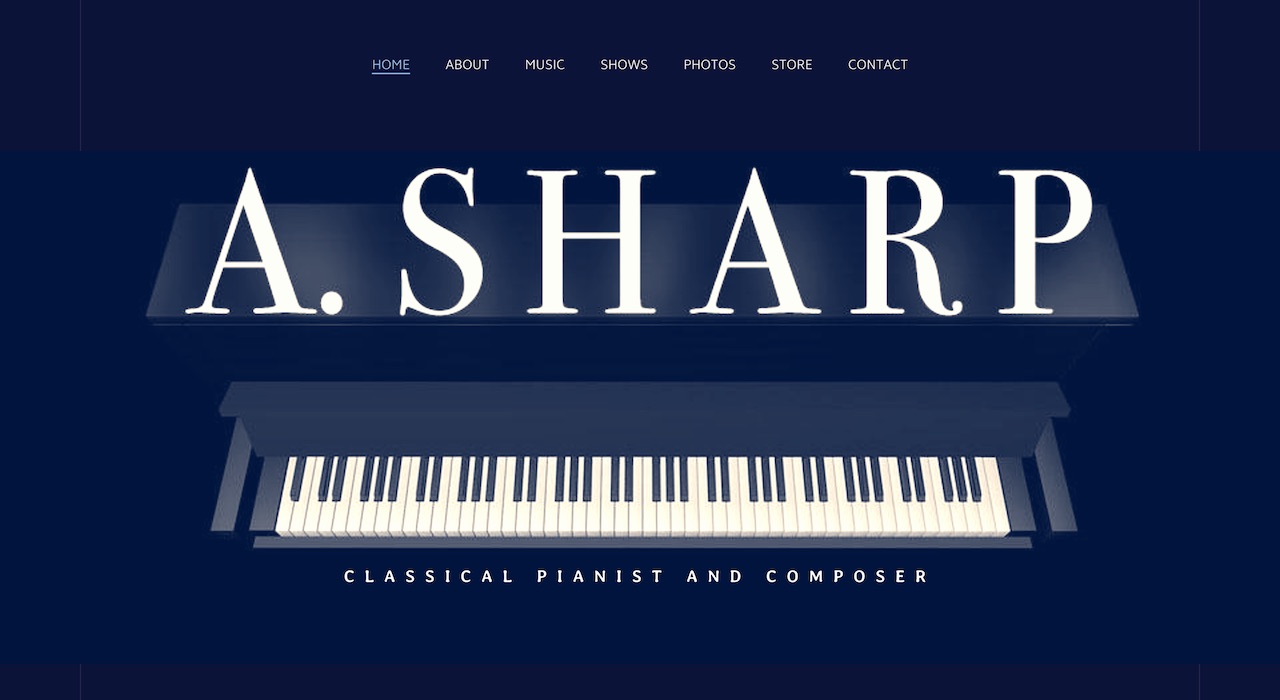 To give it a breath of fresh air you can lighten it up. This is ideal for wedding pianists or bright classical pieces.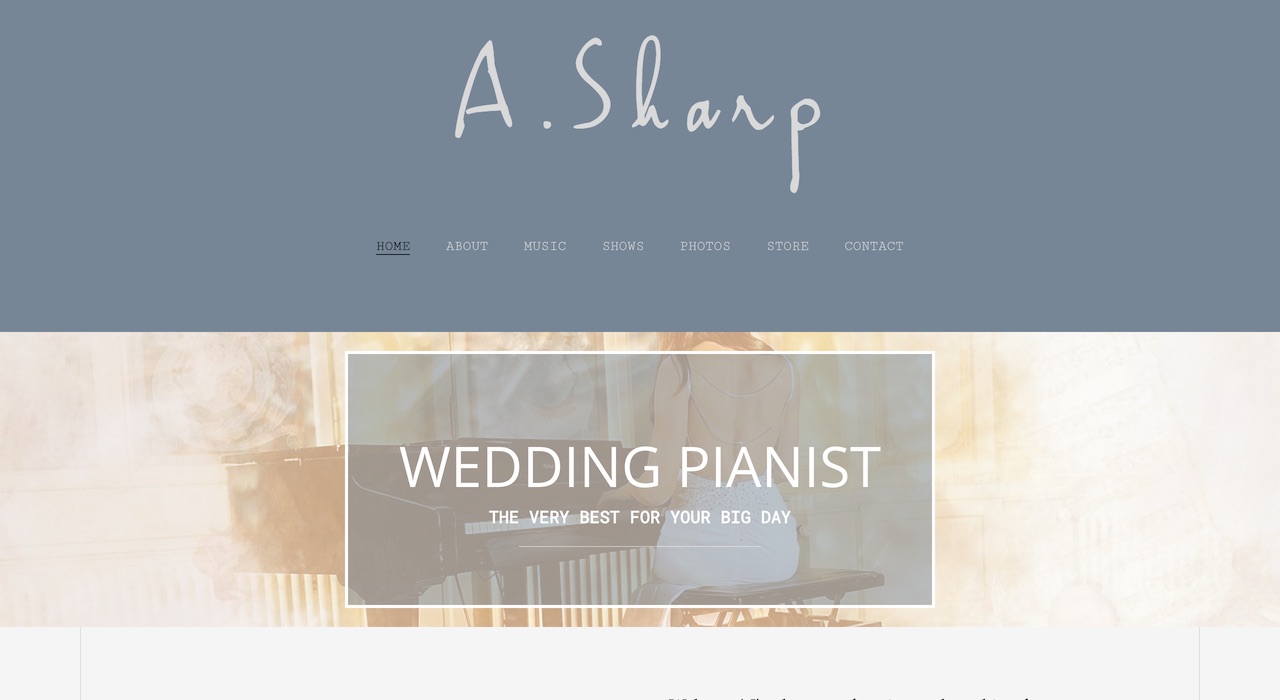 You can even go bold for jazz or children's music. With our built-in theme editor, the color options are endless!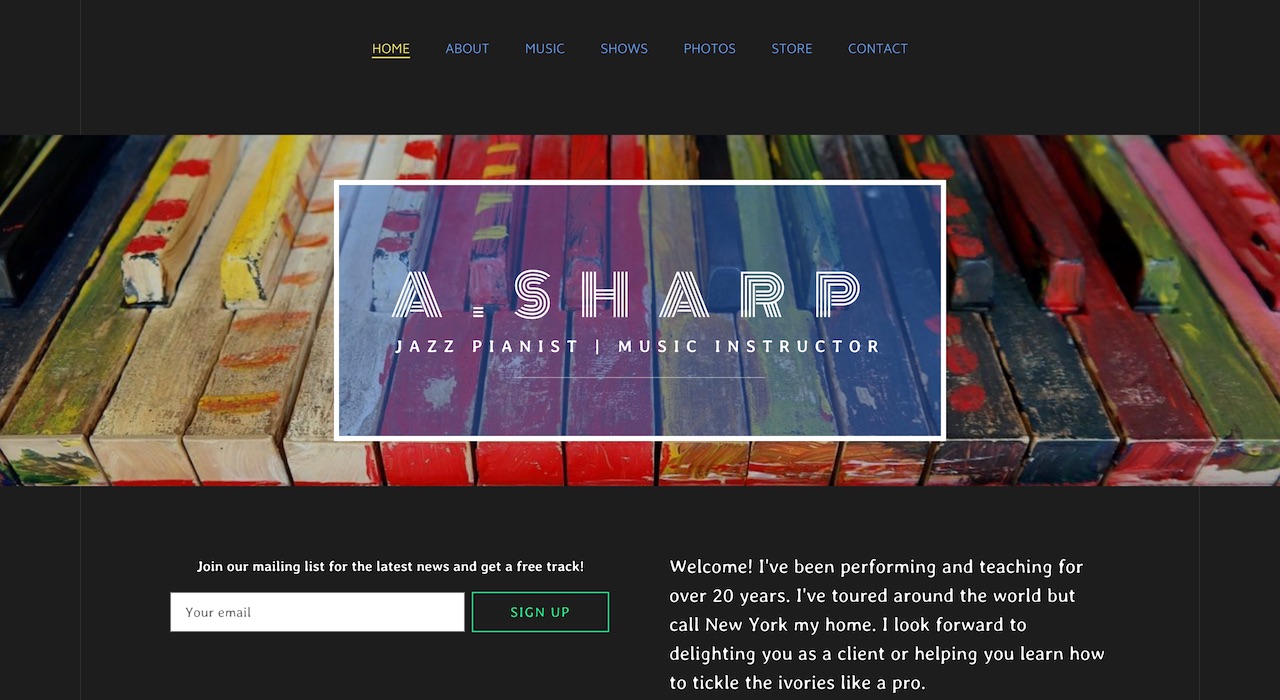 Sections
Having an attractive header is imperative, but you don't want to neglect your content area. The content area is where you add all your features. Features are things like events, music, blog, and photos. For more help with this you can check out another blog post of ours, How to design a great pianist website.
Once you add your content you can get more creative with the layout. With our new styled sections you can vary the look of any page on your site.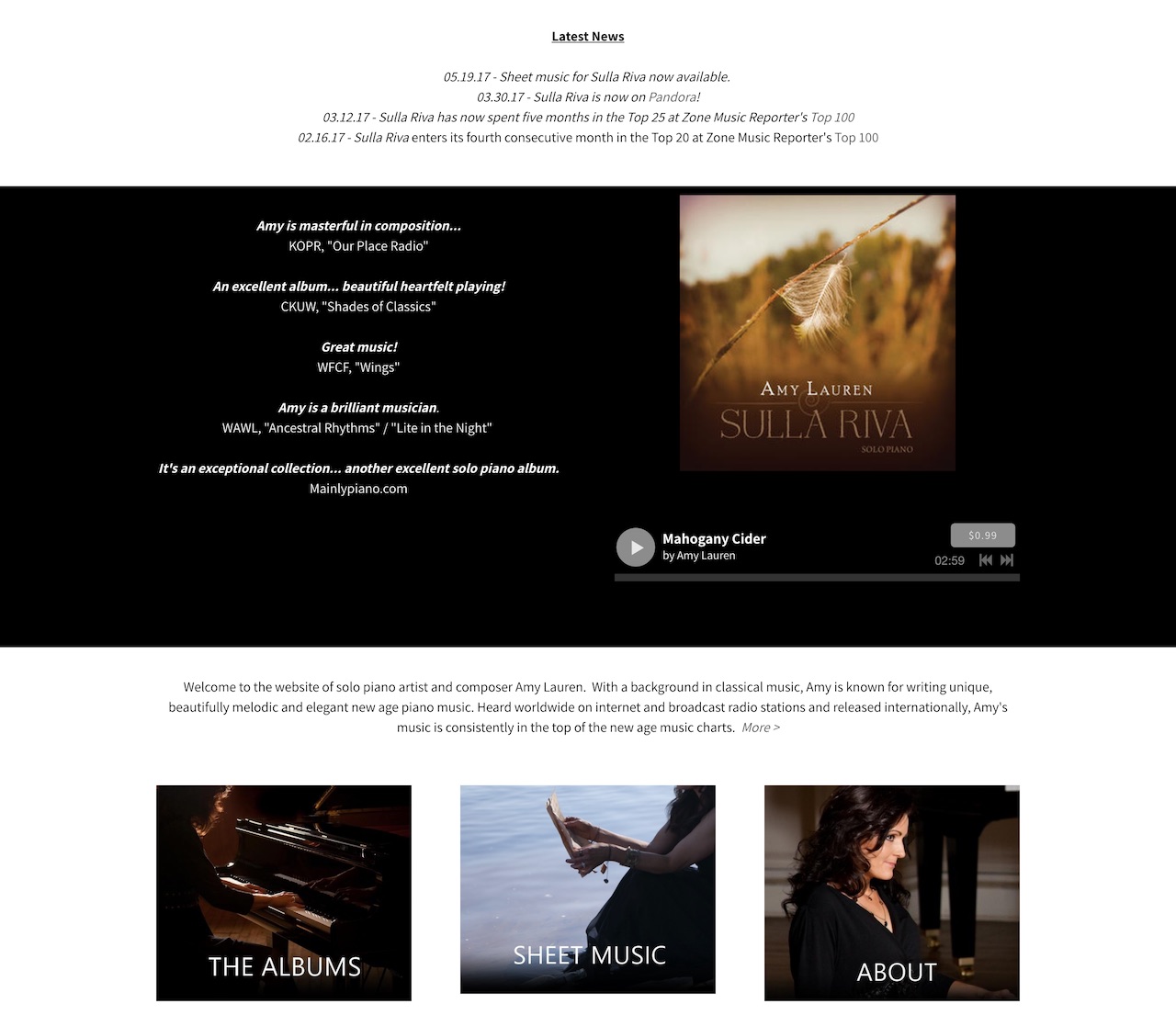 Sections allow you to set different color containers for your features. The sections are full width and look great across all devices.
Bring it Together
It can be a bit overwhelming at first but once you jump in you'll see how easy it is. If you need more inspiration, check out this blog post: Website design inspiration: Best pianist websites. There are even more examples in our blog and examples page as well.
In this post we've shown three pianist sites, plus three more styles all using the same template. You can do so much with only one template. Imagine how much more you can do with the hundreds of others templates you can choose from!
Why not share this with your friends?
Build a stunning band website and store in minutes
Promote your music on your own unique website.
Sell music & merch directly to your fans. Keep 100%.
Grow your fan base with built-in marketing tools.