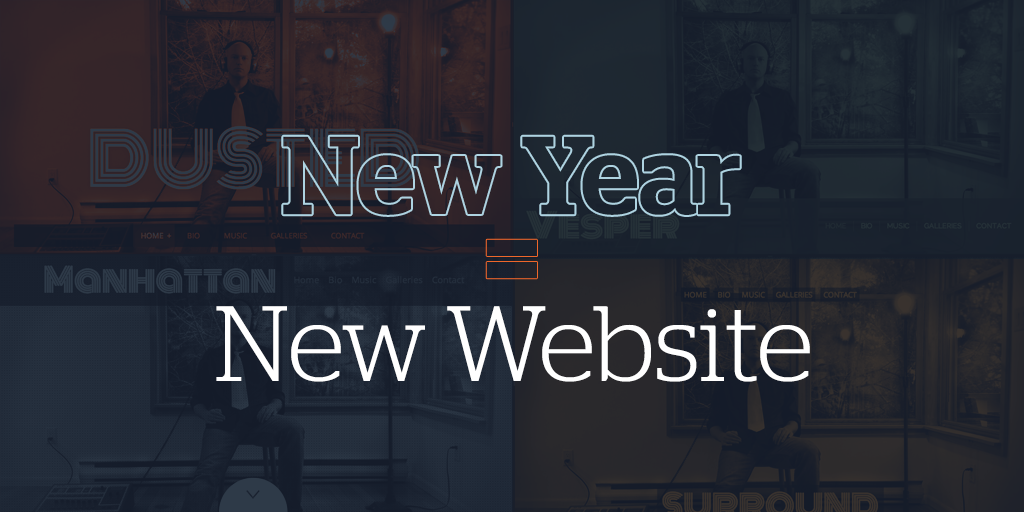 Happy 2015 Bandzooglers! We hope you had a great holiday season and are ready to tackle the year ahead.
The new year is a great time to start fresh in many ways, including with your website. Last year we released tons of new features and design upgrades, so it's easier than ever to give your site a quick makeover. Here are some ideas that will help get you started:
1. Change your theme
One of the nicest things about Bandzoogle is that you can change designs as often as you want and your content and features won't be affected. Why not give one of our new themes a try? It's a super easy way to totally change the look of your site, in a few seconds.
Just go to your Design tab and click "choose a different style". You can always go back to your previous design.
Here are examples of our new themes in action to give you some inspiration:
www.theyearlings.net  
www.swampdonkeyjass.com
www.ashleighstonemusic.com
www.anthonytylermusic.com
www.yukatadano.com  
www.danwebstermusic.com
www.syndicatecitymusic.com
www.beatricedeerband.com
www.samantharocks.com
www.moselyband.com
www.followkimscott.com
www.tiffanyashtonmusic.com
www.kicktherobot.com
www.sickofsarah.com
2. Change your header
Another simple way to give your website a makeover is to change the header image. You can of course change the image itself, but you can also use some of our new design tools to change up your header:
Edit header text color
Don't like the default header text color? No problem! You can edit the header text color for preset themes. Check out the new tool in the Design tab > Site title
Add a slideshow header
Slideshows can be a great way to show off your best photos, display great media quotes, and advertise upcoming gigs or new music. To add one, simply go to the Pages tab, click your header image, and add more images.
Add a logo to your header image
Another new design tool we introduced last year was the ability to upload a logo to your header image. This tool opens a whole new world for customization of your site. Check it out through the Design tab.
3. Add new photos
Maybe the easiest way to give your website a new look is to add some new photos. We added several features that let you display photos in new ways on your site:
Add a slideshow photo gallery
You can add a slideshow photo gallery to the content area of any page on your site. Maybe some holiday pics? Photos from recent shows? Fan photos?
For more tips on using photos on your website, be sure to read our post: 8 Ways You Should Be Using Photos on Your Band Website
4. Create a different layout
Using our content layout options is another quick way to change the look of your website. You can easily arrange your content as 3-columns, 50/50, full-width, or in a left or right sidebar.
You can use the left or right sidebar options to display your mailing list signup and upcoming shows like Emily Strom: www.emilystrom.com
Or maybe arrange content in a 3-column layout like Brad Perry did on his Homepage: www.bradperrymusic.com/home
And if you have a featured video, be sure to use the full-width option to show it off like Jeff Tynan did on his site: www.jefftynan.com
---
We hope this post helps inspire you to give your website a fresh new look to start this year. Have you given your website a makeover recently? Post the link in the comments below!
Why not share this with your friends?
Build a stunning band website and store in minutes
Promote your music on your own unique website.
Sell music & merch directly to your fans. Keep 100%.
Grow your fan base with built-in marketing tools.