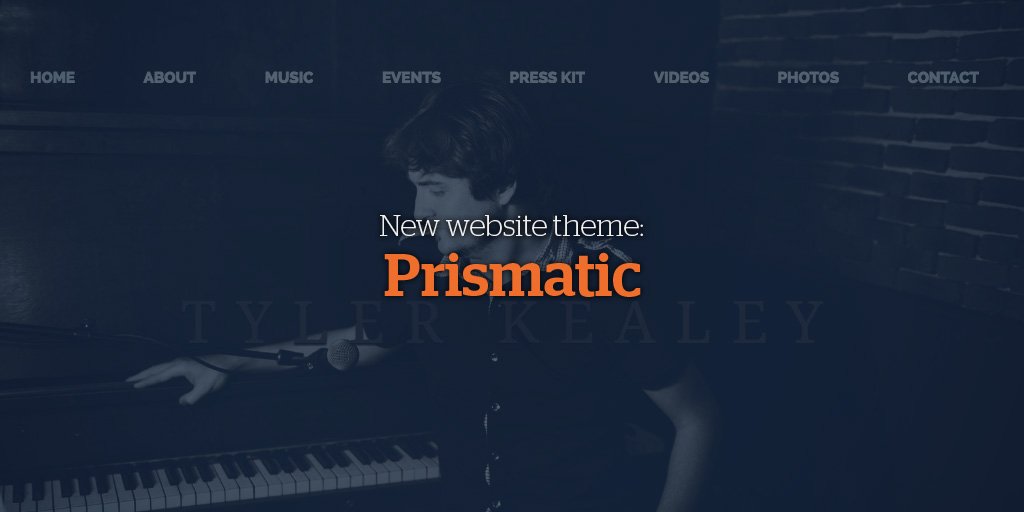 We've just added a new, stylish and modern website theme - Prismatic!
Prismatic features a large image on the Homepage. This image fades in nicely with a smooth animated effect, and slides your menu down into place as the website loads.
There are 3 variations to choose from, then you can customize each one to suit your style of music!
What makes this new theme modern and stylish for your band website?
Smooth scrolling animation
In addition to the way your website loads smoothly, there is a modern animation effect on the landing page that is triggered on scroll. Your main title fades away into content as your website visitors move down the page.
Inner page design
The inner pages (everything except your Homepage) feature your title or logo at the top. Then, your content is overlaid by a semi-transparent background. This really makes your features, like your music store, shine through.
You can also change your background image for each page with variation 2 and 3, using the Pages tab (click your current image at the top, then replace it. Done!)
More customization than ever
With so many elements, we've added lots of options to control the look and feel of this theme.
You can change the color, size, and font of your main site title, as well as its position (no more covering up your drummer's face!). Plus, the title that appears on scroll, in the top left corner, can be a different color.
You can change the menu items (color, font, size, hover color), the submenu background and text color, as well as the mobile menu text color.
We've put together a quick video to show you all of the customization options with this theme. Check it out!
Image Filters and Background options
We put image filters like color, diagonal lines, and brightness on the background images to give your photos some interesting contrast. You can customize these or turn them off, using the Design controls.
You can also customize the color of the gradient over your background, from top to bottom.
Feature style
We've styled the features to match this theme, so your mailing list sign-up form, social media icons, and play buttons are square instead of rounded.
You can also add site-wide social media icons and they will be placed in the footer area of your website, on every page.
Mobile-ready website
This website template is fully mobile-responsive and adapts well to all phones and tablets. You can preview how it will look on your mobile device right from the Theme Designer!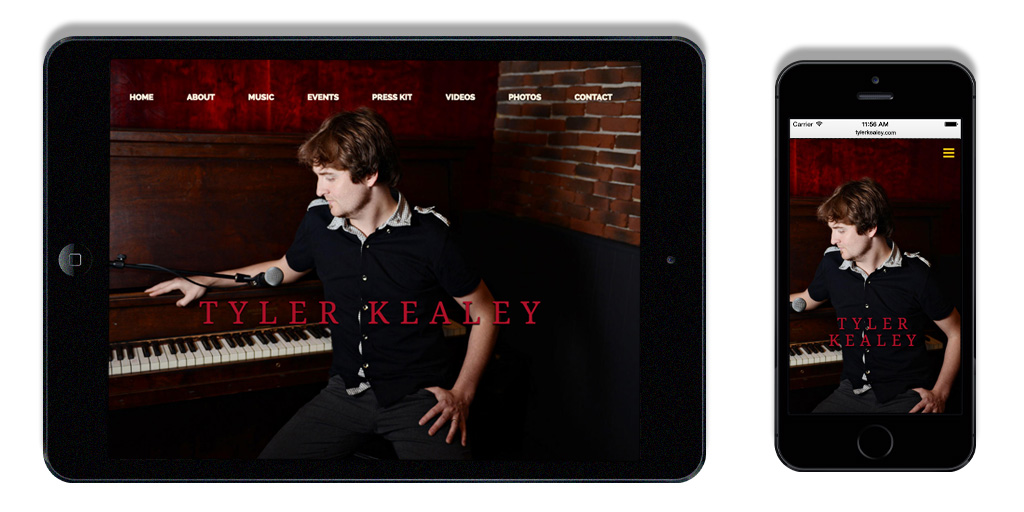 Remember, you can change your website's theme at any time without having to redo any of your content. Plus, with our recent Design updates, your previous themes are saved in case you want to revert back to them later on. Looking for some inpisiration?  Check out these examples of bands making the Prismatic theme their own.
Have fun playing around with Prismatic - we hope you enjoy it!
Get your website up and running in minutes using the new Prismatic theme. Try Bandzoogle free now!
Why not share this with your friends?
Build a stunning band website and store in minutes
Promote your music on your own unique website.
Sell music & merch directly to your fans. Keep 100%.
Grow your fan base with built-in marketing tools.