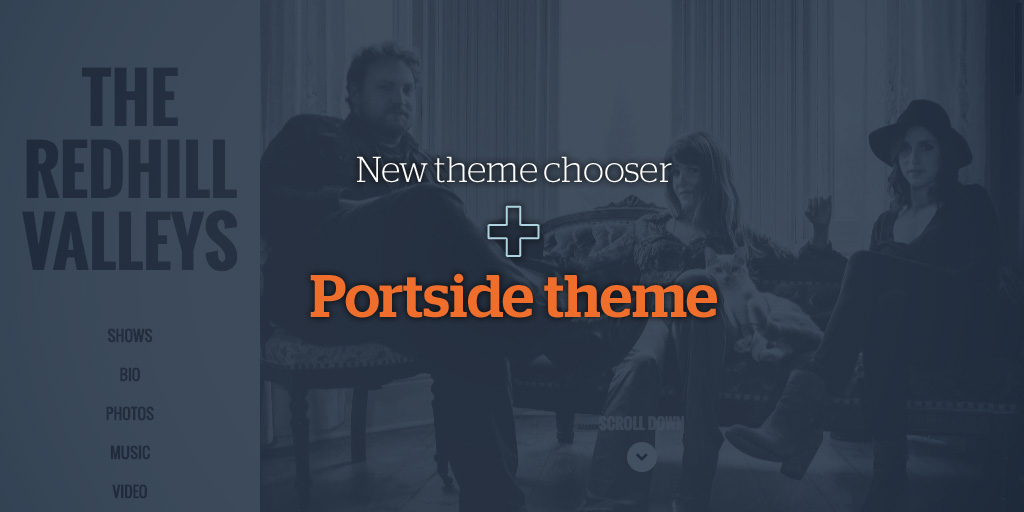 We've just added another new website template - the simple and sleek Portside! It's the perfect theme to showcase your music and events, with a player up front and lots of space for your content.
Be Square
This theme features a large, square image area on your landing page, where you can use a professionally taken headshot or your album art. A high quality Instagram image will work well here too. You can adjust the height of this image in the Theme Designer if you want to crop the square area.
The inner pages feature content only, so you have lots of room to create a perfect music page, or craft a great band bio page with text and images.
A Little Music on the Side
Portside also includes a sidebar that puts your music front and center! The site wide player features a modern style and sits above the menu. Your fans will see it right away, making it easy for them to click play or buy a track. Want to focus on your menu only? Just remove the site wide music player feature.
To see this theme in action, check out the Portside video:
Vertical Menu
To switch things up a bit, this template has the navigation on the left hand side. Your page names will appear here, under the music player. The sidebar menu stays in place as fans scroll down.
Choose your own colors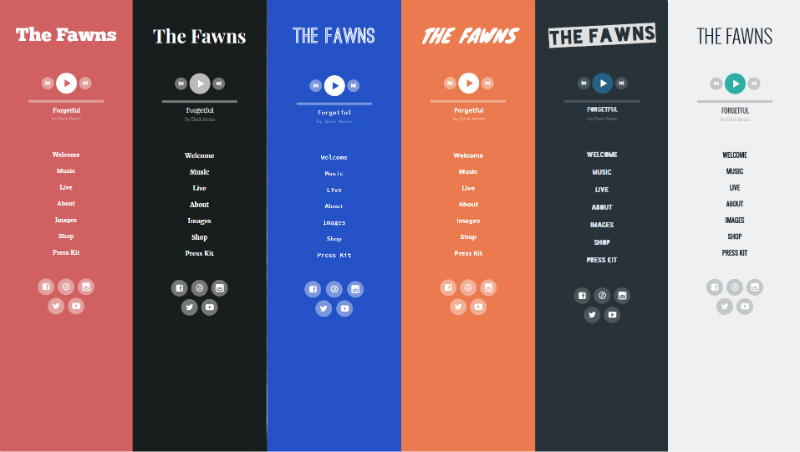 There are 6 variations of this theme, each with its own color palette, so you can pick and go with any of them. You can also edit any variation further by adding some more customization in the Theme Designer.
To change up the default look, you can adjust the menu background color, site title color, content font, menu and submenu text color, page background color, and more.
Add a logo in the top left corner, try different fonts, change up the size and color of your social media icons - the sky's the limit!
More animation
To give this theme an even more modern feel, we've added a few animations. Hovering over any menu item will show a quick moving underline. Because the main image fills the screen, there is a 'scroll down' option, letting your visitors know that there is content beneath the photo.
If that 'scroll down text' isn't quite right for you, you can toggle it off in the Theme Designer.
You can also create a slideshow of images on your landing page, giving it some motion.
Mobile responsive theme
Like with all of our website templates, Portside is fully mobile responsive and adapts to any screen size, from phones to tablets. You can preview how it will look in the Theme Designer directly.
Need some ideas on how to customize the Portside theme?  Check out this post for some examples: Music Website Template Customization: Polished Portside.
Choose a new theme by genre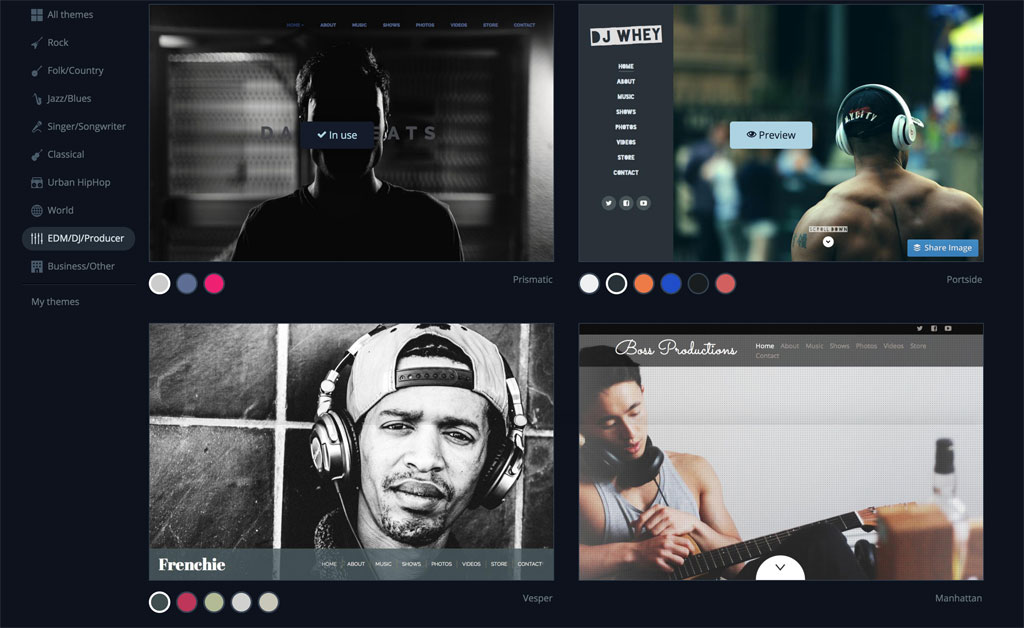 We've also added a new theme chooser to help you switch up your designs with ease! And you can now filter by genre to get an idea of which theme might suit your music best. Remember, you can change your theme at any time!
You can save your themes and publish when you are ready. With the new theme chooser, it's easy to check out the different variations as a base to customize from!
Create a modern, mobile-ready website in minutes using the new Portside theme. Try Bandzoogle free now!
Why not share this with your friends?
Build a stunning band website and store in minutes
Promote your music on your own unique website.
Sell music & merch directly to your fans. Keep 100%.
Grow your fan base with built-in marketing tools.