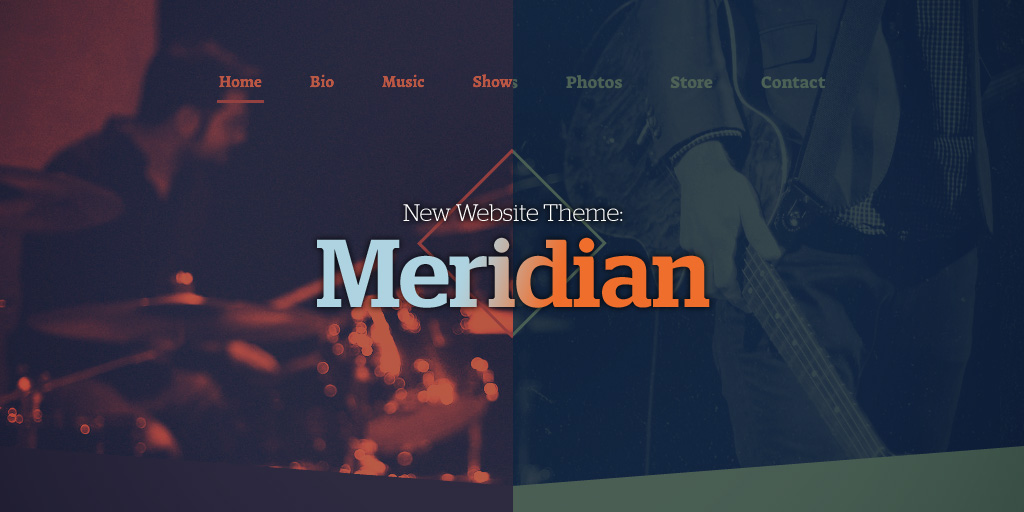 Looking to change things up and give your band website a fresh look? Our new Meridian theme is stylish, mobile-ready, and full of customization options.
Full-width header with style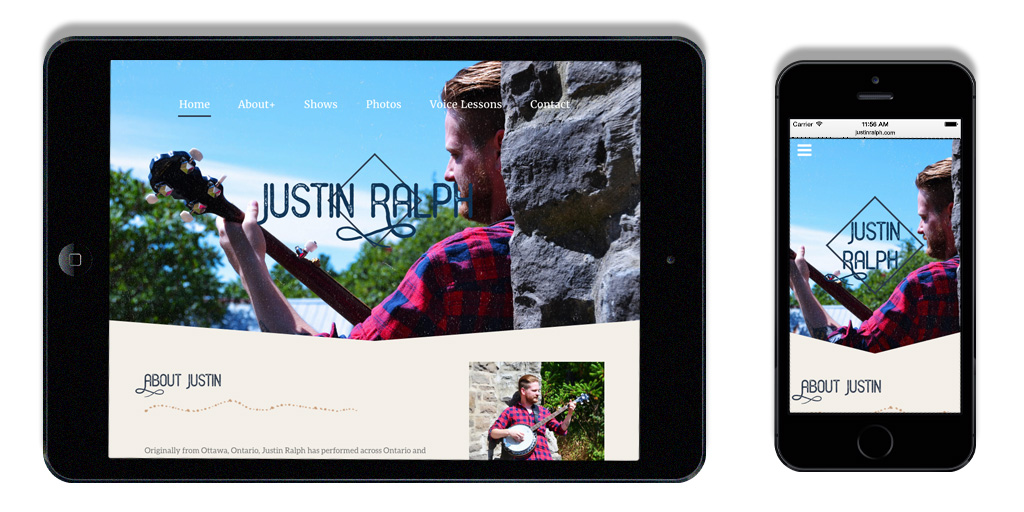 This modern music template has a full width area at the top for your main image. Add a press kit picture, a texture, or try a stock image to set the tone. You can adjust the height to show more or less of your image.
To give your main title text a polished look, there is a diamond shape behind it. This can be switched off if you don't want to display it, or you can change the color to match your look.
You can also add your own logo in that space, set your title to be all caps or not, and edit the color of your header text.
Overlay options
Looking to jazz up your website? Check out the color filter options to make your image stand out! You can turn on the color photo filter to give your header image a tinge of any color you want.
Then, click the Photo color filter mode to try out the different effects.
There is also the option to use a filter called photo dust, which adds a vintage look to your image. It's a subtle and interesting effect to give your image some visual interest.
Watch this video to see this theme in action:
Content Customization
The content area of this template includes a diagonal shape at the bottom of your header image. It gives the theme a unique look. If you'd rather have a simple, straight edge under your image, that's an option as well.
Using a feature title is a great way to break up your content. This makes a layout that's pleasing and scannable. You can toggle the feature title decoration on, or off.
To better match the colors of your main image, you can change the color of the content area itself. Create a black and white version of the theme, or choose bright and bold colors to emphasize your style of music.
[Music Website Template Customization: Meridian]
Choose your own style
There are three variations to choose from as a starting point to fully customize your design. You can pick the default cream version, a muted grayscale version with a pop of red, or a blue variation.
Depending on your style of music, you can pick whichever one works, then adjust the colors, font, color overlay, and more! With each theme, the colors currently in use, as well as the previous colors used will display in the color picker, making it easy for you to match.
The Meridian theme offers lots of color choices to make your band website truly unique. You can try it on for size in the Theme Designer, without it affecting your content and layout. Hope you enjoy this brand new theme!
Bandzoogle lets you create a unique and mobile ready website that's easy to update at anytime. Try Bandzoogle free now!
Why not share this with your friends?
Build a stunning band website and store in minutes
Promote your music on your own unique website.
Sell music & merch directly to your fans. Keep 100%.
Grow your fan base with built-in marketing tools.