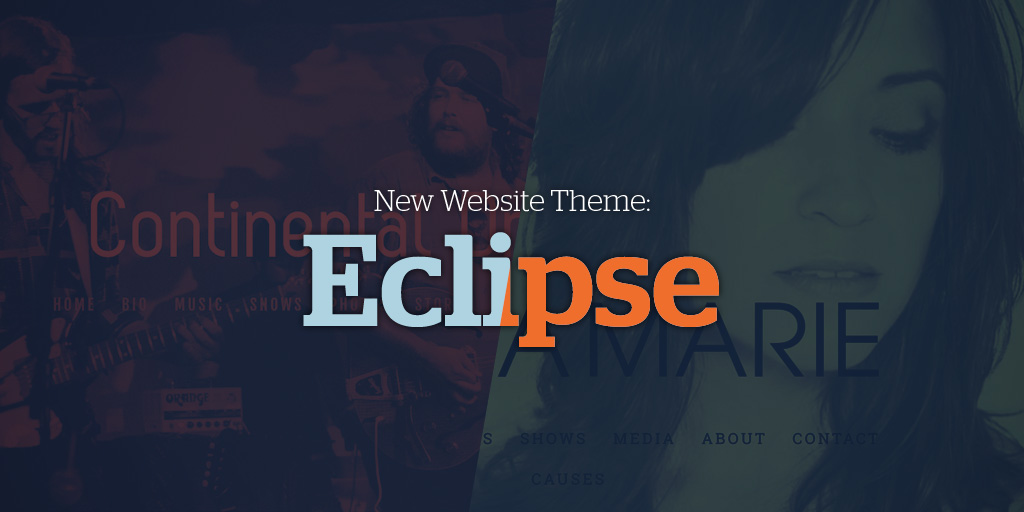 Looking to highlight your new music with a fresh, modern theme? Introducing Eclipse: an elegant, mobile-ready band website template that is perfect for any musician.
Whether you're a beats producer, a singer-songwriter, or in a rock band, the new Eclipse theme will create a professional backdrop for your music.
Sleek animation
First impressions will set the tone for your website visitors quickly. With Eclipse, your band name floats in with a smooth animated effect. This is mirrored by a hover effect on your menu items. This animation can be toggled off if it's not for you, and the color is editable as well.
Check out the animation and other great options this template has to offer in the video below:
Filters for your image
Your main image gets a stylish muted effect with the preset color filter. Choose any color you'd like, or try out different filter options.
Using a black filter will make your band name stand out against the full width image. Adjust the amount of color to find your perfect look.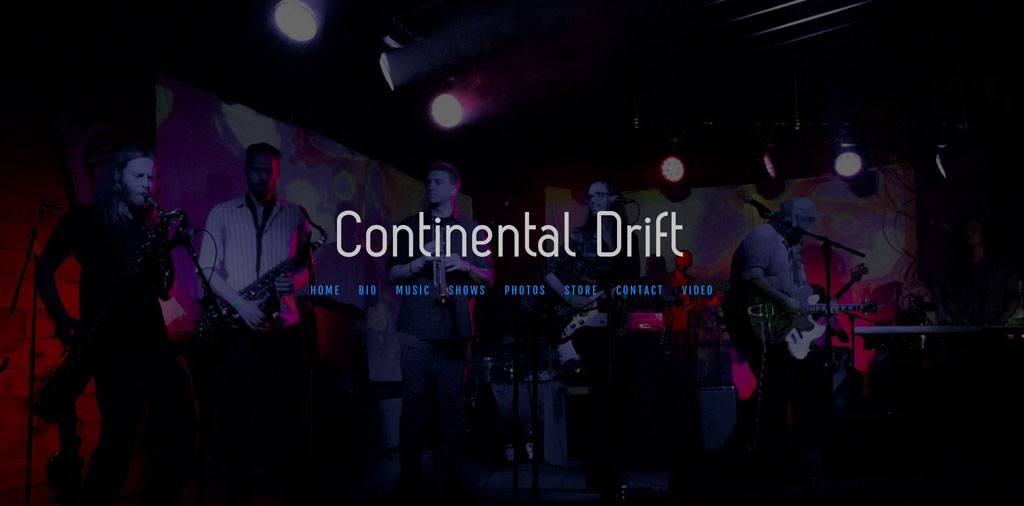 Create your own professional, mobile-ready website in minutes using the new Eclipse theme. Try Bandzoogle free now!
Align and adjust
No more worrying about blocking an important part of your band photo with text! With the Eclipse template, you can choose to set your band name and menu to the top, middle, or bottom of your image. Still not quite right? Try moving it to the left or right side. Change up your font or add a logo to make your band name look unique.
The Homepage for this website template includes a large area for your header photo. The inner pages have a smaller area, just right to show a bit of imagery with a good amount of content. Adjust the height of your header image to get it just right.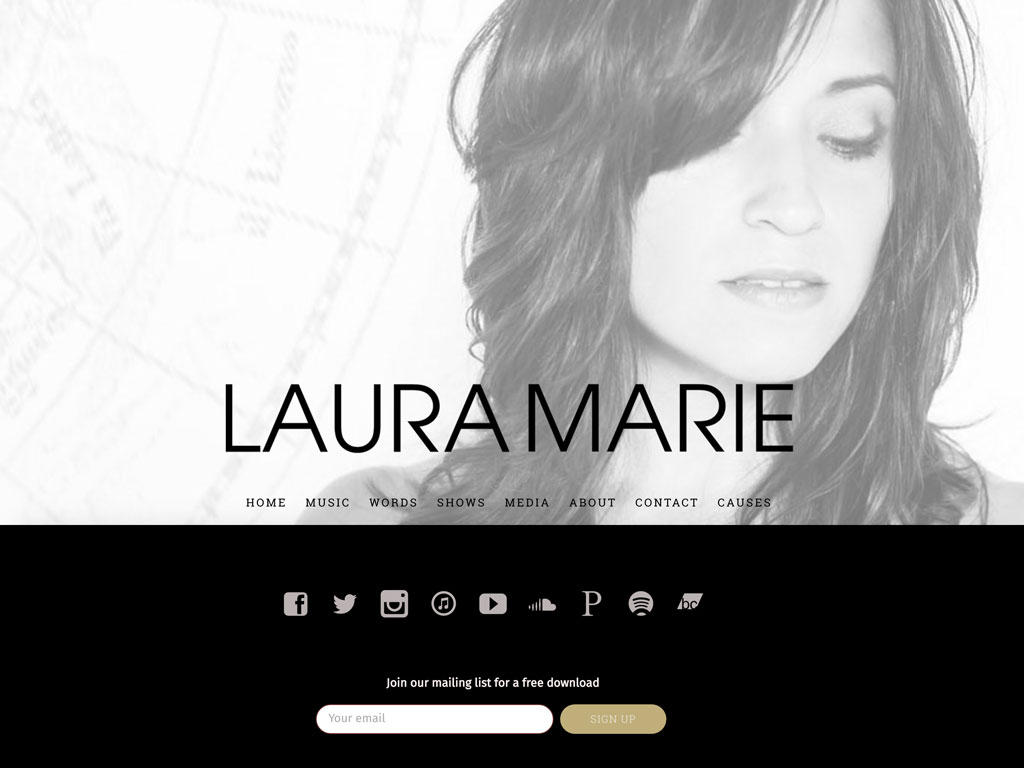 Feature backgrounds
We've added some style to the feature backgrounds with Eclipse. The music feature and the second column in a two column layout both get a background. There is a top border as well, added to the first element in a column, and to headline features.
These options give your content a clean, stylish look - making your music stand out to your website visitors.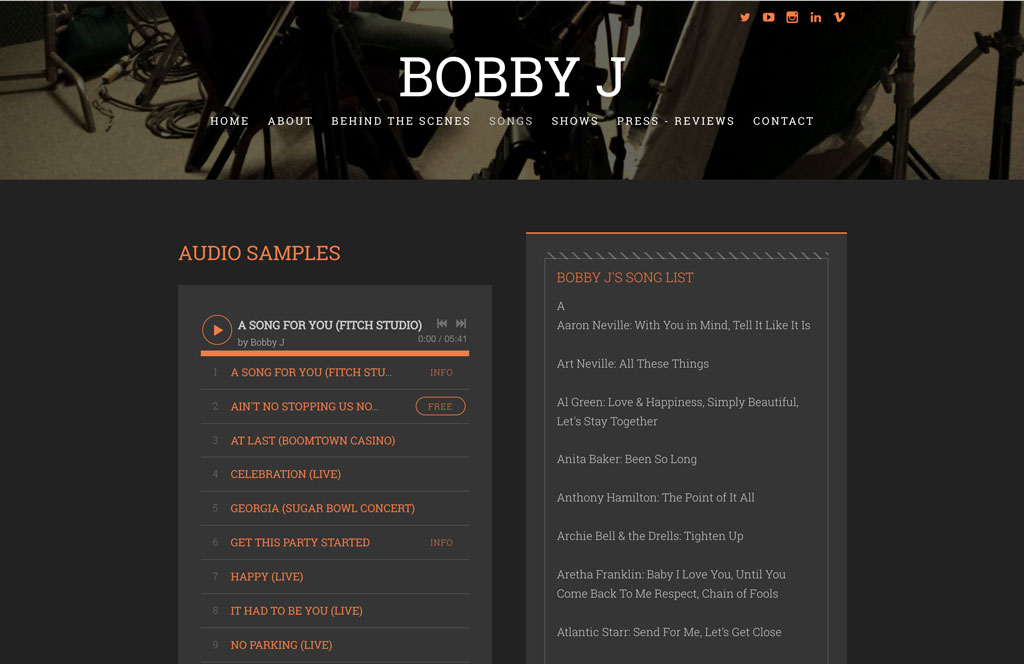 Make it Match
For easy editing, the color picker displays colors that you have used in the your theme already. Click a color circle to see them - then re-use and match your colors to give your website a cohesive look.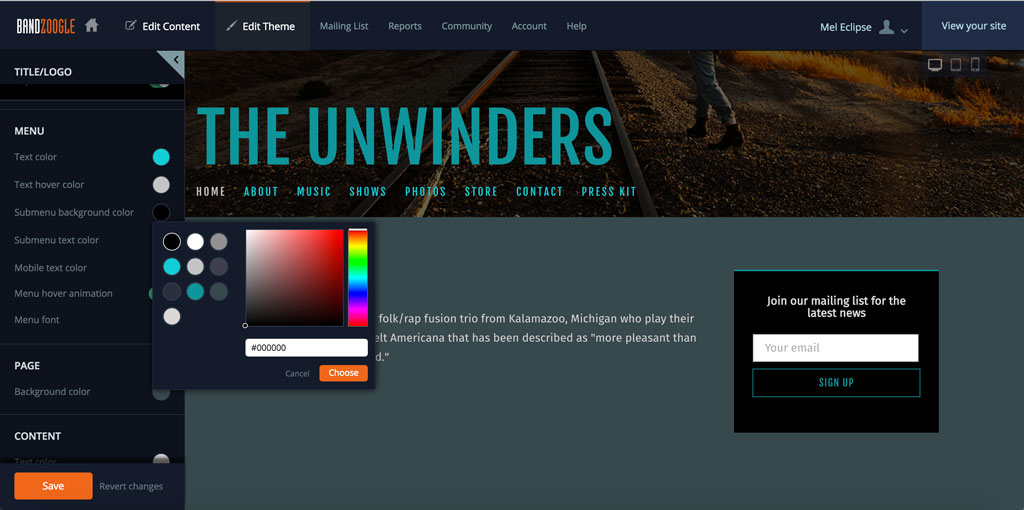 Mobile ready website theme
This website template looks great on mobile. You can set the mobile menu text color from your Theme Designer, and preview how your website will look on a tablet or phone.
Don't forget, you can change your template at any time in the Theme Designer to give your website's content a new look. If you've had promotional photos taken recently, have a new album coming out, or just want to switch things up a bit - try out the new Eclipse theme today!
Want to customize your own version of Eclipse? Check out our Music Website Template Customization post for the how-to plus examples!
Why not share this with your friends?
Build a stunning band website and store in minutes
Promote your music on your own unique website.
Sell music & merch directly to your fans. Keep 100%.
Grow your fan base with built-in marketing tools.