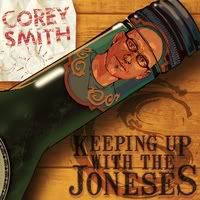 The Wall Street Journal today published an article written by Damian Kulash Jr. (from the Youtube superstar rock band OK Go). The article is titled "The New Rock-Stars Paradigm" and it is definitely a must-read for any musician building a career, or thinking of making a career of being an artist. In the article, Damian does a great job of explaining how his own band was able to gain success outside of the old music industry model of "selling recordings of music" and how online metrics have become much more important than record sales in measuring their success. In their case, this convinces corporate sponsors to invest in that success, and enables them to earn a very good living from their music. He makes the point that "Music is getting harder to define again. It's becoming more of an experience and less of an object." To illustrate this, he tells the story of long-time Bandzoogler Corey Smith: 
Georgia singer/songwriter Corey Smith has never had a traditional record contract, but in 2008 he grossed about $4 million from touring, merchandise and other revenue, yielding roughly $2 million that was reinvested in the singer's business, according to his manager, Marty Winsch. Mr. Smith makes his recordings downloadable at no cost from his website, and Mr. Winsch emphasizes that they are promotion for his live shows, not the other way around. "We don't look at it as 'free,' " he says. "When people come to the website and download the music, they're giving us their time, their most valuable commodity." Recently, Mr. Smith entered a partnership with a small music company, but unlike a traditional label deal, the arrangement will give him 50% of any net revenue.

"They're giving us their time, their most valuable commodity."

To me this the most important thing that we need to understand and accept, in order to understand the new "music industry".  It has become an attention economy.  OK Go and Corey Smith are not in the business of selling records or mp3s, they are in the business of grabbing attention. Technology has made it so that music fans (and consumers) today have access to almost unlimited music, at all time, at a very low cost, or completely free.  They used to vote with their wallets, a the Tower Records cash register. Today they have access to all that music, but they still have only 2 ears per person (unless very unlucky) and a maximum of 1,440 precious minutes per day, a fraction of which they may or may not allocate to actively listen to music.  Those minutes have become the valuable and scarce commodity.  More and more, fans now vote with their attention... which can be measured in many ways; iTunes play count, videos watched on Youtube, the online radios they stream.  They also vote with how they'll endorse and promote the music they like; Facebook "likes", Tweets and follows, sending a Youtube link to a friend, etc.

... And, yes, ultimately they'll vote with their wallets, too.  Some still do it at a cash registers (iTunes' register, in most cases... or, even better, your Bandzoogle storefront check-out... eh, better margins !).  But ultimately, fans now want to buy the "experience, and an emotional connection with the band". 

But what is that, an experience that fans will want to pay for ? And can you create an emotional connection they'll want to buy into ? It depends, and it will probably vary for each artist (and many will fail to find ways to make it happen).  In Corey Smith's case, giving away his recordings of excellent music made people interested in experiencing the live show. And that worked so well that these shows kept getting bigger and lucrative and helped create an emotional engagement between Corey and a large number of his fans.  And now, they can get a "free koozie, poster and sticker with any purchase of $30 or more" on coreysmith.com. And many folks will, I'm sure, get that koozie. Why ? Because the koozie is part of the "Corey Smith experience". It's an artefact, a souvenir of musical attention well spent for these fans, and a statement that they support an artist that they love and respect.  Because they feel the respect is mutual, and because Corey started by giving, before he started taking.

So, what are the experiences you want to create for your fans ? How are you engaging them emotionally ? And... what's your version of Corey's koozie ?
Why not share this with your friends?
Build a stunning band website and store in minutes
Promote your music on your own unique website.
Sell music & merch directly to your fans. Keep 100%.
Grow your fan base with built-in marketing tools.