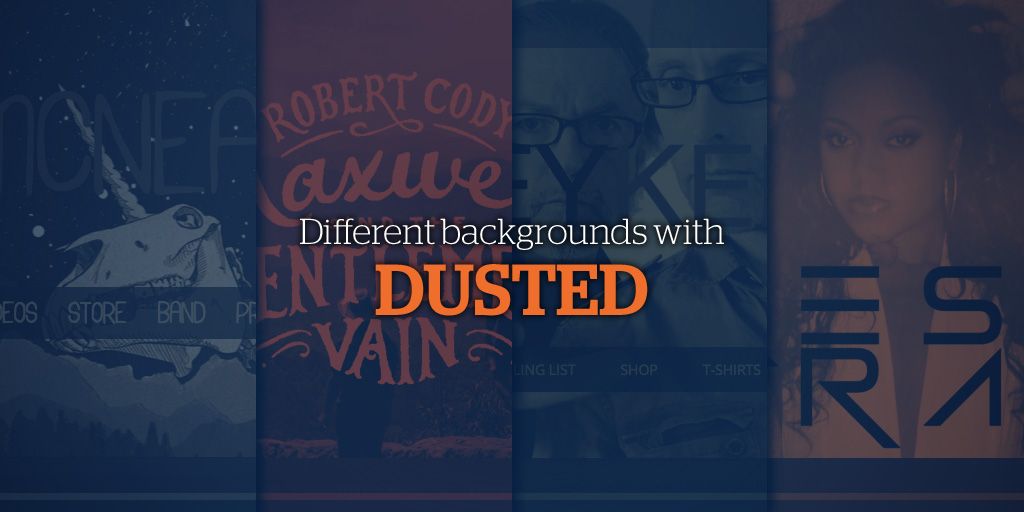 If there's one thing musicians like, it's being creative! Setting up your website to showcase your personality, your music, and your overall vibe is key to connecting with fans.
Then there's also the issue of keeping all of your great content and music tied together in an easy to read area. This is something that our template Dusted excels at. As a responsive theme, it adapts to mobile as well. Let's take a look!
Getting the Background
The best thing about this website template is the ability to change the background on every page. That way you can customize the look of your pages and get creative with images that display your brand of music!
To do this, click your Pages tab and then choose the page you want to work with. Click your current image near the top of the page, and then 'change image' to replace it.
Feeling fancy? Add up to 5 images to create a slideshow background! This will give your website a bit of movement, without distracting from the stuff that matters - your content.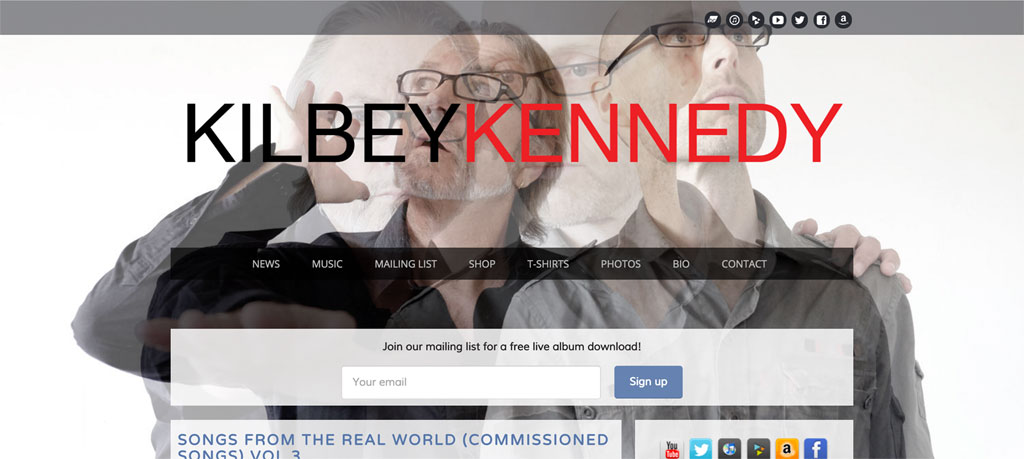 Giving each page it's own custom look, as Holly Henry has done, works especially well when you use photos from one shoot, that all have a similar look and feel. You could tie each background image into the page it's on - use a live shot for your Booking page, for example!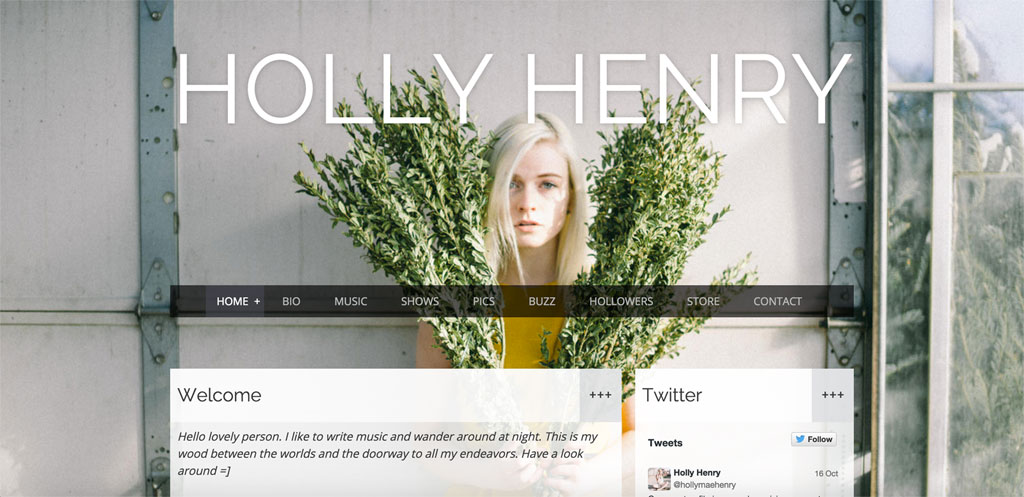 If you don't have high-quality band photos at your fingertips, check out a stock image website like Unsplash or Picography for dramatic, sweeping images. Or Subtle Patterns if you're looking for something more subtle like a repeating texture.
Zeroing in on Content
Want to use a theme for your website, but truly make it unique? Artwork is a great way to do this, especially if you have a colorful and vibrant album cover like Ainsley McNeaney.
It fits nicely into the background of her pages. She's set her title text to match, in red, and then used a black, slightly transparent background to draw the eye to her content. She's selling music, and her design and features highlight that in a way that's appealing to new visitors as well as long time fans.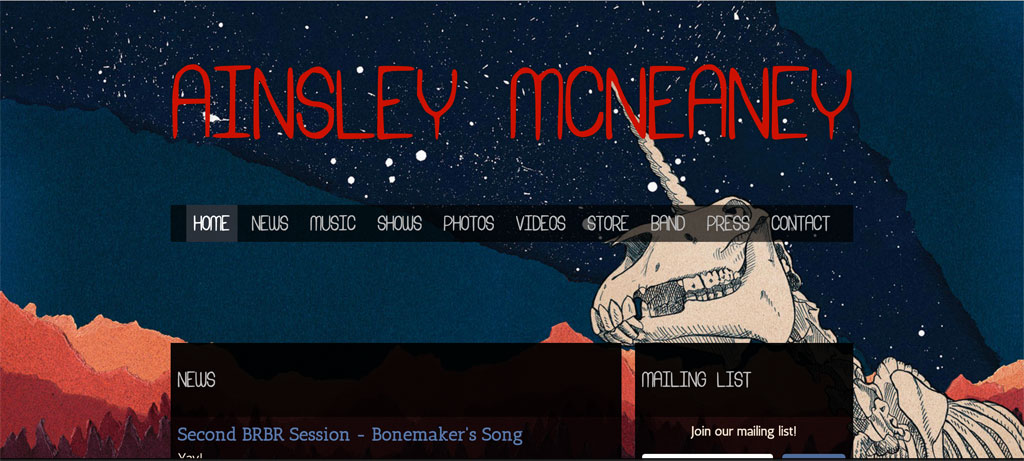 A Little Customization
Adding touches of color and images can really show off what your website is about. The Mrs. Brown's Boys website does this in an unusual way, using a pink menu, funky font, and custom header image with text included. Anyone visiting this website will immediately get a sense that it's humorous! It's also very clear, making it easy to navigate.
Create a stylish mobile-friendly website that's easy to customize in minutes. Try Bandzoogle free today!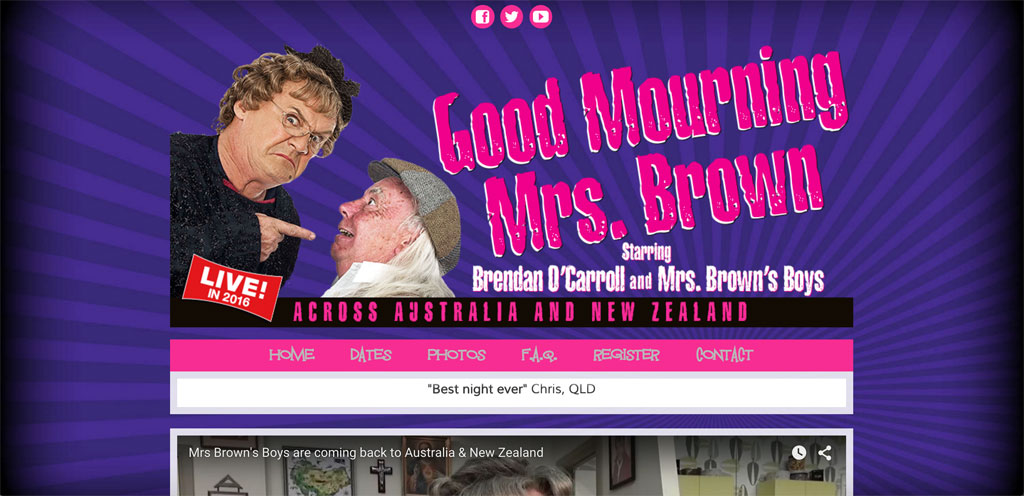 Adding a Logo
Another way to set your website template apart is to use a custom logo. A logo can be used on all sorts of branding from social media to business cards, and having one that reflects your music can really give your band a professional look. If your logo is text based, it's easy to switch out header text for a logo in your Design tab.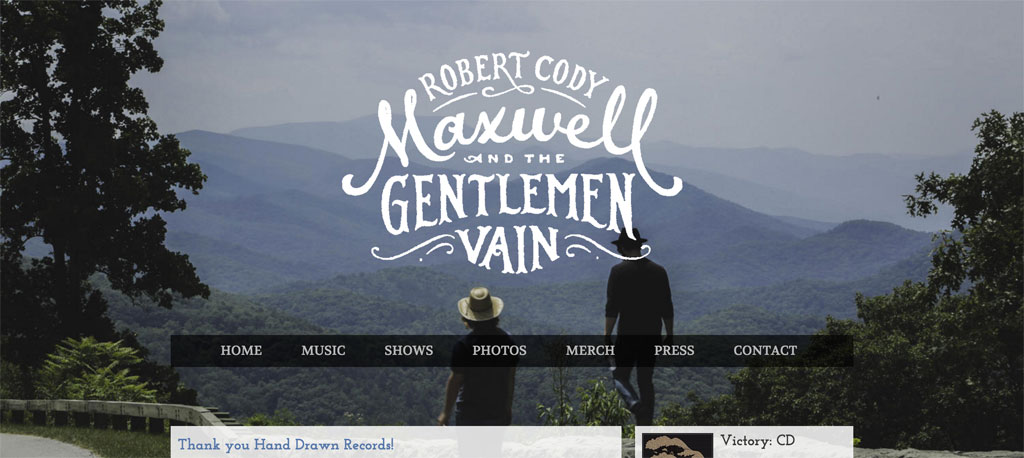 Use the Menu
Sometimes you've got a lot to say and do, plus music to sell. This theme has a wide menu area, allowing you to easily add 8 pages. This should be plenty to include a bio page, a press kit, photos, music, and more! With a black background, and white text in the navigation, it's easy for your fans to read and click.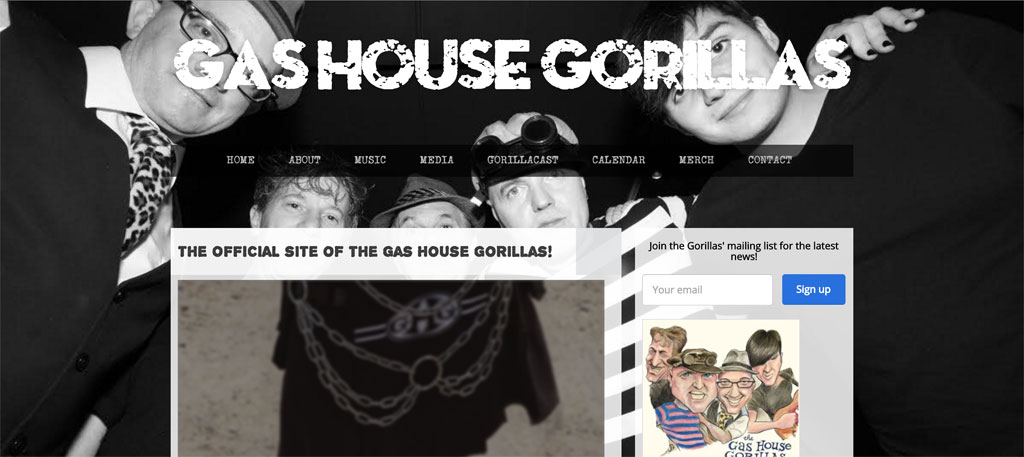 The Dusted theme is such a fun template to use. It's a great way to express your music through imagery, while keeping your content central and simple, and is an excellent choice for bands or solo artists of any genre!
Want even more template options? Check out our top 16 website templates for musicians and bands
Why not share this with your friends?
Build a stunning band website and store in minutes
Promote your music on your own unique website.
Sell music & merch directly to your fans. Keep 100%.
Grow your fan base with built-in marketing tools.