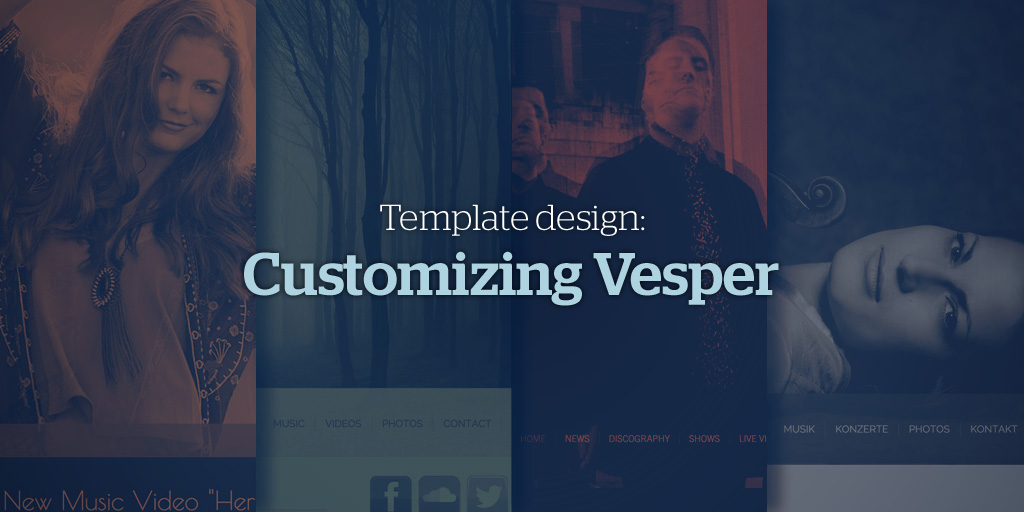 What's in a theme? Since releasing the sleek and responsive website template, Vesper, so many musicians have been using it to build great looking websites! This theme, besides being mobile-responsive, is also very flexible. So no matter what type of music you play, the stylish Vesper template can work for you!
It all starts with a great image
First off, let's talk about your image. I do mean the 'brand' that you want to portray, but also your main website image. These two things should be tied together. That way, when a music lover and potential fan lands on your website, they know right away what your music would sound like - just from what they see!
Having some high quality images in the header area of your website will set the tone for your website. Think about the impression you want to make. You could go for striking - dramatic black and white for an indie-rock artist, or a sepia tinged group shot for your folk band.
[8 Ways You Should be using Photos on your Band Website]
A stunning image placed in a website template can work in parallel with your music to create an overall effect. Let's look at some examples!
Beautifully muted blue website
The streamlined look of the Vesper theme lends itself nicely to an uncluttered website. A simple image in the header area will help solidify your brand. Try an image of yourself, your instrument, or some scenery that conveys your sound.
The blue version of Vesper works really well for a classical music website, setting a serene vibe. Look at how classical violinist Sornitza Baharova has done this, using an image that is interesting, and matches the calm feel of her music.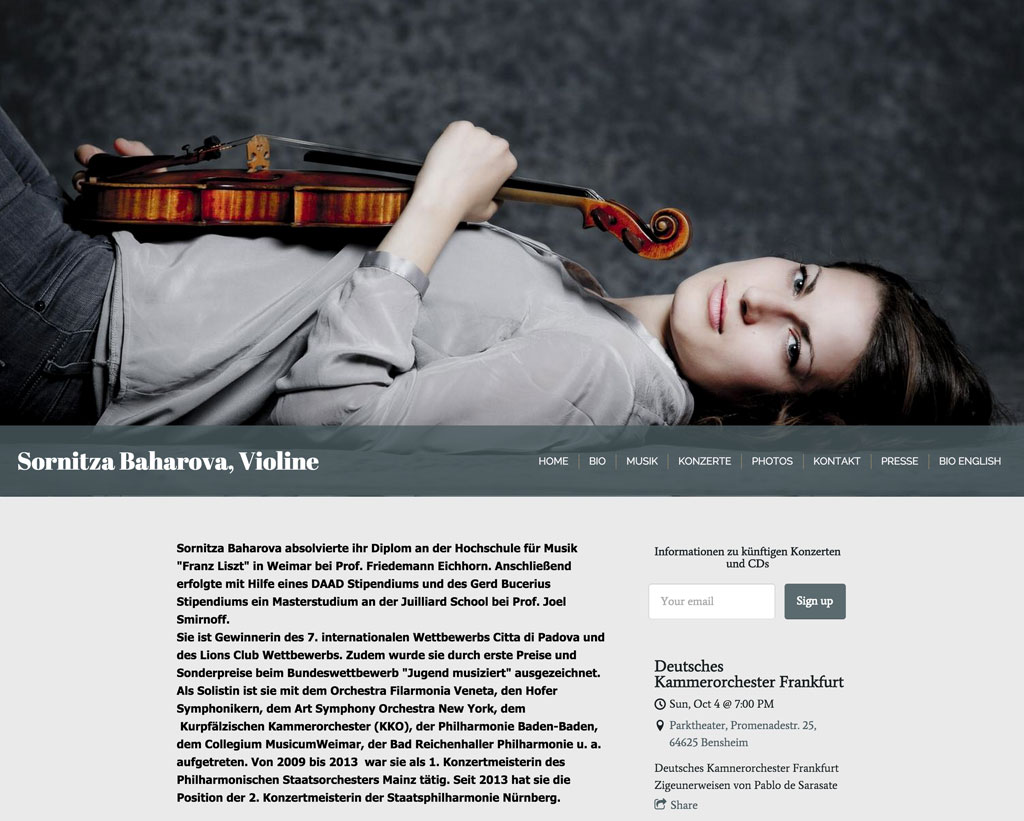 Kicking it up a notch, this same color scheme works just as well for a beats website! If you want to make money selling beats on your website, this theme has a simple, clean look that will let you focus on content.
With a banner image that represents who you are as a producer, keep the content area simple. Add calls to action that will direct your visitors right to your Store page to buy your tracks.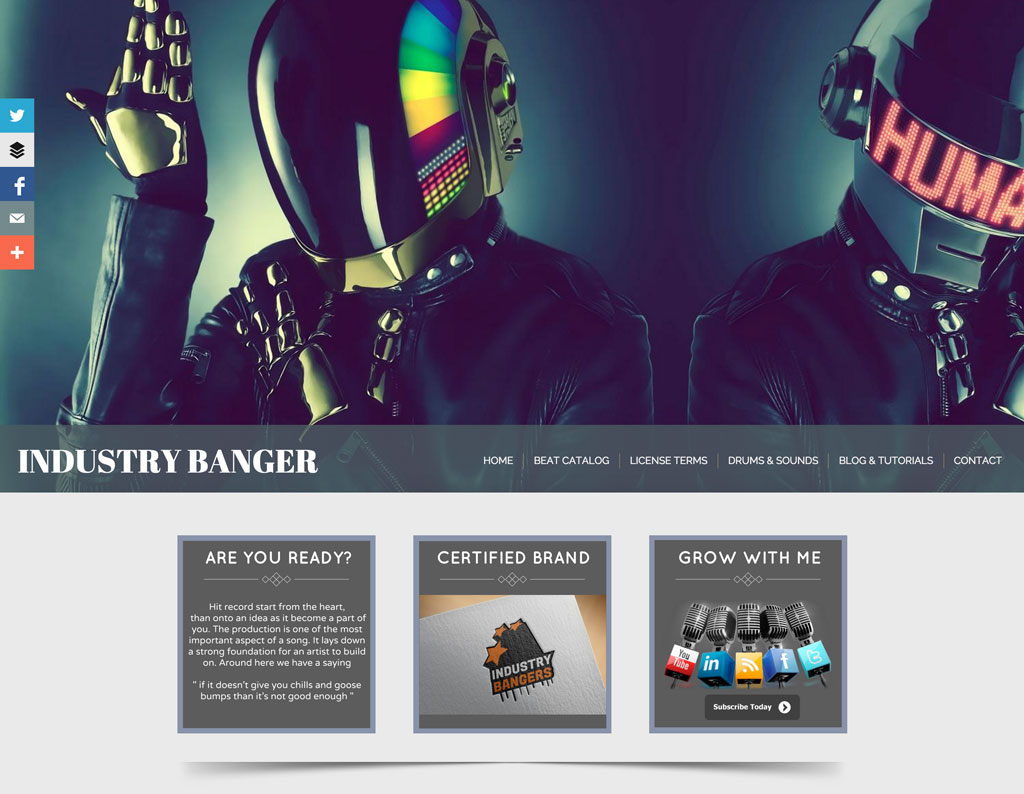 [How to Build a Website to Sell Beats Online]
Basic black and white website
Another variation on this template is black and white. It's a bit more dramatic and works well for a variety of music genres, depending on how you dress it up.
You can add pops of color, like alt rock band London Above, whose main image tells you right away that they're probably a lot of fun. They're also great at keeping their fans up to date with new snippets of information with their blog and Twitter feed.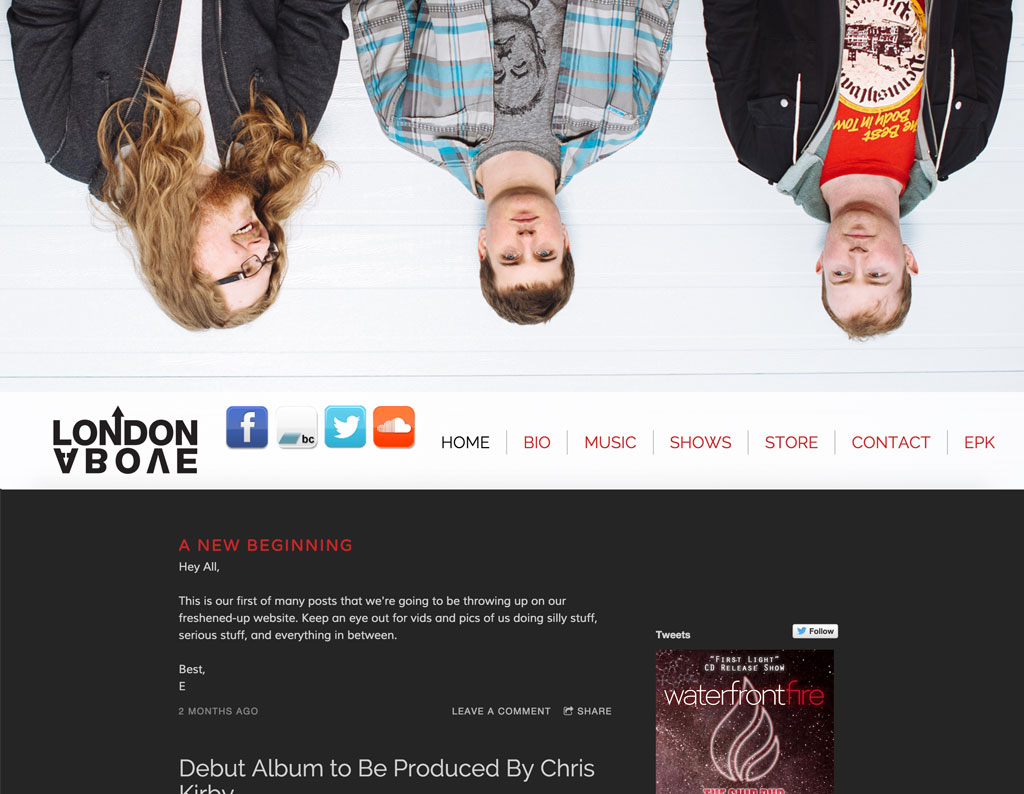 Fun and funky website
And now for a fun twist, there's a version of Vesper that uses a trendy color combination of navy and pink. It's perfect for a singer- songwriter, folk, Christian, or country artist!
Taylor Loren has used an array of images to create a website that makes you want to listen to her music. She's even got a matching pink shirt that ties in perfectly with the pink menu bar. To let her website visitors know exactly what she looks and sounds like live, she also includes an embedded music video.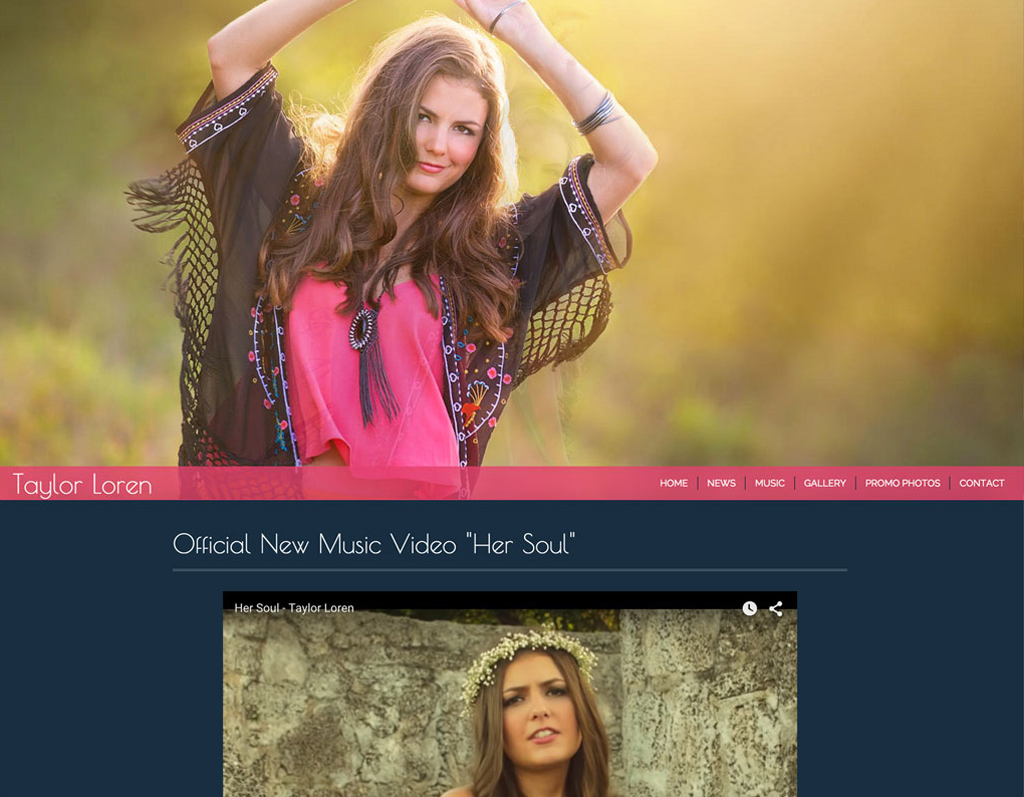 Mellow Yellow website
Not a band but still need a music website? This version of the website template is a good bet for anyone that wants a modern looking, clear layout.
The neutral background lends itself to any kind of main image. Check out media composer Eric Watkins' website with a gloriously haunting header image, a clean content area, and gorgeous music to match.
Create a stylish website that's easy to update in minutes. Try Bandzoogle free today!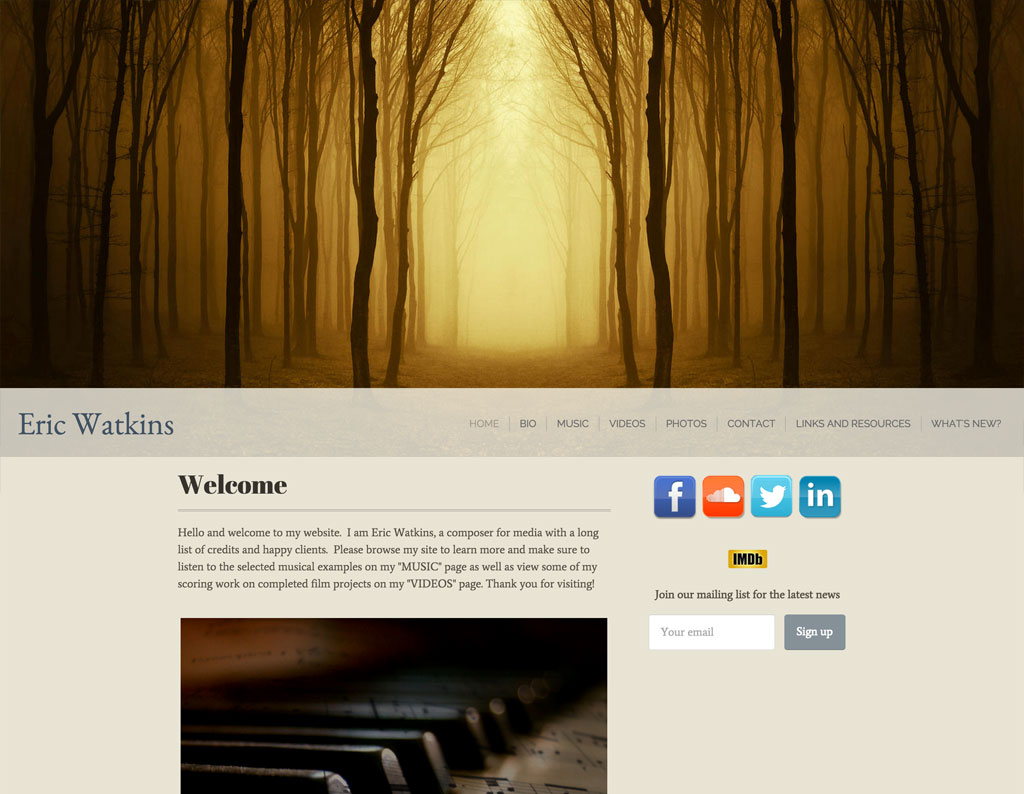 Go big or go home
One nice thing about Vesper is that it allows for a large image on the landing page, grabbing your visitor's attention immediately. Then on the inner pages (every page but the Homepage), a shorter image is featured. You can either use an image that works on all pages, or change your image on every page.
Deafheaven does a great job with this. Their first page features a picture that tells a thousand words, plus an effective call to action to sign up for their email list right away. Then their inner page images are all different, making every page interesting to look at. They have also added some customization to the basic theme to change around the design elements.
[Why Email Newsletters are still a Vital Marketing Tool For Musicians]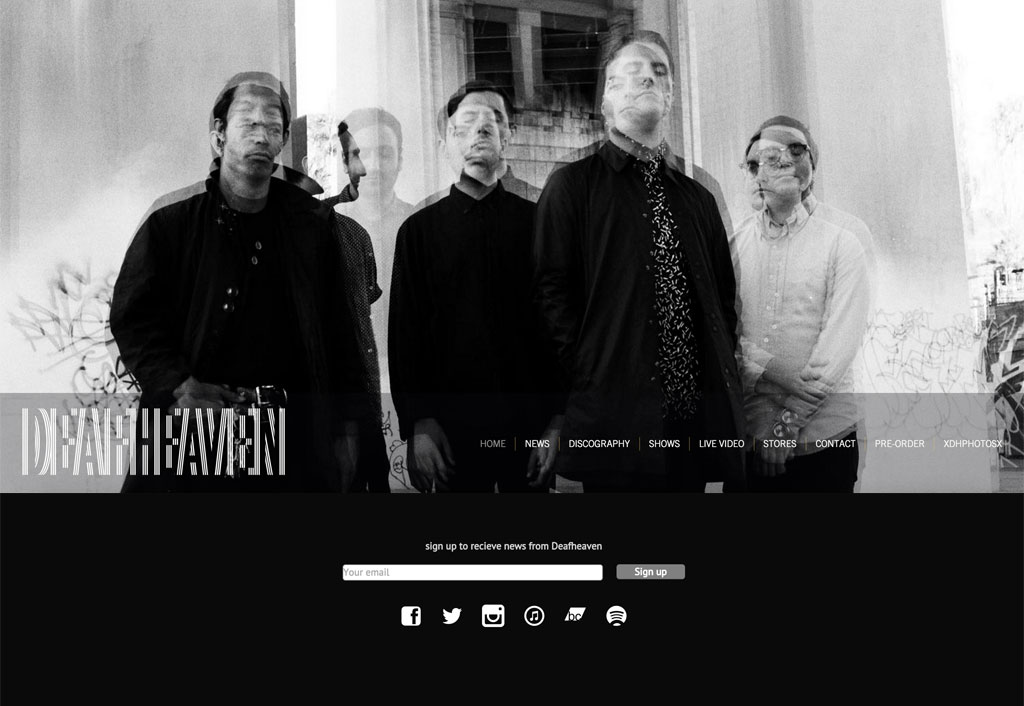 Make it about the Menu
Looking for a way to make your menu bar stand out a bit? Use a logo rather than text for your band name. Check out this funky, free-spirited logo that Hana Kin has added to her website. It ties in an unexpected color and adds a bit of playfulness to her website menu.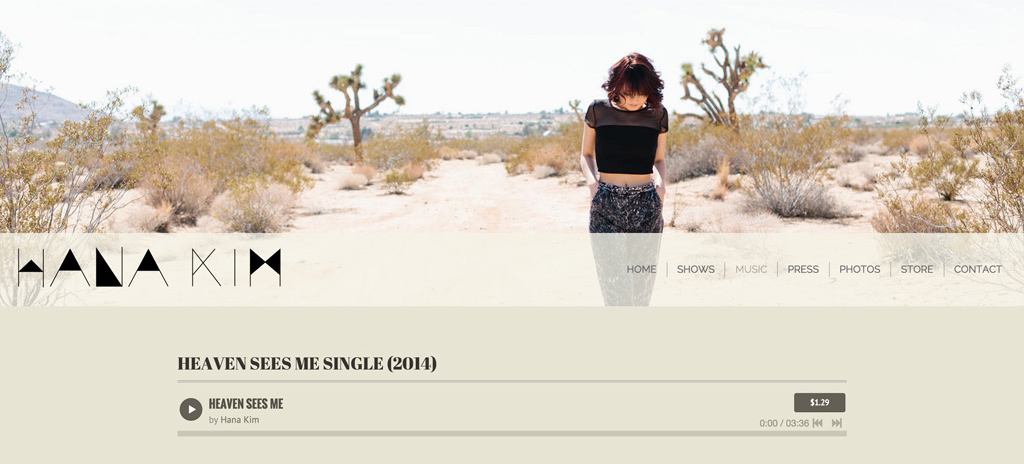 Does your website have great images and font choices that show off your genre of music, in a visual way? We hope these examples inspire you to create a personalized version of Vesper!
Want even more template options? Check out our top 16 website templates for musicians and bands
Why not share this with your friends?
Build a stunning band website and store in minutes
Promote your music on your own unique website.
Sell music & merch directly to your fans. Keep 100%.
Grow your fan base with built-in marketing tools.