We've added some new functionality to our music players that we think you're going to love:
Import tracks directly from SoundCloud!
You can now easily import your SoundCloud tracks directly into the music players on your website to sell your music to your fans. So if you're an active SoundCloud user, you no longer need to re-upload your tracks to the Bandzoogle music players to add them to your website.
You can now use the MP3, WAV, or FLAC files you've already uploaded to SoundCloud and import them to stream and sell (commission-free!) directly through our music players.
How it works
If you click on any Music feature (including the site wide music player), just click Add Track and you'll see an option to Import a track from SoundCloud.

Once you connect your SoundCloud account, you'll see your SoundCloud tracks. You can click to import any individual track and it will be added to your player.

You can go back to the "Import track from SoundCloud" tab any time to import additional tracks.
We hope this makes your lives a little easier when adding music to your website to sell directly to your fans. But if you still want to use the actual SoundCloud music players, you can of course continue to use our HTML feature to embed them onto your website.
Music players now support FLAC files!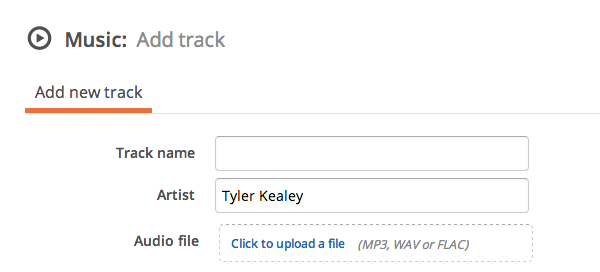 Our developers have now added support for FLAC (Free Lossless Audio Codec) files to all of our music players.
Some audiophiles prefer this file format for their music, but one important note: if you're offering downloads of your music in FLAC format, be sure to warn your fans that Apple iDevices do not support FLAC files.
New track preview options
All tracks uploaded in any music feature have a permalink/direct URL. Colin has now added the ability to set preview tracks or full tracks for permalinks.
This means that anytime a track is shared, or linked to directly, you can set whether the play button plays the full track (as it did previously), or the set preview time for the track. This gives you full control over the songs when they're shared by your fans.
Link directly to tracks in the Text feature
And finally, another small update related to the music you upload onto your website: we've added the ability to link directly to a song or album through text within our Text feature.
So if you're writing your bio and mention your music, you can now include a link that will take readers directly to that album or track!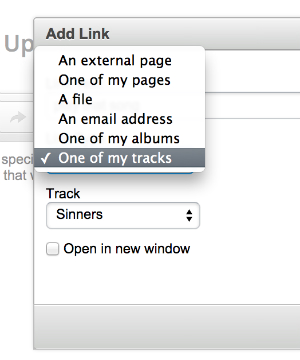 Get a professional website with all the tools you need to be a successful DIY musician. Easy to build, in just minutes. Try Bandzoogle now!
Why not share this with your friends?
Build a stunning band website and store in minutes
Promote your music on your own unique website.
Sell music & merch directly to your fans. Keep 100%.
Grow your fan base with built-in marketing tools.