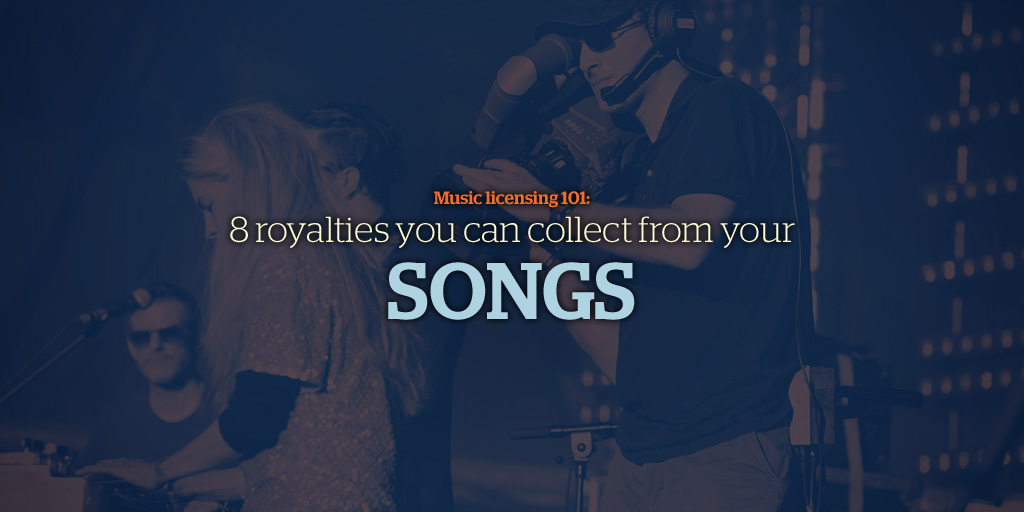 PRO, licensing, synchronization, royalties - learning the language of music publishing can be daunting. But it's important to take advantage of all of the revenue streams available to you as a musician and songwriter!
In Part 1 of this series, we covered what a performing rights organization (PRO) is, what they do, and how they can collect royalties for your music.
[Music Licensing 101: What is a Performing Rights Organization?]
For our second post in this series, we're taking a closer look at the different types of royalties that can earn you money from your music!
1. Synchronization Royalties
Synchronization royalties are earned when a track is placed as a score or soundtrack to a moving work like a film, TV show, video game, or movie. The producer of this work must acquire a license to use the song as a "synchronization" to the pictures displayed on screen. Typically, these are paid to the PRO and distributed with performance rights royalties.
2. Digital Synchronization Royalties
Synchronization royalties also exist in the digital world! If one of your songs is used in the background of a video uploaded to YouTube, you are owed a royalty for its use. Services like Audiam can help you collect these royalties.
[How to make money from your music on YouTube]
3. Mechanical Royalties
Mechanical royalties are paid to songwriters or rights holders (usually via the publisher) for inclusions on hard musical goods, like CDs, vinyl records, or cassette tapes. These royalties are paid based on sales of the goods. Royalties are paid upon sales (when a vinyl record is purchased in a store, for example) rather than when it is manufactured (pressed in a plant.)
4. Public Performance Royalties
Public Performance royalties get paid to songwriters and publishers (via their PRO) whenever their songs are performed in public. This applies to plays on AM and FM radio stations, in restaurants, sports arenas, shopping malls, or any other public place. These are also paid to the rights holders when a third party performs a cover version of the song.
5. Digital Performance Royalties
Digital Performance royalties are paid out for digital performances or streams. These include:
Non-Interactive "Streaming" Public Performance Royalties: These apply to services like Pandora, iHeartRadio, and SiriusXM Satellite Radio. Make sure you're collecting your non-interactive digital royalites by signing up with SoundExchange: www.soundexchange.com (there might already be money waiting for you!)

Interactive "Streaming" Public Performance Royalties: These royalties come from streams on services like YouTube, Spotify or Rdio. They are collected by your digital distributor.
6. Print Rights
Print Rights are royalties due for usage of lyrics or written musical works. For example, sheet music, magazines or books, apps or lyric websites. It can also apply to any apparel featuring a songwriter's words, as well. These royalties are paid to the publisher of a song.
7. DART Royalties
DART royalties (or Digital Audio Recording Devices and Media) were established to allow for reproduction of works through digital formats on digital audio tapes to combat infringement lawsuits. These royalties can be distributed to copyright holders and publishers whose sound recording or musical work has been played publicly.
8. Foreign Monies
These types of royalties vary based on country and usage, and they're paid to PROs, publishers, and occasionally record labels. While it is an option to sign up with multiple PROs to represent you internationally, domestic PROs can also collect any foreign royalties due to you as well.
Foreign mechanical royalties are paid out to the PRO by the digital distributor, but if you're not registered with a PRO (or society) in that country, you'll be considered a "lost" writer.
"Lost" writers can, after a certain period of time, collect these payments as black box royalties - essentially an escrow account where countries will keep these royalties for a certain amount of time. To ensure that you're collecting those royalties, you can use a service like Songtrust.
Making money as a musician is tough. That's why you keep 100% of your hard-earned revenues when you sell music, merch & tickets through your Bandzoogle website. Sign up free now!
Why not share this with your friends?
Build a stunning band website and store in minutes
Promote your music on your own unique website.
Sell music & merch directly to your fans. Keep 100%.
Grow your fan base with built-in marketing tools.