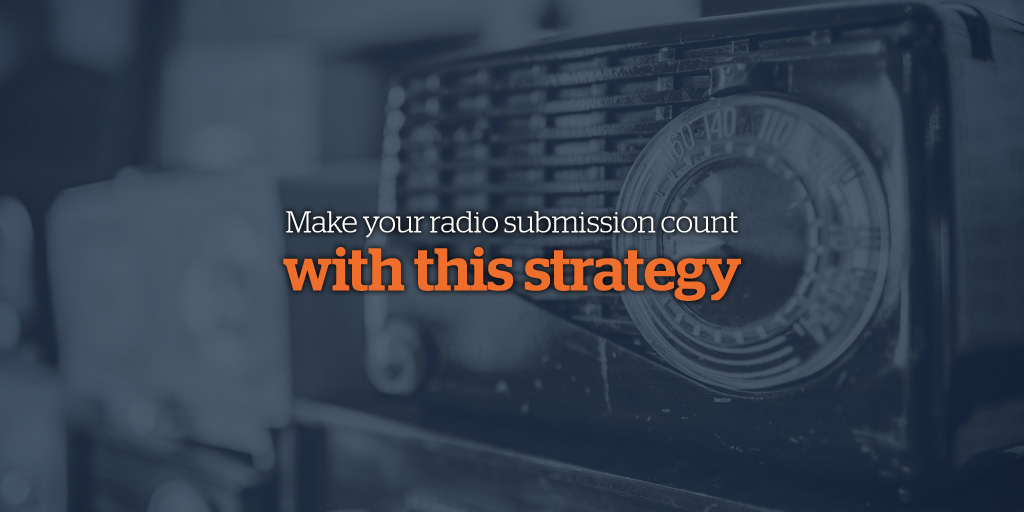 Guest post by D Grant Smith
Radio submission is a big part of the growth of any musician. As a radio program host (and music curator), I get a LOT of music submissions and people asking for feature on The Appetizer Radio Show. It's really a great opportunity for us as a program to connect with new artists across the country and around the world.
[How to effectively promote your music to radio]
But I'm seeing some really bad trends in how artists are contacting media outlets. It's a trend that has gone on for a while now, and is increasing more and more each month. I want to address that negative trend here and encourage you to not make these mistakes.
Musicians and bands really have to promote and submit their Top-Shelf music to radio and media. This is one trend that is not good and is happening far too often. What I mean by this is, if you're going to try and put your work in front of a media professional, make sure it's the best you have, and that it's amazing. It's best if you get some objective critiques from media professionals before you embark on radio submissions or blog review requests. Justin Wayne (host of the Justin Wayne Show) said something very powerful about submitting your best music. Listen to his take on music submissions here.
Get Objective Critiques Before Radio Submission
There are plenty of good sources for objective critiques. One I highly recommend is Fluence.io. It is made up of music industry pros who run blogs, websites, radio shows, video programs, and everything in between. You do have to pay a small fee depending on who you submit the work to, but the payoff is that your music gets heard and you get honest feedback on it. Critiques are one of the ways I work with artists too. If you'd like to submit music for a critique, contact me.
Here's how an objective and professional critique benefits you: you know that what you offer media is of the quality and caliber of what music business professionals are looking for. If there's something amiss in your sound, production or listener experience, that information should be presented to you so that you can fix it and revise it.
When you submit music to radio or blogs that is not top shelf, there's a good chance it gets discarded. Your band name is more than likely forgotten, unless it's creative enough that it sticks for a little while. But that memory of a less-than-savory sound can come back if the media rep gets another submission. So make that first impression count.
Your Radio Submission Is Part Of The Growth Journey
Radio submissions are a necessary part of your journey as a musician. You should get your music out to radio as a way to promote and market your sound, gain new fans, and sell more music. If you've contemplated sending an mp3 or CD to a station hoping for airplay, make sure you have the best version of your music ready to go. Get a good critique before you do so. It will pay off dividends in the process of making those radio connections.
Want to know if your music is Top-Shelf and Radio-Ready? Gain insights into your the Radio-Ready-ness of your music with this free Ebook Get Your Music Radio Ready here.
Once you're Radio Ready, getting your music added to radio stations becomes a matter of networking and strategy. Networking has that ugly buzzword feel because so many artists and marketers have misused it to do things other than what it should be used for. Networking is essentially connecting dots with other dots that make (individual and collective) worlds better. How to target the right radio for your music, how to build your contact list, and what specifically to say to stations is illustrated in detail in the DIY Musician's Radio Handbook. Click here to get your copy.
D Grant Smith is the host and creator of the syndicated and award-winning The Appetizer Radio Show, featuring unsigned and indie music weekly. With over 16 years experience in radio and indie music, Smith also coaches and mentors musicians through focused audience growth. More information at dgrantsmith.com and appetizerradio.com.
Bandzoogle lets you create a professional website in minutes with all the music promotional features you need including a blog, mailing list, and social media integrations. Try Bandzoogle free now!
Why not share this with your friends?
Build a stunning band website and store in minutes
Promote your music on your own unique website.
Sell music & merch directly to your fans. Keep 100%.
Grow your fan base with built-in marketing tools.