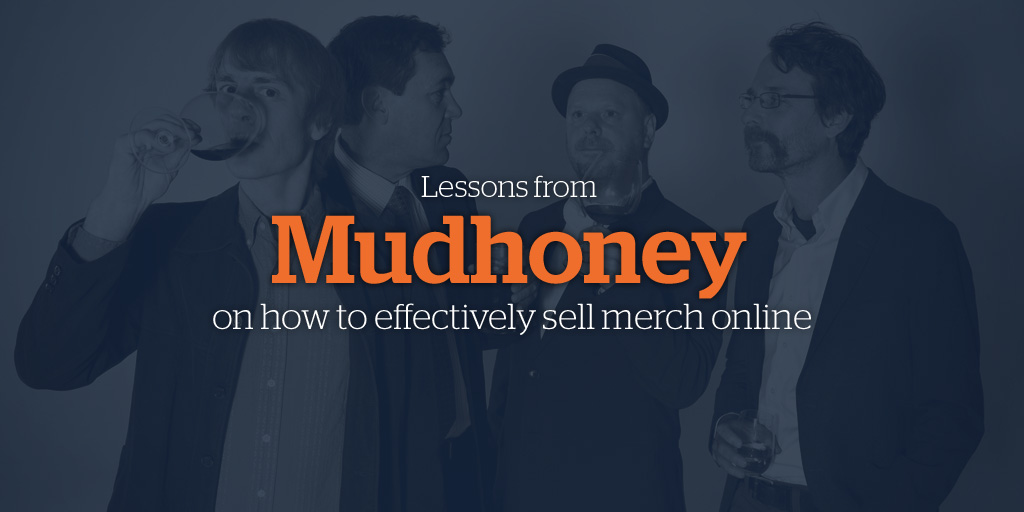 Mudhoney is an alternative rock group formed in Seattle, Washington in 1988. Since their inception, they have been an unquestionably influential and successful band within the grunge scene.
The band features members Mark Arm on lead vocals and rhythm guitar, lead guitarist Steve Turner, Guy Maddison on bass, and drummer Dan Peters. Mudhoney not only have toured extensively with some of the best known bands to come from the scene such as Pearl Jam, Nirvana and the Melvins, but they also count a lot of the members of these outfits as friends.
The almost 30 year success of Mudhoney has enjoyed can be attributed to a lot of things, including the music they craft. One thing that is very noticeable is the quality of merchandise they provide to their rabid fans, both at shows and from their Bandzoogle website.  
We spoke to Mudhoney merch guru Vince Davey about how important it is to connect with fans beyond the music they make, and to provide tips on how to most effectively sell your merch online.
Q: You not only handle the Mudhoney website and online store, but you go out with the band on tour, correct?  
A: Indeed I do. I hit the road with the band on all of their European tours and, the occasional 'one off' festival appearance. Alas, my workload with other bands' on-line fulfilment and tours prevents me from working on the North American/rest of the World tours.
Q: How long have you been a part of the merchandise crew?
A: About 5 years. It all started when I was doing fulfilment for a couple of other bands that also had the same booking agent / management company as Mudhoney.
In the past, the band had been more than happy to tour Europe in a self-drive splitter van and advance book hotels. There comes a time when this type of touring can take it's toll. So, in comes the nightliner with a pro driver and a bigger crew.
Q: Looking at your online store, your sale items really have a range of design - a lot of the look seems to match a more 'DIY', or show poster look. Do you think fans of the band expect something different with every release or tour?
A: Horses for courses... Each band has a different message / approach / ethos on what they are about. Mudhoney in my opinion are almost unique.
The band insist on 100% dedication to the recording, production and quality of their albums. They give 200% to every single live show but, they never lose sight of the fact that they are entertainers in a Rock 'n' Roll band and that means it's FUN.
The 'fun' element can be seen in many of the designs in the store. Of course, we have the classic T-Shirt designs from 'back in the day' and they sit very nicely with the more humorous shirts that show the lighter side of the band.
Our fans have become very accustom and appreciative with the diversity of designs and products that the band approves for the store.
Q: Do you hire designers for the merch you sell, or is this something that you or the band comes up with themselves?
A: Mudhoney are blessed with a wealth of designers from all walks of life, and we use them all. The band still have contact with the original album sleeve artist from the 90's to call on.
Also, Mudhoney are signed to the iconic 'Sub Pop' record label who have a fantastic art department, and we have on occasions paid an artist to commission a unique design for a 'one off' piece.
Keep all doors open, it never hurts to look back in order to come up with a new idea for the future.
Q: What online item is your best seller so far?  
A: That's a hard question to answer in short. On-line, we have two shirts that sell like hot cakes. The classic 'Superfuzz Bigmuff' album design shirt. The other being 'Strange Unicorn' shirt.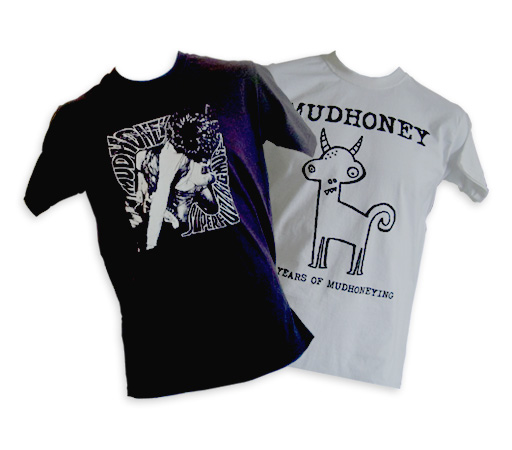 This shirt was chosen by the band after I had run a competition via Bandzoogle to design a shirt for a tour. We had over 120 entries ranging from 6 colour masterpieces to the eventual winner, a 'T. S Lowry' type pencil outline of a mythical beast affectionately named by Mark Arm as 'Strange Unicorn' simply because he could not think of another way to describe it.
Such is the popularity of this shirt, it has been updated twice so far and, I'm sure, will be again in the future.
As for the on-tour best seller, this has to be the 'pedal' design shirt. Now believe it or not, I don't sell this shirt in the band's online store. Madness, I hear you cry! I know, but there are two reasons for this.
Firstly, as mentioned above, Mudhoney are signed to the Sub Pop label and they have a few of the classic Mudhoney goodies for selling on their site, including this shirt.
The second reason being... I can't carry enough of them to sell during a tour. It is such a classic, iconic design, I do not have enough space on the bus to meet the demand of the fans. I have to have my T-Shirt printers ship additional boxes during the tour. It kind of makes this a special shirt for the fans to buy year after year but only from the merch stand at a gig.
Q: How important is it to the band to have merchandise for sale online?
A: The obvious answer is that it generates income for the whole industry while the band are not 'on the road'. Manufacturers, suppliers, paypal, Bandzoogle, fulfilment centres, shipping companies and of course, the band themselves benefit from a 24/7 store.
Another great reason for selling merch on-line is that it is free advertising for the band. How many times have we been to a gig and seen a fan wearing another band's shirt? How many times have we seen a fan proudly wearing a jacket covered with patches, pins and badges of their fav artists? Hundreds of times is the answer.
It all helps with getting your band name out there for the world to see. Any publicity is good publicity!!!
[The Ultimate Guide to Selling Band Merch Online]
Q: With your Bandzoogle site, what would you say is the most important feature that you use?
A: Bandzoogle keeps it simple. Not all of us are computer geeks. Bandzoogle also allows everybody to design a site or an individual page that helps to make a statement that represents the band it's featuring.
With Mudhoney, it's a basic, easy to negotiate, straight in your face and, to the point look. If you have a look at Sonic Boom Six's site, it's more in depth, busy and elaborate which is perfect for SB6. Once again, horses for courses.
One of the most important features I rely on is the stock inventory counter for the store. There's nothing worse than overselling an item that you cannot fulfil. That just leaves a fan feeling let down. I pushed Bandzoogle for this feature for a long time and eventually, they came good.
Q: Aside from at shows and online, do you use any other methods to get your merchandise out to the band's fanbase?
A: As mentioned before, Mudhoney have two main sites, Bandzoogle and, a share of the Subpop main site. The 'other' ways the band use to promote the store to the masses, is to have a close working relationship with the webmasters of all the other social media networks.
I have been very lucky to meet most of the 'fans' who have spent years building up Mudhoneys' Facebook and Twitter accounts. These guys work tirelessly keeping fans 'on board' during the quiet periods. Get in with them, and they will be only too pleased to run any article / advertisement on behalf of the band.
Also, find out if there any other fan pages relating to your band. These may have been in existence for many years and will probably have a different fan base, all of whom still need access to new tours and merch info.
Q: Is there anything you can share with our readers here, about how to maintain or improve their online sales?
A: I can. And, it's a pet hate of mine that I have addressed and implemented with our Bandzoogle site.
Use the e-mail database wisely.
Keep e-mail/mailshots to a minimum. If you continuously send out pointless info such as: What the bass player ate for breakfast or, that the drummer has a new stick bag, you will lose the impact when you do have important news for the fans to act on.
[The Complete Guide to Email Marketing for Musicians]
Announcing a tour is important. Launching a new album is important. Promoting the latest T-Shirt design is important. The singer being seen wearing red trousers is NOT important (even if it's unforgivable).
Mudhoney send an average, 8-10 email campaigns per year, with an average read rate of 96%. Let Facebook and Twitter post the day to day stuff. Look after your e-mail members, you need them as much as they need you.
Finally, make sure you charge a fair price for the merchandise in your store. Is that new T-Shirt really worth £25 / $30??? Maybe selling more items at a lower price is the best policy. We need the fans to keep coming back to our stores time and time again. If you scare them off from day one with over inflated prices, everybody loses in the long run.
Check out Mudhoney's awesome online merch store, powered by Bandoogle: http://mudhoneyonline.com/merch-store
Build a professional website in minutes and keep 100% of the revenues from selling music, merch, and tickets. Sign up free with Bandzoogle now.
Why not share this with your friends?
Build a stunning band website and store in minutes
Promote your music on your own unique website.
Sell music & merch directly to your fans. Keep 100%.
Grow your fan base with built-in marketing tools.