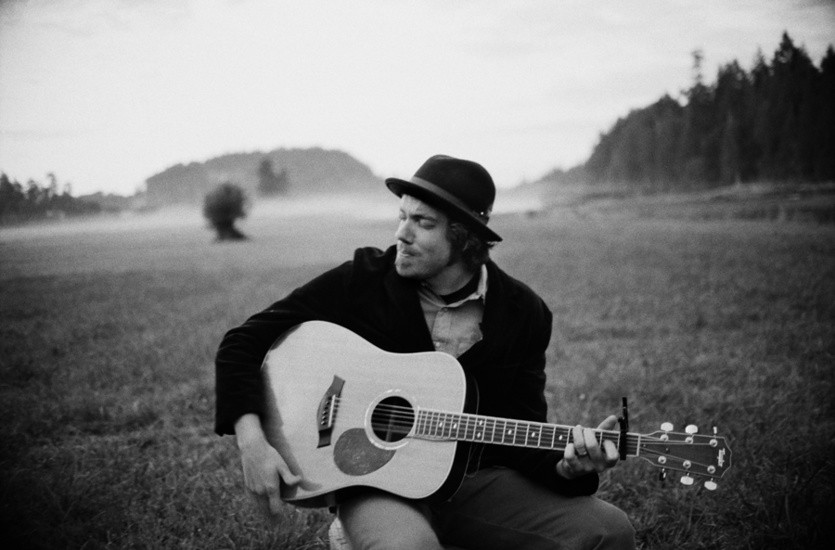 This is a guest post by Chandler Coyle which originally appeared on The Coyle Report.
You're an independent artist about to release your first album in four years. On release day, in addition to making the album available via download stores and streaming, you give away free downloads of the whole album away on NoiseTrade.  Crazy? No. Josh Garrels' new album Home just charted on Billboard despite (or because of) also being available for free.
Giving away a new album on the day that it's first made available has become for me, the ultimate form of 'release,'" explains Garrels. "I pour my sweat and blood into the work and an album often takes me years to complete, but somehow, making it available for free creates a healthier relationship between myself, the work and the listener. In short, giving away my music over the years has proven to be life-giving practice."
Josh Garrels is a full-time musician with a wife and three children, why would he give away the very product of his work in this manner? The answer can be found in the data, or actually, the answer is the data. With each free download given away over the years on Bandcamp and NoiseTrade, Garrels has obtained an email address and often a postal code.
[Why Email Newsletters Are Still a Vital Marketing Tool for Musicians]
Over the past five years Josh Garrels has built up a mailing list of well over 200,000 fans by giving away almost 450,000 free downloads. 'Free', like a download, CD, or LP, is just another music format for Garrels. Giving away his music in exchange for an email address via Bandcamp and NoiseTrade has been a reliable way to get his music heard and to help grow his mailing list — and resulting fanbase — well beyond the norm.
For his most recent project Home, Garrels opted for a featured promotional spot within one of NoiseTrade's mailers which goes out to the platform's over 1.3 million subscribers. His album was also featured on NoiseTrade's homepage for a full week.
Even with the giveaway the album still charted on Billboard. During the first week, 6,500 digital copies of Home were sold putting it at #83 on the Billboard Top 200, #46 on the Billboard Top Albums, and #19 on the Digital Albums charts.
Let's look at how all this translated into revenue and data for Garrels:
[NOTE: For sake of simplicity some numbers were rounded and all sales were attributed to iTunes.]
iTunes
6,500 albums sold week 1 x $10 = $65,000 gross revenue
$65,000 x 0.7 = $45,500 net revenue paid by iTunes to Garrels' distributor
# of emails/postal codes provided by iTunes = 0
NoiseTrade
45,000 free albums downloaded week 1
$25,000 (net to artist) tips collected from 3,800 fans
# of emails/postal codes provided by NoiseTrade = 45,000
Total Net Download Income for Week 1
iTunes $45,500 + NoiseTrade tips $25,000 = $70,500
Garrels did give up some revenue by making his new album available for free download via NoiseTrade. But not as much as you think. The trick is estimating how many of the 45,000 downloaders would have bought on iTunes had the free download not been available. I believe it is realistic to assume that less than 10% would have bought via iTunes.
NoiseTrade has provided some details on week one tips that helps shed some light on these downloaders. The suggested tip amount was $10, but gross tips received totaled $31,250 ($25,000 net to the artist) from 3,800 downloaders. So, even among the tippers, downloaders weren't quite generous enough to average out to $10 per tipped download. Still, for the sake of argument, let's assume 10,300 total download sales (6,500 actual sales + 3,800 downloaders who tipped).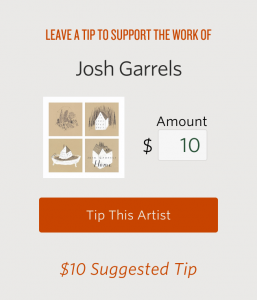 What If Scenario – No Free Downloads in Week 1
10,300 estimated albums sold week 1 x $10 = $103,000 gross revenue
$103,000 x 0.7 = $72,100 net revenue paid by iTunes to Garrels' distributor
# of emails/postal codes provided by iTunes = 0
Under this scenario Garrels would have netted just $1,600 more in revenue, but would have forsaken the 45,000 emails collected via NoiseTrade.
Data or Money
NoiseTrade was founded in 2008 as a way for musician Derek Webb to reach, connect, and engage with his fans when his record label wouldn't support him in that effort. Webb was able to get his music heard, mount tours, and sustain his career with his ever growing mailing list. A mailing list built by giving away his music.
I asked Webb for his thoughts on utilizing 'free' as Garrels did with this release:
Money is just a commodity, a finite resource. It's the nature of money that you get it, you spend it, and you have to find more. There's no long-term asset to having had money once it's gone. Data, on the other hand, is a reusable resource, and for that reason, you'll net a lot more revenue getting data for content than getting money for it. If you have meaningful connections with your fans, supported by data, you can activate those fans over and over again. If you've done your job building that tribe, finding your true fans, not only will they help when you ask, they'll give more than you ask. If you own the data…the money will always follow.
— Derek Webb – Musician/Founder and President, NoiseTrade
Data Deep Dive
Let's look at the mailing list data using actual numbers provided by Garrels a few days ago. Releasing his new album as a free download on NoiseTrade increased his email list by almost 10% in one week. Don't fall into the trap thinking that isn't a big increase. When you realize that it translates to over 18,000 new people to engage with and market to over the long term, you can't help but be impressed.
193,269 mailing list size before the release
48,451 emails collected via NoiseTrade
(28,856) emails already subscribed
(1,262) emails previously on list, but previously unsubscribed so not added
———————–
211,595 mailing list size after release
211,595 – 193,269 = 18,326 new emails acquired via NoiseTrade release
The free and open release process allows the fan to choose how they support the artist. The sharing, streaming, and selling approach that Josh Garrels chose for Home provides him both short-term and long-term monetary gains without one being at the expense of the other. The bottom line is that owning the conversation between artist and fans along with recurring access to the fans is easily more valuable to the artist over time.
– Chris Moon – Artist Manager/Vice President of Creative and Operations, NoiseTrade
Leveraging the Fan Data Immediately
Garrels has an upcoming tour that will see him playing 1,000+ capacity rooms in Chicago, New York, and Philadelphia along with other dates scheduled across the country. Unlike the conventional email-for-media exchange, the NoiseTrade platform collects geographic data via postal codes. Garrels now has 45,000 emails with up-to-date geographic information, 18,000 of which are brand new fans that he can market to for this tour. More people to target via email and Facebook ads to fill up those rooms with fans that are already enjoying his new album. That's real money that can be repeated and built upon tour after tour, season after season, year after year.
Growing the Fan Data into Fan Relationships
When asked if he would repeat the giveaway process, Garrels responded "I'll always give away my music in one form or another."
As the industry transitions from downloads to streaming, utilizing 'free' as a format helps bridge the resulting gap. A smart artist can invest in themselves, strategically giving up a chunk of the revenue from near-term sales, by trading music for fan data. Fans want to consume the music in their own way these days. Some fans will want to stream, some will want to buy, some will want to tip on a free download, and a lot of people will just want to hand over their email address. The only method of consumption that has real long-term value is the one that provides the artist with truly actionable data — an email address and a postal code. While the heated debate over streaming payouts continues fan data is where the true value of music consumption lies.
Artist manager Emily White of Whitesmith Entertainment has wisely called a mailing list "an artist's retirement plan." It's true because a mailing list enables an artist to build a strong and mutually beneficial relationship with their fans. A strong relationship will pay dividends to the artist year after year after year.
Bandzoogle websites have built-in mailing lists and all the tools you need to step it up. Sign up free now!​
---
This is a guest post by Berklee Online music business instructor Chandler Coyle. Chandler is one-half of the fan experience agency Music Geek Services and is also the publisher of the The Coyle Report, a free weekly music marketing newsletter.
Why not share this with your friends?
Build a stunning band website and store in minutes
Promote your music on your own unique website.
Sell music & merch directly to your fans. Keep 100%.
Grow your fan base with built-in marketing tools.