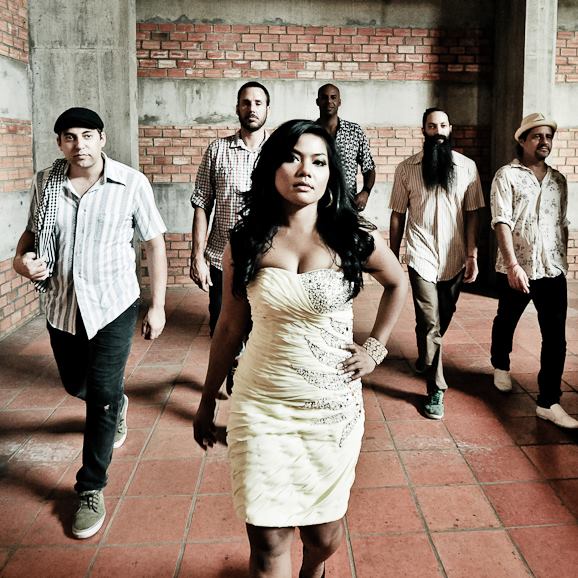 Bandzoogle members Dengue Fever consistently have a great looking website. Their latest redesign emphasizes their new upcoming album, which they're raising funds for and going direct-to-fan with the help of PledgeMusic.
We had a chance to ask the Asian Psychedelic band some questions about launching their own label, their PledgeMusic campaign, as well as how they're using their website to help their career. Enjoy!
Q: Dengue Fever has been around for over a decade, and in 2012 the band decided to launch its own record label. What was the idea behind that?
Well, we were envisioning several benefits of having our own label, TUK TUK Records. Being a fairly "unique" act we know our audience and our general modus operandi more than most label exec's do, so we figured why not be at the helm of the ship when we release records? It also gives us the freedom to try and fail and/or succeed at certain things without the fear of being "dropped".
The way things have been going with the financial changes that the music industry has experienced, owning your label gives you a bigger piece of the pie, even if that pie is smaller than it used to be. Plus, we have the benefit of being whimsical. If we want to track a song and release it to the fans, we can do that immediately instead of going through a bunch of bureaucratic bull.
 
Q: The band recently launched a campaign on PledgeMusic, is this the first time that the band has crowdfunded for an album?
Yes, in the past we've released our albums and EPs in more traditional ways, either through a label or more recently, through our own TUK TUK Records. We are excited about the prospects.
 
Q: Why did the band decide to crowdfund for their new album?
More important than the funding aspect of it is the fan engagement part of it.  In the past, the model was to record an album and sell merch and go on tour and just find ways to deliver your music to your fans.  It is sort of one-sided communication. With this platform, we offer fans, who have pledged, a behind-the-scenes look at our recording process and encourage them to be involved.  We're leaking basic tracks and rough mixes and letting fans hear it raw.  
We've never done this before and it's very different.  We are offering traditional merch packages for sale through the campaign but also some one-of-a-kind items and experiences, and we're letting our supporters choose what they want before we've even made it.  So this really is an album for our fans, in a way.
 
Q: Why did they decide to go with PledgeMusic for the campaign?
PledgeMusic has developed a really solid platform for interacting with our fans.  They are very well organized, and they provide personal support to us in our campaign.  They also hold artists accountable to their fans, so there's no scams or fake promises in the campaigns.  If we say we're going to deliver, they make sure we do.  
In that way, they sort of guarantee the bond of trust between us and the people who pledge, which soothes the fears of people new to this model or people who are skeptical of fan-sourced campaigns, and that makes for a highly successful project.  
 
Q: How has the reaction to the campaign been so far?
Better than we ever expected.  We are truly humbled by the support we've received.  We've just completed our first week and we're at 33% of our goal.  We appreciate the pledges and are going to offer new incentives to pledge every week, based on what fans want.  
For example, we sold out of our "Backstage VIP" tickets in the first two days, so we just added some more incentives that allow a chance to meet and hang out with the band, like having dinner together at a Cambodian restaurant.  Even more than the pledges though, we are so grateful to our friends, family, and fans who have helped spread the word to their own friends and family, and helped grow this campaign beyond our core fan base.
 
Q: What kind of unique rewards is the band offering to fans?  
We're offering a mix of unique items and experiences.  You can get some of Nimol's signature stage dresses, or original art production sketches.  We're even offering Zac's MASTADONG, his one-of-a kind Fender Jazzmaster / Chapei Dong Veng hybrid guitar.  
We're also producing a limited edition photo book just for this campaign.  We've sold out of our VIP tickets, but soon we'll be adding chances to have a private Skype concert, plus other rare memorabilia that fans will recognize.  We have the traditional merch packages, too, and we're selling lots of vinyl.  We've gotten a few questions about one of our items - kromas - which are traditional Cambodian scarves that we have sold before at shows and online.  
But for this campaign, we're making up a brand new batch of high-quality scarves with the Dengue Fever logo embroidered into the tag.  They're going to look great!
 
Q: How have Bandzoogle's tools helped the band's career?
One of the most fundamental tools we use is the Advanced Styles Design templates, especially in Bandzoogle 2.0. The ability to quickly and reliably sketch up entire new templates or customize the CSS for our website makes it easy for us to skin our sites with refreshed designs without having to completely redo the pages.  
We're on our fourth skin in just over a year, and it makes a huge difference in promoting new releases or campaigns.  We also tend to make new landing pages for each new promotion, and using the BZ interface we can throw up a new page in minutes.  Because BZ's tools let us work quickly and efficiently, we can reach out to more fans more effectively, and also spend more time making music and not fooling around with complicated web code.  
I also have to say, that the Mailing List Signup Form is the most effective email collection tool we've ever used.  We've used a couple of other signup tools, but having the native BZ Signup form on our front page has grown our mailing list by 10% in just a couple of months.
 
Q: How is the band using their website as part of the PledgeMusic campaign?
We've put a new skin on the entire site, and added a dedicated landing page for the campaign where we were able to quickly embed video, images, and our PledgeMusic widget that keeps real time stats of our campaign.  We've also collected a lot of new email signups from new traffic coming to our site, and we're using that to send out mailers directly to fans to let them know about our progress.  
Overall, we couldn't run a successful campaign with just a PledgeMusic page and a Facebook page.  You really need a dedicated website where you can tailor everything to exactly the way it should be.
---
Big thanks to the band for taking the time to answer our questions. Be sure to check out their PledgeMusic campaign: www.pledgemusic.com/projects/denguefever
And also their awesome website: www.denguefevermusic.com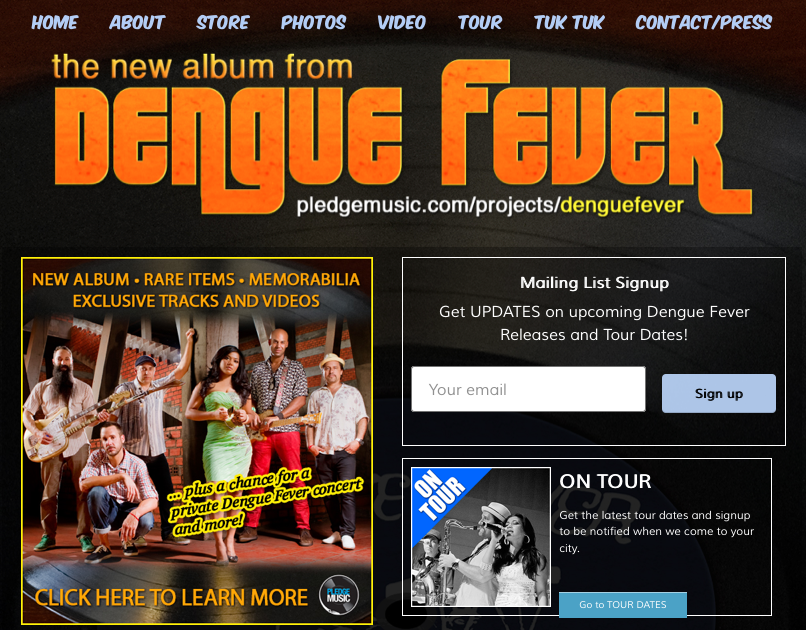 Why not share this with your friends?
Build a stunning band website and store in minutes
Promote your music on your own unique website.
Sell music & merch directly to your fans. Keep 100%.
Grow your fan base with built-in marketing tools.